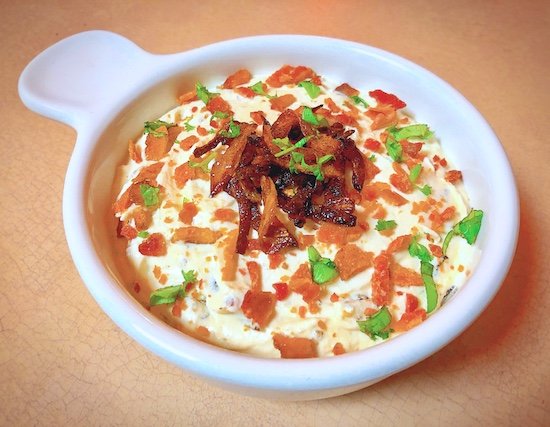 Creamy bacon and cheese dips are nothing out of the ordinary in the ketoverse so I figured why not class it up a bit by adding caramelized onions and goat cheese? The sweetness from the jammy brown onions and the strong flavour of the goat cheese brings a different flavour palette that dazzles the taste buds. Sure, the caramelized onions are a lot more effort, but it's worth the effort!
Keto Caramelized Onion, Bacon and Goat Cheese Dip Recipe
Ingredients:
1 medium yellow onion, diced
3 tablespoons avocado oil
½ teaspoon flaky sea salt (like Maldon or Fleur de sel, to taste
2 teaspoons balsamic vinegar
4 oz soft goat cheese (*May swap cream cheese), brought to room temperature
1 cup sour cream
¼ cup mayonnaise
¼ cup bacon, crumbled
⅛ teaspoon garlic powder
2 tablespoons fresh chopped herbs like parsley, dill, cilantro, thyme or oregano
Black pepper, freshly ground
Directions:
Heat oil in a stainless steel (not cast iron) skillet to medium heat. Once it starts to shimmer, add onions and salt and stir through. Leave alone until they brown on the bottom (around 3 min). Stir then allow to cook undisturbed to brown again. Keep doing this until all are browned (around 15 minutes total). If you find your onions are darkening too quickly, turn down the heat. You don't want to dry them out as they cook.

Once fully browned, turn the heat down to the lowest possible setting. Keep stirring until the pan cools down 5-8 min. Stir up the brown bits on the bottom of the pan with a flat wooden spoon then cook for another 20-40 min (the longer the better, more complex).

Once onions are caramelized, remove from heat. Add a splash of balsamic vinegar and salt to taste. Set aside to cool.

Add goat cheese, sour cream, mayonnaise and garlic powder to a large mixing bowl and mix with an electric mixer until smooth.

Add bacon, onions, fresh herbs, (saving a little of each for garnish) and black pepper to the goat cheese mixture and stir in with a silicon spatula until fully mixed.
Did you make this keto caramelized onions bacon and goat cheese dip recipe? If so, please let me know how it goes in the comments. Or if you share pics of your creations on Instagram, please tag me so I can see them. Enjoy! :)