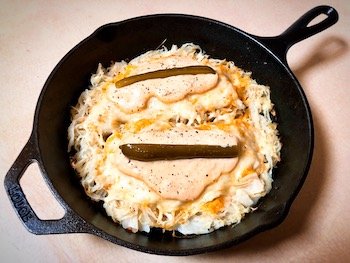 IFeel like enjoying a low-carb, keto-friendly Reuben-style dish but don't have any keto bread on hand. Or maybe you want avoid red meat/processed meat? This is the dish for you! This chicken reuben skillet gives you all the flavours you enjoy in a Reuben but serves them up on perfectly roasted, tender chicken breasts for a lighter, healthier reuben-style meal.
Keto Chicken Reuben Skillet Recipe
Ingeredients:
Directions:
Pat the breasts dry with paper towels, then dry-brine them by sprinkling them with salt and pepper. Refrigerate them, uncovered, for 30 minutes. Remove from fridge, allow to come to room temperature then pat dry with paper towel one more time.

Preheat oven to 400F. Heat a large oven-proof skillet to medium-high heat then add avocado oil and spread around the pan. Add chicken to skillet and sear 2-3 minutes each side (depending on thickness). Flip and sear the other side for another 2-3 minutes. It's best not to disturb them while searing. You want to get them close to the colour you want when eating. Remove chicken from pan and set aside.

Layer half of the sauerkraut in the bottom of the skillet. Pour 1/3 cup dressing over it; place the chicken breasts on top and spread the mustard on chicken.

Top with the remaining sauerkraut and chicken breasts; pour another 1/3 cup of dressing over all and reserve the remaining 1/3 cup of dressing for serving.

Transfer skillet to oven and cook, uncovered, until chicken is no longer pink (or to an internal temperature of 160F). It should take around 15-20 minutes depending on the size of the chicken breasts. Remove from oven.

Set your oven to broil on high. Sprinkle swiss cheese over the chicken. Return skillet to oven and broil until cheese is melted and bubbling, 2-3 minutes (watch carefully to see that it does not burn). Serve with reserved dressing and dill pickle spears.
Did you enjoy this keto chicken reuben skillet recipe? Let me know your thoughts in the comments. Or if you post pics on Instagram, tag me so I can see your creation. :)