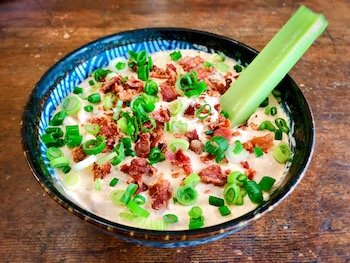 I've always loved the smoky taste of chipotle. It pairs so well with creamy sauces and cheeses, and I figured the smoky taste of bacon would also go well. I figured correctly. I threw this dip together to enjoy with some friends while we watched a movie. It's not overly spicy either so people who aren't down with super spicy can enjoy it too.
Keto Chipotle Bacon Cheese & Onion Dip Recioe
Ingredients:
1 cup sour cream
1 cup whipped cream cheese
½ teaspoon smoked paprika
¼ teaspoon onion powder
2 cloves garlic, minced
Himalayan pink sea salt](https://www.amazon.ca/gp/product/B078K9CZDV/ref=aslitl?ie=UTF8&camp=15121&creative=330641&creativeASIN=B078K9CZDV&linkCode=as2&tag=westcoastjiuj-20&linkId=b883dd2d633aada35e14c2d660a6c55a) and freshly ground black pepper (to taste)
1/2 cup shredded cheese (cheddar, Monterey Jack, or a combo)
6 slices bacon, cooked and crumbled, divided
1 small can chipotle peppers in adobo sauce (with 1 teaspoon sauce), finely chopped
3 green onions, sliced and divided
Directions:
Mix sour cream, cream cheese, garlic, salt, pepper, onion powder, adobo sauce and smoked paprika in medium bowl until blended. Stir in cheese, 2/3 of the bacon, peppers.

Refrigerate 1 hour. Top with remaining bacon and onions. Serve with keto crackers, keto bread or cut veggies.
Did you give this keto chipotle bacon cheese and onion dip a try? How did you like it? Please share your thoughts in the comments. And if you post any pics on Instagram, please tag me so I can see them. Enjoy! :)