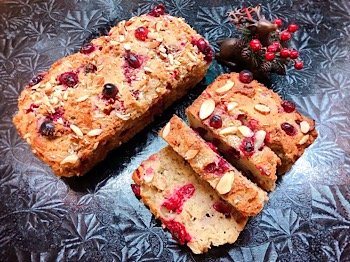 Surrounded by sugar and flour-based desserts while visiting my family in Ottawa for the holidays, I decided that enough was enough. I decided it was time to bake some sort of holiday keto treat that I could enjoy and stave off temptation. And so this keto cranberry almond loaf recipe was born. I decided to go with a loaf instead of muffins because it's less cumbersome to make. It's not super-sweet, more like what you would expect from a breakfast-style loaf or muffin, a lovely accompaniment for tea or coffee or for a light Christmas morning treat.
Keto Cranberry Almond Loaf Recipe
Ingredients:
Directions:
Preheat oven to 350F and spray a loaf pan with cooking spray (or use a silicon loaf pan, which I prefer)

Combine almond flour, ground flax, baking powder, arrowroot flour, cinnamon, ginger, salt in a medium mixing bowl.

Cream together butter and erithrytol then add eggs, sour cream, cider vinegar, liquid stevia, and extracts in a separate bowl.

Add the wet ingredients to the dry ingredients, mixing just until moistened, being careful not to overmix.

Stir in chopped almonds and cranberries, reserving a small handful for the top.

Spread batter in loaf pan then sprinkle on the handful of remaining cranberries and the slivered or sliced almonds.

Bake for 60-70 minutes. Allow to cool 10-15 minutes before removing from pan to cooling rack.
This recipe is just want you need to help keep your holiday sweet tooth cravings satisfied. Since you don't have spend the time scooping out individual portions as you do with cookies or muffins, it's a lot quicker and easier to whip up one of these loaves. Or whip one up as a gift for your favourite keto friend or loved one.
If you make this recipe, let me know what you think in the comments, or if you post pics on Instagram tag me so I can see them.