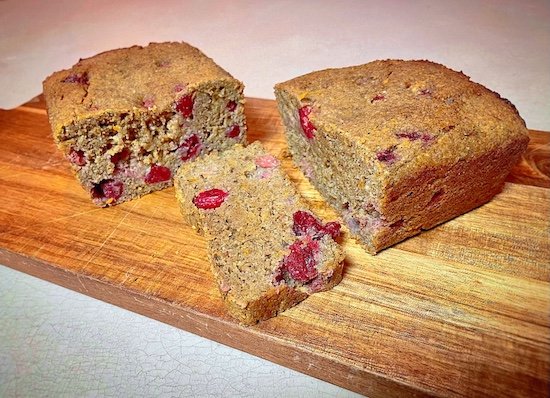 Here's a festive recipe that combines two Thanksgiving/Christmas flavours. This keto-friendly cranberry pumpkin bread is a lovely, dessert loaf with all the warming spices associated with fall and the ensuing Christmas season. Basically, you're taking a pumpkin spice loaf and marrying it with a cranberry orange loaf, but since pumpkin and cranberry are complementary flavours, it works amazingly well. Think of it as the dessert loaf to enjoy with your coffee between Thanksgiving and Christmas.
Keto Cranberry Pumpkin Loaf Recipe
Ingredients:
Directions:
Preheat oven to 350 degrees. Grease an 8x5 inch loaf pan well. Using an electric mixer, beat the pumpkin puree, sugar substitute, melted butter, cider vinegar and vanilla extract until well blended. Next, add in the eggs one at a time making sure to beat until fully combined.

To the wet batter sift in all the dry ingredients and beat stir with a spatula until just combined.

Fold in the fresh or frozen cranberries and the orange zest. (*Note: If using frozen cranberries, do not defrost them first.) Spread the batter into a greased 8-inch loaf pan. The batter should be thick. Bake at 350 degrees for 50-60 minutes, or until an inserted toothpick comes out clean.

Allow the pumpkin cranberry bread to cool 10 minutes in the pan before removing it and adding it to a cooling rack to cool completely. Store leftovers in the refrigerator for up to 5 days or freeze for up to one month.
Did you make this keto sugar-free cranberry pumpkin loaf recipe? If so, please let me know how it turned out in the comments. Or if you share pics of your creations on Instagram, please tag me so I can see them. Enjoy! :)