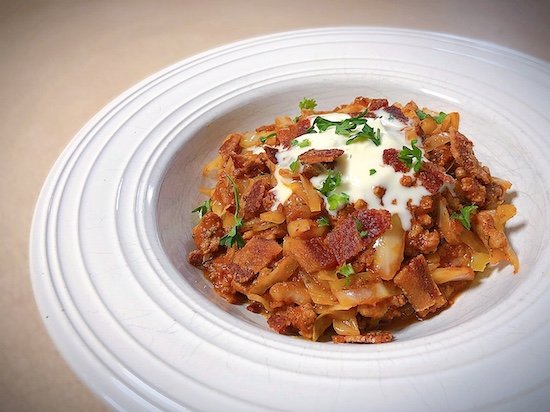 Cabbage rolls have undeniable appeal on cold winter days, but who needs the rice that gets wrapped up in them when you're doing keto? This deconstructed cabbage roll recipe takes all the best, low-carb parts of the cabbage roll and makes it into an epic deconstructed cabbage roll stew.
Keto Deconstructed Cabbage Roll Stew
2 tablespoons ghee or unsalted butter (or avocado oil for vegan)
Black pepper, freshly ground, to taste
1 teaspoon sea salt
½ cup yellow onion, diced
4 cloves garlic, minced
2lb ground beef, pork or a combination (*substitute with 2 packages St Yves ground round for vegan)
1 can 28 oz can of diced tomatoes, diced, undrained
1 small head green cabbage, chopped
1 tablespoon Lakanto Golden Sweetener
2 tablespoons red wine vinegar
2 tablespoon Worcestershire (Use vegan Worcestershire sauce for vegan.)
1 teaspoon dried thyme
1½ teaspoons smoked paprika
¼ cup bacon crumbles
3 tablespoons fresh dill weed, finely chopped
3 tablespoons fresh parsley, finely chopped
[Flaky sea salt (like Maldon or Fleur de sel and freshly ground freshly ground black pepper (to taste)
Directions:
Heat a large skillet over medium heat. Add onions and sprinkle of salt and sauté for 1-2 minutes until translucent then add the garlic and sauté until garlic is fragrant.

Add beef/pork and onion in the hot Dutch oven until browned and crumbly, 5 to 7 minutes (if using vegan ground round, stir in at the end of cooking the cabbage.) Add cabbage, tomatoes, water, garlic, salt, and pepper and bring to a boil.

Cover Dutch oven, reduce heat, and simmer until cabbage is tender, around 20-25 minutes. Stir in dill weed, and add salt and pepper to taste. Serve in bowls topped with homemade sour cream or creme fraiche, fresh parsley, and more fresh dill.
Did you make this keto deconstructed cabbage roll stew recipe? If so, please let me know how it turned out in the comments. Or if you share pics of your creations on Instagram, please tag me so I can see them. Enjoy! :)