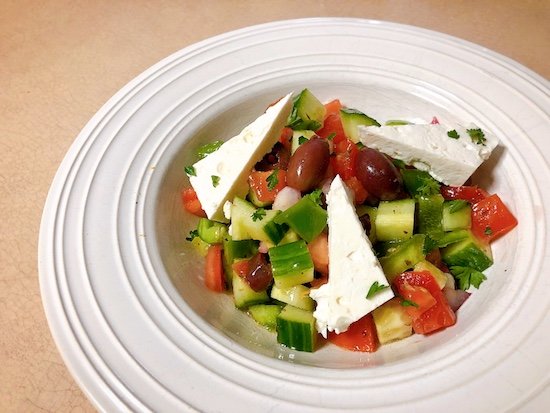 I know it's a no-brainer, but Greek salad is pretty much a perfect keto salad, with no swaps necessary to make it low-carb. The only issue that comes to play is if you use a store-bought dressing that uses an unhealthy vegetable oil as a base. That's why it's important to make your own, so you can use extra virgin olive oil, the traditional oil in a Greek salad, as your base.
Keto Greek Salad
(*Note: I've included the more traditional way of cutting the vegetables for a Greek salad, the first option listed for each vegetable, as well as the the more North American way of dicing the ingredients to similar sizes. Do whatever method you prefer. I did a combination of the two.)
Ingredients:
⅛ teaspoon flaky sea salt (like Maldon or Fleur de sel, (or to taste)
⅓ cup extra virgin olive oil
2 tablespoons red wine vinegar
½ tablespoon dried oregano
¾ cup red onion, diced or sliced into half-moons (your preference)
2 cups tomatoes, cut into wedges or diced (your preference)
2 cups English cucumber, sliced into half-moons or diced (your preference)
1 cup green bell pepper, sliced into rings or diced (your preference)
½ cup kalmata olives, sliced or left whole (your preference)
100g feta cheese, cut into wedges or diced (your preference) (*Replace with more olives for vegan.)
Directions:
Whisk together all the salad dressing ingredients in a large glass bowl or container that's big enough to contain your entire salad.

Add the red onions in a layer on top of the dressing. Add the green peppers, then the cucumbers, tomatoes, and olives. Cover until you are close to being ready to eat.

Around 30 minutes before serving, gently toss the salad, but don't over mix. Add feta wedges (if using) on top and serve.
Did you make this keto Greek salad recipe? If so, please let me know how it turned out in the comments. Or if you share pics of your creations on Instagram, please tag me so I can see them. Enjoy! :)