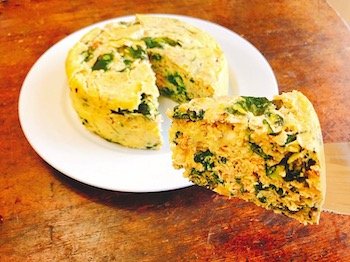 Making brunch for a group? This keto-friendly salmon frittata recipe uses the Instant Pot, making it a a cinch to do and get perfect results every time. I just love the way the feta, spinach and tomato flavours complement the salmon and dill in this recipe. It has a complexity that makes it a good dish for any meal, no matter what time of day it is.
Instant Pot Salmon Feta Frittata Recipe
Ingredients:
8 large eggs
3 tablespoons heavy cream
½ teaspoon avocado oil
3 tablespoons red onion, thinly sliced
⅓ cup roma tomato, diced
4 cups packed baby spinach or arugula
1 can of wild salmon, bones and skin removed
4 oz. feta cheese, crumbled
1 tablespoon fresh dill, chopped (or 1 teaspoon dried dill)
Himalayan pink sea salt and freshly ground black pepper (to taste)
Additional chopped fresh dill or parsley for garnish (optional)
Directions:
Preheat oven to 375 degrees. Microwave spinach in a microwave-safe bowl with 2 tablespoons water, or until wilted. Drain excess water.

Heat a skillet to medium heat. Add avocado oil and red onion. Sauté until softened, around 3-4 minutes. Remove from heat.

Beat together eggs and heavy cream. Fold in the salmon, feta, red onion, tomato, dill, salt and pepper.

Grease the inside of a 7-inch cake pan or leakproof springform pan (*make sure you water test it first!) and add the egg mixture to it. Add 1½ cups water to your Instant Pot. Place the casserole dish on an Instant Pot trivet and lower it into the pot.

Set the Instant Pot to cook at high pressure for 45 minutes. When it's finished, turn it off and use the quick release method to release the pressure. Remove the casserole dish from the Instant Pot and allow to cool a couple of minutes before serving. Garnish with extra fresh dill if desired.
Did you give this keto salmon feta frittata a try? How did you like it? Please share your thoughts in the comments. And if you post any pics on Instagram, please tag me so I can see them. Enjoy! :)