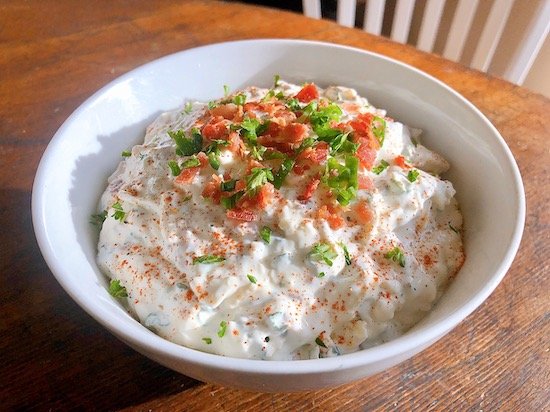 We all know that the best part of the baked potato is the toppings. So just forget the potato and make a dip from the toppings with this low-carb loaded baked potato dip. Then you can enjoy all the keto-friendly sour cream, bacon, cheese, and green onions with whatever dip delivery food you prefer.
Keto Loaded Baked Potato Dip
Ingredients:
2 cups sour cream
1/4 cup cream cheese, room temperature
1 cup cheddar cheese, grated
3 green onions, sliced (plus more for garnish)
10 slices bacon, cooked crisp and crumbled
2 tablespoons fresh parsley, finely chopped
1 clove garlic, minced
[Flaky sea salt (like Maldon or Fleur de sel and freshly ground freshly ground black pepper (to taste)
Sweet paprika , for garnish
Directions:
In a large bowl, using a hand mixer or stand mixer, beat cream cheese, sour cream, and garlic until creamy and combined. Using a spatul, stir in cheese, bacon, parsley, and green onions. Taste and add salt and pepper to your liking. Store in the fridge or serve immediately with rutabaga chips, keto crackers, pork rinds or cut veggies.
Did you make this keto loaded baked potato dip recipe? Please let me know how it turned out in the comments. Or if you share pics of your creations on Instagram, please tag me so I can see them. Enjoy! :)