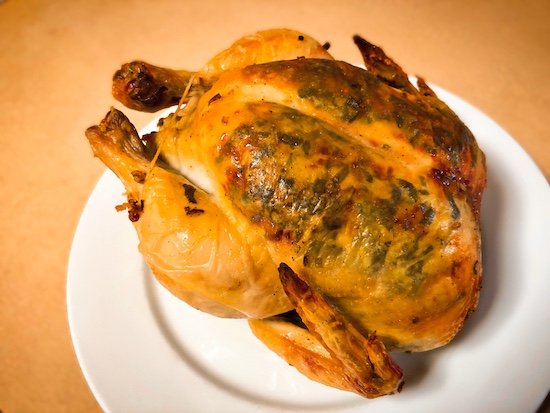 Anyone who likes chicken can appreciate the simple pleasure of a roast chicken with oodles of fresh parsley, lemon, sage, and garlic makes an elegant, impressive meal that is keto-friendly to boot. What more can I say?
Keto Roast Chicken with Garlic, Lemon and Herbs Recipe
Ingredients:
Directions:
Pat the chicken dry. Combine kosher sea salt and baking powder. Sprinkle all over the skin of the chicken then put it on a baking sheet with a baking rack. Put in the fridge and allow to dry brine for at least 12 or up to 3 days for best results.

Heat oven to 450F. Rinse chicken under cold water and pat dry with paper towels. Grate the zest off the lemon. Combine lemon zest, garlic and sage in a small bowl. Add butter and stir to combine. Quarter the zested lemon and set aside.

Using your fingers and a small, sharp knife, loosen skin of chicken from breasts and thighs. Slip butter mixture between skin and flesh, spreading it evenly. Rub skin with oil; season skin and cavity with pepper to taste. Stuff the cavity with quartered lemon, parsley, and quartered onion. Tie legs together with kitchen twine, if you like. Place on baking tray lined with baking rack.

Roast for 20 minutes, then reduce oven temperature to 350F. Continue roasting until an instant-read thermometer inserted into thickest part of thigh (without touching bone) reads 165, around 1 hour and 20 minutes. Transfer chicken to a platter. Season with flaky sea salt to taste and allow to rest for 10 minutes before carving.
Did you make this keto roast chicken with garlic, lemon and herbs recipe? If so, please let me know how it turned out in the comments. Or if you share pics of your creations on Instagram, please tag me so I can see them. Enjoy! :)