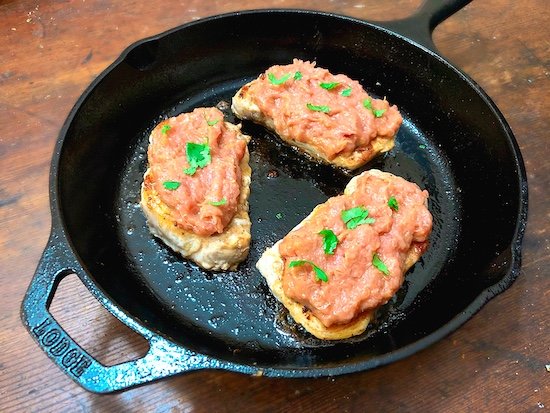 Pork and rhubarb go so well together, and I often have extra rhubarb kicking around in my freezer, so this keto-friendly seared pork chops with rhubarb sauce is an easy winner for weekday dinners that plates elegantly enough to feel like your eating a fancier meal.
Keto Seared Pork Chops with Rhubarb Sauce Recipe
Ingredients:
Directions:
Around 12-24 hours before you plan to eat, sprinkle the pork chops with kosher sea salt then return to the fridge. When you're ready to prepare your meal, take the pork chops out of the fridge and allow to come to room temperature while you prepare other ingredients, around 20 minutes. Pat dry with paper towels. (*If you aren't able to do this ahead of time, take them out and salt them 40 minutes beforehand instead.)

In small pot, cook first 5 ingredients over medium, stirring occasionally, until rhubarb is tender and sauce thickens, 5 minutes; season to taste with salt. Allow to cool. (*If making ahead, store in the fridge and take it out 20 minutes before you plan to cook to bring to room temperature.)

Heat avocado oil in a skillet over medium-high heat. Add pork chops and sear, turning once, until just cooked through, about 5 minutes per side. Top with compote and parsley and serve.
Did you make this keto seared pork chops with rhubarb sauce recipe? If so, please let me know how it turned out in the comments. Or if you share pics of your creations on Instagram, please tag me so I can see them. Enjoy!