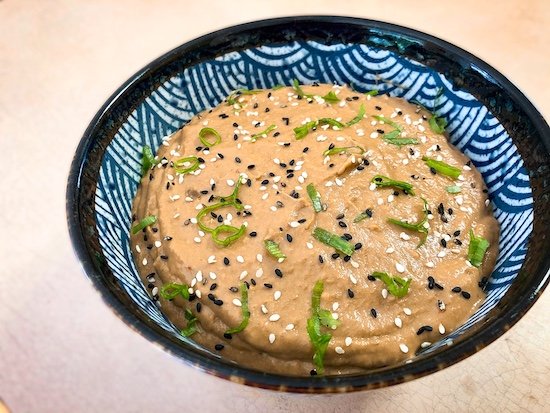 After trying a few different European takes on the roast eggplant dip, I realized there was zero reason not to try all sorts of variations using it as a base. I decided to go with Asian flavours, combining sesame and miso as the dominate flavours. It made a perfect dip as an accompaniment to an Asian themed meal.
Vegan Keto Sesame Miso Roast Eggplant Dip Recipe
Ingredients:
Directions:
Preheat oven to 425F. Line a baking sheet with a silicon baking mat. Halve the eggplant lengthwise then transfer to baking sheet cut side up. Prick the flesh with a knife all over the skin. Drizzle each half with a teaspoon of avocado oil, rubbing it all over the flesh. Top with garlic cloves. Roast for 40 minutes or until flesh is very soft.

Remove from oven and tent with aluminum foil for 15 minutes.
Transfer garlic to a blender. Scoop out the eggplant flesh into the blender then add the remaining ingredients (except the garnishes). Process until smooth. Store in an airtight container in the fridge for up to one week. Garnish with sesame oil oil, sesame seeds, chili flakes and green onions if desired.
Did you make this vegan keto sesame miso roast eggplant recipe? If so, please let me know how it goes in the comments. Or if you share pics of your creations on Instagram, please tag me so I can see them. Enjoy! :)