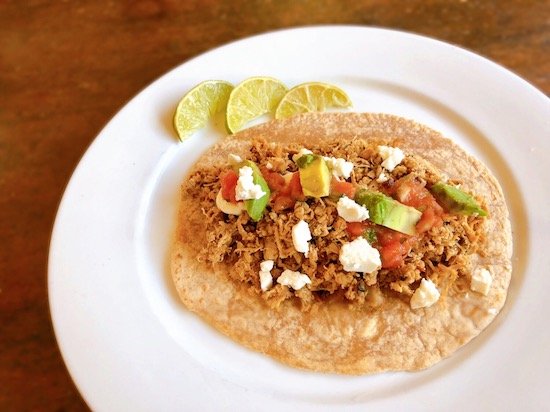 I usually prefer the fattier cut of pork shoulder for pork tacos, but sometimes you don't want to cook up that much meat, so pork tenderloin is the next best option. Dry brining the meat overnight then marinating and slow cooking it helps it retain its moisture, to make this naturally low-carb meat that works great in tacos or taco salads.
Keto Spicy Chipotle Pork Tenderloin Tacos Recipe
Ingredients:
2 teaspoons kosher salt
2lb pork tenderloins
Spice Rub Ingredients:
Marinade Ingredients:
Directions:
Sprinkle the salt all over the surfaces of the pork loin. Place on a rack lined with a pan and put in the fridge for at least 8 hours (up to 24).

Combine the spice rub ingredients and rub all over the outside of the meat.

Combine the marinade ingredients in a blender and pulse for a few seconds until thoroughly blended. Put pork tenderloins in a bag or container and pour the marinade over the meat. Allow to sit for 1 hour.

Put the pork and marinade into the slow cooker and cook on low heat for 6-8 hours. Pork should be easily shreddable when done.

Use two forks to shred pork or cut the meat into thirds and pulse each piece until shredded. Adjust seasoning level if desired and put back into the slow cooker to simmer another 30 minutes.

Heat 1 tablespoon of oil in a large non-stick pan or well-seasoned skillet over high heat. Spread pork in the pan, drizzle over some juices. Cook until the juices evaporate and the bottom side is golden-brown and crusty. Turn and just briefly sear the other side. Remove pork from skillet. Repeat in batches.

Stir in more fresh cilantro (if desired) and serve in keto tortillas or in a salad with pickled red onions and cabbage, guacamole, salsa, queso fresco, Monterey Jack cheese, lime wedges, diced tomato, black olives or anything else you prefer.
Did you make this keto spicy chipotle pork tenderloin tacos recipe? If so, please let me know how it turned out in the comments. Or if you share pics of your creations on Instagram, please tag me so I can see them. Enjoy! :)