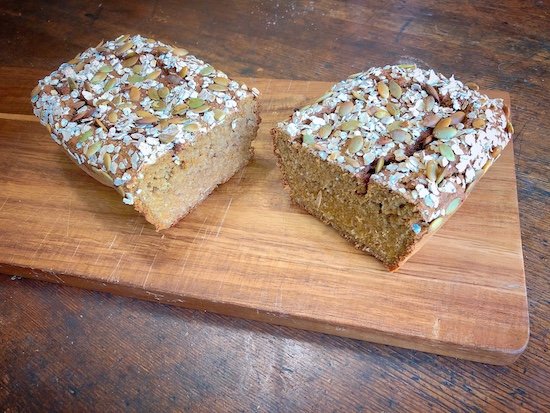 Looking to work some sweet potato into a carb-up late in the day? This high-carb, low-fat, gluten-free sweet potato spice loaf recipe not only fulfills this role perfectly, but does so in a delicious, dessert-like fashion.
Carb-Up Sweet Potato Spice Loaf Recipe
Dry Ingredients:
Wet Ingredients:
Toppings:
Directions:
Thoroughly wash sweet potatoes. Roast them in a preheated oven at 400F for about 45 minutes or until tender. Allow to cool completely then peel skin and any brown parts off. Place in a food processor with about ½-¾ cup water and process until completely smooth. Add extra water if necessary.

Set oven to heat to 425F. Whisk together dry ingredients in a large mixing bowl. Whisk together wet ingredients in a medium mixing bowl until completely combined. Whisk the wet ingredients into the dry ingredients until completely combined. Add mixture to a greased 9×5" pan and top with rolled oats and pumpkin seeds.

Bake in preheated oven for 20 minutes. Then reduce heat to 395F and bake for for another 25 minutes or until a toothpick comes out clean when poked. Allow to cool for 10 minutes then turn out on a cooling rack to cool completely then slice and serve.
Did you make this carb-up vegan sweet potato spice loaf recipe? If so, please let me know how it turned out in the comments. Or if you share pics of your creations on Instagram, please tag me so I can see them. Enjoy! :)