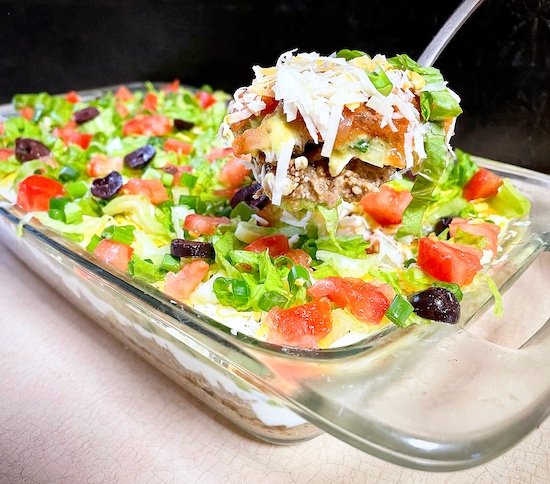 Want to make a meal out of a 7-layer dip? This ultimate meaty taco layer dip is the one dip to rule them all! It has pretty much everything you could imagine putting on tacos but in dip-able form. Great for parties or Netflix marathons! It also comes in handy as a way of getting rid of any extra ingredients you have kicking around from a taco night.
Keto Ultimate Meaty Taco Layer Dip Recipe
Ingredients:
Directions:
Heat a medium skillet to medium. Add ground beef and sprinkle with ½ teaspoon kosher sea salt. Sauté until browned then drain the fat. Remove ground beef from skillet to a plate lined with paper towels.

Reheat the skillet to medium heat, adding avocado oil if needed. Add onion and remaining salt and sauté until softened, around 3-4 minutes. Stir in garlic and taco seasoning and saute until fragrant, around 1-2 minutes. Allow to cool.

In a 2-quart casserole dish, layer in the following order: refried beans, taco beef, sour cream, guacamole, salsa, grated cheese, shredded lettuce, diced tomato, green onions, and olives. Serve with keto tortilla chips or keto crackers.
Did you make this keto ultimate meaty taco layer dip recipe? If so, please let me know how it turned out in the comments. Or if you share pics of your creations on Instagram, please tag me so I can see them. Enjoy! :)