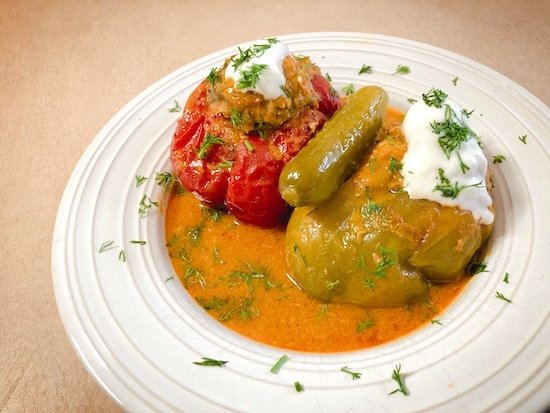 Yet another spin on stuffed peppers, this low-carb Ukrainian stuffed peppers recipe incorporates a creamy tomato sauce, fresh herbs and lots of smoked paprika, swapping out the usual white rice for cauliflower rice. It is a hearty, satisfying meal that will leave your home smelling amazing!
Keto Ukrainian Stuffed Peppers Recipe
Stuffed Peppers Ingredients:
4-5 medium bell peppers
½ cup cauliflower rice
1lb lean ground beef
½ cup yellow onion, finely chopped
4 garlic cloves, minced
1½ tablespoons unsalted butter or ghee
1 large egg
2 tablespoons fresh dill, chopped
1½ teaspoons fresh parsley, chopped
¾ teaspoon kosher sea salt (or to taste)
¾ teaspoon freshly ground black pepper
¾ teaspoon smoked paprika
Sauce Ingredients:
Garnish Ingredients:
Fresh dill, chopped
Sour cream
Dill pickles
Directions:
Put cauliflower rice in a microwave-safe dish, cover and cook on high for 1½ -2 minutes, or until softened. Allow to cool to room temperature. Put the cooked cauliflower rice into a cheese cloth and squeeze out as much water as you can.

Melt 2 tablespoons of ghee or butter in a large oven-safe skillet or Dutch oven over medium heat. Add the onion and kosher sea salt and sauté until softened, around 5-6 minutes then add the garlic and saute until fragrant, around 1-2 minutes.

Transfer the onions and garlic into a large mixing bowl along with the cauliflower rice. Add the seasonings, spices and herbs, then add the egg and ground meat. Using your hands, combine the mixture just enough to get a uniform mixture.

Using a sharp paring knife, cut around the top of the pepper, removing the core, seeds, and any of the white membrane you can. Fill the peppers with the prepared filling, compacting the filling into the bottom of the peppers first. Arrange the stuffed peppers in a large cast iron pot, Dutch oven or skillet.

Using the same skillet as earlier, heat the ghee or butter for the sauce over medium-heigh heat. Add onions, salt, and pepper. Sauté for 2-3 minutes, or until softened. Add garlic and saute for 1-2 minutes or until fragrant. Add the tomato paste, mix well with the rest of ingredients, allowing it caramelize it slightly, around 3 minutes. Reduce heat to medium. Add ½ cup of the bone broth and de-glaze the pan. Add the rest of the bone broth and bring to boil then turn down to low and simmer for 5 minutes. Remove from heat. Whisk in sour cream. If you prefer a smooth consistency, blend with an immersion blender. Taste and adjust the seasoning.

Pour the sauce over the arranged stuffed peppers. The sauce should come up about a ⅓ to ½ way up the peppers. Cover the pan with a lid and place into preheated oven. Bake at 375F for 1 hour and 30 to 45 minutes; baking longer will make the peppers softer.

Allow the peppers to cool for about 30 minutes before serving; they will be extremely hot when they come out of the oven. Serve the peppers with a generous amount of sour cream, topped with a sprinkle of fresh dill leaves, a dill pickle, and keto bread if desired.
Did you make this keto Ukrainian stuffed peppers recipe? If so, please let me know how it turned out in the comments. Or if you share pics of your creations on Instagram, please tag me so I can see them. Enjoy! :)