Chris and I have been angling to do an overnight snowshoeing camp at Artist's Point since last year. Each time we make a loose plan to do a trip, the avalanche risks have been too high to do it. This time was no exception. We decided to go to Mount Baker anyway, having discovered that you can camp in the parking lot at two of the base lodges overnight. So we decided to do just that and go snowshoeing in the less risky treeline trails instead.
Parking Lot Camping at Mount Baker Lodges
There are two parking lots where you can camp overnight, the one at White Salmon Lodge and the one at Heather Meadows Lodge. We decided to camp at the former as it was less of a drive and therefore closer to the Salmon Ridge Sno-Park where we planned to go snowshoeing the first day.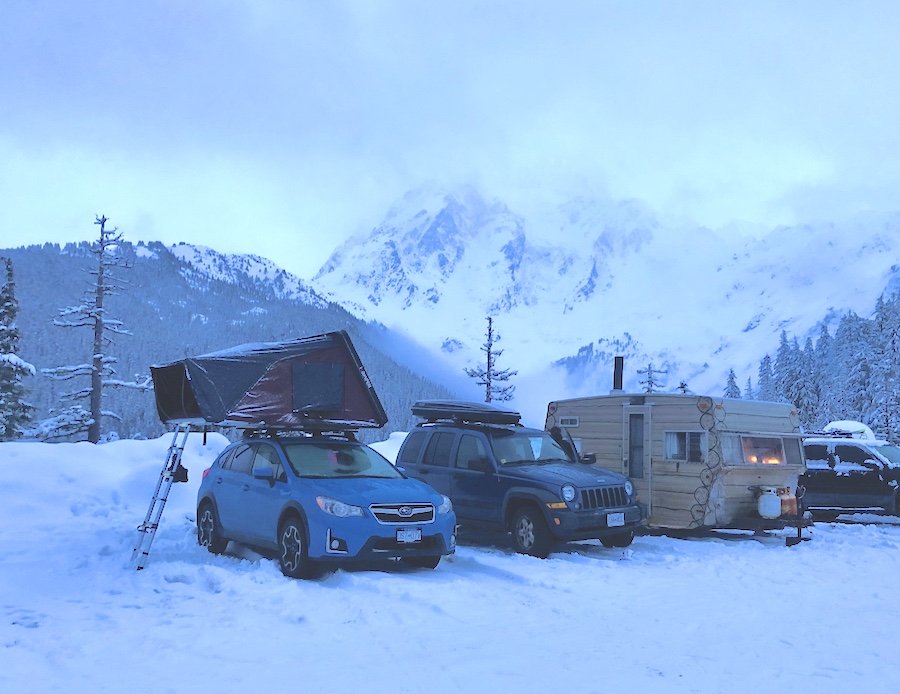 We arrived at the lodge at 11:30am. We went in to the lodge's administration desk, paid our $10 (plus taxes) and got a tag to hang on our rearview mirror. We were shown where we could park for the overnight camping, but we would have to wait until the parking lot cleared out a bit as the area was full at the time. That was fine for us since we didn't want to set up until we got back after snowshoeing.
The lodge itself is fully open for business from 9am-5pm, but their doors (and washrooms) stay often until around 6:30pm and open up around 7:45-8:00am. Overnight, there is protected outhouse for campers to use, but other than that, you're on your own, so make sure you fill up your water bottles before they shut down for the night.
If you like to sleep in, camping in the parking lot might not be your best bet. One of the caveats is that you need to move your car from where you camped to a plowed area so they can plow the designated camp area. Other than that, it's a pretty good set-up for people new to winter camping. Most people were in RVs or trailers, but there were a few brave souls who camped in tents. Having a heated lodge makes this camping easier, giving you a place in which you can = warm up , change comfortably, enjoy flush toilets, and buy and eat food you don't have to prepare yourself. Even if you bring your own food, you can still eat it inside on the third floor of the lodge where there is a dining area designated for that purpose. Be sure to also say hello to the resident cats. "Bringer" came up while we were eating and made himself comfortable on Chris's lap.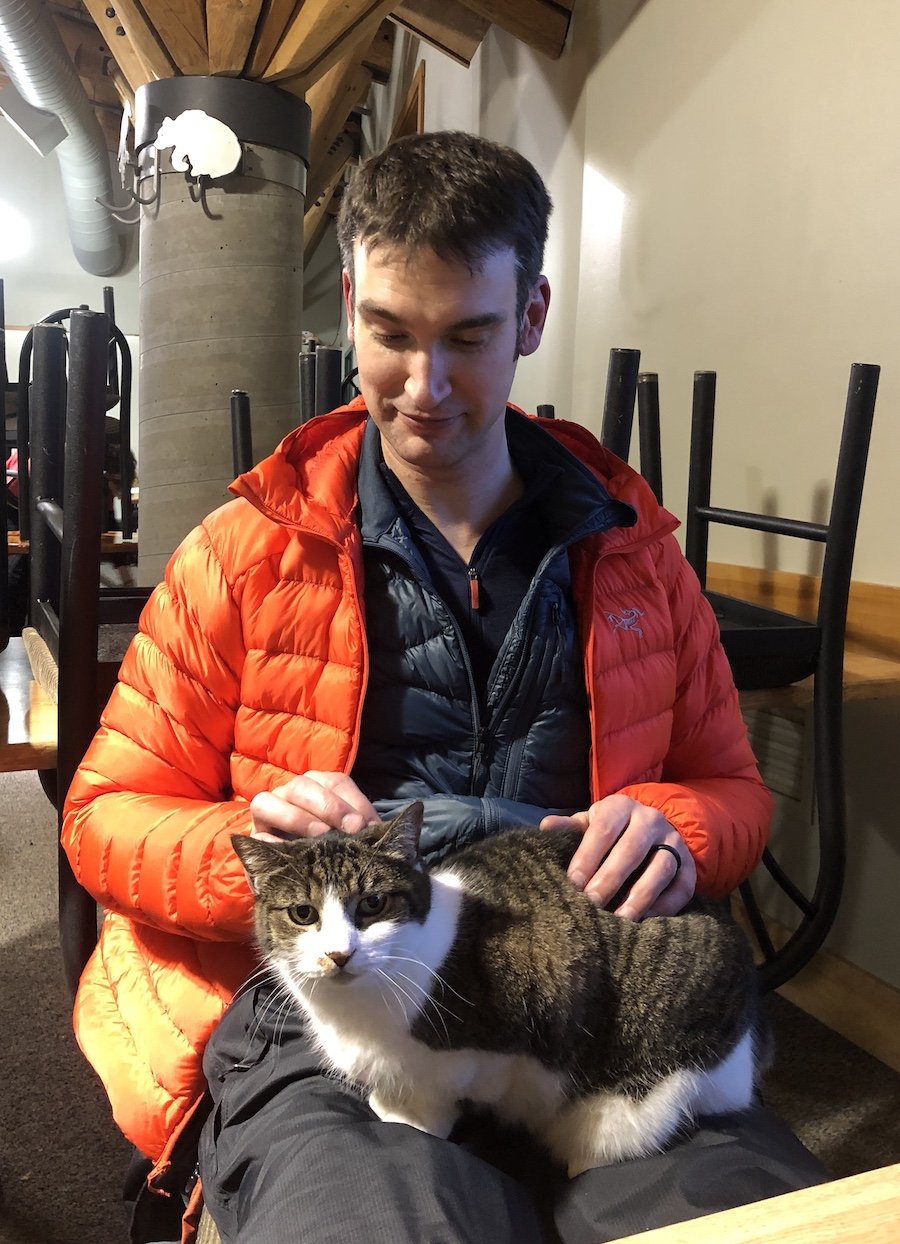 Snowshoeing Cougar Loop Trail at Salmon Ridge Sno-Park
To park and use the trails at Salmon Ridge Sno-Park, you have to pay a $20 day use fee. If you're thinking about chancing your arm with not paying, I would advise against it. It is regularly monitored, plus if everyone did that, the area wouldn't have the budget to maintain the trails as it's supposed to. There's nowhere to pay onsite at the park though, so, to make things easier, it's best pay and print your dashboard display ticket ahead of time. Having chatted with the state trooper who was monitoring the lot, the other official option is to drive up to one of the lodges to pay, but he told us that he personally was fine with it if we just paid online and write out the order numbers on a piece of paper and then display that on our dash. We did the latter.
The trail winds through the woods directly next to the outhouses, connecting you to a larger trail that takes you south several kilometres. There are a few more challenging side paths for snowshoeing you can check out too. We did one, but mostly decided to stick to the main trail so we could snowshoe the Cougar Loop.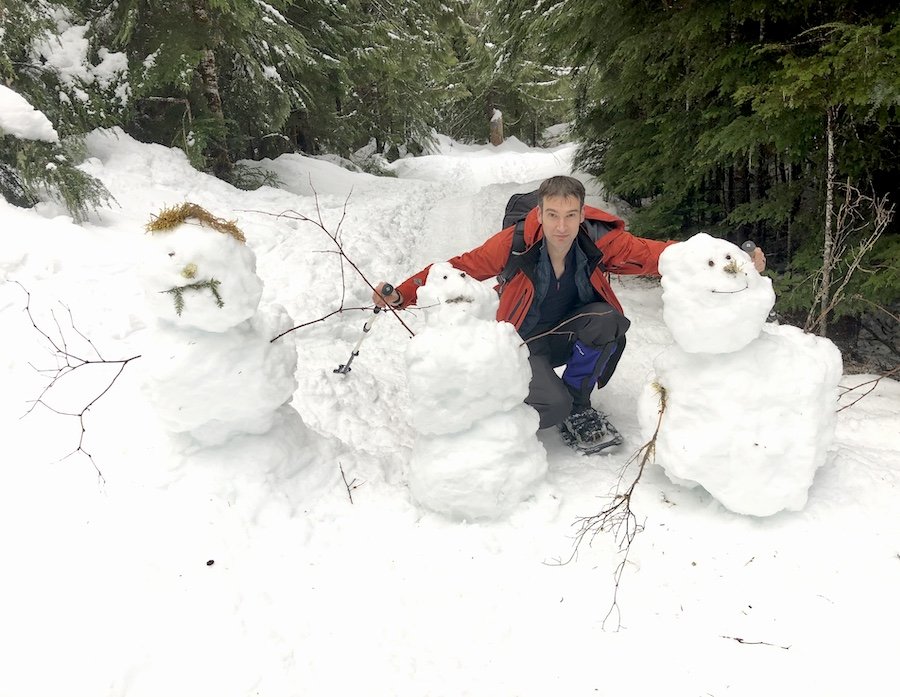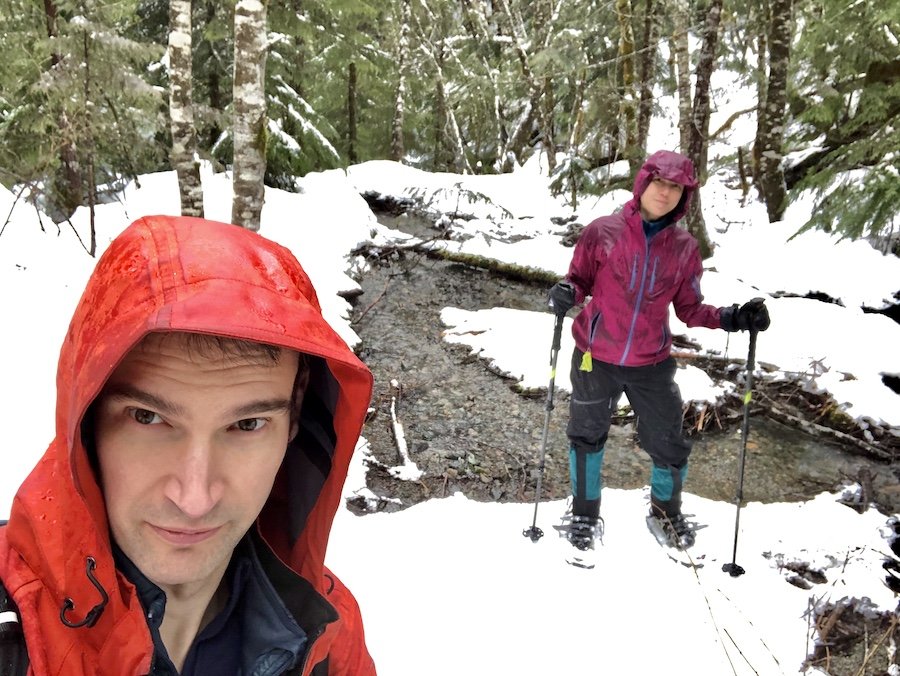 The main trail and Cougar Loop trail are both multi-use trails, meaning they are shared with nordic skiers. This means you should try your best to avoid stepping on the cross-country ski tracks to make it easier for those using them. As you go around the loop, you'll venture deeper into the forest. You'll eventually come across a bridge with a lovely waterfall, that makes the trip worth doing. Personally, I like there to be something of note to see that distinguishes it from other trails, so I was happy to see it.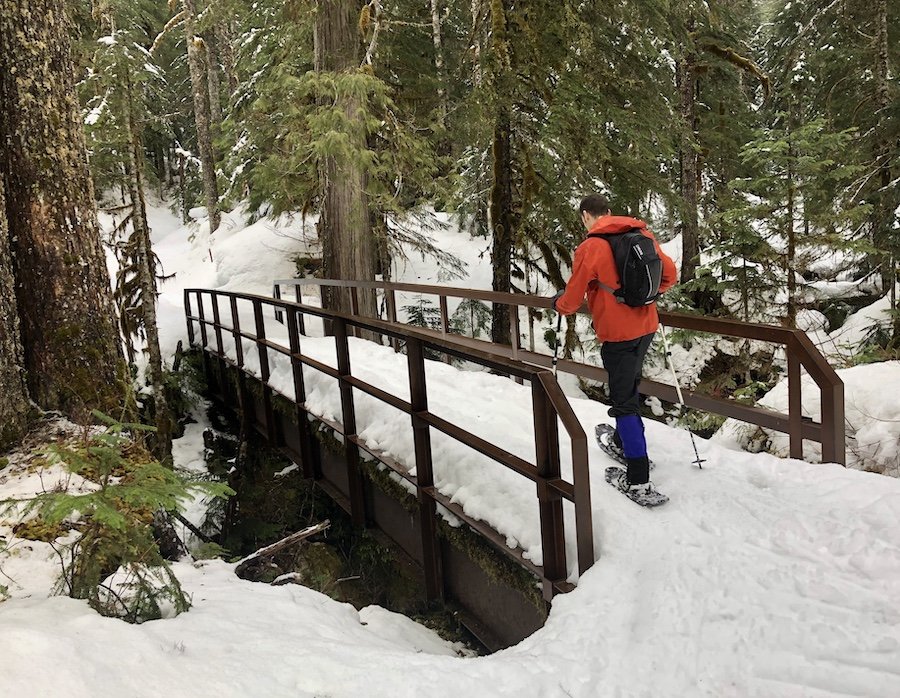 This route was had slightly inclined and declined pitches throughout with a few flat stretches. It is easy enough for beginners to do, provided you have the physical stamina to snowshoe that distance. Overall, we travelled 10km out and back, including one short journey on a side trail. This took us around 2 hours and 45 minutes.
Snowshoeing Salmon Ridge Point Trail
The next morning we decided to Salmon Ridge Point. What's nice about this trail is that you don't have to pay a fee to park and use it. The down side is that the parking is limited so you have to get there early to get a spot. Since we went first thing in the morning after staying the night, we were the first ones on the trail, showing up there at around 8:30am. We had the joy of breaking trail and journeying through pristine, untouched snow. This trail also appears to be multi-use, so nordic skiers can use it too.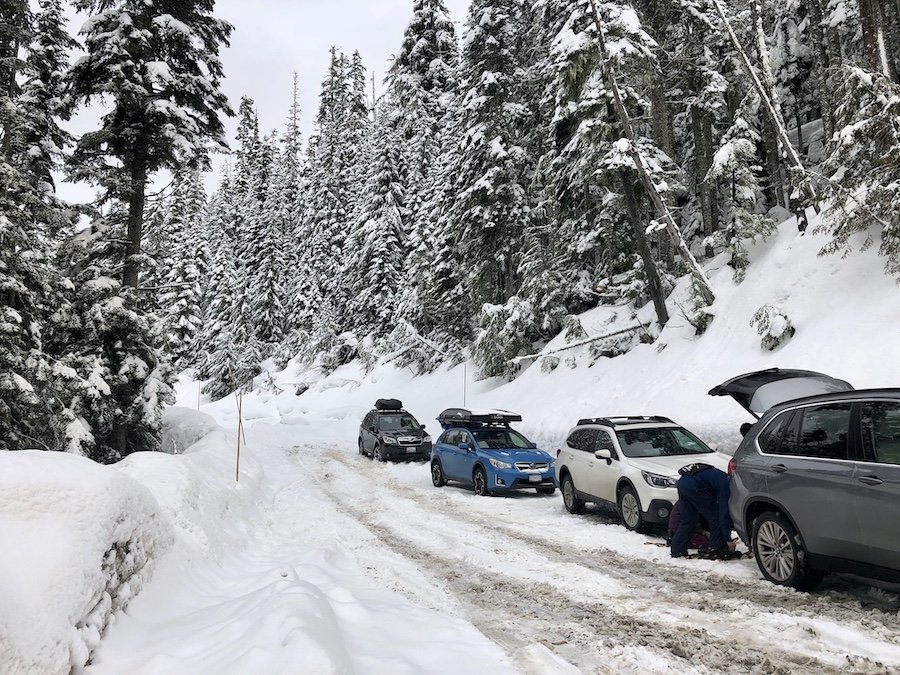 The journey starts off relatively flat, then takes you down a slight decline for a while through the forest. It eventually levels off for a while, then you start to go uphill again for a few kilometres. There are a few intermediate side trails you can take too, but because we didn't have as much time, we didn't go on them. Eventually, you'll hit the last approach to Salmon Ridge Point, which is steeper. We flipped up our heel lifts to make it easier.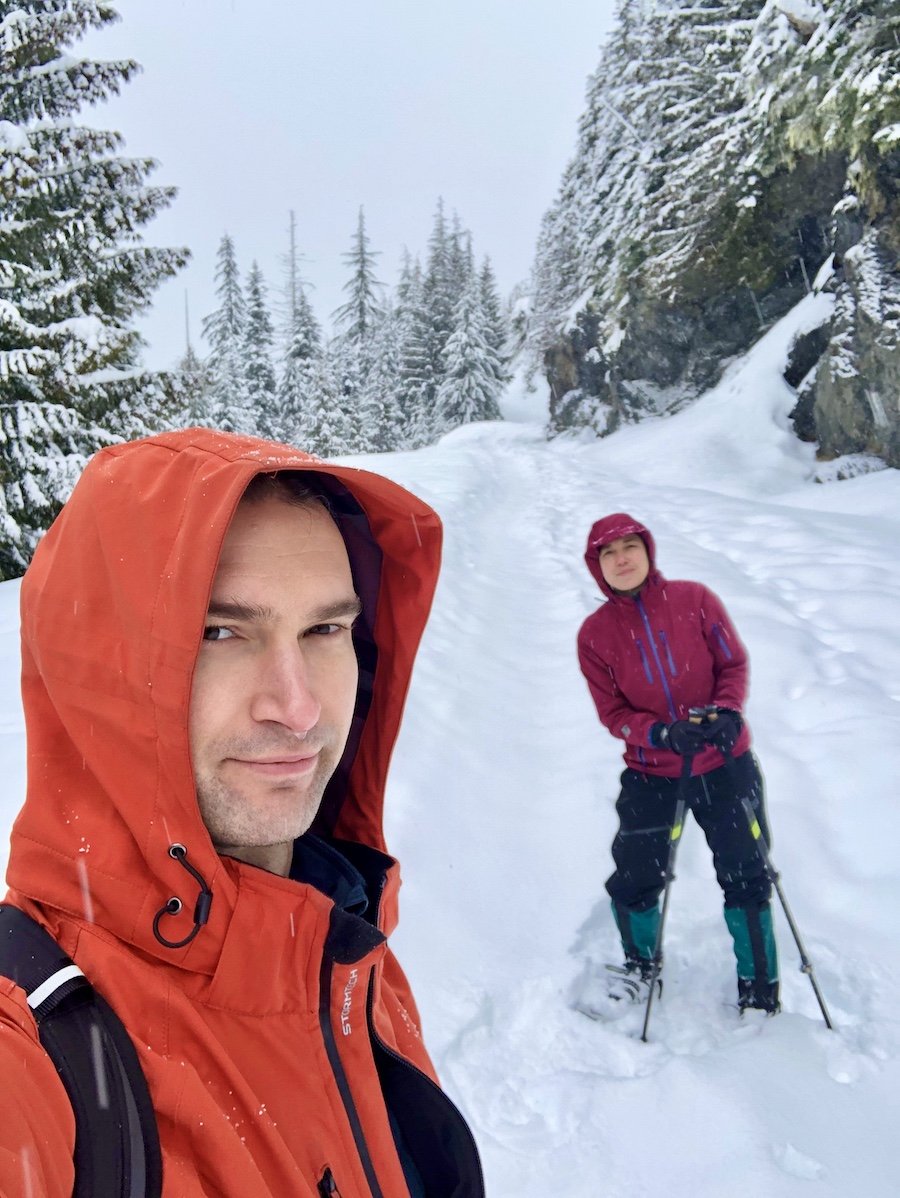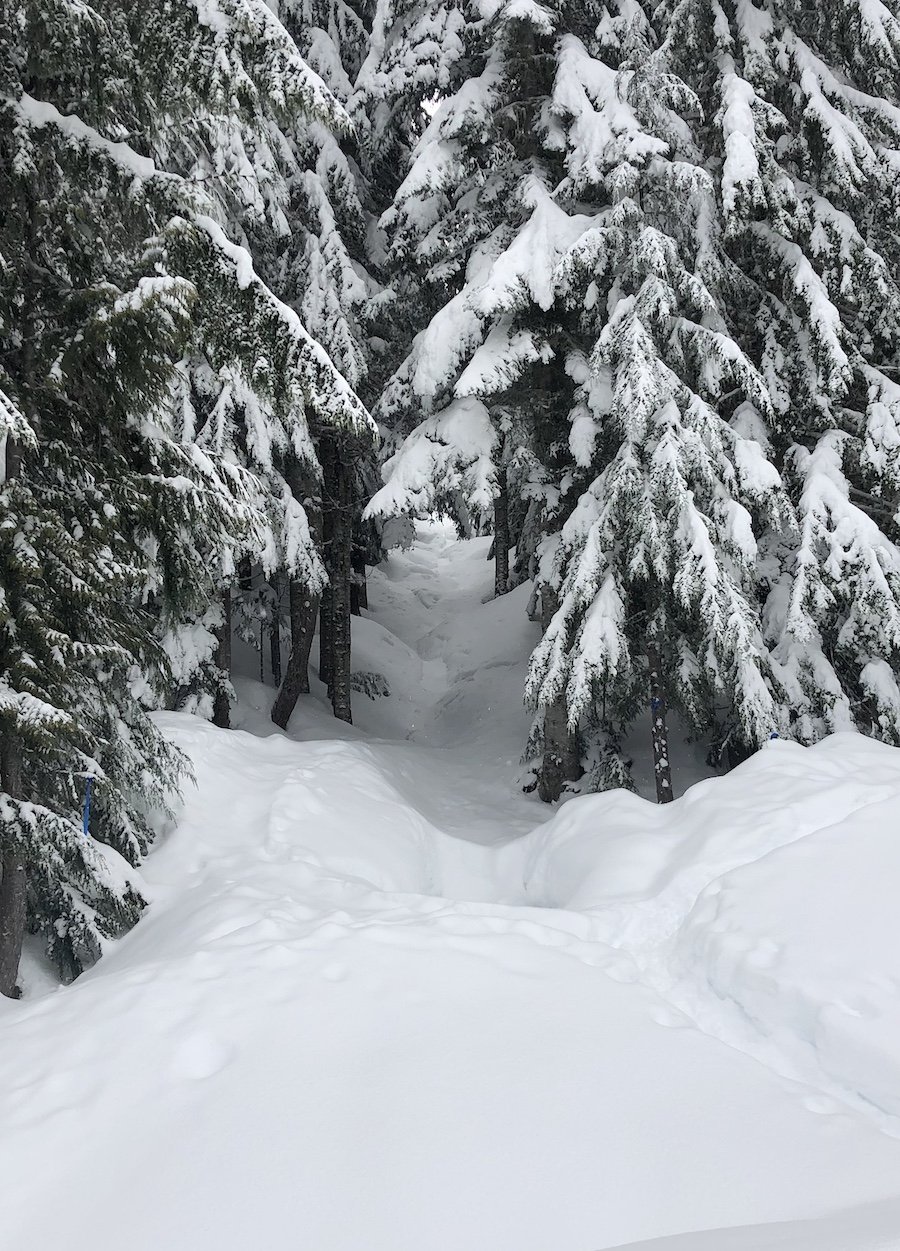 Salmon Ridge Point features a large open space with views of the surrounding mountains and valleys. It was a bit cloudy when we got there, so the missed out on some of the views, but it was still nice being up there in the snowy, misty landscape with no one else around.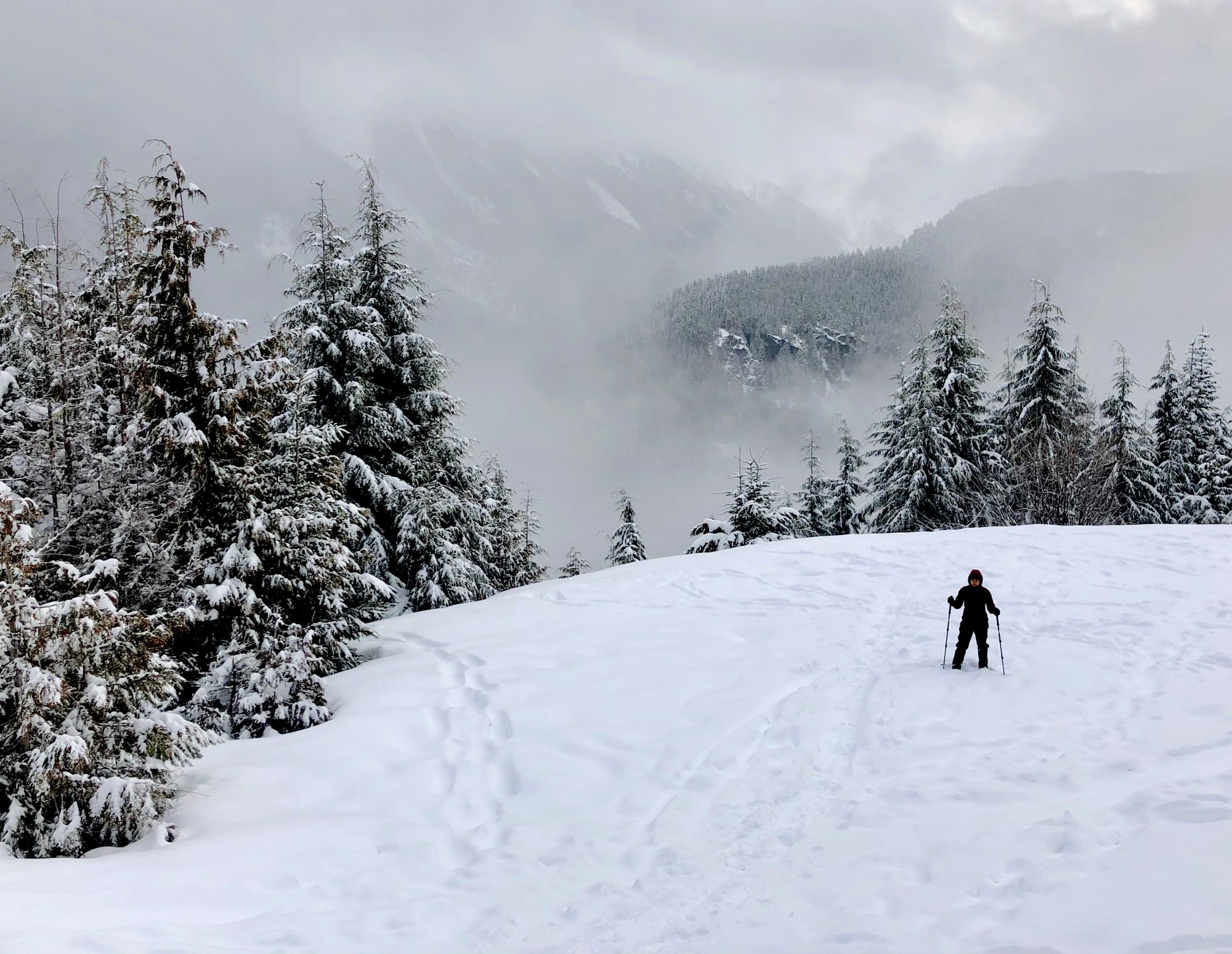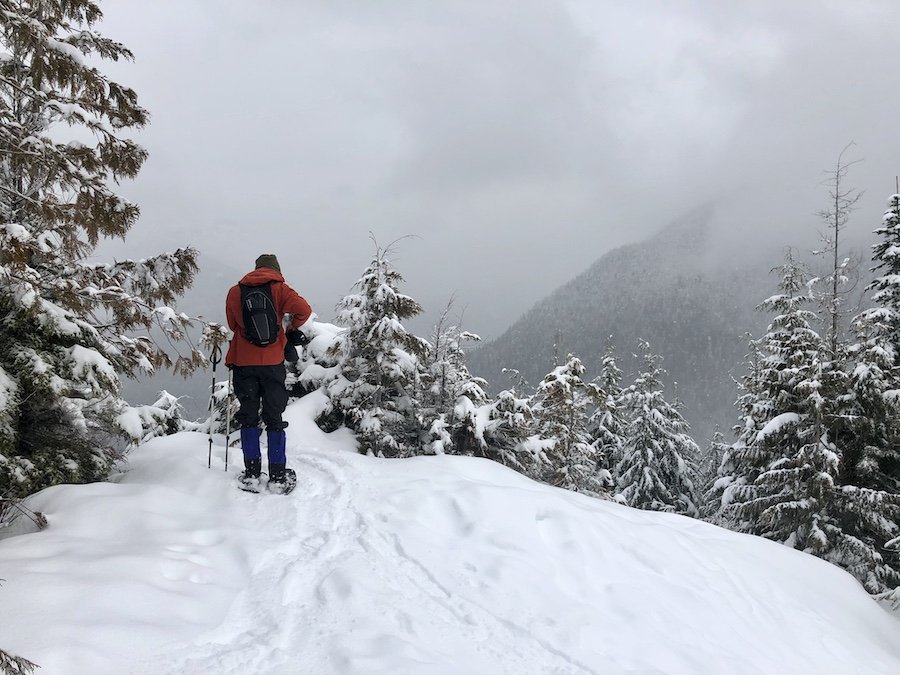 The Salmon Ridge Point trail is also easy enough for beginners to do, though more physically demanding with more elevation change than the trails we went on at the sno-park the previous day. Overall, we travelled around 6km out and back, including one short journey on a side trail. This took us around 2 hours.
Our Snow Adventure
While this wasn't the trip we had originally wanted to do, it ended up being an enjoyable one. If you want a less challenging winter camping experience with a variety of easy snowshoe trails (not to mention alpine and nordic skiing options), Mount Baker has you covered. I just hope we are able to find some time to go back and do Artist's Point some time before the end of the season. One last side note: If you take your gloves off while snowshoeing, don't just tuck them in your jacket. You can easily drop one without noticing, as happened to me. Since we didn't have time to go back and look for it (we were racing the light), I asked a passing nordic skier to keep an eye out for it and to hang it up on the board if she found it. We went back the next day and thankfully found it at the board thanks to the kindness of strangers.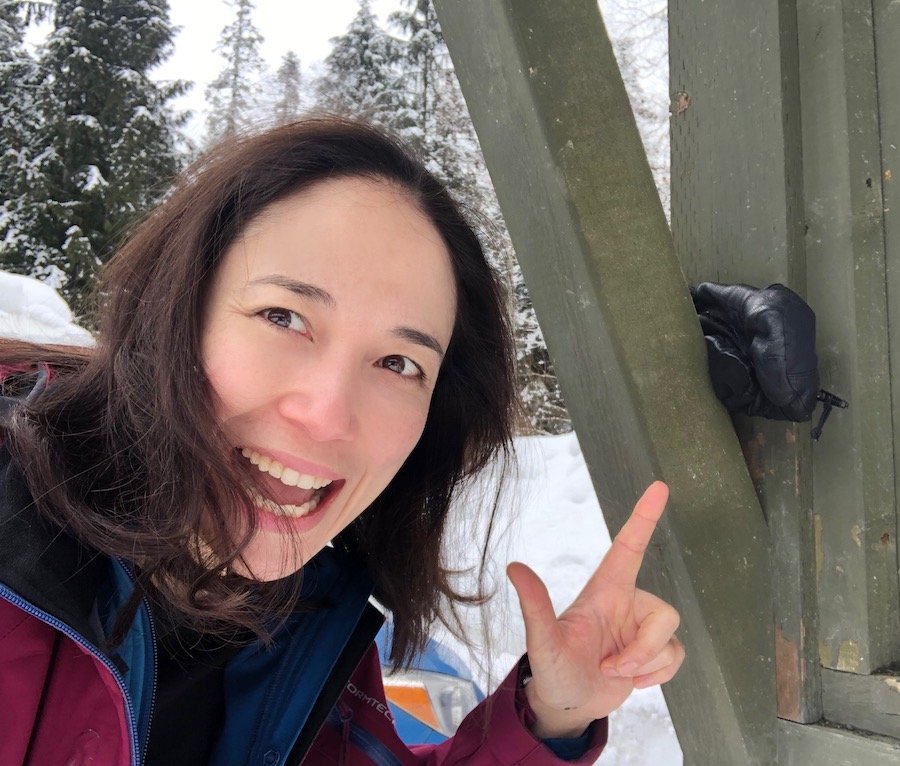 Have you ever gone snowshoeing at Mount Baker or camped in the lodge parking lots? What were your experiences like? Please share your thoughts in the comments. :)