I don't know about you, but sometimes I feel like there is a need for a particular camping product, but what I want doesn't exist, or if it does, it's not the quality I want it to be. Take stoves for car camping. In my mind, the perfect product would be able to serve as a stove, grill and griddle, all in one product, and have the option of doing two things at once, like boiling water for coffee while cooking breakfast on a griddle, for example. This eventually brought me to the Eureka Gonzo Grill, but not till after checking out all the options in the market.
The Combo Camp Grill-Stove: What's Out There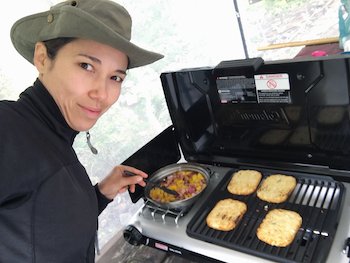 For years, I've been using more basic Coleman Camp Propane Grill/Stove that has a stove element on the left side and a grill on the right. There was also a accessory that I purchased so that I could swap out the grill for a griddle. This product isn't perfect. If you have both elements going, there is a noticeable drop in the heat on the grill side. Also, griddle accessory can't be housed in the stove, so you have to make sure you have a way of keeping the non-stick surface protected when you transport, pack or store it. I just used the box it came in for a long time, but that broke down and then I used a plastic bag, but had to be careful as that isn't enough to keep it protected if something metal shifts across it in transport.
The Coleman Hyperflame FyreSergeant Hyperflame stove was the next iteration of the combo grill-stove concept. I had such high hopes for it because it has two elements that both can be used as stove, grill or griddle (if you buy the griddle attachments separately). I waited for reviews to come out though before buying it because if I bought another stove, I wanted it to be good, not just slightly better. Sadly, it seemed that there were just too many issues with the quality of the stove that I decided to pass on it. Some common complaints:
No windscreen.
Cooks very hot and unevenly.
Hard to clean.
Loud whistling noise while running.
Flimsily built.
The last item on this list is definitely a deal-breaker. I usually don't expect propane camp stoves to have the best heat control or distribution, but I do want them to last many uses. Too many people who loved the product when they first bought it went back and altered their review after a number of uses saying that it was great at first, but over time the windscreens would break or the flame control knobs would strip, and other issues that are classic signs of something that was flimsily built. It's a great stove in concept, but sadly too many corners were cut in its implementation, especially when you're paying nearly $200 for one and that's not including any griddle accessories. If opting for 2-element Coleman stove, you may as well go for the much cheaper, better made grill/stove combo for $120 CAD and spring for the griddle accessory. Unfortunately, you might have a hard time finding one since Coleman has discontinued it.
Enter Eureka's Gonzo Grill
Now if want a compact grill-stove combo solution that's built to last, Eureka's Gonzo Grill has got you covered. Its clever design has all three elements, stove, grill and griddle, all included in one compact device. As it is well-designed and built, you're looking at a retail price of $249.95 at MEC. Check out this video giving an overview of its design and capabilities:
The only down side in the overall concept is that there is only one element, but if you really want to be able to use a second stove burner to boil water for coffee while cooking, you can pick up a Jetboil Luna satellite burner for $64.95. Note that you will either need to have Jetboil compatible cookware as standard pots and pans will simply cover and extinguish the flame. Or if you have friends who own a Jetboil Genesis, HalfGen or any Eureka stove, you can daisy chain all of these stoves together on the same propane tank. Alternatively, if you can just you pick up a Jetboil pot support for only $11.99 and use any pot or frying pan you like with it.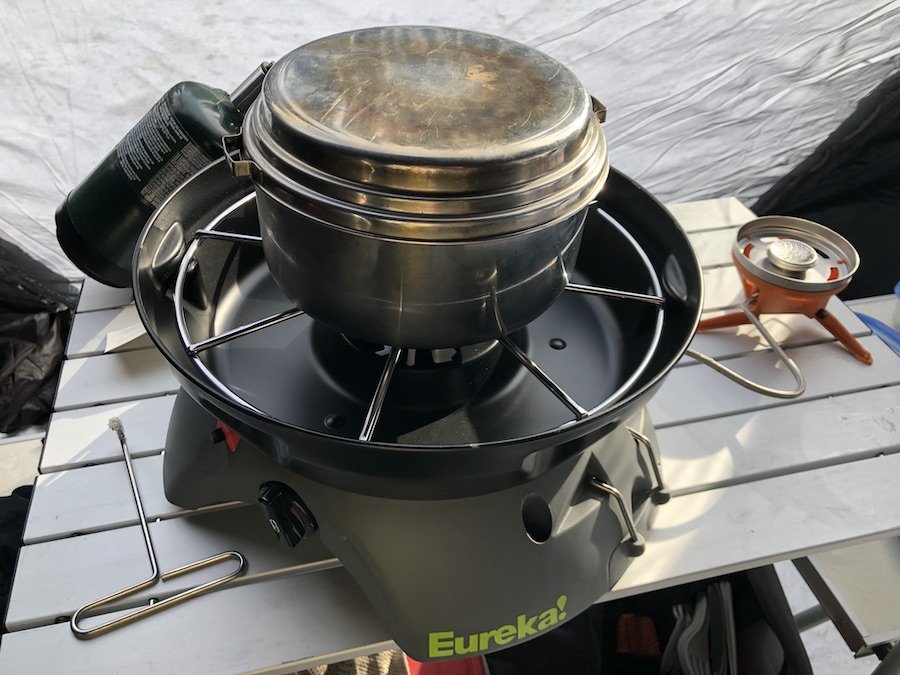 The Little Things that Make the Gonzo Grill So Great
The designers of the Gonzo Grill really thought things through when they created it. The propane stove attachment has a clip-in storage solution for it on the underside of the grill. The hook for lifting and flipping the grill over to the griddle side (or off the unit entirely so you can use the stove) also has a similar clip-in storage site under the grill, so everything has a place and is contained in the unit. It even comes with its own cover so you don't have to spring for an expensive bag to protect it and your vehicle when transporting it. Cleanup is easy with the Gonzo. Juices run from the griddle into the grill base. Then you just wipe it out when finished cooking and scrape the top with the included scraper, that also is fastened under the stove. Also, it is the only combo stove product I have seen that has a full cover to keep the heat in or the wind out when grilling.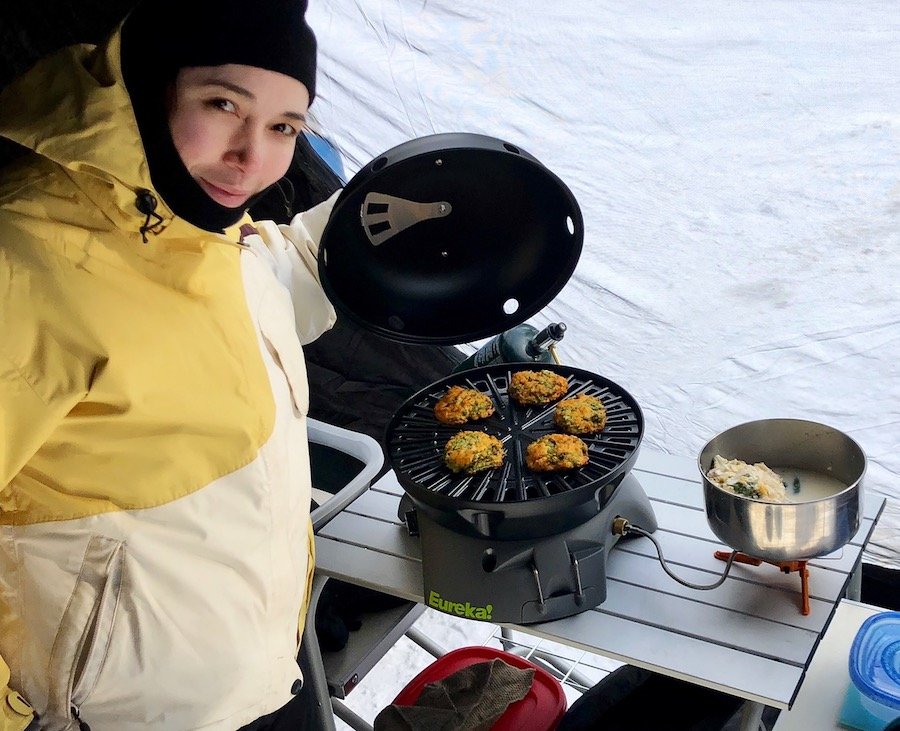 Where the Gonzo Grill Falls Short
While the Gonzo has excellent flame control giving you the right amount of heat for simmering, making pancakes or grilling a steak, the flow control isn't clearly marked so it does take a bit of getting to know the product to get used to it. Also, some find that the control is almost too good, making it hard to tell if it's still lit at the lower end.
Because the grill/griddle part is cast iron, it should last for years if taken care of properly. That being said, it does make the whole stove a lot heavier, weighing 14lbs 2oz. This doesn't bother me much for car camping, but if you are concerned about weight, it might give you pause. The cooking surface for the griddle isn't huge, fitting only about 2 eggs and a couple of slices of bacon. And if the unit isn't perfectly level, more liquid foods can drift from the centre and fall through the grate.
Overall Impressions
While it isn't perfect, the Gonzo is the best built tabletop camping stove-grill-griddle combo I've seen on the market. It is a lesser known brand, but seems to have a strong presence in Canada if that's where you're shopping. It may seem a little on the expensive side, but if you can afford it, it's worth the investment to have a product that fits a lot of needs and is built to last.