Over the years, Chris and I have bought a lot of different camp chairs and seats of all different sizes, prices, qualities and features. Each one has served us in different ways, but no one has ever been perfect in all contexts. As a result, we have kept a few different types of seats that we use for different camping experiences. If you're thinking about buying a camp chair and are not sure which of the many options to go for, this is the blog post for you.
Car Camp Chair Factors for Your Consideration
I've broken down this camp chair/seat review into a variety of factors as there is no way one chair will be perfect in every context. They are as follows:
Comfort: How comfortable is the camp chair for relaxing in while camping?
Collapsibility: How small does the camp chair pack down?
Carrying Convenience: What features does it come with to help you carry it?
Weight: How much does the camp chair weigh? Is it light enough carry long distances?
Onboard Storage: What kind of pockets and holders does it feature?
Usability: Is the camp chair easy to set up and use?
Versatility: Can it be used in a wide variety of camping contexts?
Price: How affordable is the camp chair?
Camp Seat Review: All the Ones in Our Line-Up
Here are all the different styles of camp chairs I will be reviewing today:
1. Quad Folding Chair: Simple & Affordable Car Camper Chair
Back in the 90s, the camp chair evolved from the classic aluminum folding chair with interwoven plastic webbing into the far superior nylon quad-style folding chair and it has been a mainstay in the industry ever since and still one of the most commonly sold and used chairs today. It's continued popularity is owing to its overall comfort and usability at the lowest price, making it the most widely available camp chair of all the options.
Comfort: While their are different comfort features available for different versions of this chair (i.e. padding, cooling mesh, foot rests, head pillow, etc.) their essential design is pretty much the same. The chair cradles your butt well and is relatively comfortable to lean back in though not far enough to really kick back and take a nap in comfortably. Most designs also have arm rests, though there are a few more minamalist ones without them.
Collapsibility: This design only folds down in one direction drawing in the four support posts into one so it can be awkwardly long for storing in a car, it won't be as much of an issue if you have more storage space in your vehicle or garage.
Carrying Convenience: These chairs usually feature an attached shoulder strap as well as a protective sleeve with a shoulder strap. Many also have a clip to hold the quad posts together if you aren't using the bag. The protective sleeve helps your car or storage area clean by covering up any parts that may have come in contact with the ground and keeps all the parts contained so they don't catch on anything while in storage.
Onboard Storage: While the features can vary from model to model, most have one or two cup holders that can be used to hold drinks or phones. Some models also have a pouch for a magazine or book.
Weight: 3500-5800g. These chairs are not meant to be minimalist in terms of weight, making them some of the heavier camp chairs available.
Usability: Once you take it out of the bag and unclip the posts, it pretty much builds itself, making it one of the easiest of all the camp chairs to set-up.
Versatility: Because it's heavier and bulkier than most other camp chairs, this design is limited to contexts in which you don't have to travel far from the car, like BBQs, picnics, and car camping.
Price: $10-40 CAD. This is where the quad-style folding chair really shines. You can get these chairs are widely available at affordable prices, both in retail stores and online.
Here are a few options for quad style folding camp chairs worth checking out:
2. Zero Gravity Chair: A Comfortable Choice for Stationary Use

The Zero Gravity Chair has been the standard for luxury folding chairs for over a decade now with the ability with great overall support and the ability to recline comfortably. The price you pay for that comfort is the weight and bulkiness of the product, making it the least mobile of the various styles of camp chairs.
Comfort: Featuring full back, leg and butt support that's attached to the chair stays with elastic cord, and a design that allows you to recline back and take a nap or look up at the stars, as well as an adjustable headrest pillow, these chairs are the most comfortable folding chairs I've ever used.
Collapsibility: This is where the zero gravity chair falls short. What you get in terms of comfort you lose in manageability. Of all the options out there, these ones are the most awkward in their collapsed state, folding in the same way as the old chairs they used to sell in the 80s. They take up a huge amount of space in your car making them a decidedly inconvenient option for people with smaller cars (or no car).
Carrying Convenience: There are no special bags or straps to make this chair easier to carry. It's awkward to carry any distance and it is hard to fit in anything but large trunks, truck beds, RVs, etc with plenty of space to spare.
Onboard Storage: None. While the zero gravity chair doesn't come with any storage features, you can buy a small attachable table with cup holder for $11.49 CAD on Amazon.ca to go with it.
Weight: Approx. 7500g. These are so heavy! They're incredibly awkward to carry due to their size and weight. This is why these chairs are more likely to be used either at home or by someone using it with an RV. The size of the chair also makes it a little hard to huddle close to a fire if you're car camping.
Usability: While the zero gravity chair is hard to carry and move, it is pretty easy to set up and use once it's where it needs to be. It just folds open and is ready to go.
Versatility: The zero gravity chair is not versatile at all and really can only be used at home or when doing stationary luxury camping with lots of storage space. It's a "glamping" chair.
Price: $64-100 CAD. Different brands offer different prices, but considering the robust materials these chairs use, the price is reasonable, bearing in mind that they are not multi-purpose chairs to be used in a variety of contexts.
If you're trying to weigh out which zero gravity chairs you want, visit YourBestDigs.com's review of various models. Here are a few models worth checking out on Amazon.ca:
3. Helinox-Style Camp Chair - Compact & Light for Small Cars, Hike-in or Portage Camping
Helinox revolutionized the way we look at camp chairs with its innovative design for a tiny, packable camp chair that is small and light enough to bring on backpacking or portaging adventures, while staying off the ground and comfortably supported. They are also a great choice if you don't have a lot of cargo space, like if you're doing bike camping (bicycle or motorcycle), or even a compact car. They have since created a variety of styles of their camp chair too, including a high-back version for more comfort.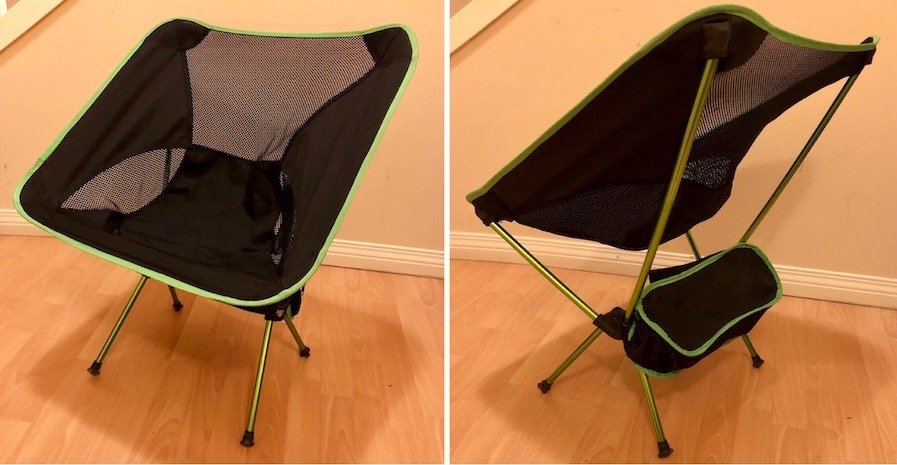 Comfort: Considering how small these chairs fold up, they're pretty comfortable, though not as comfortable as a Zero Gravity or a Stargaze. Because they're low to the ground you can stretch your legs out though. You can spend a little more, and get one with a full length back rest, which makes them a closer match in comfort, but then you sacrifice by making it bigger and heavier, so it depends on what's important to you. You do have to be a little careful how you lean and reach while sitting though as the chair legs are fairly small and not very stable.
Collapsibility: Of all the camp seats that are chairs, this one is the most collapsible. It folds down really small, making it easy to throw in a trunk or even a backpack for a hike out picnic.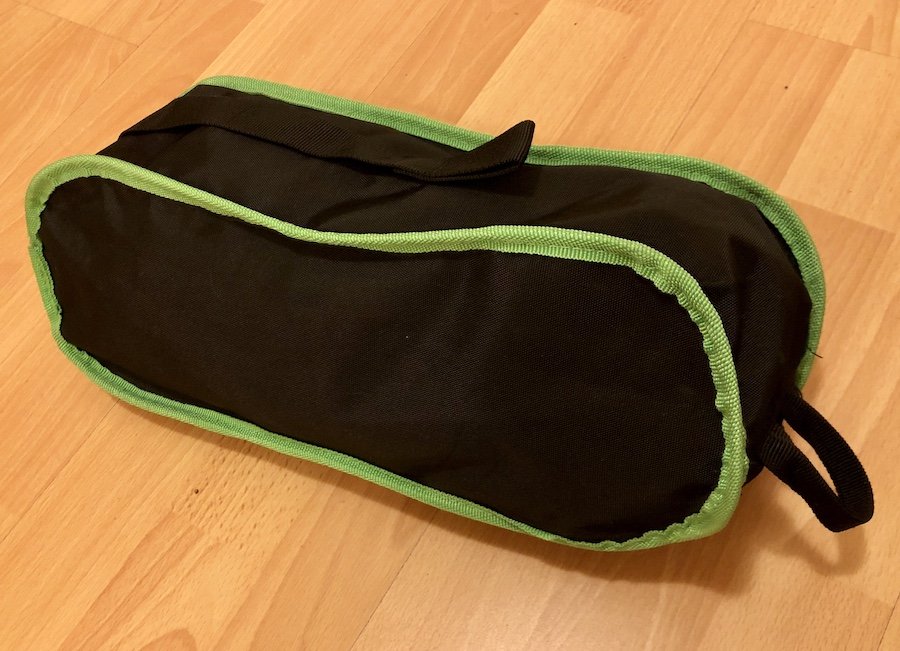 Carrying Convenience: All the Helinox-style chairs come with a storage bag with a handle and lash points if you want to strap it to the outside of a bag.
Weight: 535-955g (standard size), 1600-1700g (full back size). The more minimalist chair you go with, the less it'll weigh, so keep that in mind when choosing which option you want.
Onboard Storage: Some of the newer versions of this chair come with a pocket on the side. You can also attach the carrying bag underneath the chair for more storage. Most of them don't come with cup holders, though I have seen some of the full back versions come with one. You can, however, buy a hanging cup holder that will work with a bottle or can, but these can be pretty pricey. The Helinox cup holder retail for $45 cad and I haven't seen any knock-off versions out there to rival it, as has been done with the chairs. I don't think these are a great option though, because if you put a full drink or a heavier bottle/thermos into the holder, it would be heavy enough to cause an imbalance in the chair so if you get up, the drink could knock the whole thing over. Probably best to rest your drink on the ground or a small table if using one.
Usability: These chairs are a little awkward to set up when you first get them, and there is a bit of a learning curve, but once the fabric works in a bit, and you get used to doing it, it's not overly complicated. It is harder than just unfolding a quad-style chair or zero grav and I probably wouldn't ask my parents to set one up.
Versatility: This is where the Helinox-style chairs shine! The smallest ones are light enough to be used in most camping contexts, even backpacking if you don't have to go very far and/or weight isn't of prime importance to you. The full back ones are a little less versatile in that you probably wouldn't backpack with them, but they're a great option if you want a little more comfort but don't want to sacrifice car space when car camping.
Price: $30-170 cad (standard size) $60-260 cad (full back size). If you go for the Helinox brand chair, you'll pay the higher prices. The quality, warranty and features in some cases are going to be better though. Personally, I feel that the Helinox brand is over-priced on the whole, and that some of the other known brands like MEC, McKinley or REI make their own versions of a similar quality.
While the Helinox brand products are quite pricey, many other brands of created their own similar versions of the design so there are a lot of options out there to choose from, many just as good in terms of quality without the hefty price tag. Here are a couple of others worth checking out:
4. Nemo Stargaze Recliner Luxury Chair - Best All-Round Car Camping Chair
This is the Rolls-Royce of car camping chairs. Every part is well-designed for the best, most optimal car camping chair on the market. Its superior design does, however, come at a price.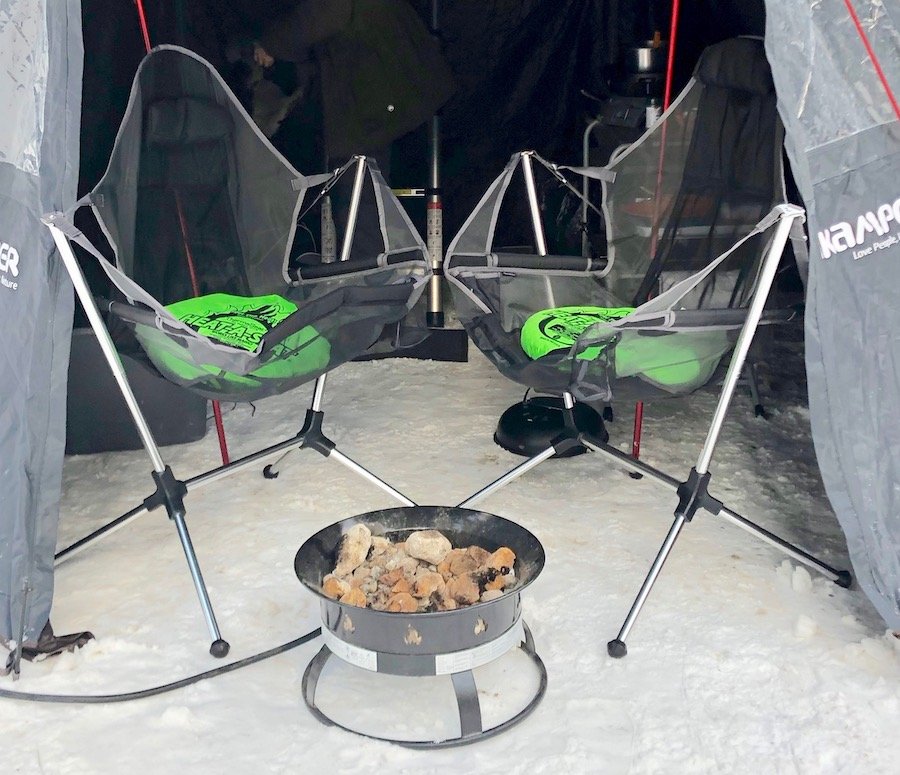 Comfort: Amazing, it's like a camp chair crossed with a hammock. It combines the ability to lean back, lounge that you get with a zero gravity chair, adding a bit of swing like you would get with a hammock, while being small enough to huddle up close to a fire.
Collapsibility: Collapses down nearly as small as a full back Helinox-style chair, but with way more features included. Yes, it's a little bigger, but you're getting a lot of more for that slight difference.
Carrying Convenience: Comes with it's own convenient carrying bag that into which it easily packs down.
Weight: 2860g. It isn't a light chair for all its packability. Because it needs to support you in a way that allows you to swing safely, the stays for the chair have to be quite a bit more robust than what you can get away with for the Helinox-style chairs, making it more appropriate for car camping or short distance hike-in campsites.
Onboard Storage: This is where the Stargaze really shines. It comes fully loaded for comfort with a spill-proof cup holder and a phone pocket built into the chair. No need to buy any extras to get the ultimate chair.
Usability: The Stargaze has about the same level of set-up difficulty as the Helinox-style chair, not as easy as a quad folding chair or zero grav, but hard enough that I wouldn't want to make my parents figure it out. You can see how easy it is to set up in my YouTube review of this the Stargaze Luxury below:
Versatility: It's not as versatile as the Helinox-style chair as it's too heavy for longer distance backpacking trips, but it's light/small enough that you could still use it for shorter distance hike-in campsites. One other thing to note is that it is a wider chair, so it takes up a little more space. It doesn't really work for our winter camping set-up in which we use an annex room attached to our Skycamp due to the limited space we have to set up chairs around our fire pit within it.
Price: $299.95 CAD. There are no less expensive imitations for this chair. It's pricey, but you're getting a lot of value for your money. If you bought a Helinox-style full back chair and added the cup holder, you would be spending the same amount anyway, and this chair lets you lean back and lounge.
If you're willing to drop a few pennies to get the best overall chair for car camping, this is the one to get. Make sure you get the luxury version and not the standard version though. If you're going to spend that much money anyway, you may as well be able to rest your head, which is an important comfort factor if that's what you're going for. Here are a few places you can get them for the best price:
MEC
CampSaver.com (*An American site but they often have flash sales of 20% off.)
Choosing the Best Car Camping Chair for You
Ultimately, there is no one perfect camp chair for all occasions. I have owned versions of all the above chairs and have found they all had their uses. The only one I have gotten rid of is the zero gravity chairs as we just found them way too big and awkward to take out camping in our car. It's really a question of choosing the best chair for your needs, but at least you can look over this list and consider all the different options out there.