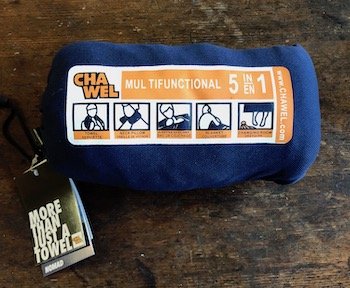 With all the outdoor activities I do involving water, I first encountered the chawel, a product made by a local Vancouver-based company, in an online outdoor activity web store. Two minutes later, I totally impulse bought it. Who wouldn't want a lightweight, quick-drying towel that is multi-purpose, doubling as a change room, blanket, sleeping bag liner, neck pillow, and can even be worn to warm up, complete with hood and arm holes? Ok, let's skip the infomercial and focus on what I use it for most.
The Chawel as a Changeroom and Towel
I didn't buy the Chawel for the neck pillow or its usefulness as a "blanket", I specifically wanted an easy way to change publicly, which comes up a lot for me whether I'm kayaking, scuba/free diving, swimming at the beach, camping, even doing water stunt work. It combines the lightweight, quick-drying towel, which I like to use for all my outdoor water activities, with use-anywhere portable change room. Nice!
As a towel, the fabric is absorbent and feels nice on the skin. It also dries very quickly when hung to dry in the sun. As a change room, It was roomy enough for either me or my 6'2" husband to change in it. I actually laughed as I watched Chris very casually change out of his swim suit while in the middle of a conversation with some of our camp neighbours, who didn't even seem to notice him doing it. Below is a video of me using the Chawel to change. I sped it up so you wouldn't have to be too bored watching, but you get the idea. Check it out:
The Chawel as a Warm-Up Layer
This feature isn't one of the ones advertised by the company, but this is one of the ways I find myself using it, more so than as a blanket. I would rather not get it all dirty by laying it on the ground. I prefer to wear it and sit in the sun using it as a cover up from the sun or to cut the wind and add a layer to stay warm after being in cold water (I keep my arms inside the arm holes when using it for these purposes). The hood really helps with these things, and if I need my hands for something, the arm holes allow me to emerge and do whatever I need, whether it's deflating my kayak, cooking a camp meal, or just checking my email on my phone. It's not going to add a ton of warmth for cooler non-summer weather. It certainly won't replace my down warm-up coat that I use after doing non-summer diving, but it's a nice versatile piece for use in the summer.
Less Useful Uses for the Chawel
The company only advertises 5 uses, but it lists a number of other ones on their website, including: lumbar support, seat cushion, laundry bag, sleeping pad cover, even a roadside bathroom (*I don't see myself ever using it for this if I'm going to use it for any other purpose because hello???... splash back???).
I don't know if I'll ever use the Chawel as a sleeping bag liner or neck pillow, or any of those other things. This is not because it couldn't be used in those ways, but mostly because if I'm using it as a towel, it's usually damp or hanging out on a line when not in use when I'm on my various adventures. I suppose you could use it in these ways before it gets wet or if you're not going to use it as a towel, but once it's wet, the other uses don't tend to find their way into my repertoire.
Is the Chawel Worth Buying?
Hell, yes! The chawel comes in different models of range between $25 and $45 or so and if you're going to get a microfibre towel water activities, you may as well get one that doubles as a change room and warm-up layer. I love multi-purpose items like the chawel, which has a solid place in my camp kit, water sports bag, and stunt bag.