I recently did a quickie day trip across the border to pick up a package and do a little Christmas shopping. I decided to take the opportunity to look up some short hikes that weren't too far out of our way that we could fit in as my morning exercise. With all the craziness of the season, it's just nice to get some fresh air out in nature, away from all the stores and see some pine trees that aren't all decked out in decorations. We decided to check out a couple of short hikes at Chuckanut Mountain Park.
Chuckanut Mountain Park Trailheads - Where to Start
There are 4 different places from which you can a start a wide variety of hikes:
We started from the North Chuckanut Mountain Trailhead as it was the easiest one for us to get to, and had a number of different short hikes to choose from. We decided to do the hikes to Teddy Bear Cove and Chuckanut Falls. All told, the two hikes, with pauses to take photos and enjoy scenery, took us around 1.5 hours, and both were easy enough for most people to handle.
Teddy Bear Cove Trail
Teddy Bear Cove is only 1 mile (or 1.4km) away from the North Chuckanut trailhead, making it a very quick hike for us. You start off in a more natural setting amongst the trails then continue onto the Interurban trail that is less of a nature trail and more of a urban commuter trail until you cross the road and get to the switchback trail descending to Teddy Bear Cove. Once you get to the bottom of the hill, you cross over a railroad track and follow the cove trail that takes you along the shorelines of a mini peninsula giving you magnificent shoreline views of Chuckanut Bay, Clark's Point and an unusual white shell beach. If you arrive at low tide, you can explore tide pool marine life, or wander paths on the bluff through a forest of Madrone and Garry Oak trees. I imagine this cove would be pretty busy in the summer with locals since with the two small beaches, but during the offseason, December in our case, it was deserted.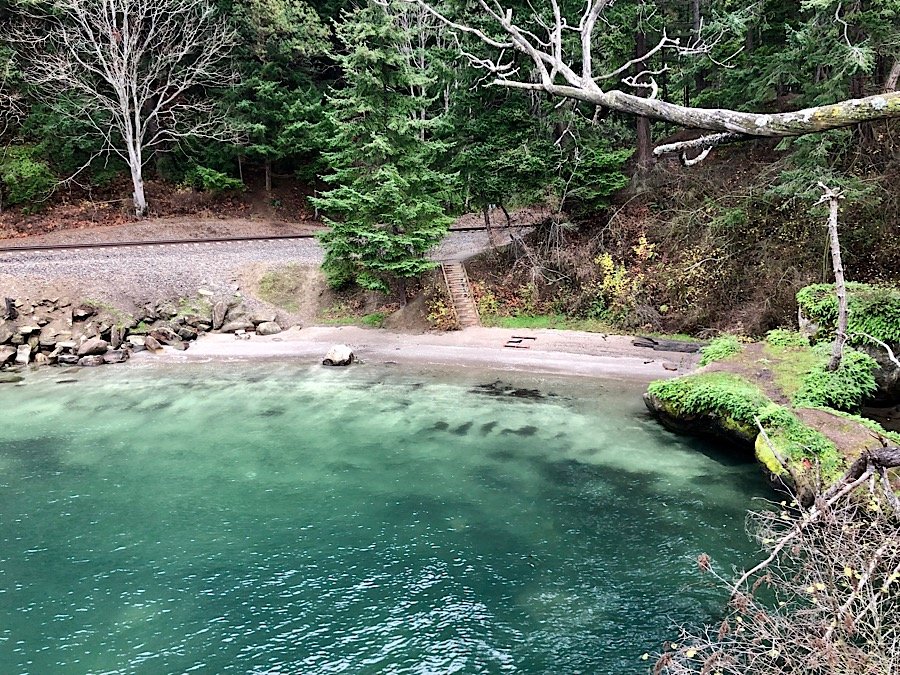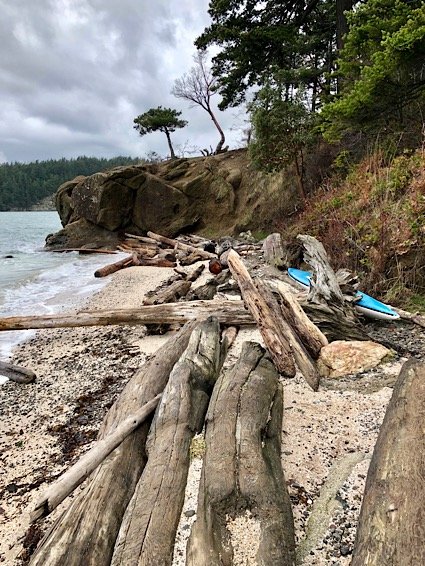 Chuckanut Falls Trail
The falls trail is easy to follow, but there are a couple of forks in it where it's not 100% clear which way you're supposed to go. There are maps but the trails aren't well marked on the maps provided. We got lucky and went the right way. Eventually you get to a fork that has a clear sign indicating which way to go to get to Chuckanut Falls. the falls themselves are nice enough. Nothing spectacular, but it's always nice to have a destination to make it to before turning around and making the journey back. There is supposed to be some sort of loop trail, but the one we didn't loop, probably because we didn't take the first fork. If you take the loop, it's around 2.7 miles (or 4.3km) round trip, but if you take the route that we took, it's closer to 3km round trip.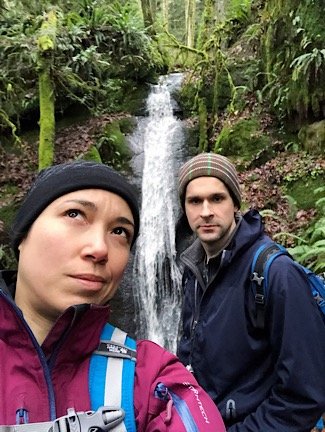 More Chuckanut Mountain Hikes Left to Explore
There are quite a few more hikes of varying lengths and difficulties. I will surely explore more of the shorter ones on other day trips to the area, or maybe I'll try camping at Larrabee State Park so I'll have more time to explore the longer ones (and increase my duty-free shopping and booze allowance to boot).
Have you checked out any of the hikes around Bellingham? Which ones are your favourites? Please share your thoughts in the comments or tag me in your photos on these hikes on Instagram so I can see them. :)