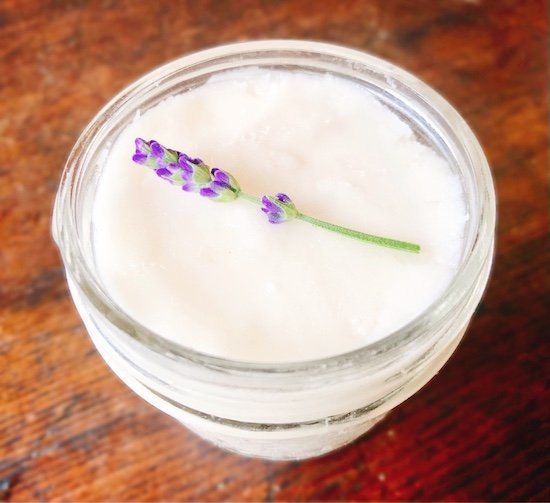 I've been switching over to making a lot of my own body products to minimize my exposure to chemicals that have a negative impact on health. While I seem to be able to find more natural commercially made deodorants these days, sometimes I want an unscented product for hiking in bear country, or because I want a certain scent. This homemade deodorant recipe does the trick for me, and allows me to pour into smaller containers for travel.
DIY Natural Anti-Perspirant Deodorant Recipe
Ingredients:
⅓ cup baking soda (*May use less when starting out if it irritates you.)
½ cup arrowroot powder (you can also use cornstarch… but I prefer arrowroot powder)
5 tablespoons extra virgin organic coconut oil
Optional: 20 drops of any essential oils with antibacterial properties (i.e. grapefruit, lavender, clary sage, tea tree, peppermint, lemon, lime, geranium, bergamot, etc.) or omit for unscented.
Directions:
Add coconut oil and essential oils to a blender. Add baking soda and arrowroot powder. Pulse until well blended. Pour into clean air-tight jar. Homemade deodorant will last 3-6 months in a airtight container.
To use: Rub a pea-sized amount on your underarms.
(*Note: This deodorant changes consistency depending on the temperature. In cold climates, it can we pretty hard to get out. If that's the case for you, I recommend storing it by the shower and allowing the steam to warm it before applying. If you live in a warm climate and the deodorant is too liquidy, you can store it in a cooler pantry to thicken it up.)
Did you make this DIY natural anti-perspirant deodorant recipe? If so, please let me know how it turned out in the comments. Enjoy! :)