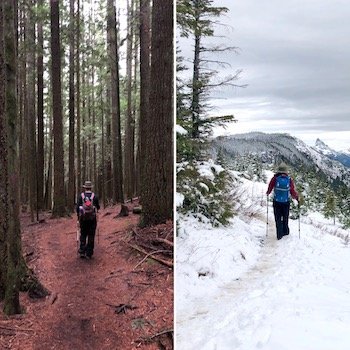 If you're into both hiking and snowshoeing in the Vancouver area, you are, like me, probably feeling a little frustrated right now. The weather has been unseasonably dry. While this doesn't sound terrible, I mean who doesn't like a bit of a break from the incessant rains we are all used to in this area outside of summer, it does have its challenges. The lack of rain means we are getting a lack of snow in the mountains, which means the snowshoeing season is coming significantly later than usual. But why let that stop you from getting out and enjoying the mountains?
The Unpredictable Nature of the Cold Shoulder
It can be hard to know exactly what to expect when you go for a fall-winter shoulder season hike. While you can get current and predicted weather conditions, you don't necessarily get fully up-to-date trail conditions for the trails that will eventually get regular attention once the winter season is in full swing. For example, a few weeks ago, my husband and I decided to do a hike to Elfin Lakes with plans to stay in the cabin overnight. The most recent conditions listed on the park website said there was no snow on the trail all the way to Elfin. It hadn't been updated in a couple of weeks, but I had assumed (incorrectly) that if the conditions had changed substantially, it would have been updated. As such, we decided not to bring our micro-spikes. It was warm and sunny and the weather report said it would stay that way during the day. It would go below zero at night, but there would be no precipitation.
As we approached Red Heather Hut, it was noticeably cooler and there was more and more snow on the ground as we went along the trail. It was warm enough that the snow was a bit melty, which didn't help matters. Some of the melted snow was frozen over and slippery in parts. We were able to pick our way past the icy patches and used the well-packed areas of the trail, relying heavily on our hiking poles. Lesson learned: be ready for a variety of conditions when going out hiking during the "cold shoulder" season.
Tips for Being Prepared for Fall-Winter Shoulder Season Hiking
1. Bring poles AND spikes. Even if it's unseasonably warm at the base of the mountain, there may or may not be snow or ice above the tree line where it's colder. And since trail condition reports may not be up to date, there is always a strong chance it will be more slippery up there than you might expect. Hiking poles help with stability while the microspikes will keep you in place in the face of slippery conditions due to ice or hard packed snow.
2. Layer up! Even if the layers stay in your bag, have everything you would want to have if you were to unexpectedly have to spend the night on the mountain. With freezing or even near freezing temperatures, that usually means having warm base layers, a waterproof jacket and pants, a warmer mid-layer (down or fleece), spare socks, gloves, hat, and neck warmer. Make no mistake. These are important emergency supplies to have even if you know you won't need them if your hike goes as planned and the weather stays consistent.
3. Verify the times for sunrise and sunset. Sunset comes a lot earlier at this time of year and it can be easy to forget that when the weather is nice. Once the sun sets, temperatures drop drastically, especially in the mountains. The sunset can effectively come earlier than the designated time too depending on how the mountains positioned are in relation to the sun and you. Make sure your hiking plan takes this into account and that you stick to it, but also carry a headlamp just in case you're out later for unexpected reasons.
4. Have winterized your emergency supplies. Any time you go on longer hikes, especially ones that are more remote, you should have an emergency kit that's appropriate for the conditions. The fall-winter shoulder is a tricky one to prepare for though because you'll feel like you're bringing stuff you'll never use, and you're probably right. But that's the nature of emergency kits. Have it and hope you'll never need it. But if you do end up needing it, make sure it has what you'll need. If you have to spend the night in the freezing or near-freezing temperatures, make sure you have what you would need. Personally, I bring the following:
It's totally worth it to be ready for anything. Nearly every time I've thought, 'I won't need such-and-such,' and decided not to bring something, I ended up wishing I had. And if you get good stuff, it doesn't have to be super heavy either. I hope this helps you get out to enjoy the fall-winter shoulder season more.
Now over to you. Are there any key items that you like to have on you for shoulder season hiking that I didn't include? Please share in the comments so we can all benefit. :)