Chris and I have decided we want to experience as much of the Sea-to-Sky Marine Trail as we can now that we have gained more experience kayaking, and are mostly finished our level 2 sea kayaking certification with Paddle Canada. It's a big enough route that you could spend over a week checking out all the various sites, so we decided that we would "section kayak" the trail. Over the course of three 3-day, 2-night trips, we will try to hit all the different parts of the trail. We decided to start with a route bringing us to the Ramillies Channel and Islet View campsites for our overnight stays.
Getting Our Feet Wet: First Kayaking Voyage on the Sea-to-Sky Marine Trail
Since it was our first kayaking trip where we were going to be touring in more open water, we decided to play it as safe as possible, aiming to have the best conditions for doing crossings of the Howe Sound. With our experience, we need to stick to conditions that are less windy (under 13 knots), basically avoiding conditions that present consistent white caps in the water. Trying to find a few days where there are no wind warnings can be a tall ask. Between this and the wildfire smoke last year, we never managed to get out on the trail. This year, we watched closely because we didn't want to miss our chance.
We found a set of three days in which the conditions weren't absolutely perfect, with a little rain in the forecast, but the wind levels were reasonable, so we decided to brave the rain and give it a go. We chose a route that had us doing the biggest crossings when there was the least amount of wind predicted in the forecast.
Times and Distances:
Porteau Cove to Ramillies Channel Campsite: 12km, 2.5-3.5 hours approx.
Ramillies Channel Campsite to Islet View Campsite: 12km, 2.5-3.5 hours approx.
Islet View Campsite to Porteau Cove: 5.5km, 1.5-2 hours approx.
First Leg: Porteau Cove to Ramillies Channel Campsite
Since it was our first kayaking trip where we going to be touring in more open water, we decided to play it as safe as possible, and made our crossing of the Howe Sound as short as we could. We did this by launching from Porteau Cove and kayaking south until we got to the shortest crossing distance from the mainland to Anvil Island where we made our crossing. From their we hugged the shore of the island until we were directly across from the Ramillies Campsite where would cross the Ramillies channel over to Gambier Island where we would spend the first night.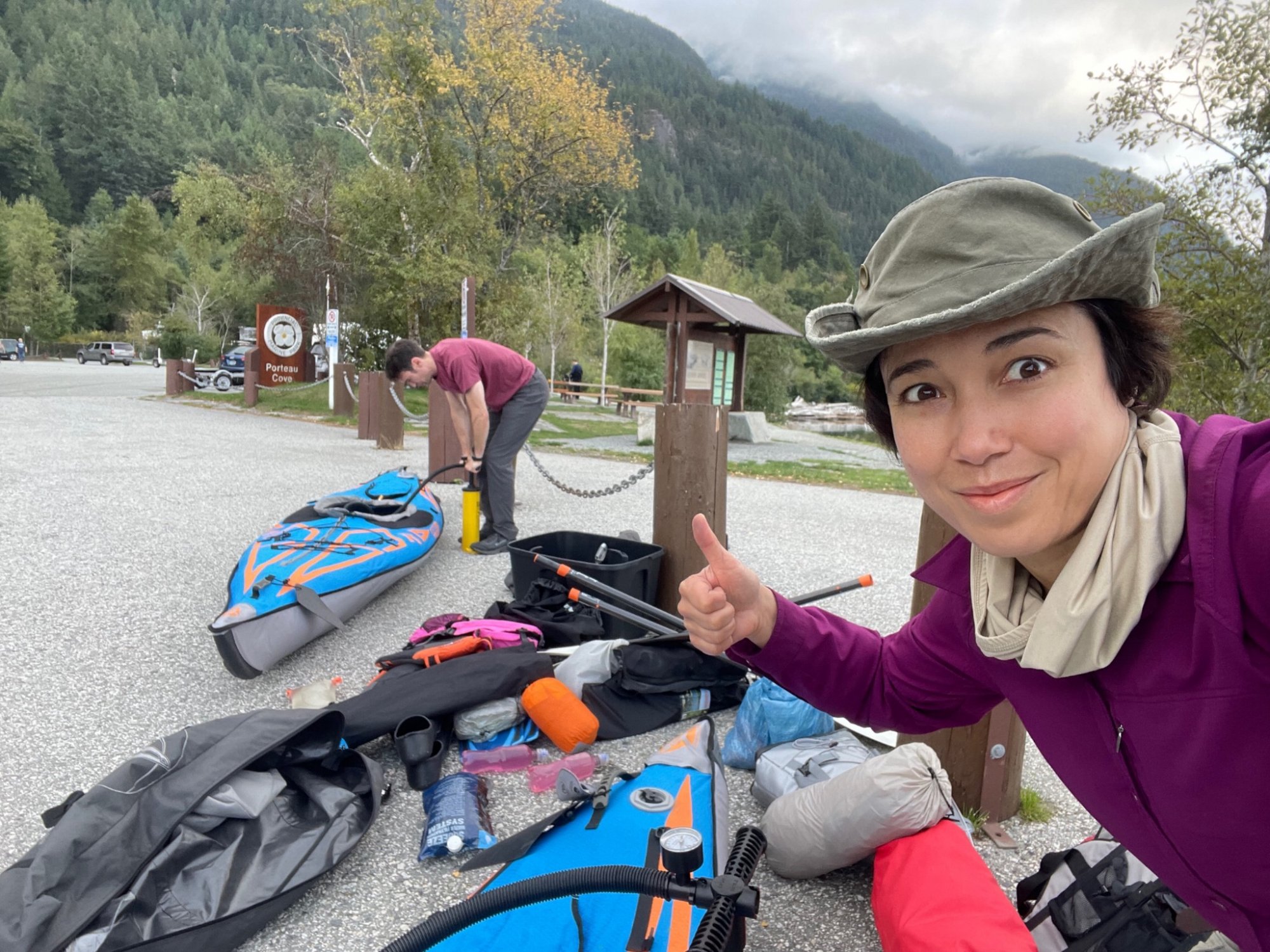 We started out with overcast conditions and the wind and water relatively calm. The first crossing to Anvil Island was easy enough and the sun came out as we arrived. You'll see a number of cottages and cabins along the shore of Anvil. Around the southern tip of the island, we found a spot where we could get out of our kayaks, stretch our legs a bit, have a bite to eat, and discreetly go pee.
If we had a bit more time, we would have liked to head south to Christie Islet Migratory Bird Sanctuary to see the birds that frequent it, and do a little snorkelling, which is also supposed to be good there, but we weren't sure how busy the campsite was going to be. We wanted to make sure we got a good spot and we knew there were only 5 tent sites.
In the end, we were glad we didn't do the detour because the winds picked up quite a bit as we started the crossing from Anvil to Gambier Island. By the time we got to the Ramillies Channel campsite, we were bushed and ready to stop kayaking for the day. It was at that point that we realized that we weren't in as good kayaking shape as we were hiking shape. I know I can easily hike for 8-10 hours without taking much in the way of breaks. This trip showed me that 3-4 hours was about all I wanted to muster in my current state.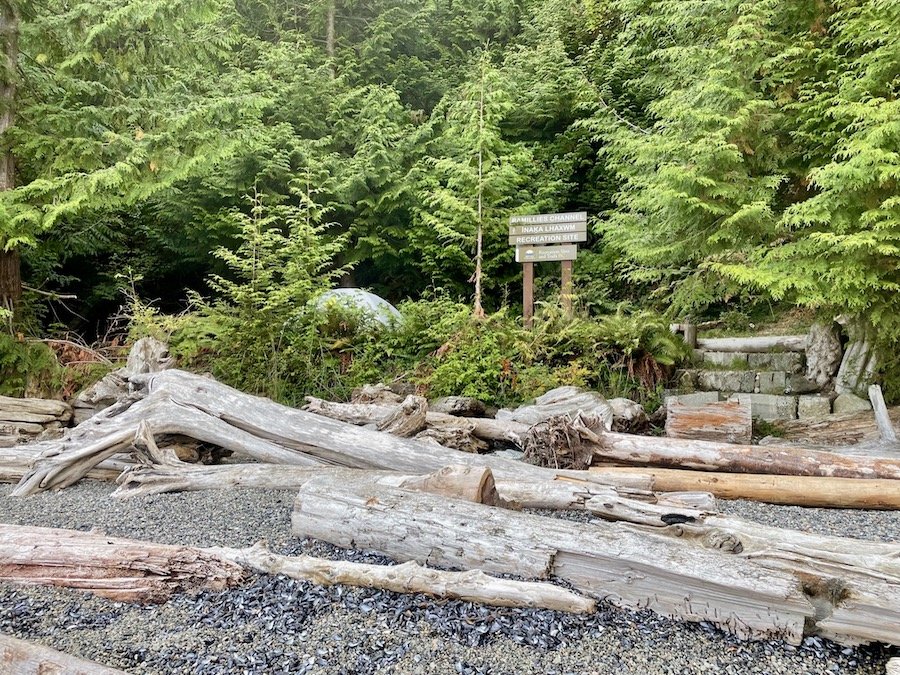 I kept consulting maps along the way to make sure were were heading in the right direction. From far off, it's hard to tell where the campsite is and it would be easy to overshoot one direction or the other until you get closer to Gambier. With all this on my mind, I was so focused on getting where we were going that I didn't take as many photos along the first leg of our journey. My bad...
Camping at Ramillies Channel Campsite
I read in the description that this particular site was the "crowning jewel" of the Sea-to-Sky marine trail. It was indeed nice, with a wide, expansive shore dotted with tent sites just above the high tide mark.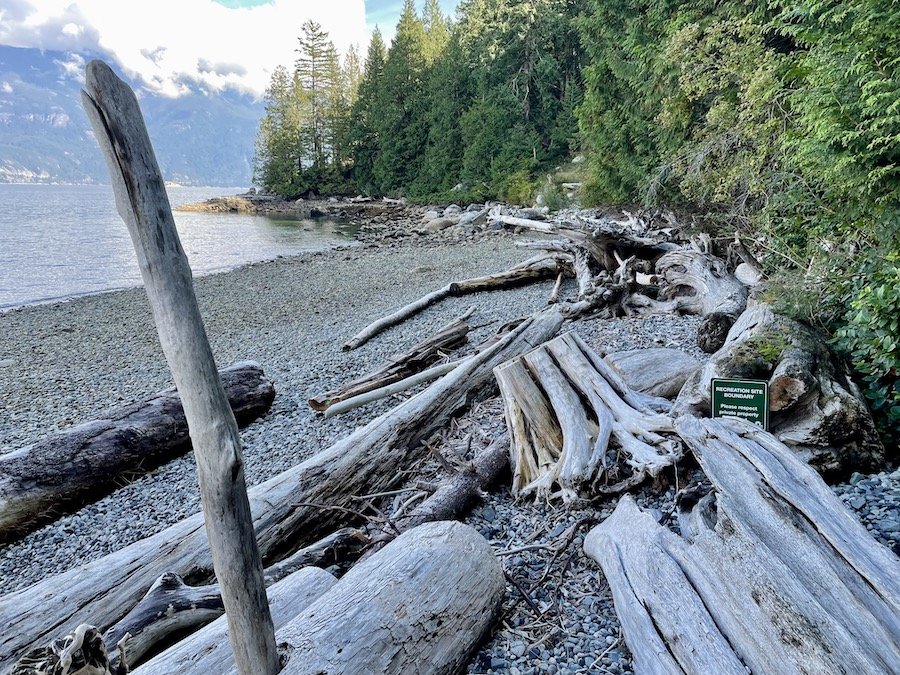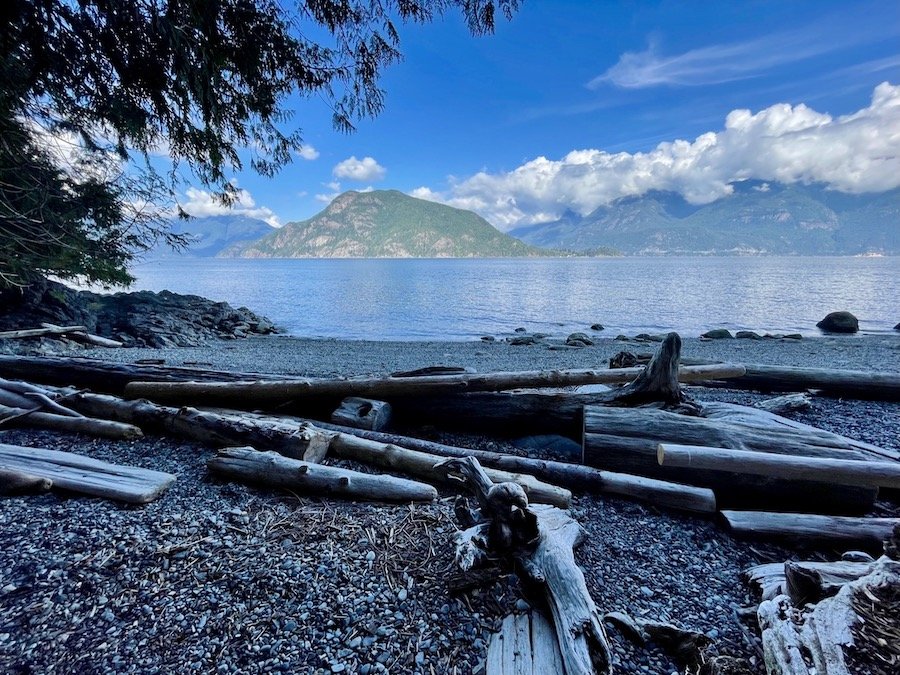 The facilities include a bear box, picnic table, a guest log book, and a compostable toilet outhouse that smelled better than any backcountry camp outhouse I've ever used. We had some cell reception, but it was in and out, not consistent at all, so don't expect to be able to rely on it if you decide to camp there.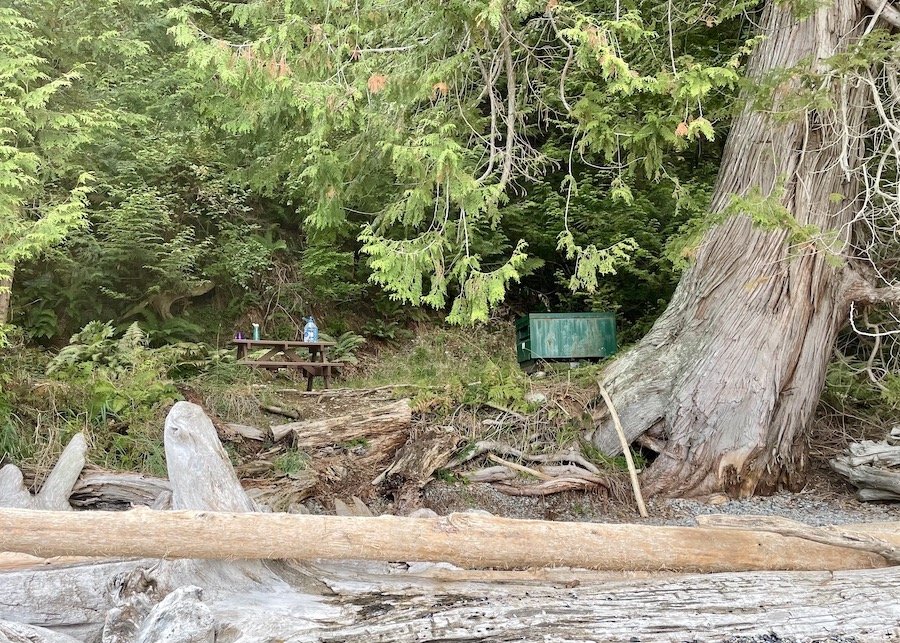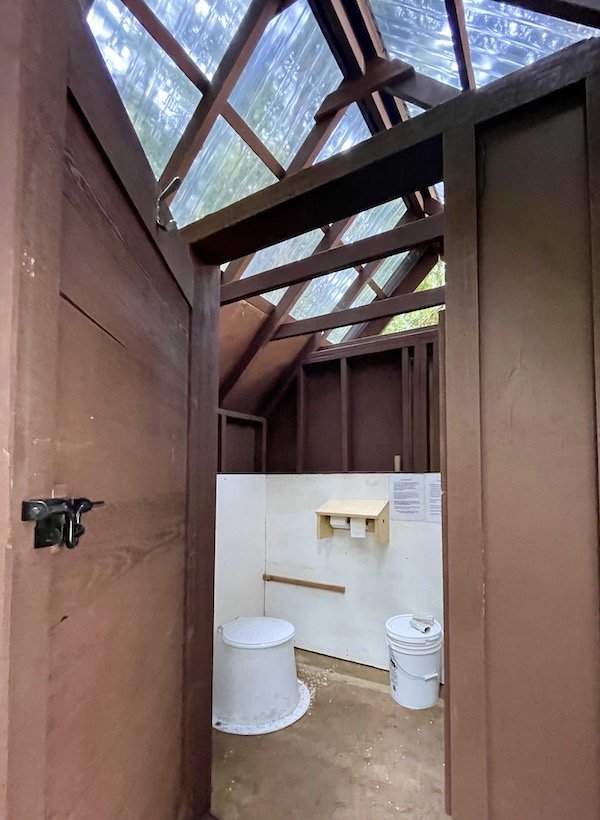 There were a couple of tents already in place with no signs of their occupants. We meandered a little down the beach and found a nice spot where we could settle in without being in each others' pockets. We pitched our tent, hung up our gear to dry, prepped our food, and watched the water as the light gradually disappeared. Because we were on the east side of Gambier Island, there was no sunset to see, but we still got to enjoy watching clouds drift across the Coastal mountains on the coast from where we launched.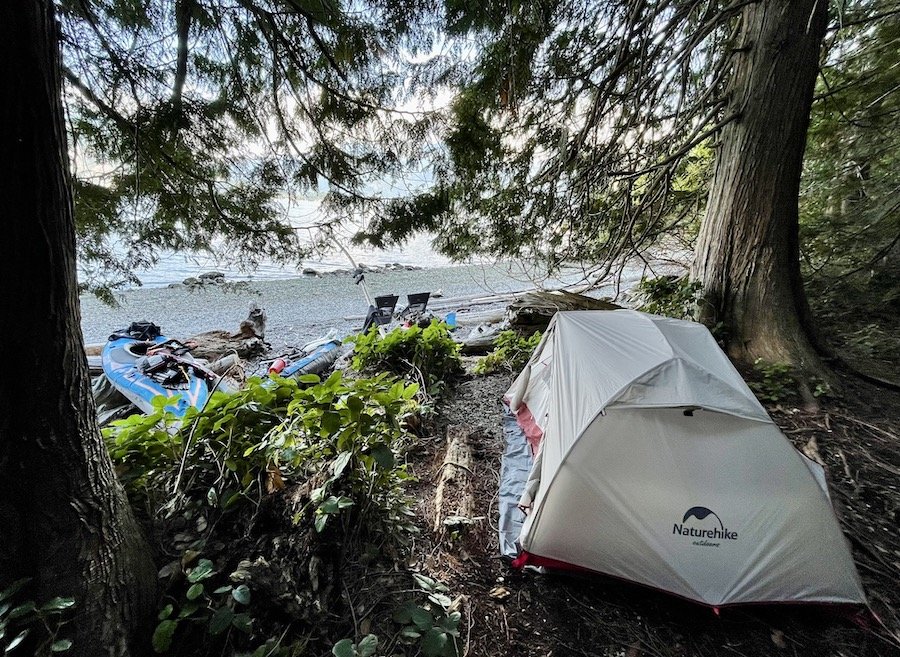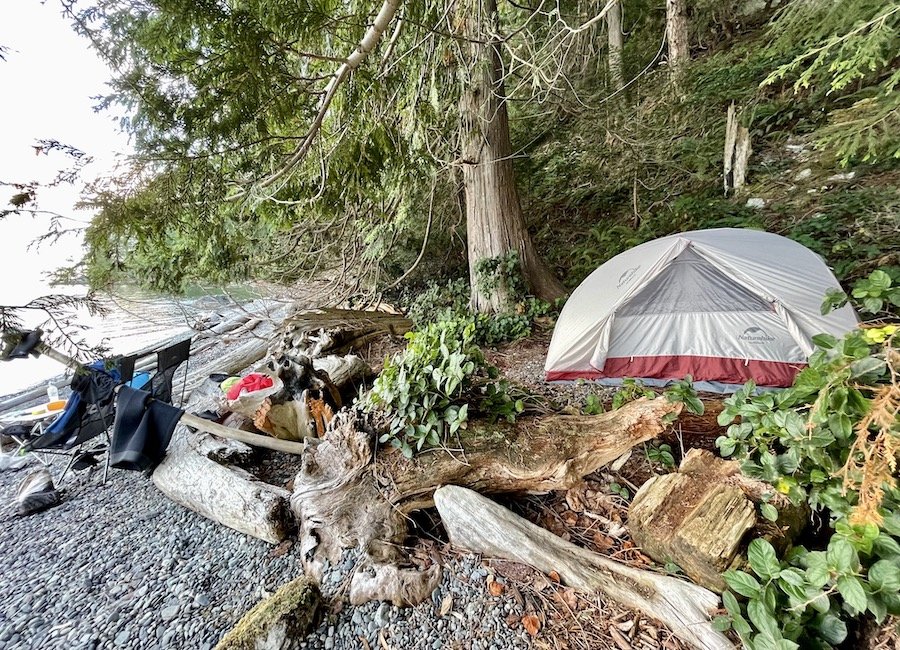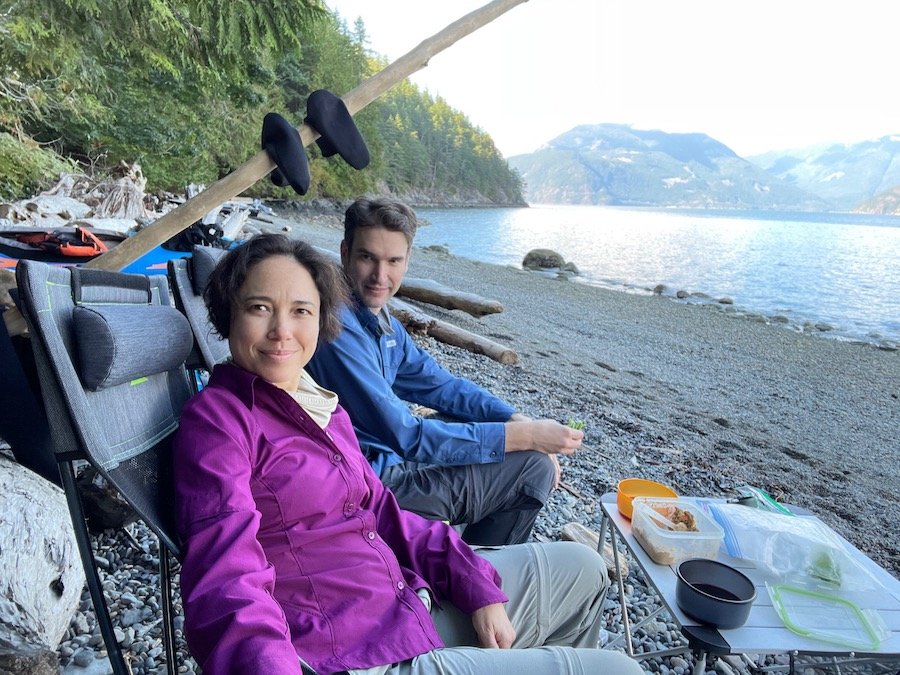 After enjoying our meal, we heard a rustling coming from up the steep incline through the forest. There was no trail, but the movement sounded human to me. As the sounds came closer, two young men came into view. One of them asked if it was okay for them to pass through the back of our site. We said yes, of course, at which point I noticed that each one was carrying a hunting rifle. They assured me that they would store it safely back at their site, which they did. They later explained that deer hunting season had just opened and they figured they would bushwhack up the mountain and see what they could find. They didn't find anything, but they did say they managed to get a great view from the top of the mountain... they just had to hike over 10 hours through inhospitable terrain filled with brush. Not my idea of an awesome time, but it was nice to see young guys out enjoying nature. They had come to the island using a small motor boat and had camped the night prior.
One of them sang the praises of the campsite and telling us how much they enjoyed it. "You'll have the whole site to yourself tonight though. Enjoy!"
After the sun set, we climbed into our tent and bunkered down there to avoid the mosquitos of which there were plenty. Even as we drifted off to sleep I could hear them buzzing between our tent and the fly, loudly enough that it made it harder to fall asleep. Of course, we were pretty tired from the last crossing we made, so sleep eventually came. And when we woke, we were treated with a view of the mountains all lit up by the morning sun.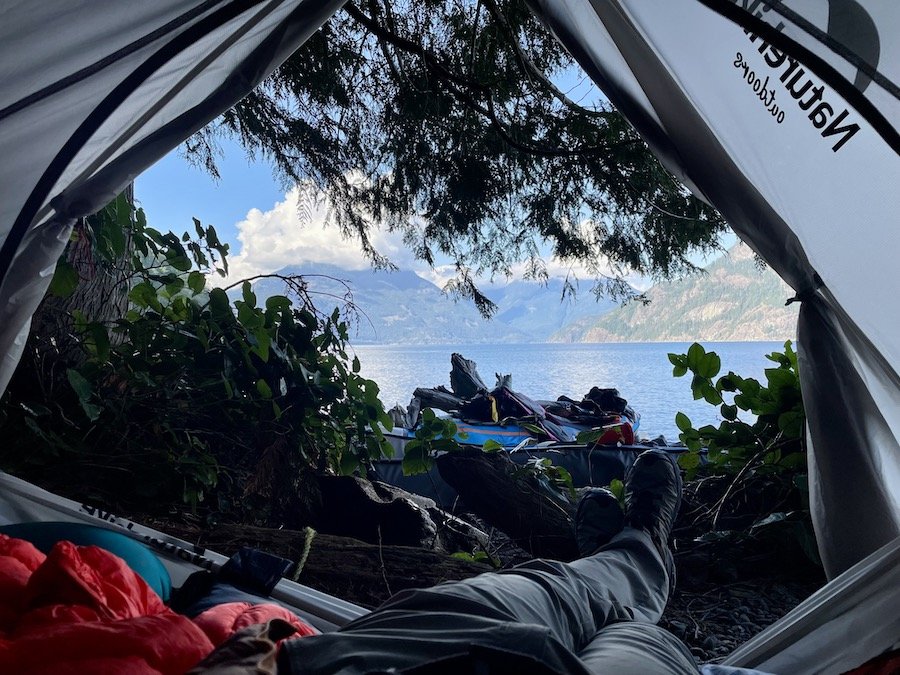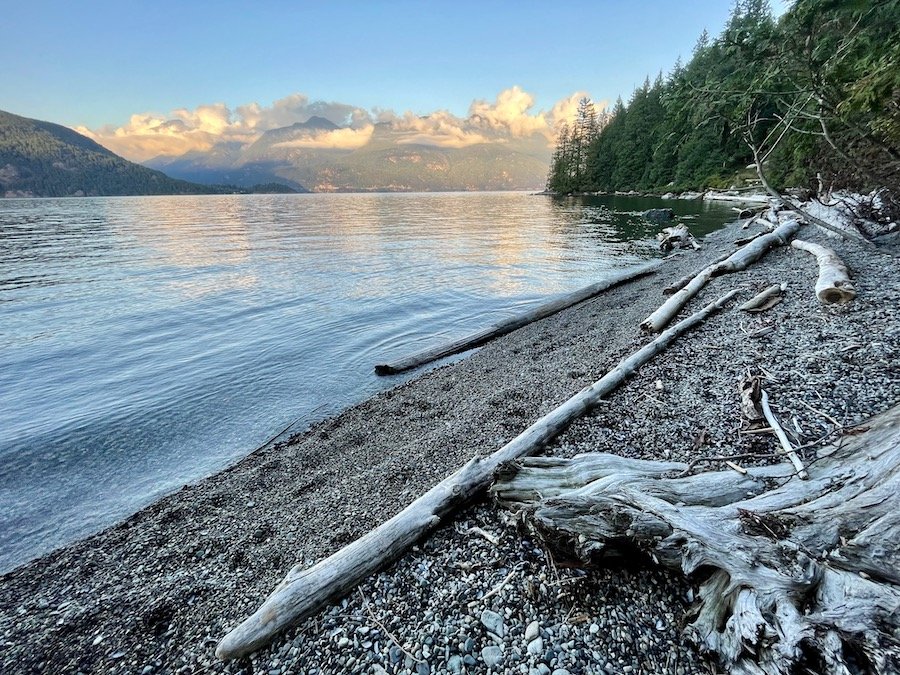 Second Leg: Ramillies Channel to Islet View Campsite
We quickly broke camp the next morning after waking with the sun. The water was still calm and we wanted to travel as far as we could before the weather shifted. We made the crossing to Anvil Island quickly, but then the winds started to pick up. We managed to check the weather report out on the open water and found out there was a wind warning in effect for the area. The wind was just under what was considered safe for kayakers of our level. Fortunately, we had the wind at our backs, so it didn't slow us down exactly. It did make the journey a lot more technical though. I found myself trying to time my stroke so that I could surf the swells to some degree, and avoid getting water splashed into my kayak.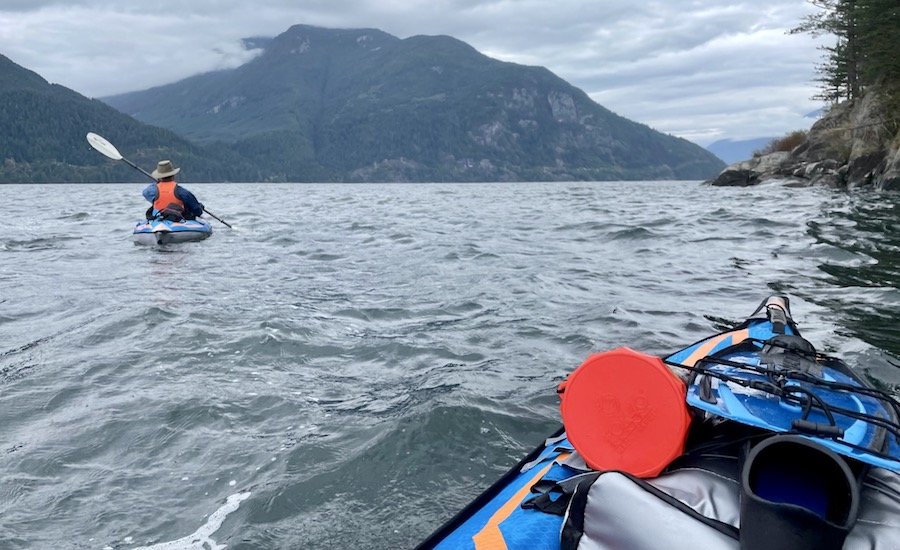 As we rounded to northern tip of the island, we got out of the way of the wind, using the island as a wind break. We managed to find a little alcove where we could pull our kayaks in, take a little break, nosh on some protein bars, and go pee.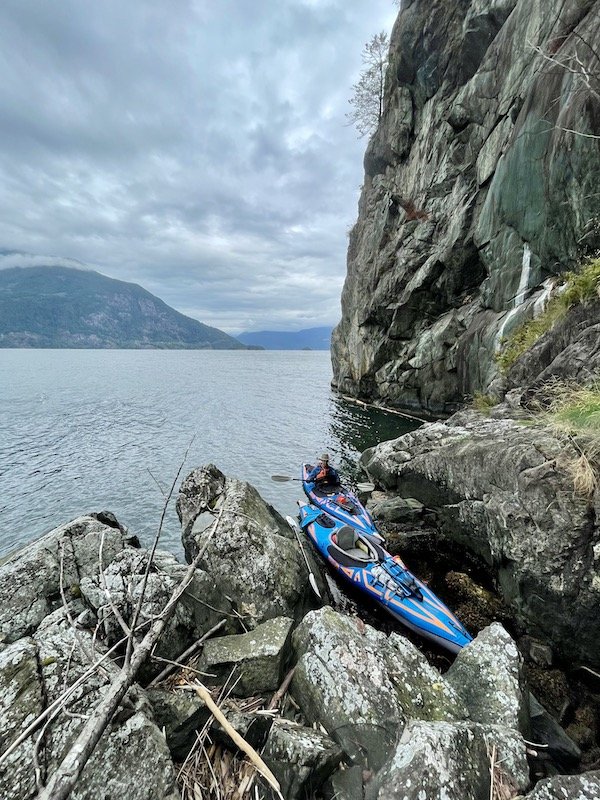 At this point, we had a discussion about our plan. The goal was to make it to the Islet View campsite, but we agreed that if the conditions got worse than what we had faced, we would want to consider abandoning that goal, avoiding a crossing when the weather was poor, and going further around Anvil to another campsite on the protected side of the island. If you're going to do any kayak touring, it's always prudent to have a plan B, and to always carry plenty of water so you always have the option to stop if need be.
After we finished our break and got out on the water, we noticed that the winds seemed to have calmed a little, and the water in the channel we had to cross wasn't as choppy. We decided to make a break for it and make the crossing. We moved quickly, taking advantage of the tide going the same direction as us. We got across and kept on going, looking for the campsite that was our destination. Unfortunately, I got it confused with another site on the map and we overshot. We had to turn back to get to our site, which forced us to go against the wind. While that aspect wasn't terrible, it also started to rain. We got pretty drenched by the time we got to the campsite.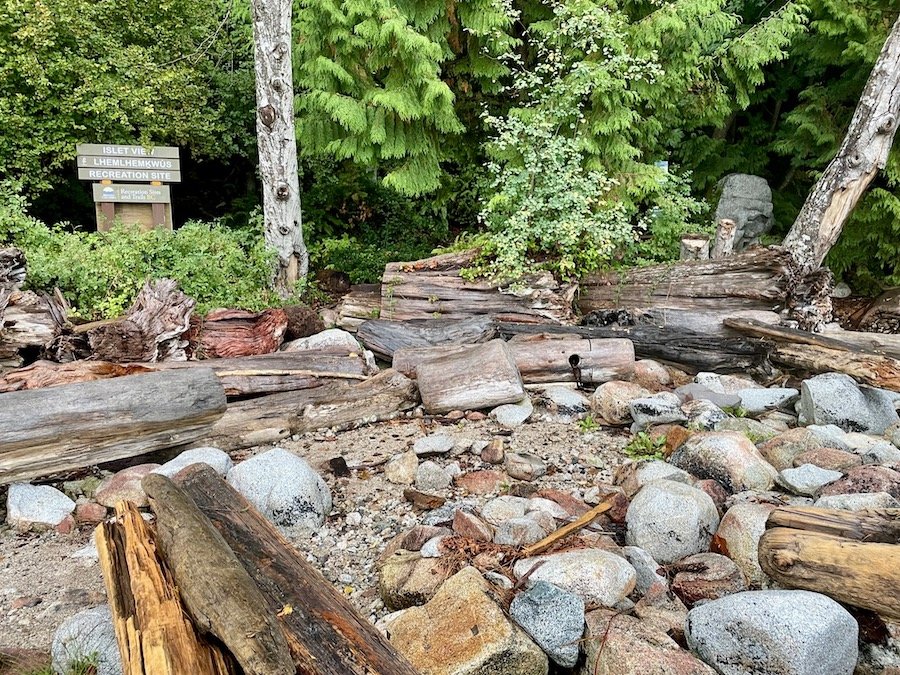 Camping at Islet View Campsite
While we were in a rush to get out of our kayaks to set up camp before the rain got really bad, I did take a moment to appreciate the beauty of the site as we pulled our kayaks in. True to its name, there was a view of an islet from the site, and it was teaming with life. There was a group of 5 seals splashing around, swimming closer to the shore to check us out. There were a variety of birds congregating there as well. We even saw a heron land there at one point. It was lovely.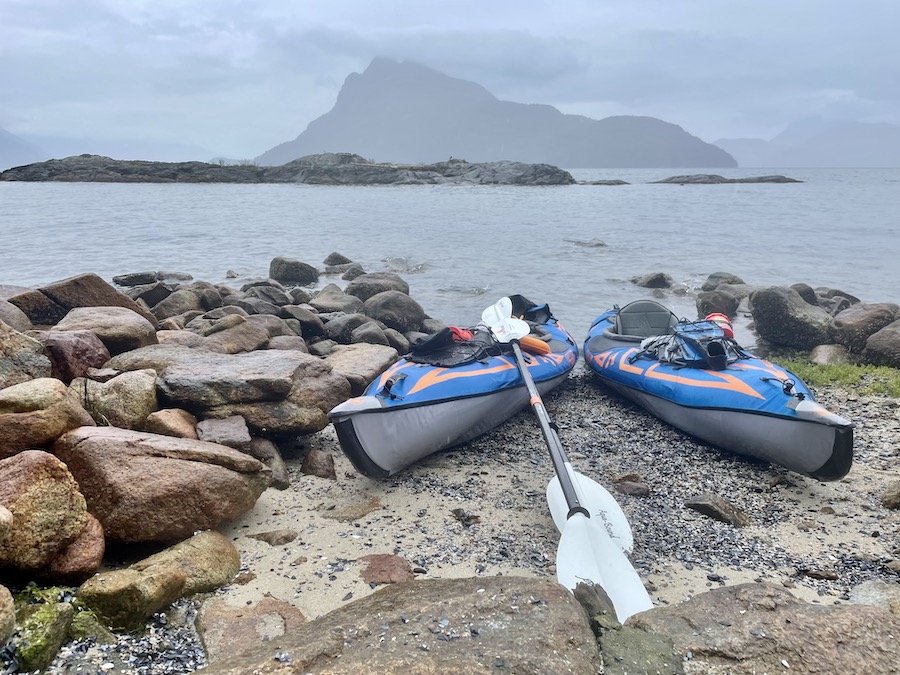 While I did take a moment to appreciate all that, we really needed to get water in us too. Once we got our tent set up, I remembered reading that there was a year-round water source close to the campsite. Upon closer inspection of the description, the water source in question wasn't at the site, but 250m to the south, accessible by boat only. Chris sighed in resignation and grabbed a paddle and started prepping his kayak to go while I finished setting up our mattresses the tent. He headed off on the water with a seal following him curiously. He said if he hadn't known it was supposed to be there, he never would have found it. He had to climb over and under logs to get to it, and it wasn't much more than a trickle when he did. Thankfully it was enough for our needs.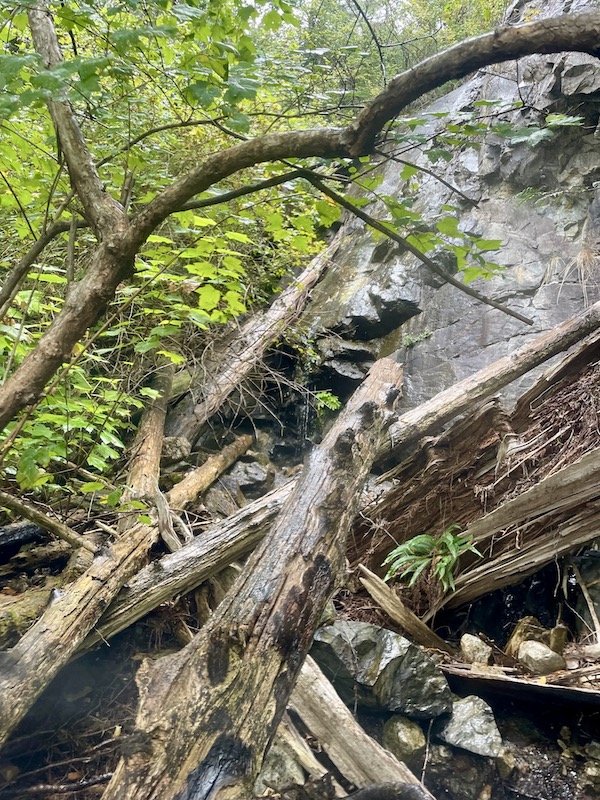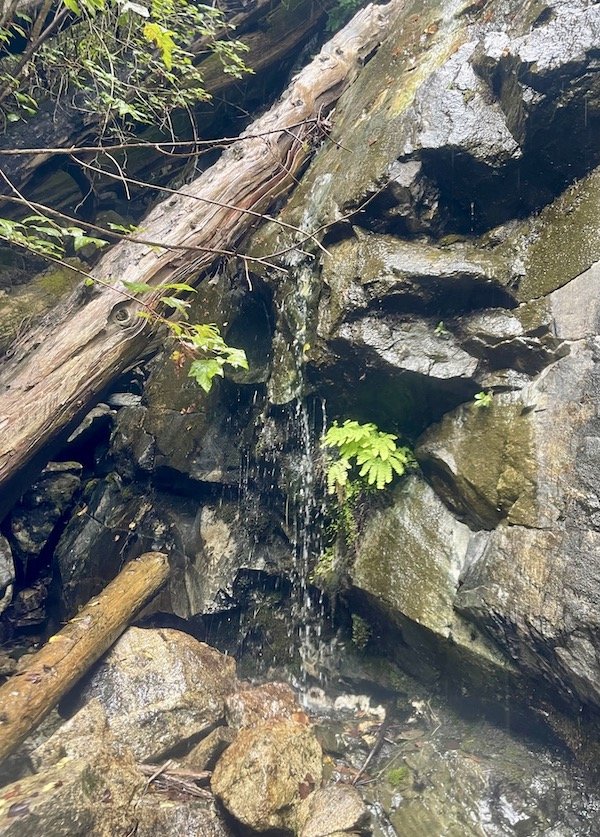 The Islet View campsite had all the same elements that the Ramillies Channel site had: a handful of tent sites, bear box, picnic table, and a compost toilet outhouse a short walk up the hill. One other benefit that we both appreciated was that cell reception was more regular. It wasn't steady by any means, but we would get a connection more often over the course of the time we spent there than we did at Ramillies Channel.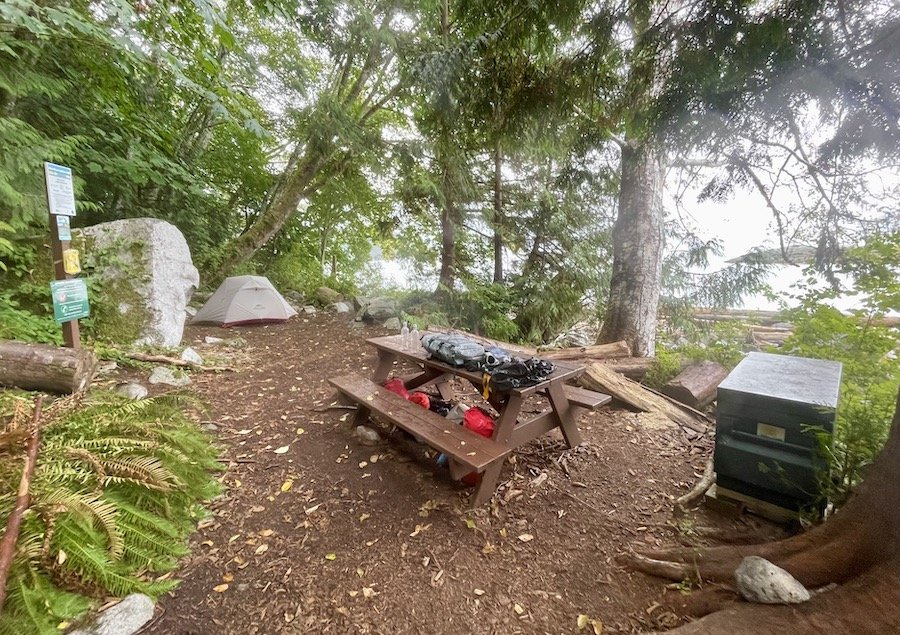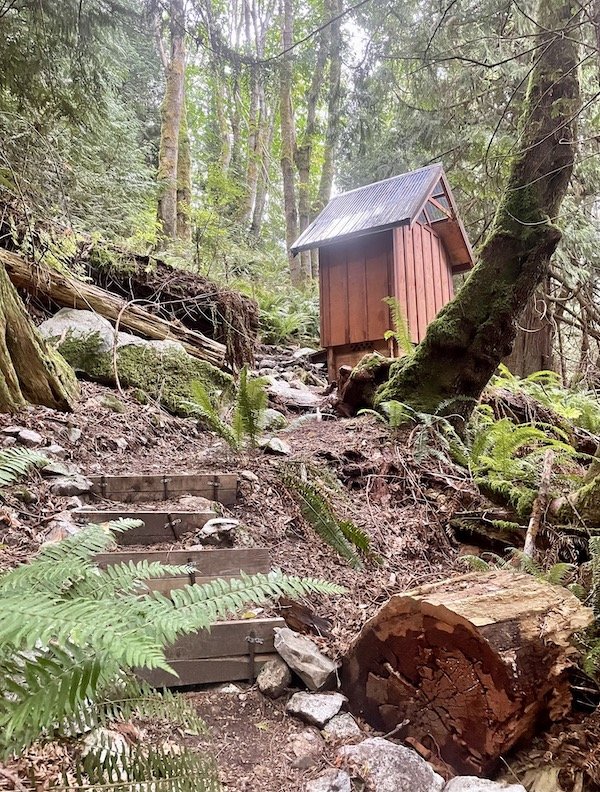 All the tent sites had more space around them, unlike the ones at Ramillies, and they also all had better views. We camped at the main area, but a short walk up the hill revealed a few more sites overlooking the water from a higher vantage point.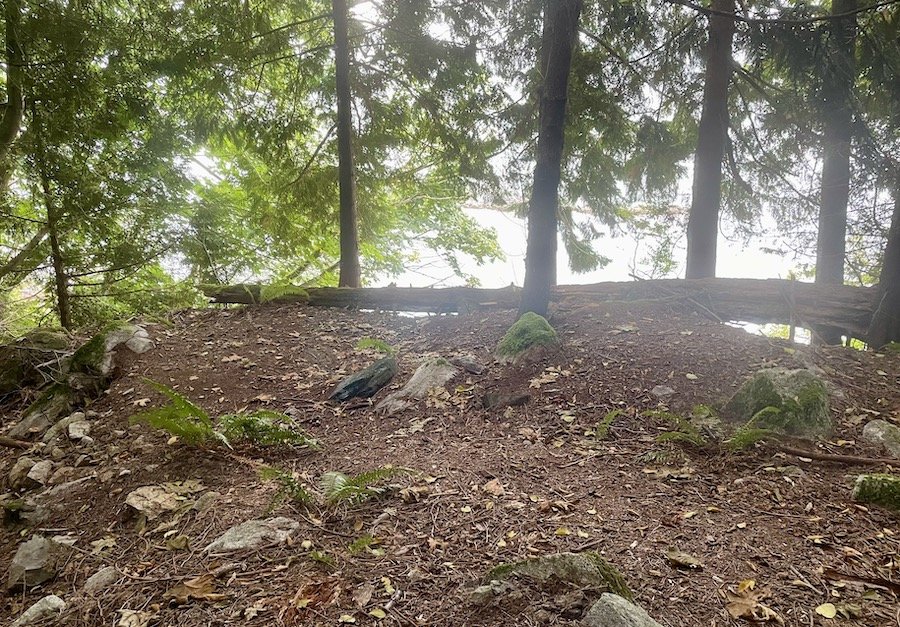 The overall view was better from every part of the campground, as you can see in the photos below. I would have thought that Islet View was more of a "crowning jewel" than Ramillies Channel. It was definitely my preferred site of the two. Ah well. To each their own.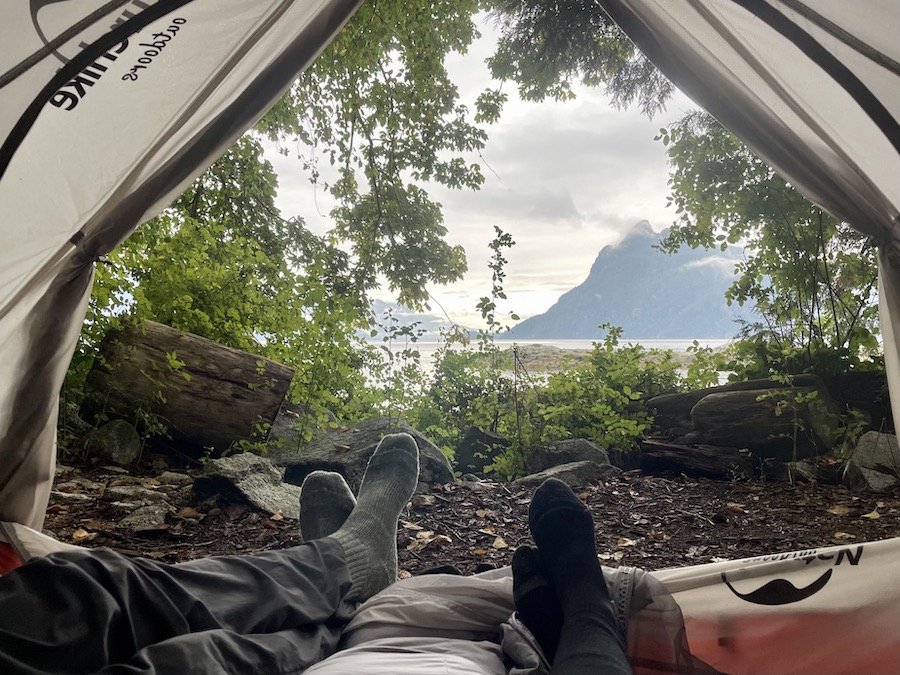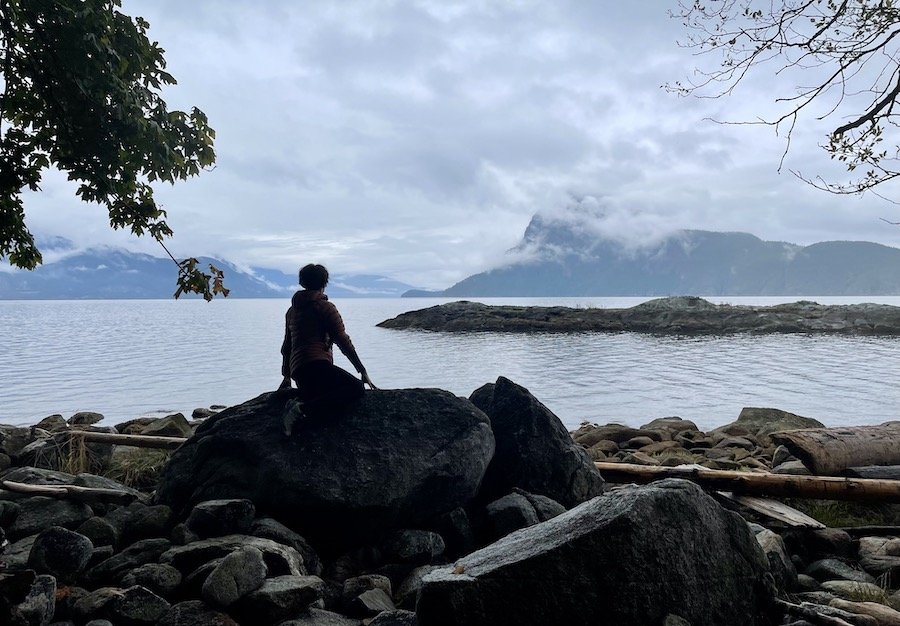 I saw a few places where people set up fire pits below the tideline. It sure would have been nice to do that and enjoy watching the sunset from the sunnier side of the Howe Sound, but it wasn't in the cards for us. It rained heavily most of the afternoon, evening and night. Once we had finished eating, we bunkered down in the tent to stay out of the rain. At least the sounds of rain on our tent fly made for a better lullaby than the mosquitos the night before. At one point, around 1am, we both woke to a crash nearby on the shore. It sounded like a tree falling, but it was so loud that we stayed awake well after, listening for any sounds that might indicate that it was some sort of animal, before dozing off again.
Third Leg: Islet View to Porteau Cove
We woke before the sun, having slept a really, really long time (what else are you going to do in a tent for over 15 hours?). The water was dead calm, but we knew the the winds were supposed to pick up later in the morning. We quickly packed up camp and got out on the water. Visibility wasn't great. We couldn't see across Howe Sound to our destination, but we knew where we were heading. We ping-ponged from the campsite to the two small islands near by. Once we passed that last island, we beelined for Porteau Cove.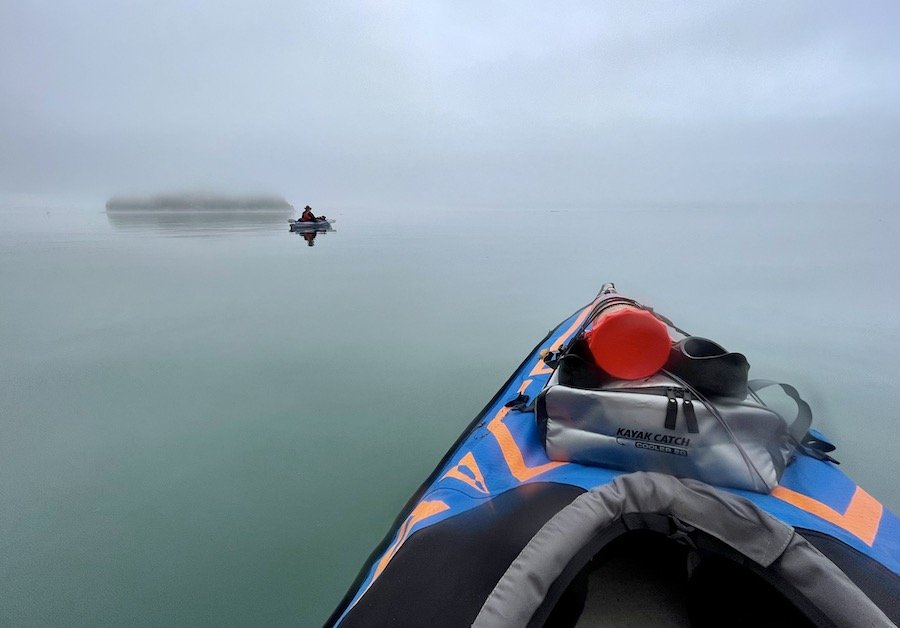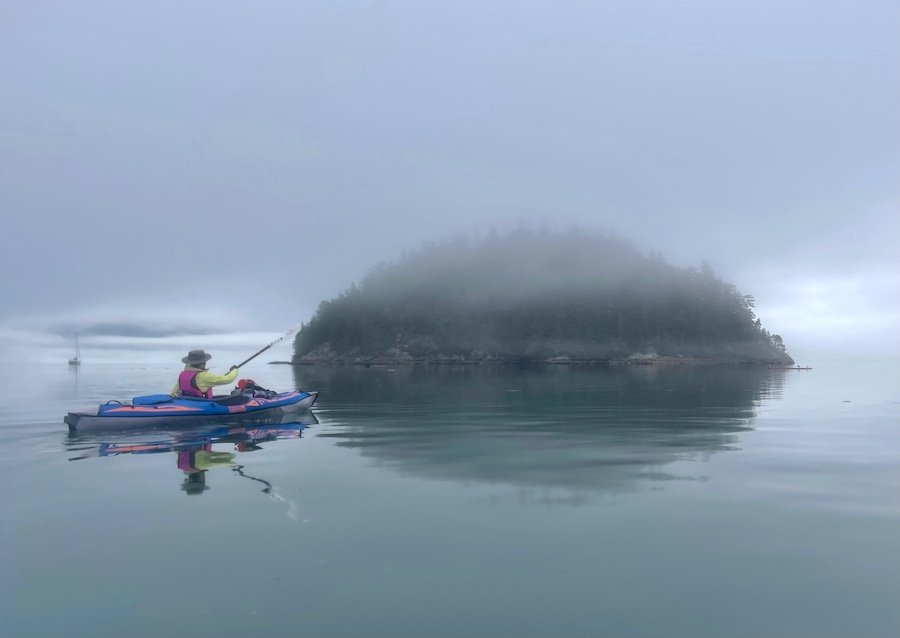 Even we didn't expect to move as fast as we did. We both thought it would take closer to 2-2.5 hours to make the crossing after our experiences the last couple of days. It was just that calm. The water looked like glass as we cut through it. You feel like you're flying across the water when it's that calm. It only took us 80 minutes to make the crossing. It's amazing the difference that zero wind makes. The wind only just started to pick up gently as we pulled in to Porteau Cove, ending our journey. We were grateful for the easy final crossing.
Have you ever kayaked on the Sea-to-Sky Marine trail? Please share your experiences in the comments so we can all benefit from them. :)