I was starting to feel antsy and cooped up around the house. I'd been wanting to away to be in nature even just for a night for a while. Chris and I had planned to get away Wed night, but he ended up being too busy to do it. I decided I was overdue for a personal retreat anyway, so I decided to head off solo into the Golden Ears Provincial Park backcountry for the first time for the night.
An Easy Overnighter for Beginners or People Short on Time
I've been wanting to hike to high reaches of the Golden Ears and camp at Panorama Ridge for quite some time, but circumstances have gotten in the way, from an early wave of snow to smoke from wildfires. I didn't want to go too far or do anything too crazy since I only had a limited time for planning and driving. I figured this would be a good opportunity to scout the route leading to the lower campsite on the way to Panorama Ridge, Alder Flats, and check out the valley campsites for future trips, as easier destinations for taking people who have never been backpacking before in the backcountry.
I decided to check out the backcountry hiking trails at Golden Ears Provincial Park. The cost for backcountry camping is $5/night. More details on camping options and online payment.. There is pretty much no cell reception with the entire park, except for the odd lucky connection here and there, so make sure you share your hiking plan with people who aren't on the trip with you.
No fires are allowed in the Golden Ears backcountry (despite all the evidence of people abusing this regulation), and as always with any backcountry hiking trip, if you pack it in, pack it out. There are pit toilets at all the designating backcountry camping areas, and I read that there should have been a food storage unit at Viewpoint Beach, but I didn't find it. Either way, be sure to bring what you need to do a bear hang as the bears are active in Maple Ridge.
Times and Distances:
West Canyon Parking Lot to Alder Flats: 1.5 - 2 hours, 6-6.5km (longer if you hike past camp to see the viewpoint)
Alder Flats to Hiker Beach: 0.75-1.25 hours, approx. 4km
Hiker Beach to Viewpoint Beach: 20-25 minutes, approx. 2 km
Alternative Routes:
West Canyon Creek Parking Lot to Hiker Beach: 1-1.25 hours, 4 km
Gold Creek Parking Lot to Viewpoint Beach: 1-1.5 hours, 5km
West Canyon to Gold Creek Lookout
After a nice cold water swim at Alouette Beach, I drove to the West Canyon parking lot, and started my hike from there. The path is mostly wide and well-groomed, to the point that some people take their mountain bikes on it as I witnessed. There was a bit of mud here and there (it was early June, so that's to be expected), but it wasn't anything you couldn't pick your way around. If you're hiking in spring though, it's a good idea to at least have waterproof shoes/boots, and possibly gaiters if it's been raining a lot. It slopes upward, gradually, with a few parts that become briefly steeper. There a few creeks, but they have well-maintained bridges to cross them.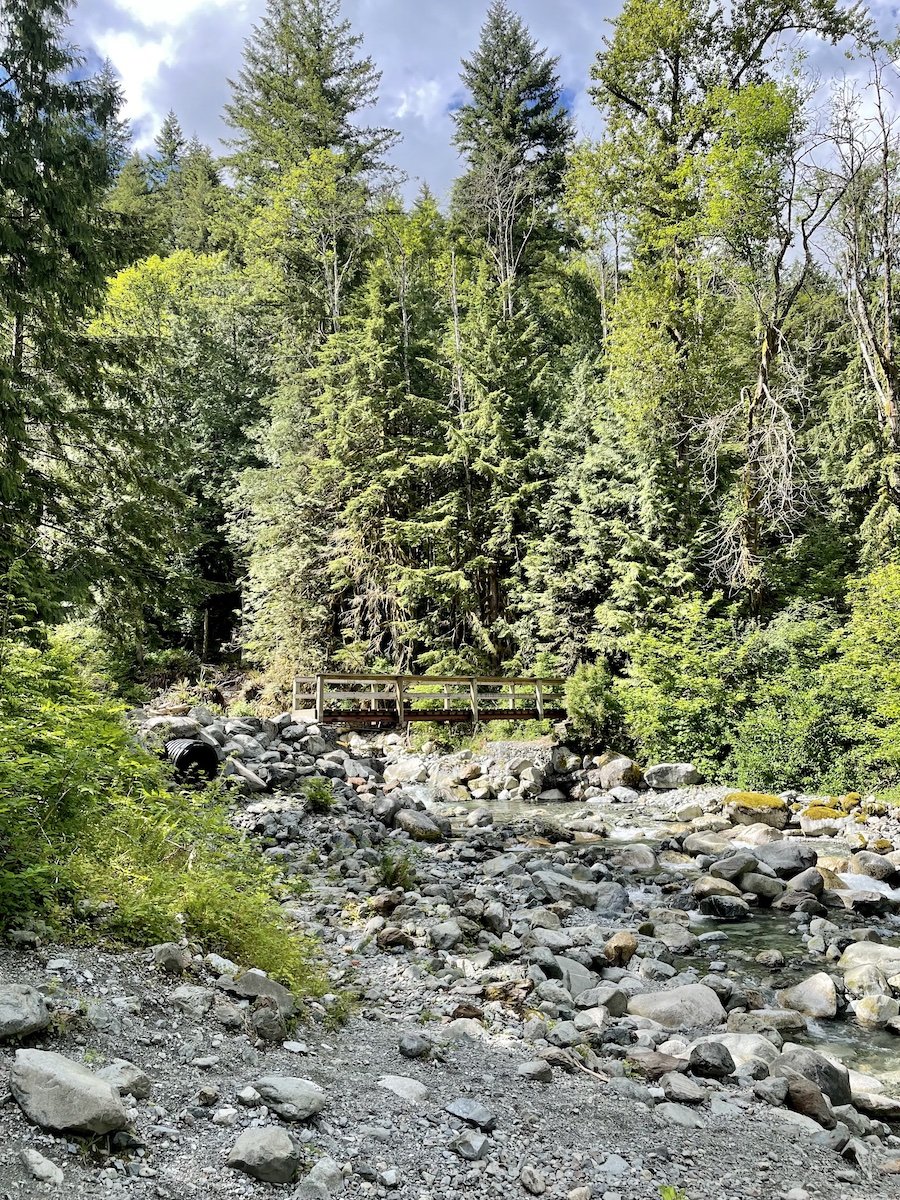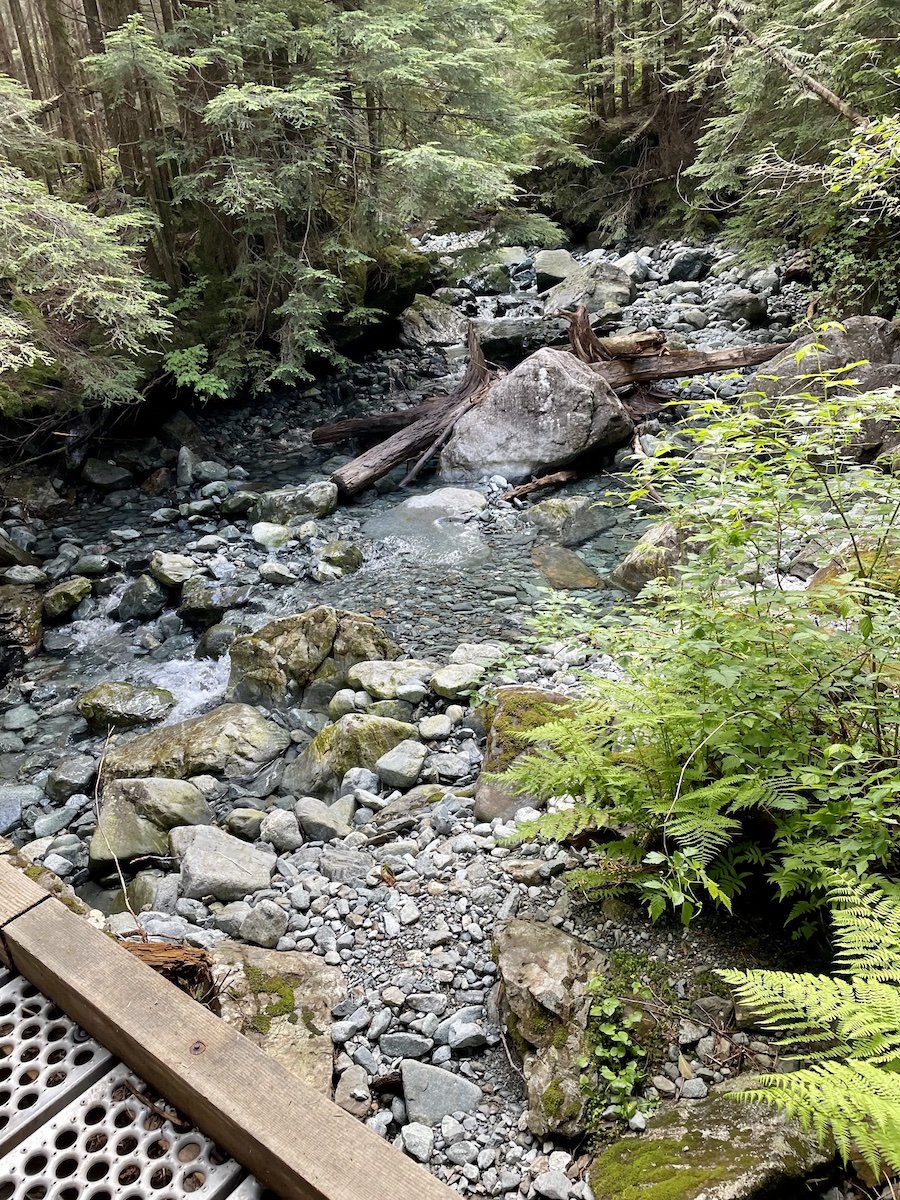 The West Canyon Trail takes you past an exit descending to Lower Falls, as well as a lovely viewpoint of Gold Creek from up high. If you think you might need to be able to check your phone during your hike, take a look at your reception from this viewpoint. I discovered that I was able to get one bar from there, but it wasn't consistent.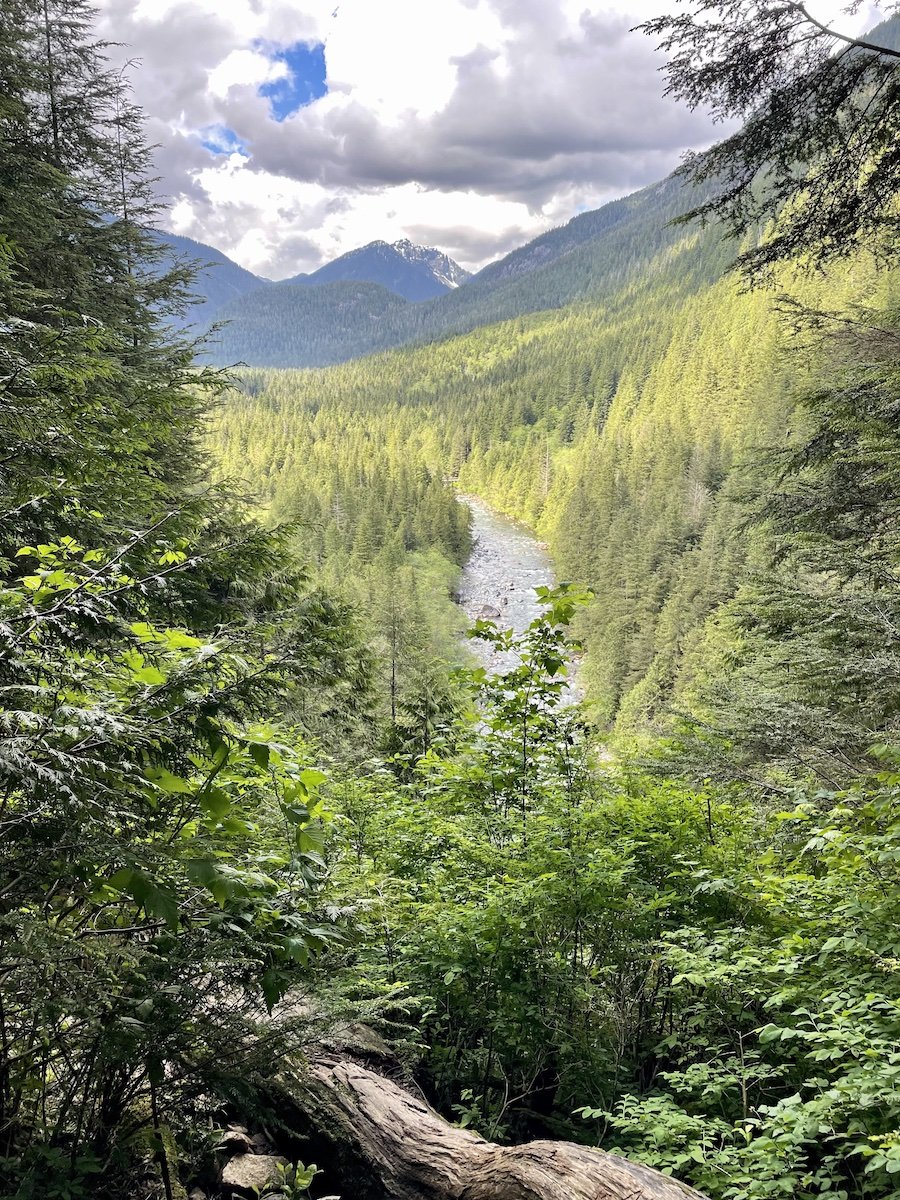 Gold Creek Lookout to Alder Flats (and Golden Ears viewpoint)
The sign posts on the trail clearly indicate where to turn to head up toward Alder Flats and onward to Panorama Ridge and the Golden Ears summit area. It gets a bit muddier, but still manageable, or at least for me anyway, with just my waterproof hiking boots. I still would have been fine with waterproof hiking shoes, but one misstep could have led to a mud-filled shoe, so it's something to keep in mind.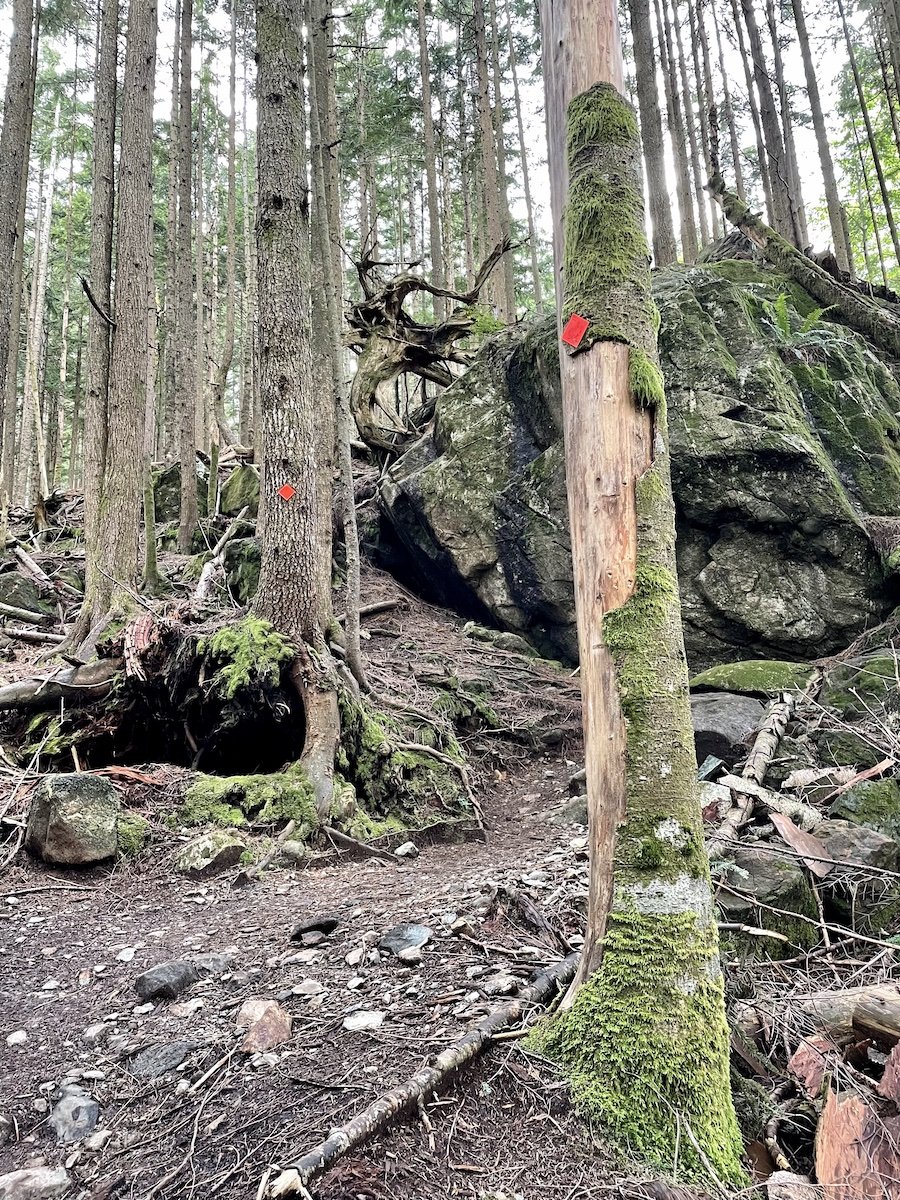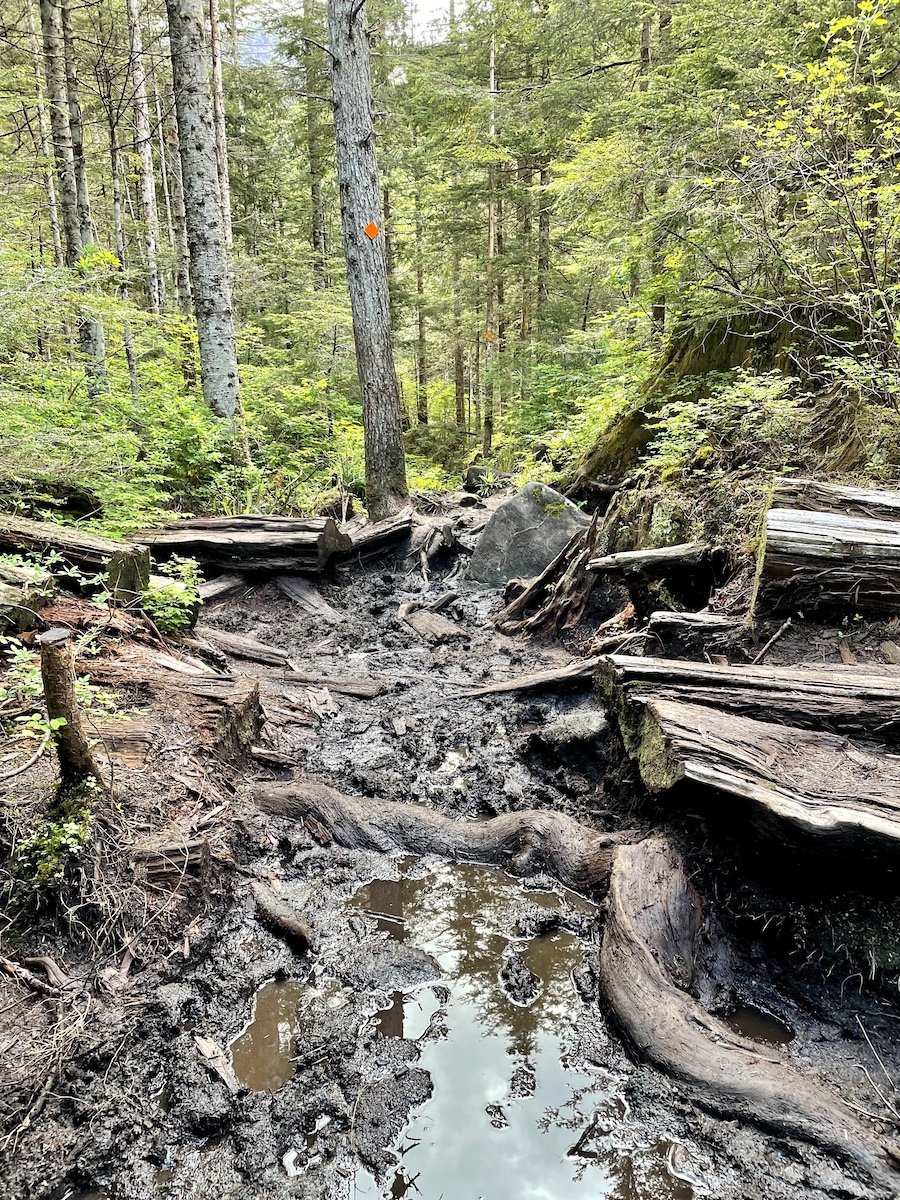 While I was hiking in spring, the water levels for the creeks were higher, and even though I passed a creek that had a sign indicating that it was the last point to access drinking water before continuing up the trail, I passed at least 3-4 more creeks that would have allowed for water collection, so perhaps it depends on the time of year.
Alder Flats is designed to be a spot where you can stop and camp the night before heading further up to Panorama Ridge or the summit. There was a gentle creek bubbling nearby, but I suspect it will be dry within a month. There are a few flat areas that are suitable for camping at Alder Flats, but I wouldn't say it's a really nice place to camp. It really is just a stopping point for people who need it going up or down from the Golden Ears summit trail. There is a helicopter pad there for emergency purposes, so take note if someone needs to be airlifted out.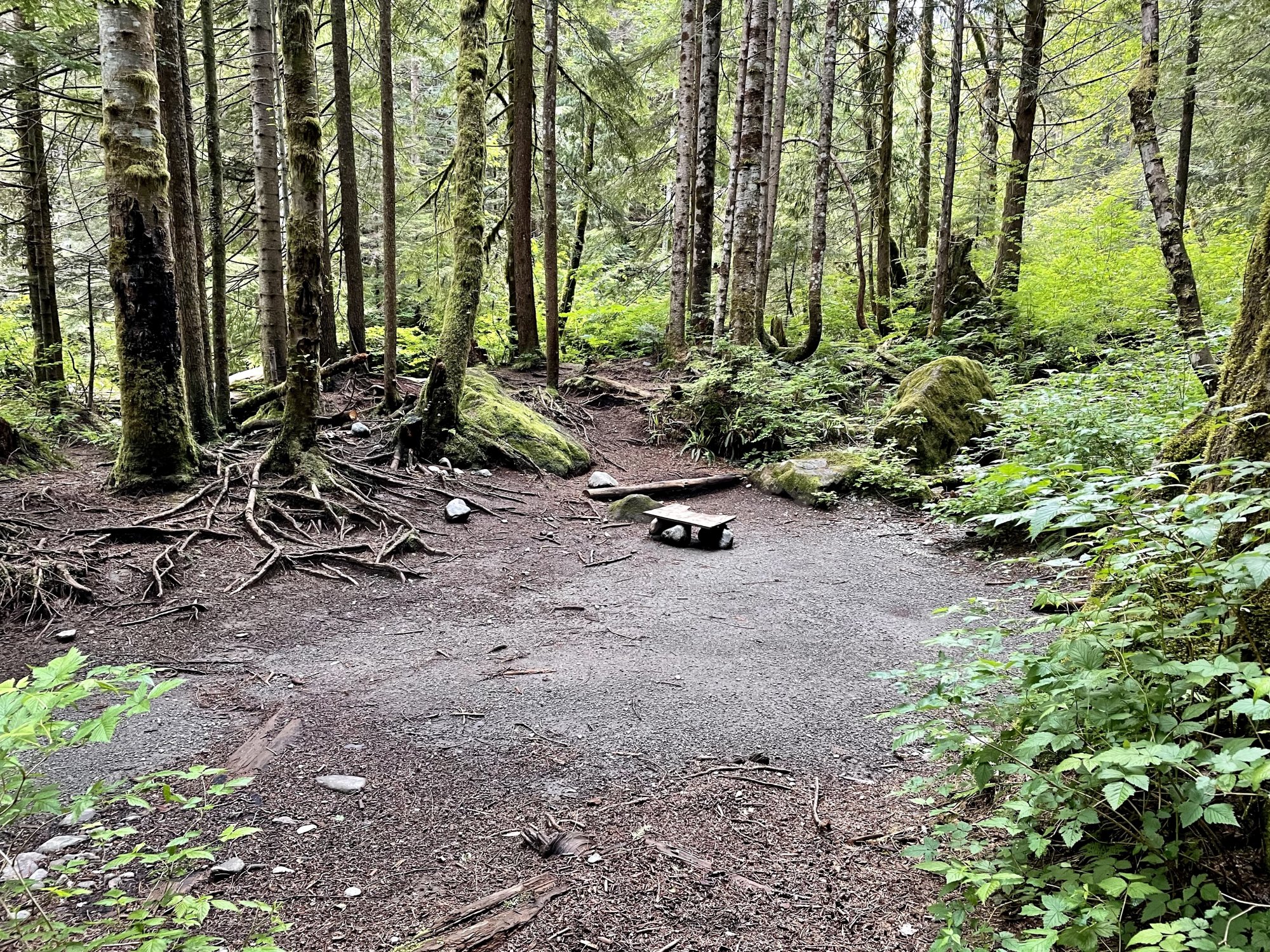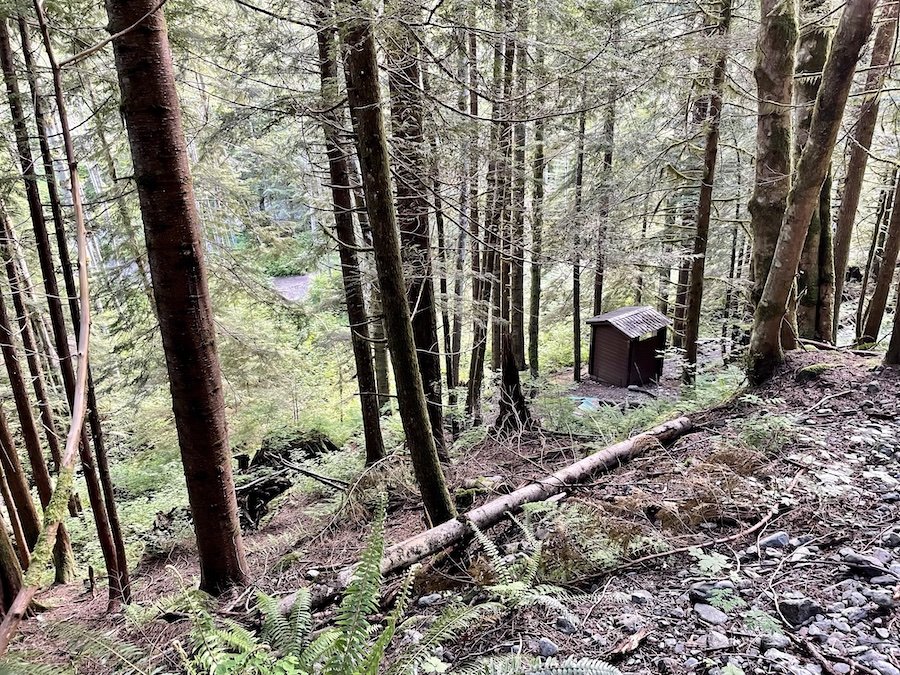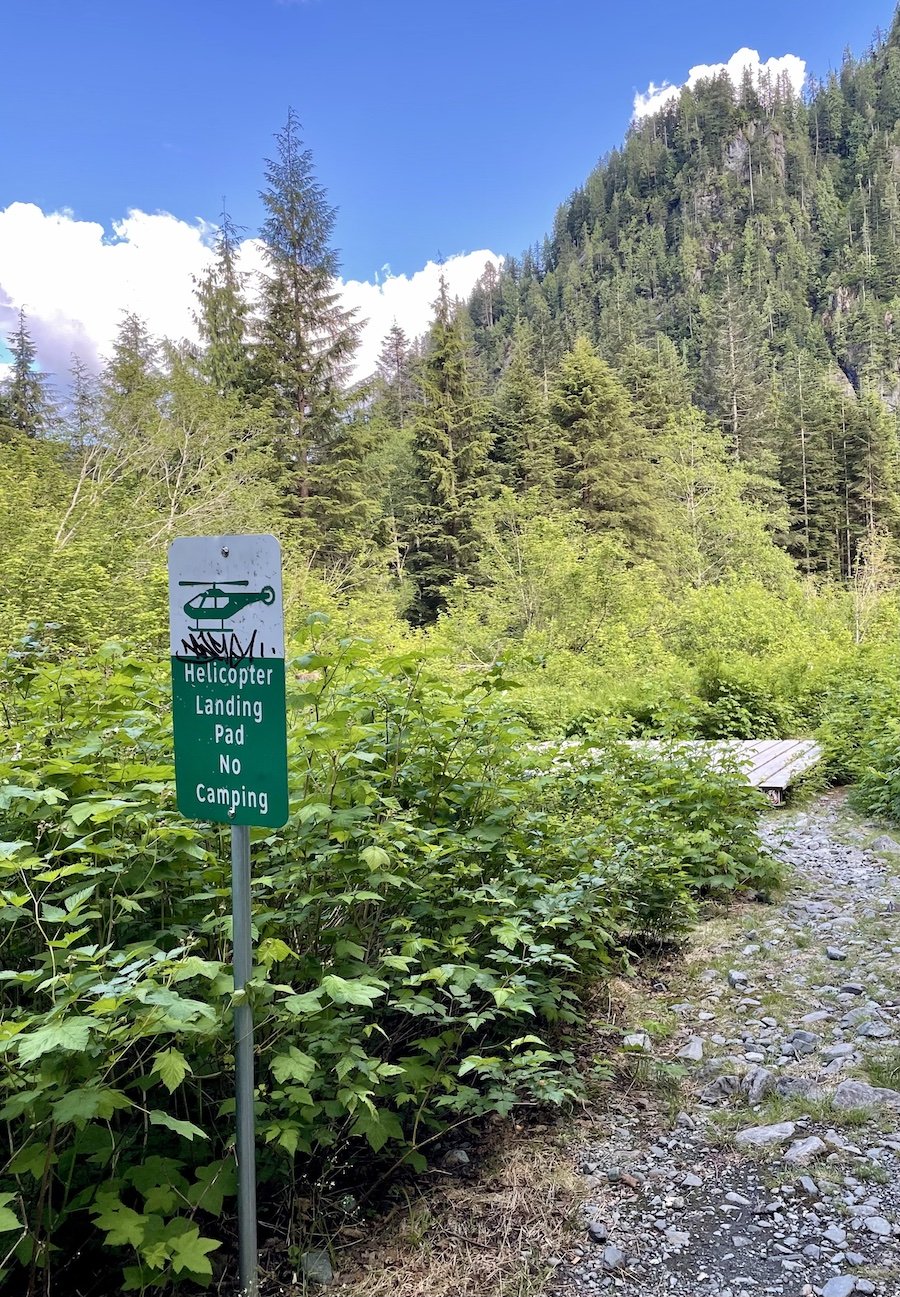 If you're only stopping by the area, it is well worth climbing up an extra 500m along the summit trail to check out the view if it's a sunny day. I'm sure glad I did. It made for a lovely stopping point where I can have a snack then turn around and head back down toward my chosen campsite.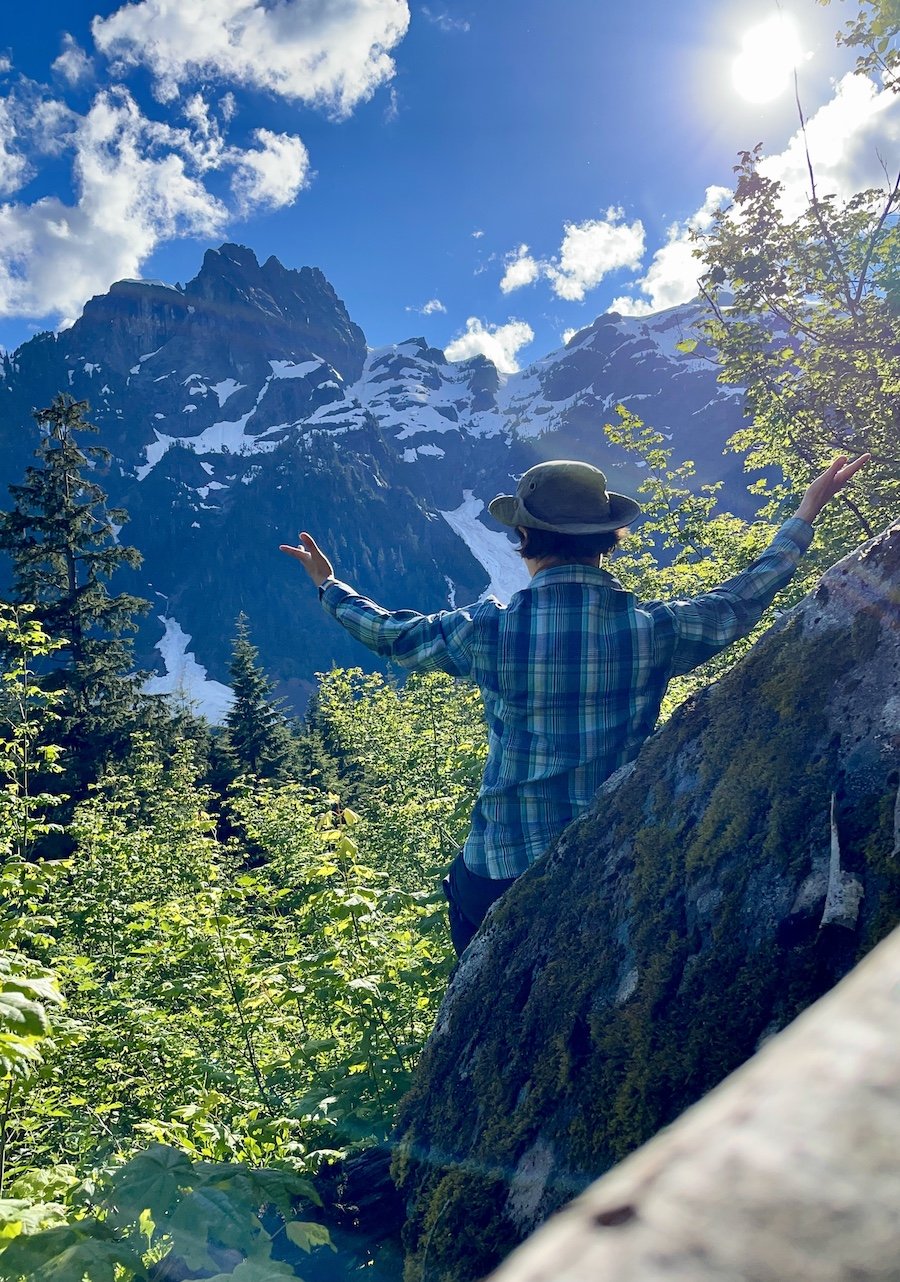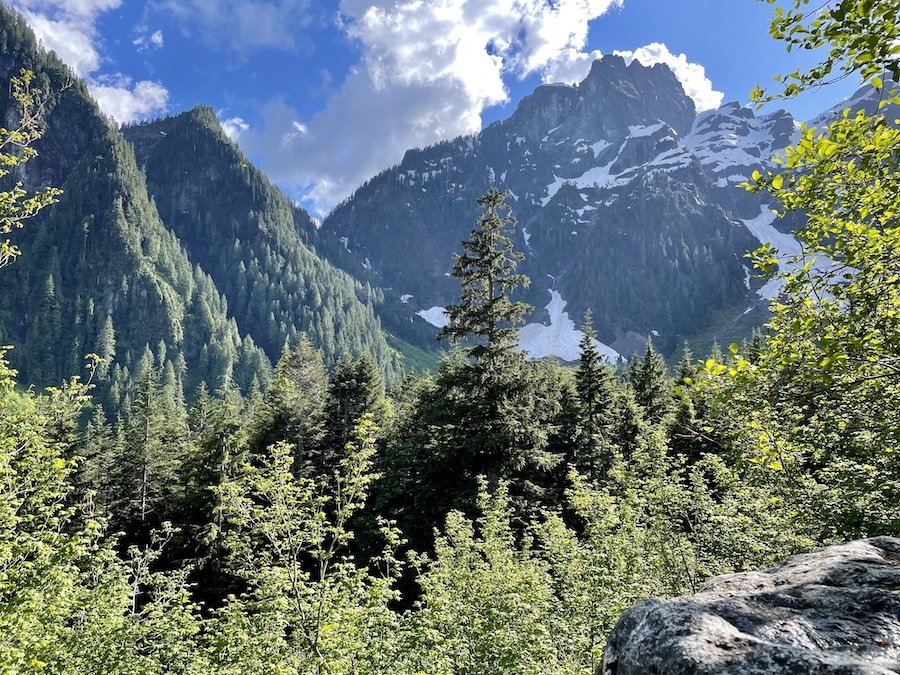 Hiker Beach and Crossing the Canyon
I motored quickly back down the trail the way I came. I wanted to quickly get to one of the camp areas to settle in and relax for the evening. There are plenty of sign posts showing you the way, so it's really hard to get lost if you stay on the trail. I turned to head toward Hiker Beach, but found the trail was waterlogged. I could have taken off my boots and walked cross, but it was a bit too high for me to just pick my way across without getting water over the tops of my boots, so I decided to keep hiking.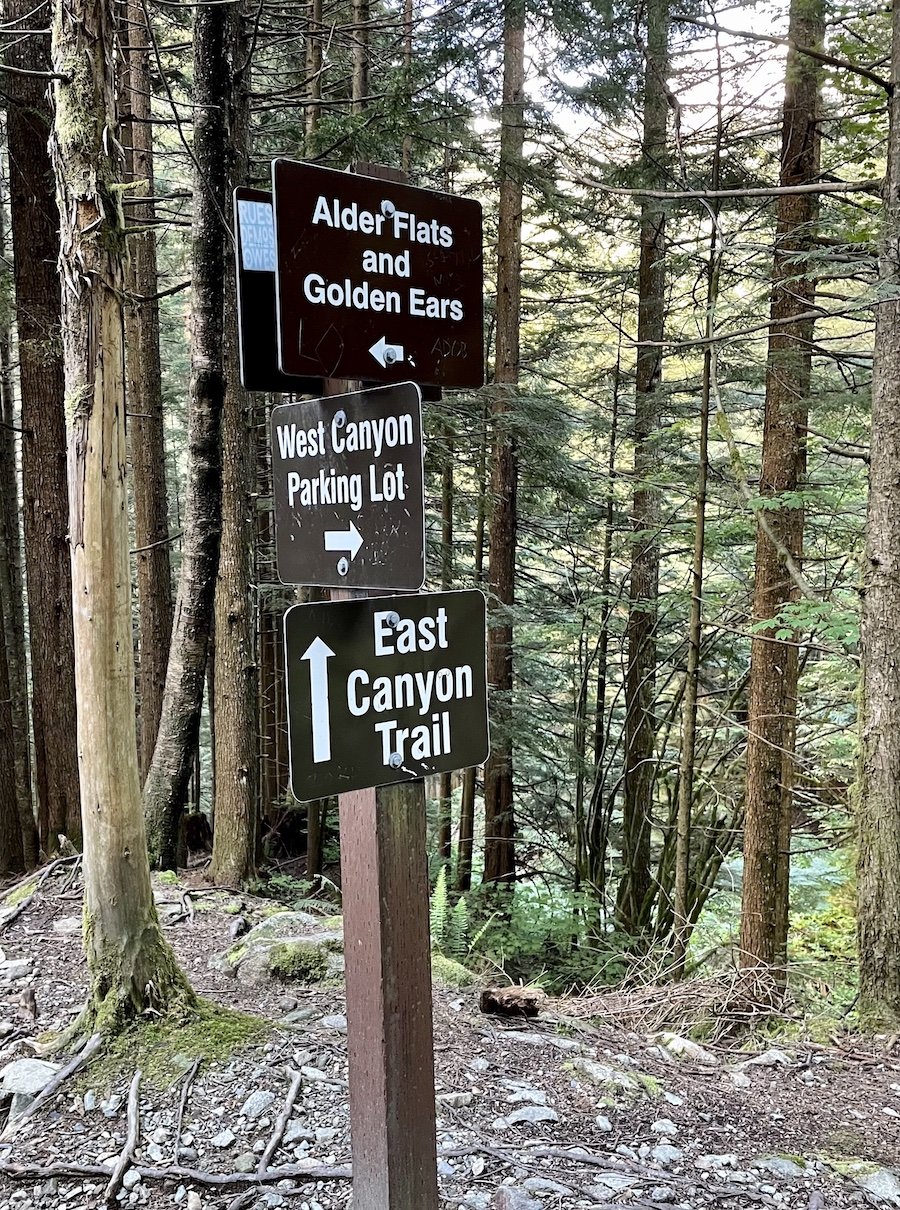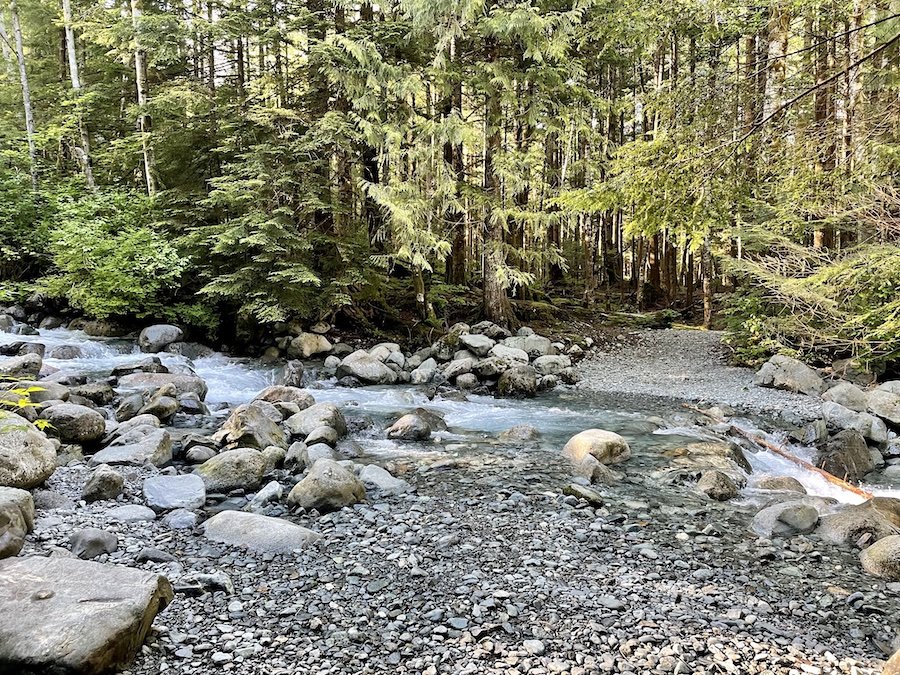 Hiker Beach is across the river from Viewpoint Beach. The photo below shows it from the side where I camped. I read that when the water levels are lower, you can pretty much just walk across, but the water was so fast moving it wouldn't have been a good idea this time of year.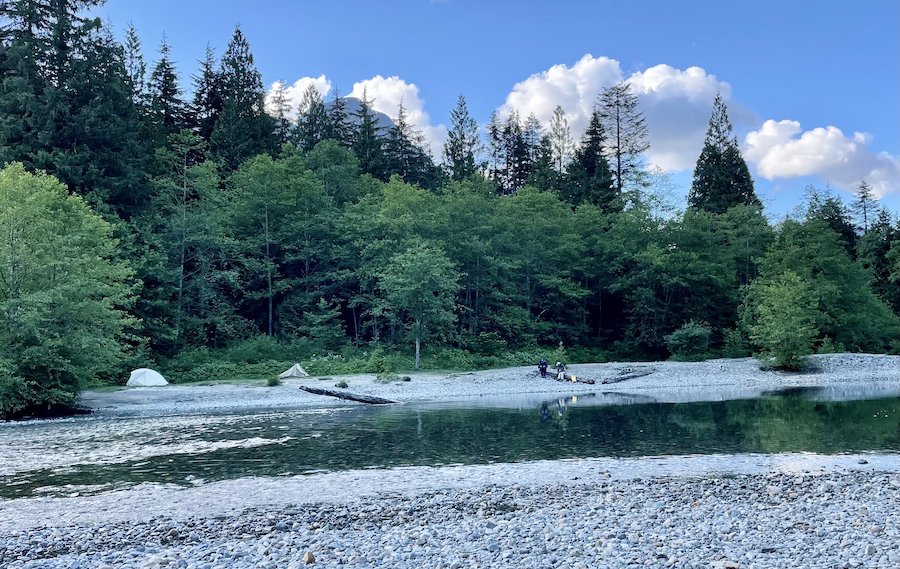 The bridge crossing from West Canyon to East Canyon affords a gorgeous view of the river. I stopped to for a moment to take in the beauty as the sun started to dip past the mountains.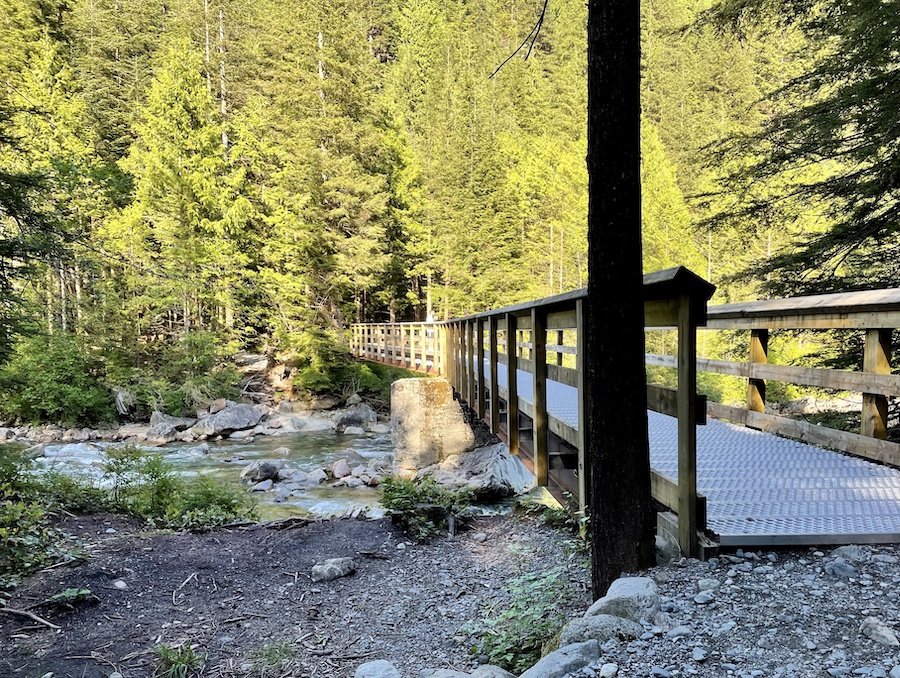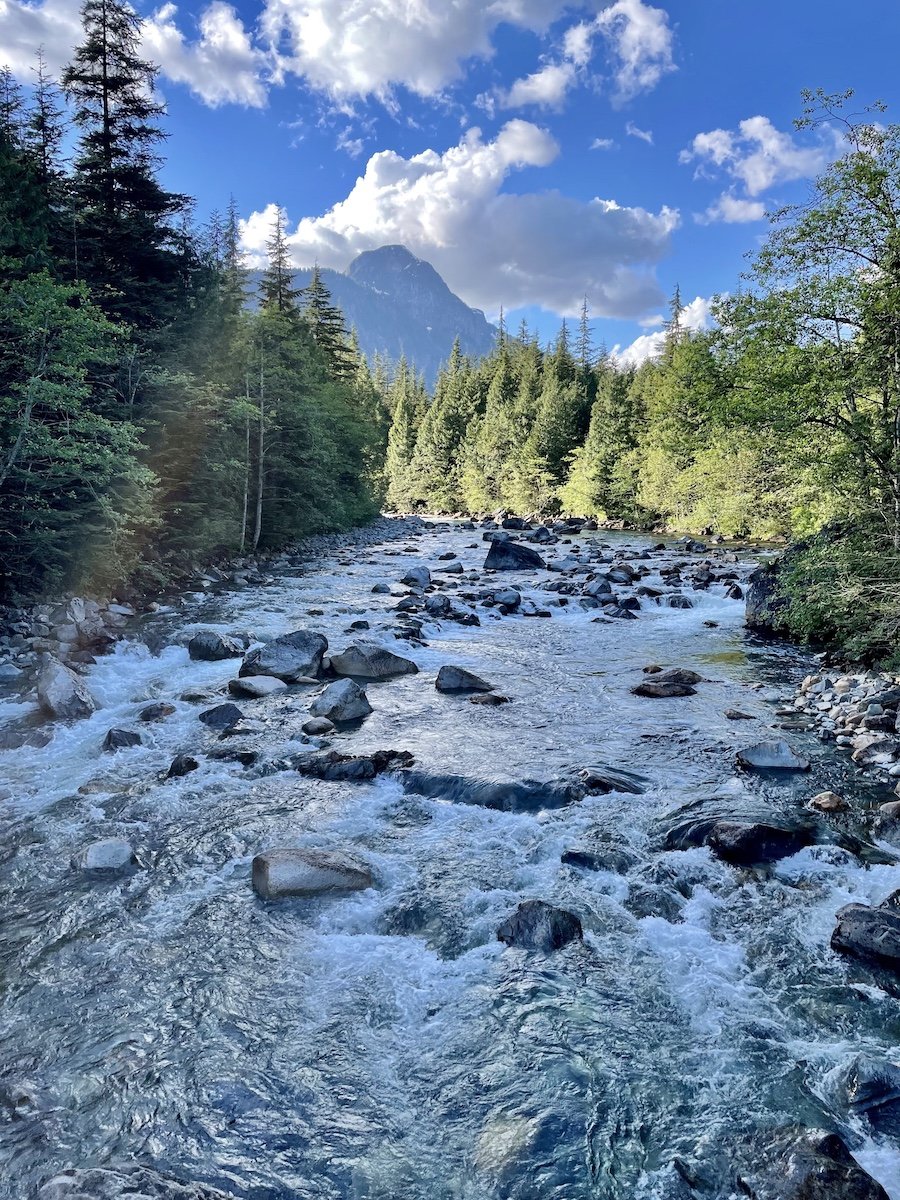 Camping at Viewpoint Beach
Viewpoint Beach is not sandy, more like a rocky beach with plenty of space to enjoy the river. There are a few choice spots set away from the river closer to the foliage with flattened dirt, making for ideal spots in which to pitch a tent, far enough from the river to not get too much condensation.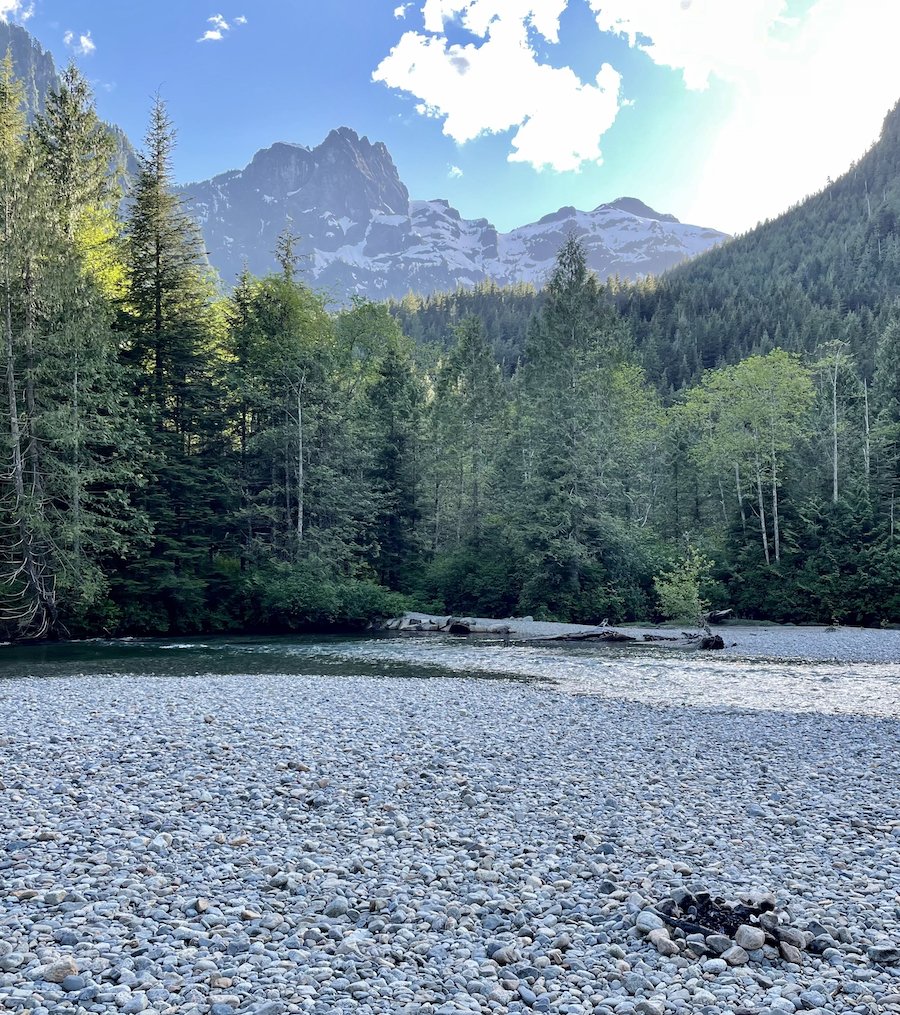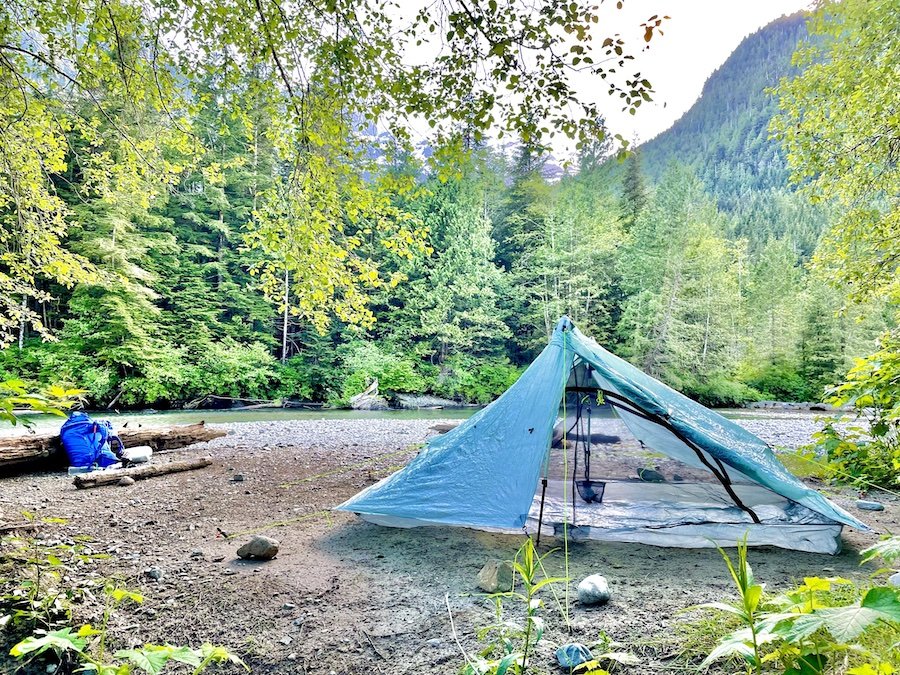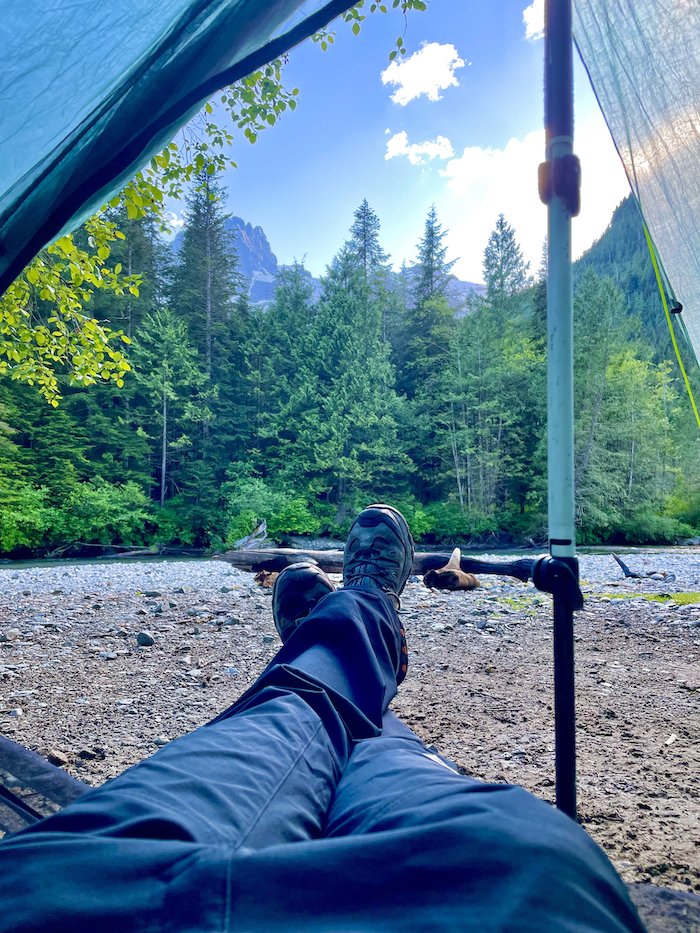 I wish I had arrived a little earlier, before the sun went past the mountains, but I still enjoyed the view while I ate my evening meal and rested my legs. If I had arrived earlier, I may have splashed in the cold water a little to rinse off my sweat, but I didn't want to get a chill before turning in for the night. The water is fairly fast-moving this time of year (June), so if you're going to go in, exercise caution.
East Canyon Trail and Back to West Canyon Parking Lot
I woke up early and managed to break camp before the rain started. I decided I wanted a little more hiking time and headed north on the East Canyon Trail toward Half Moon Beach, the location of the third backcountry camp area along the river. There are pretty peek-a-boo views of the river along the way that are worth seeing, along with towering old growth trees.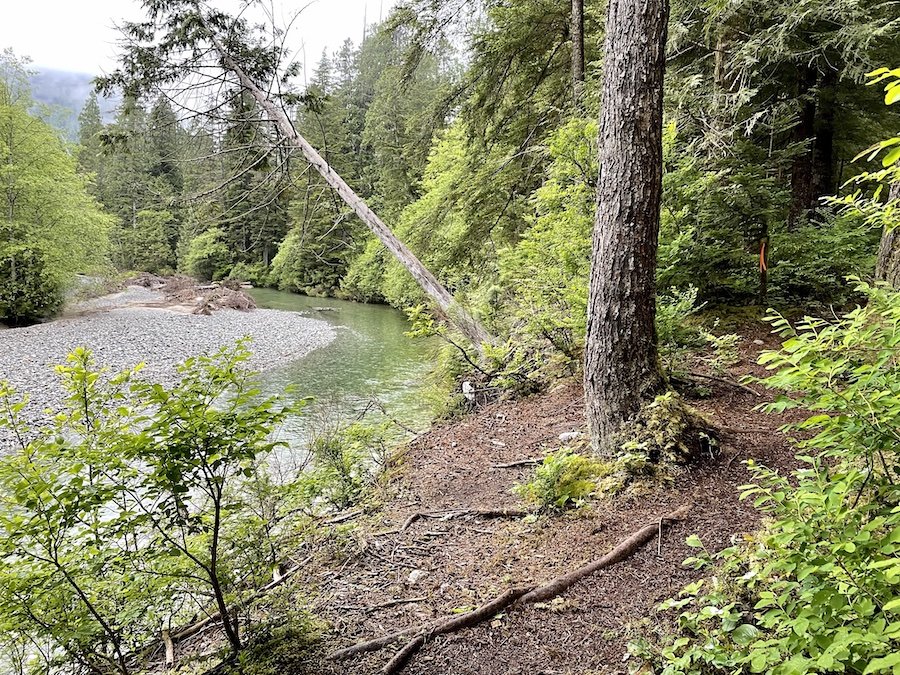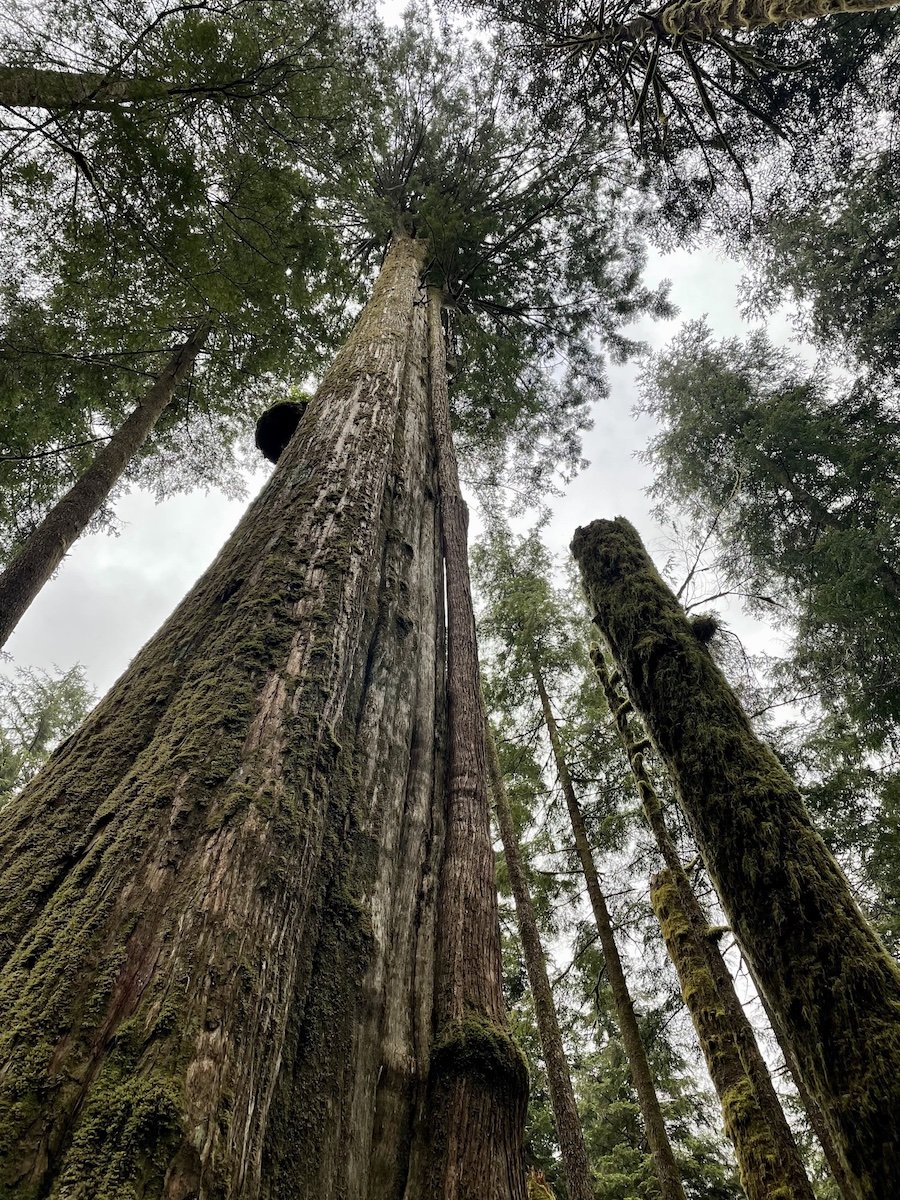 The trail is less well-maintained past Viewpoint beach, but is still clearly marked. There are a few parts where the trail is re-routed around fallen trees and washed away sections, but it was easy to follow. For this time of year, boots and/or gaiters aren't a bad idea. I wanted to make it all the way to Half Moon Beach, but only had so much time though. I was only able to make it to the 8.5km mark (measured from the Gold Creek parking lot), before I had to turn back. I shall endeavour to make it all the way on a future trip.
The last section of the East Canyon Trail from Viewpoint Beach back to the Gold Creek Parking lot is wide and easily traversable. It is designated as a multi-use trail, for horses, bikes, etc. That particular stretch is kind of boring with not much to see, unless you want to go off trail to check out Lower Falls. Below was the only real view I saw on that stretch.
If you parked at the Gold Creek parking lot, you're all done when you get off the trail, heading toward the parking lot. If you parked at the West Canyon Trail lot though, you have a few kilometres left to go. Hike up the road and cross the bridge. At that point, you can take a trail to reconnect with the West Canyon trail if you prefer to hike in the woods, or you can continue down the road if you're done with the woods.
Overall Impressions of Golden Ears Backcountry Camping Areas
The lower level campgrounds are great for taking people backpacking who aren't able to handle much elevation or distance, like kids, dogs, people coming back from injuries, or even people who are inexperienced with backpacking and unused to carrying loads. It would also be ideal for testing new gear without having to go too far.
For me, it made for an easy overnighter at a time when I didn't have much time to drive very far or hike for too long. I still managed to get in between 12 and 15km on my way in and out. I started my hike at 3pm on the first day and got to my camp site for around 6:30pm, with a couple of stops along the way. The second day I hiked for around 15km from the campsite back to the car and did it in 3 hours 15 minutes. This all depends on how fast you hike, how many stops you make, how long the stops are, etc, but it gives you a ballpark.
Have you done any backcountry camping at Golden Ears Provincial Park? How did you find it? Please feel free to share your thoughts in the comments so everyone can benefit from your experiences.