Vancouver winters are usually characterized as being wet and gloomy, with slightly above freezing temperatures and LOTS of rain. But every so often we get what Vancouverites lovingly call "snowmaggedon," usually only once or twice a year. Our first snowmaggedon was this past Wednesday, with 10-15cm of snow and daytime temperatures of -7C. Schools closed. City officials advised everyone to stay off the roads while an area ill-equipped to handle large snow dumps did their best to clear the snow and make things safe. This led to an area-wide snow day. While many people lament the inconvenience that comes with a snow day, I chose to embrace it full on and appreciate the fluffy white stuff in my local neighbourhood while I had the chance.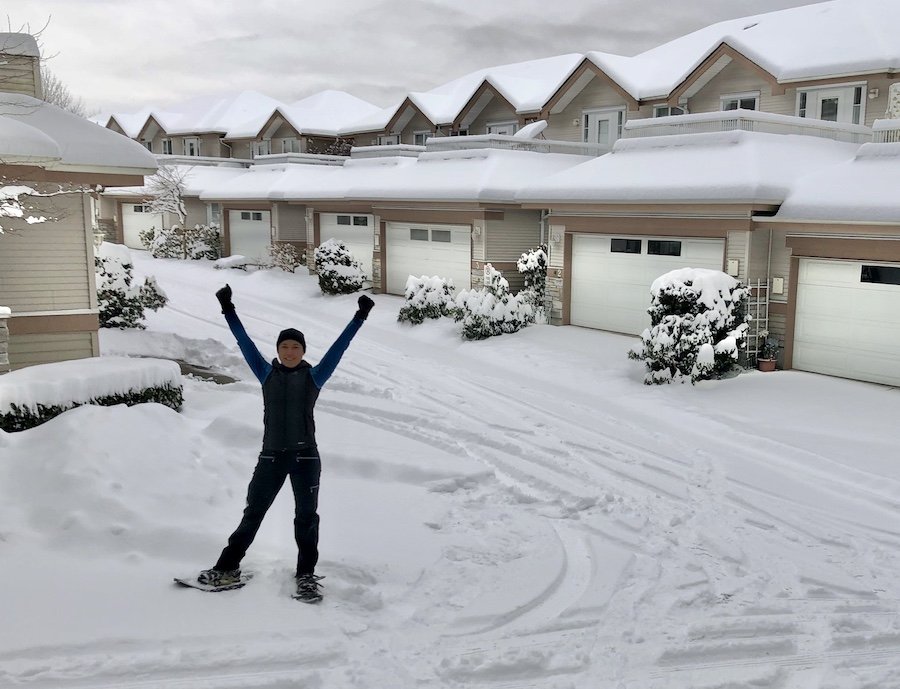 Exploring City Parks and Trails by Snowshoe
When you live in a place like Vancouver and you get a massive dump of snow, everything looks different. The landscapes are brighter and more pristine. Places you might not normally frequent become beautiful settings for romping around in snowshoes. And if you live in an area like mine that has lots of side streets that don't get any attention from city plows, your neighbourhood becomes one big snowy playground.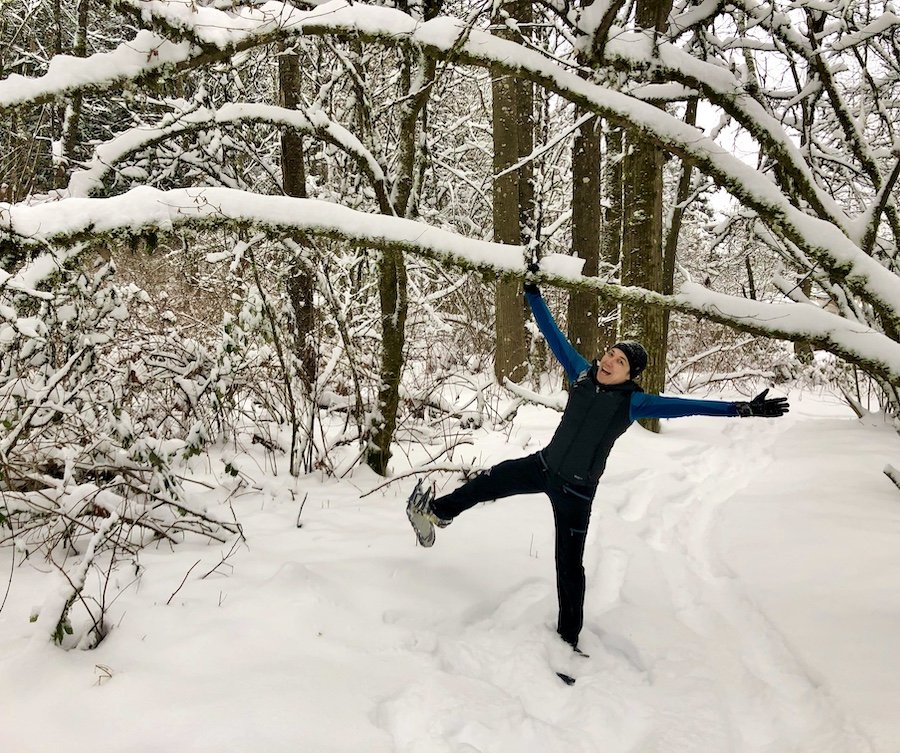 Naturally, the first things to go explore nearby parks. We have a small nature trail right next to our townhouse complex where we started out snowshoeing adventure. We followed the trail up the hill then tromped through the side streets to eventually get to another city park, which was completely untouched.
One of our favourite local trails follows along a creek, so we made sure that we included it in our trip plan. Snow piled up on rocks as the water softly babbles along makes for a truly serene forest experience.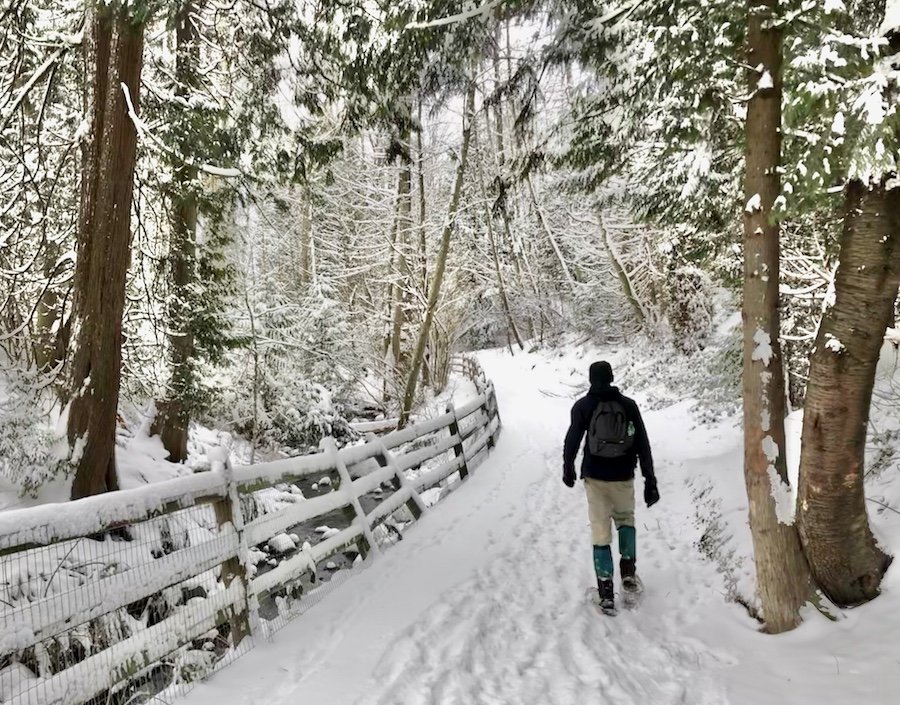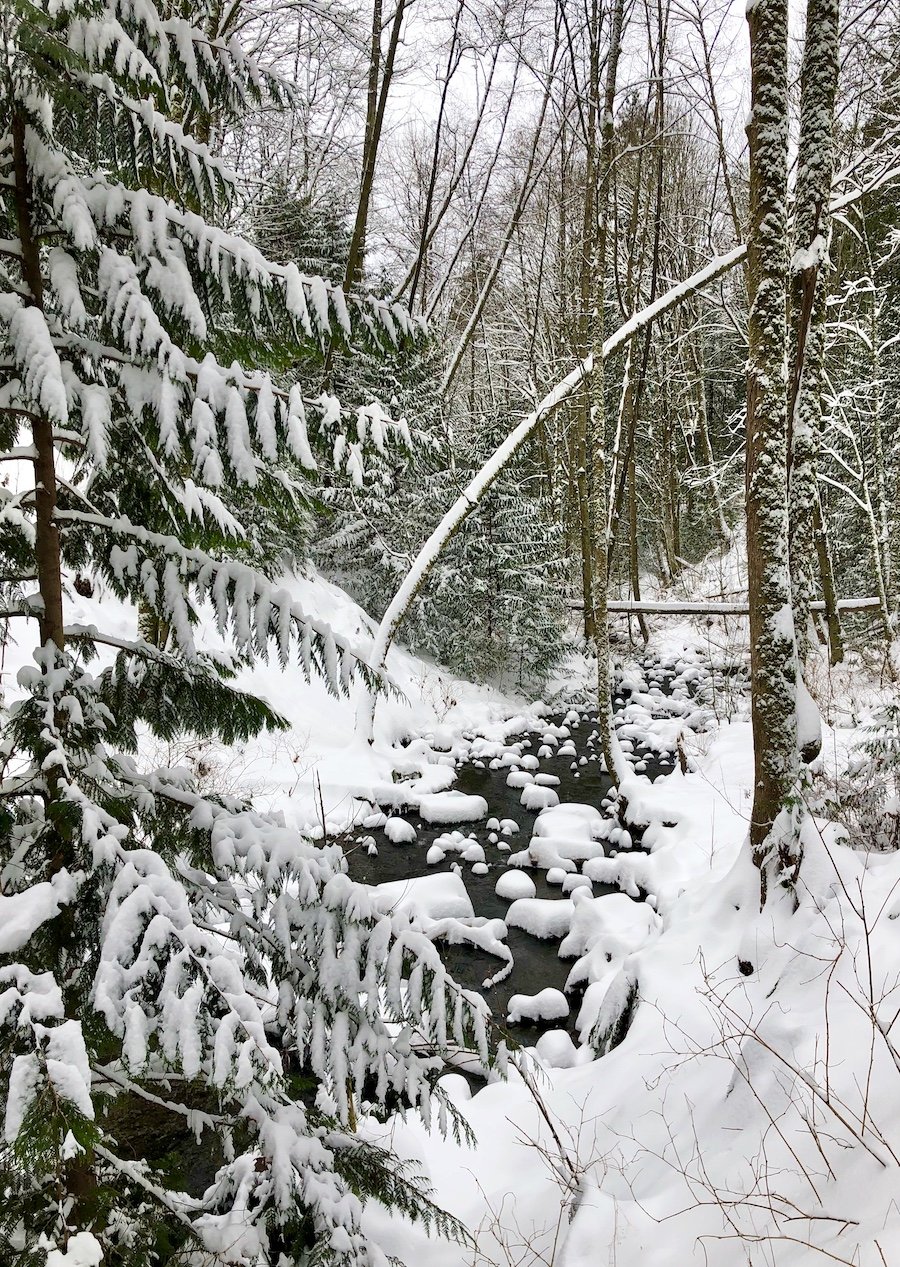 Snowshoeing Fun with the Urban Elements
Of course, large parts of your urban snowshoeing adventure will not be in nature havens, but even sidewalks and side streets become beautifully in touch with nature when covered in snow. It also gives you the opportunity to be social with your neighbours as they shovel their driveways. And everyone seemed to appreciate the whimsy of us being out on the city streets in our snowshoes. We received a number of friendly waves and thumbs up on our journey. Keep an eye out for opportunities to be a Good Samaritan too. We encountered two different people who were futilely spinning the tires of their vehicles to try and escape a snowy patch. Having traction by way of snowshoes makes it much easier to push them free. We helped both and our help was gratefully received and appreciated.
We also happened upon a railroad track covered in untouched snow, that was directly on our route. We knew it to be a very infrequently used track so we decided to travel along it. Please note, that if you snowshoe along a railroad track, make sure it's one that you can quickly, easily and safely hop off if a train does happen to come around.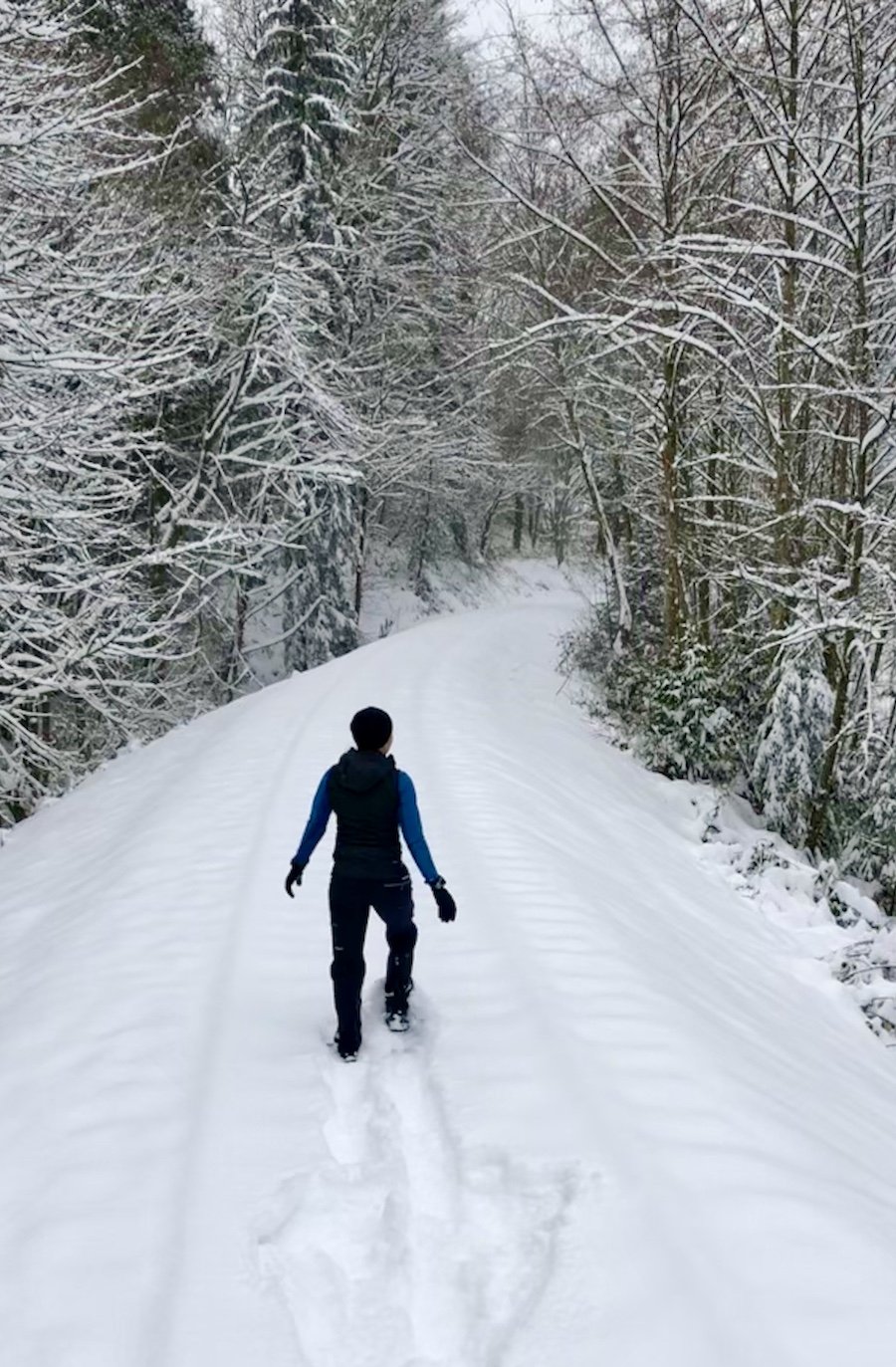 Choose an Urban Destination
While we didn't start out with a specific turn-around point, we travelled a long way through the side streets of Surrey until we realized we were close to a grocery store. We decided to go and pick up items to make a nice, hot clam chowder upon our return. The warm, appreciative laughter we received as we tromped up the snow covered areas to the front of the store made me smile.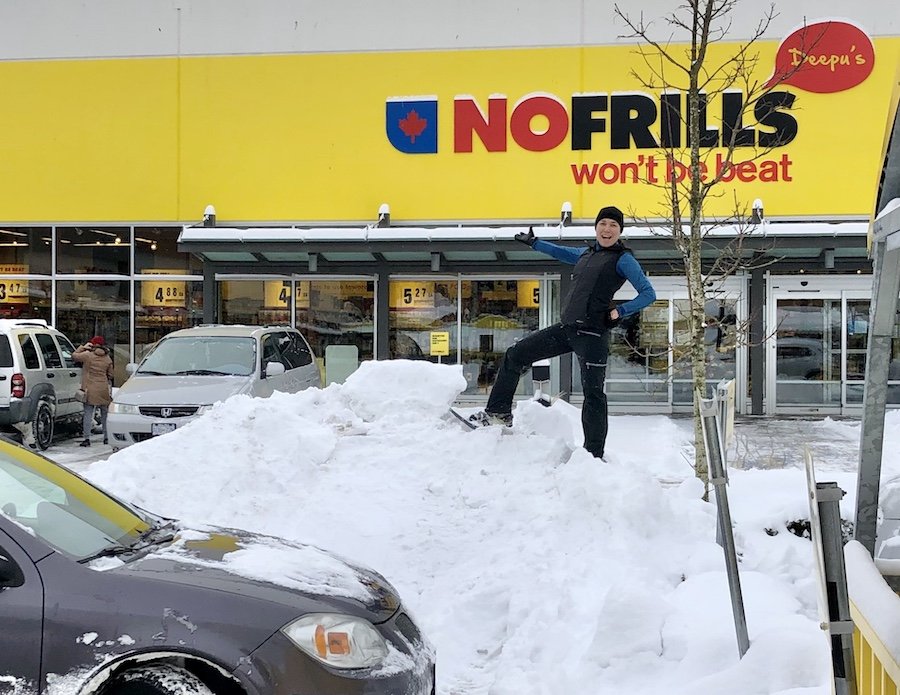 Travelling Home
The nice thing about the ubiquitous snow was that we could easily take a different route home and be treated to yet more snowy landscapes. We descended the final hill on a city path next to Scott Road, which offered some different expansive views of the city.
All in all, we travelled 11km in our snowshoes over the course of 3 hours, and got to come home and top it off by making snow angels before heading in to warm up and make our clam chowder. This unique urban snowshoeing adventure was our first time using our snowshoes this years. What a wonderful way to kick off the season!
Now over to you. Do you go out on urban snowshoeing or cross-country skiing adventures? What kinds of places do you like to lay tracks? Please share your experiences in the comments.