Now that Chris and I have done our Paddle Canada Sea Kayaking Level 2 training, we're looking for more kayaking getaways to help us hone our skills. I've wanted to check out Granite Falls at Say Nuth Khaw Yum Provincial Park (aka Indian Arm Provincial Park) for some time, so we decided to do an overnight getaway on a weekday to avoid the crowds. While the falls and campsite are nice, there is so much more to see in the journey to make this trip worthwhile, whether you stay overnight or not.
Following the Tides
When we planned this trip, we decided to apply what we learned from our course and create a trip plan that involved using the tidal flows to make our journey easier. We saw that the low tide was around 8:40am so we wanted to be on the water no later than that time so that we would have the tide moving with us. We parked on the street near the Deep Cove park's parking lot where there were no restrictions for parking so that we could park overnight. If you intend to do the same, I recommend going early to make sure you get one of these coveted spots, especially if you're going on a weekend. You can also park at Cates Park in North Vancouver, though this would add a few kilometres to your trip and you have to pay to park overnight.
We ended up hitting the water almost exactly at low tide. We launched just outside the buoys of the swimming area at Deep Cove into fairly smooth waters. As we travelled up the arm we started to pick up more momentum from the tidal flow, and at times we were almost surfing with it as the exchange got faster and faster. I was glad to not be going against a tidal flow when it was that strong.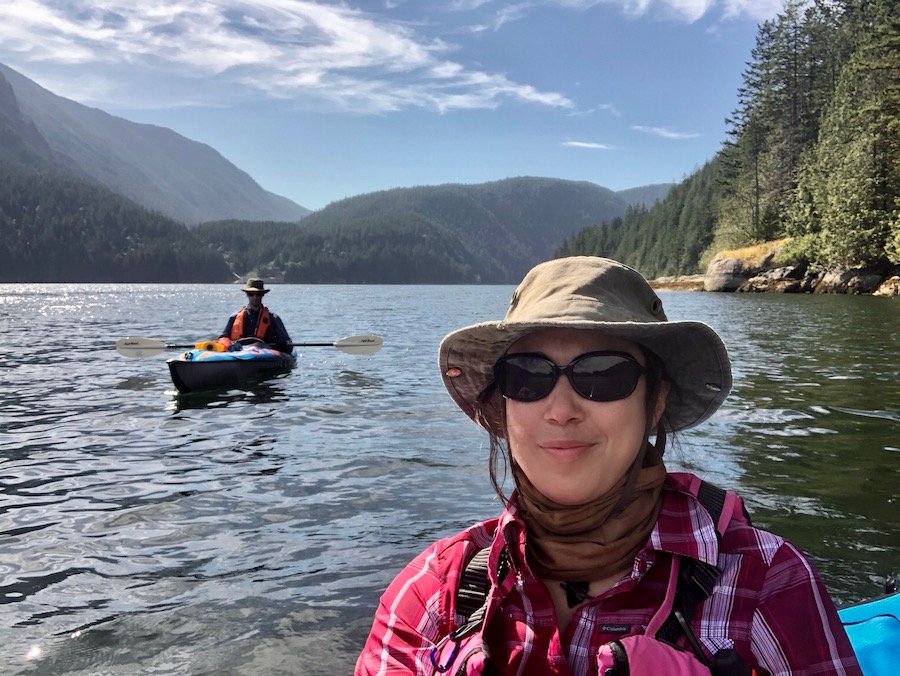 Sealing the Deal with Animal Encounters
If you kayak for a few hours up the Indian Arm, you're bound to see a few seals. Over the course of our trip, we saw a total of 18 plus one seal pup. Most of them were after we got away from all the waterside houses, though we did see one or two closer to Deep Cove. We found one area just past Silver Falls where we saw around 8 or so of them sunning themselves on the rocks. I managed to get close enough to one of them that I got one cool shot, but most of the photos I got are like a "Where's Waldo?" book because they are so hard to pick out from a distance, naturally camouflaged in the rocks.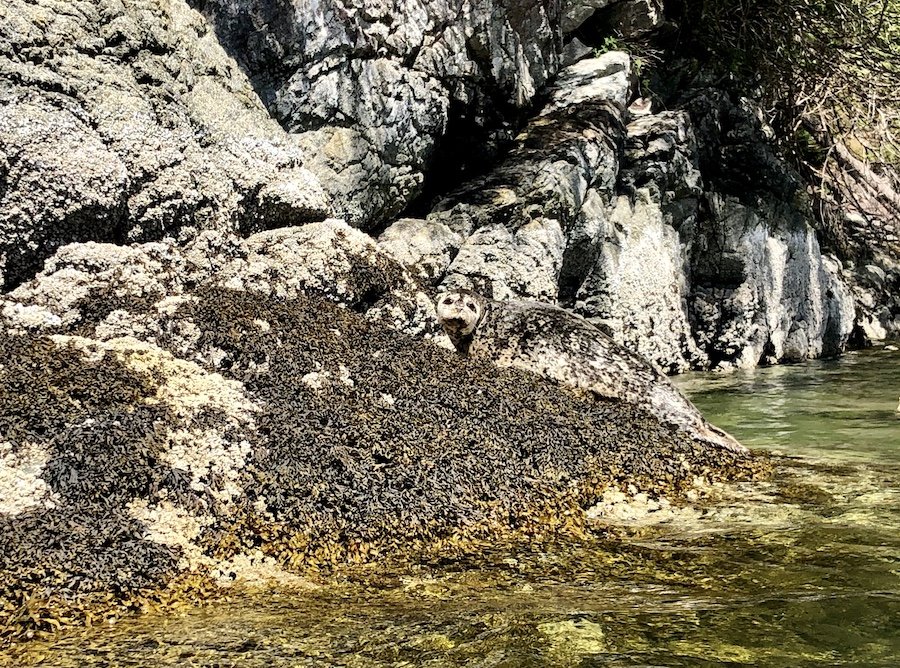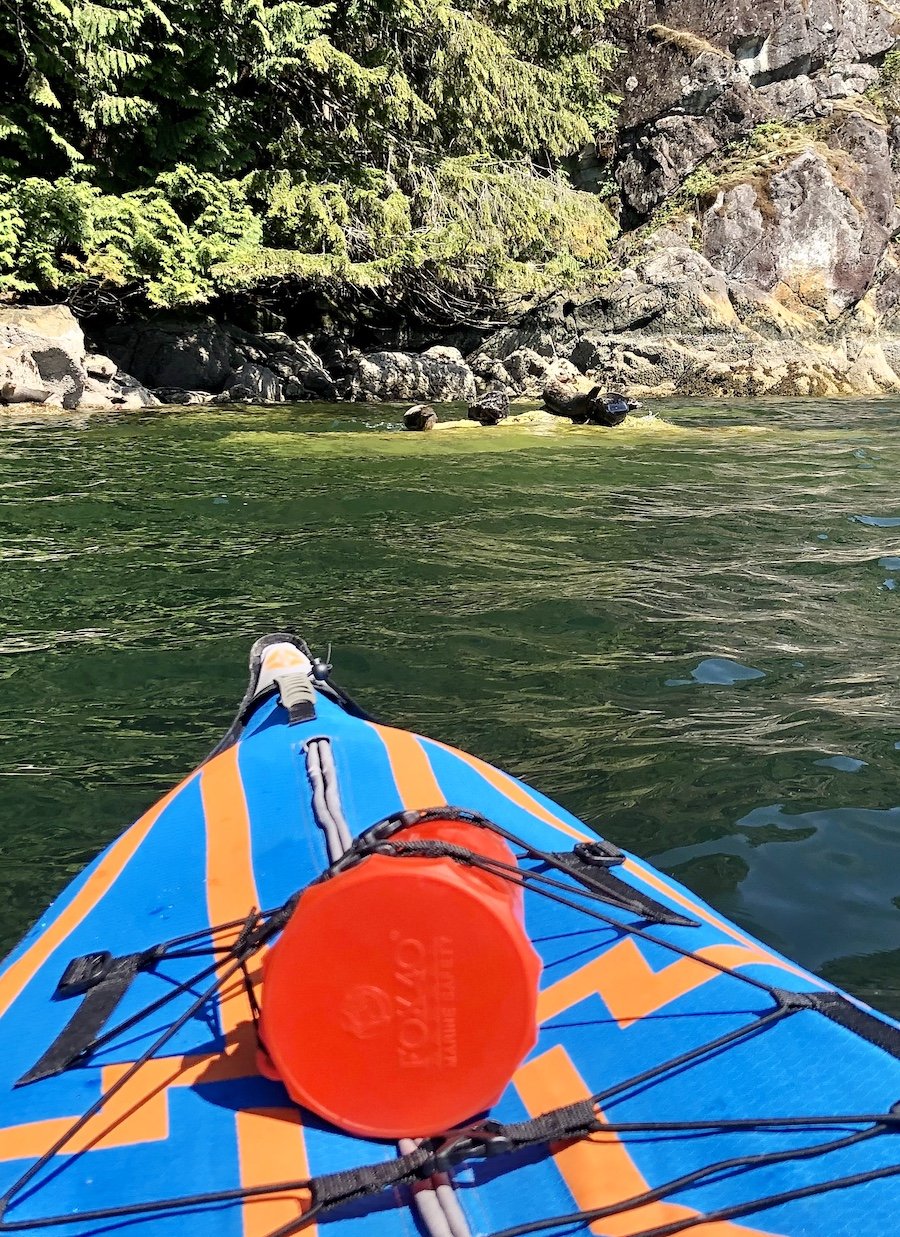 If you're lucky you might see sea otters or orcas in the Arm, but those sightings are not common. You're more likely to see a black bear feeding off the coast from the forest, which we were lucky enough to have experienced on our trip. It was a single bear cub, which hopped playfully back into the woods almost as soon as we spotted him. I was happy to have seen it from my kayak rather than on a trail, being that cubs are the one thing that can make the normally less aggressive black bears more likely to attack.
Oh the Sights You'll See!!!
We stopped at Silver Falls, which was an easy find on the western shore of the Arm as we travelled. It is quite the pretty sight to see them close up, literally falling from the forest into the Indian Arm. You don't even need to get out of your kayak if you want to appreciate them from your boat, but if you need water, it's a good place to refill too, bearing in mind that you should always filter and make sure you gather it from the falls and not where it's merging with the water of the Indian Arm, which is brackish and therefore not safe to drink. We also saw the "haunted" powerhouse on the opposite side of the Arm, though we didn't kayak across to go check it out due to all the boat traffic, plus we didn't want to add more time to our trip, but we will definitely go back to check it out another time.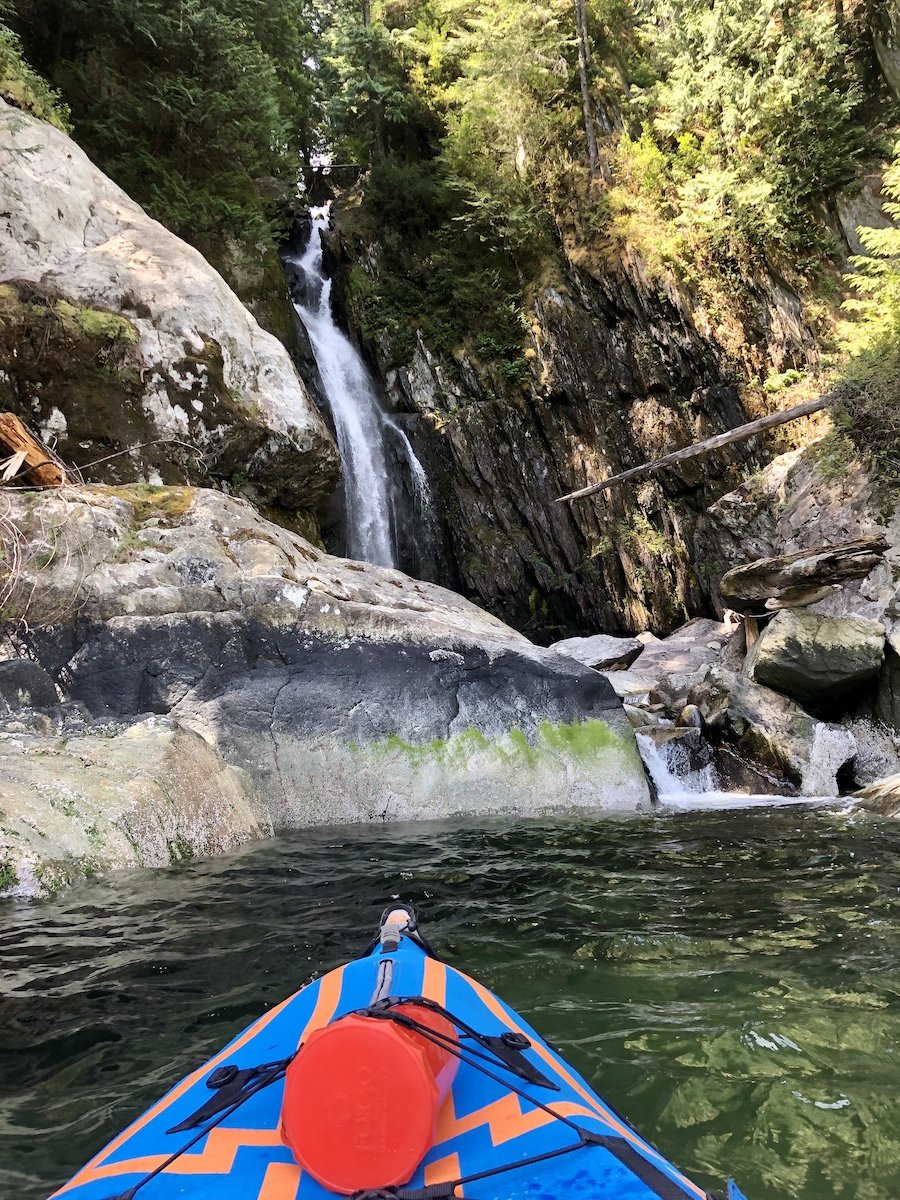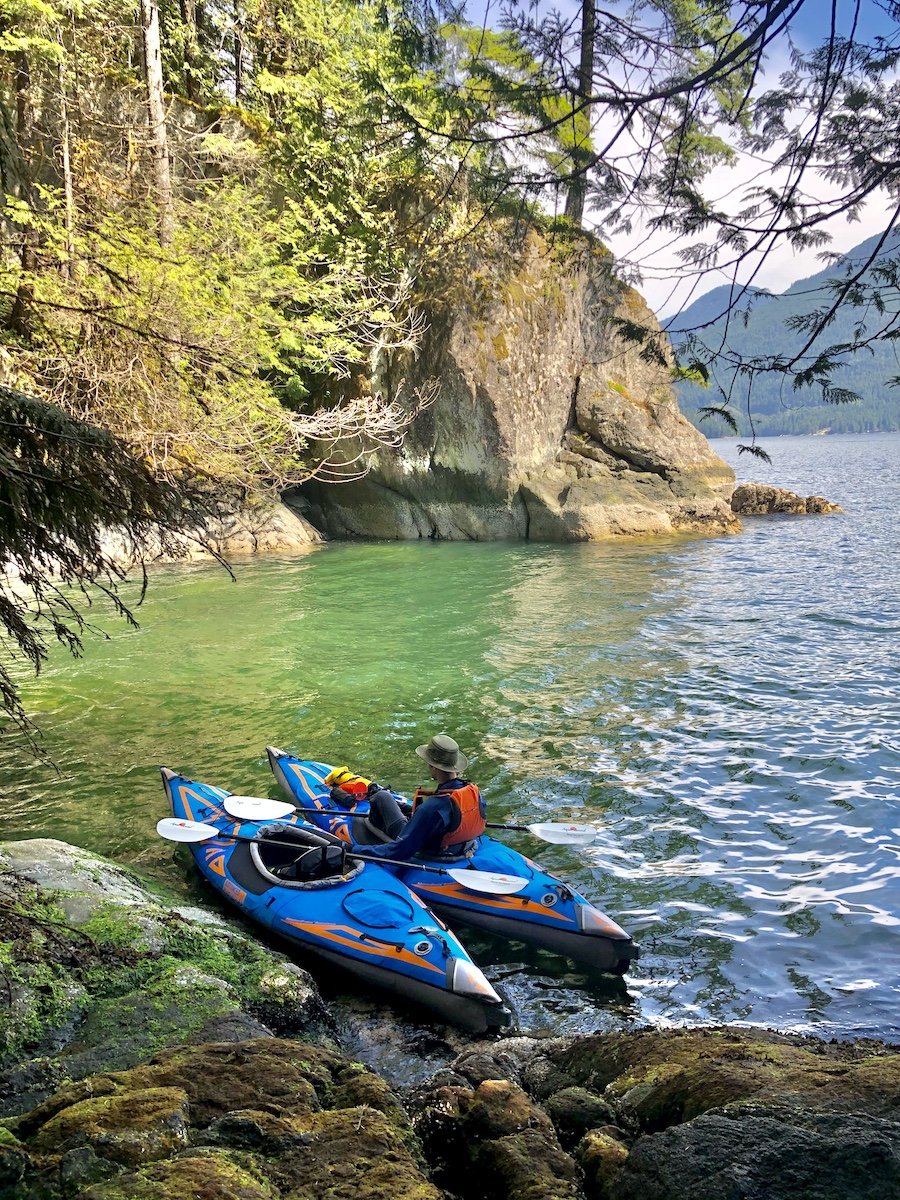 The Places You'll Stay: Camping at the End of the Indian Arm
Granite Falls is by far the most popular of all the campsites at the far end of the Indian Arm, and with good reason. The falls are not only an awesome sight, they are also a great place to go for a dip in clean, cool water after a day of sweaty kayaking in the sun. I also took the opportunity to do a little cold water breath hold training too. If you prefer, there is also a beach on the Indian Arm so you can also go swim in its brackish waters, that are likely a bit warmer than the glacier fed falls. It took us a little over 4 hours to get there by kayak, though timeline guides suggest that it could take as long as 6 hours if you're going at a more leisurely pace.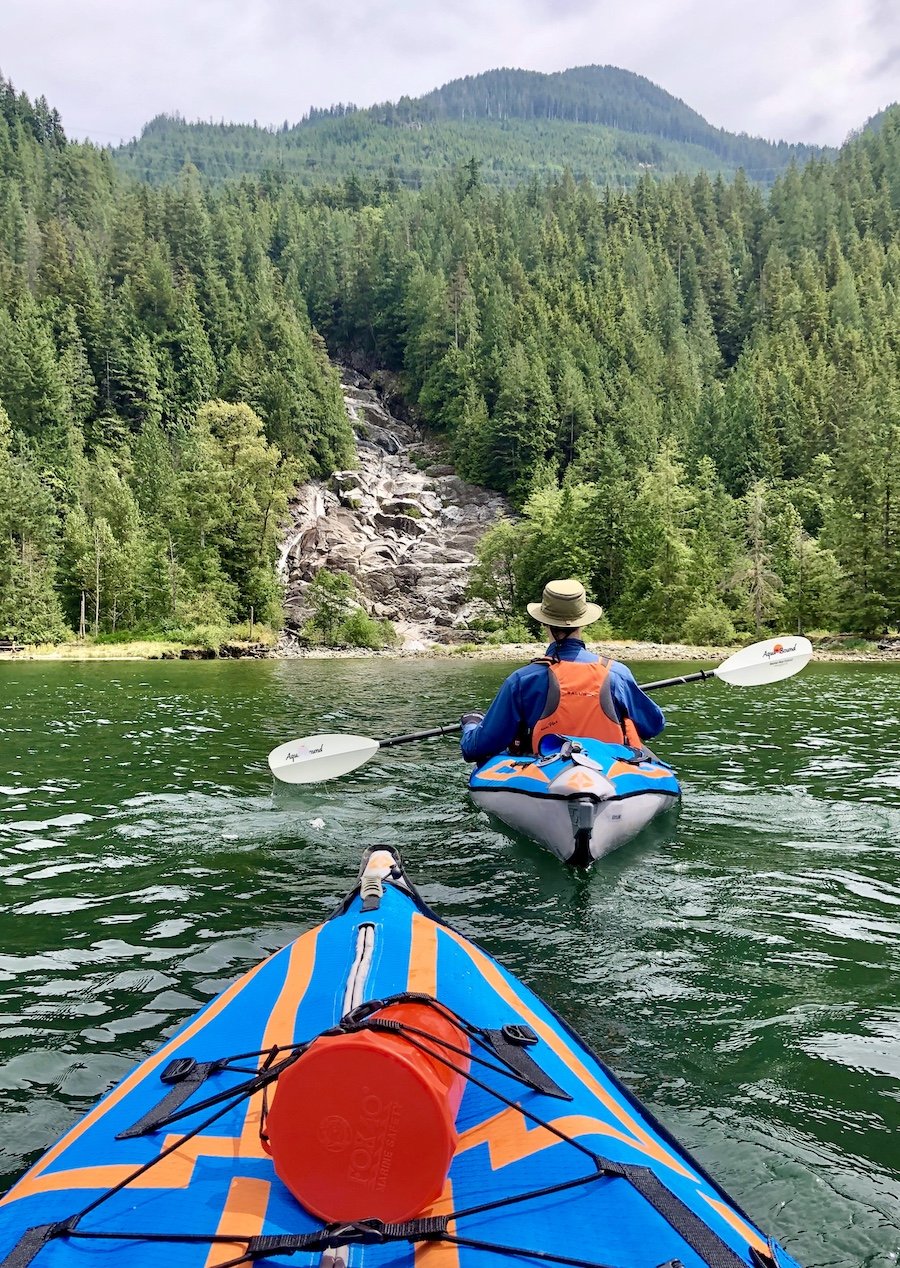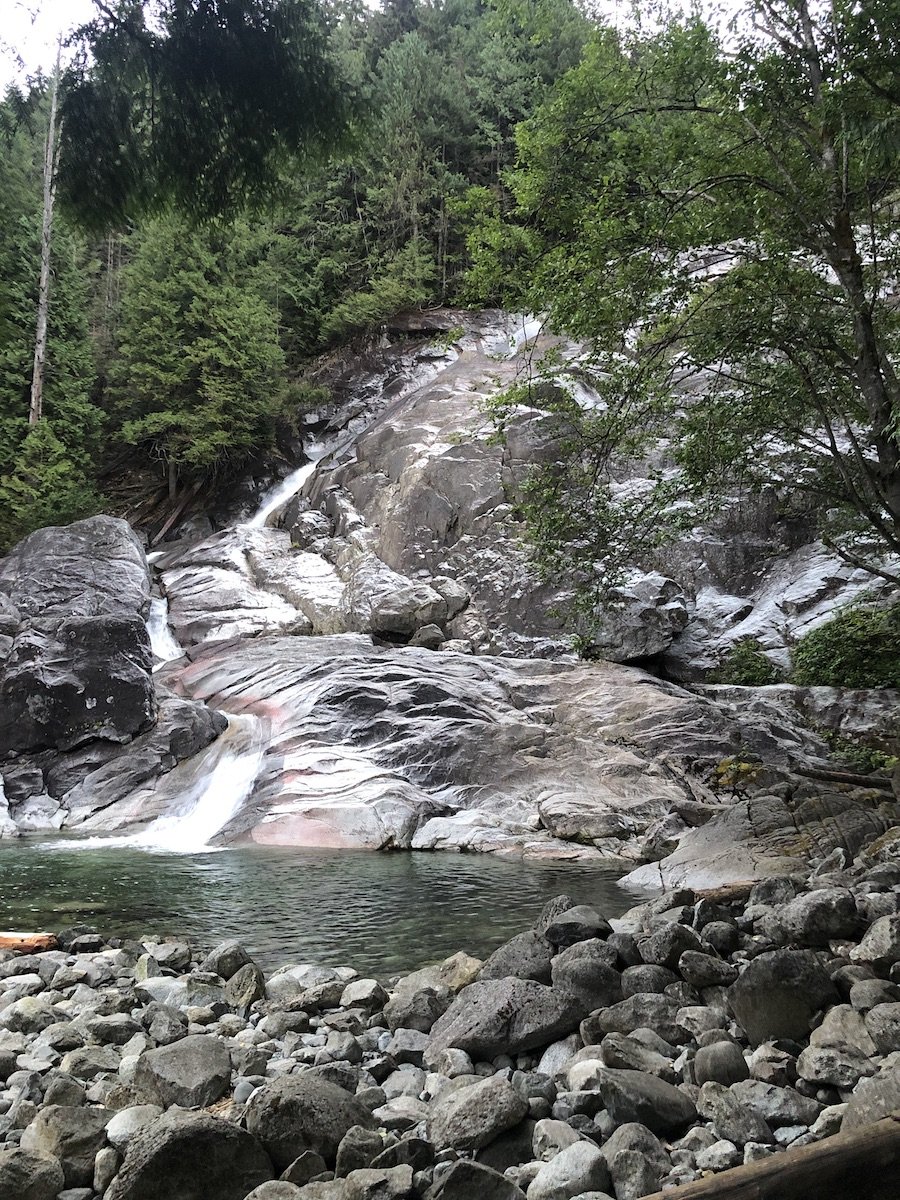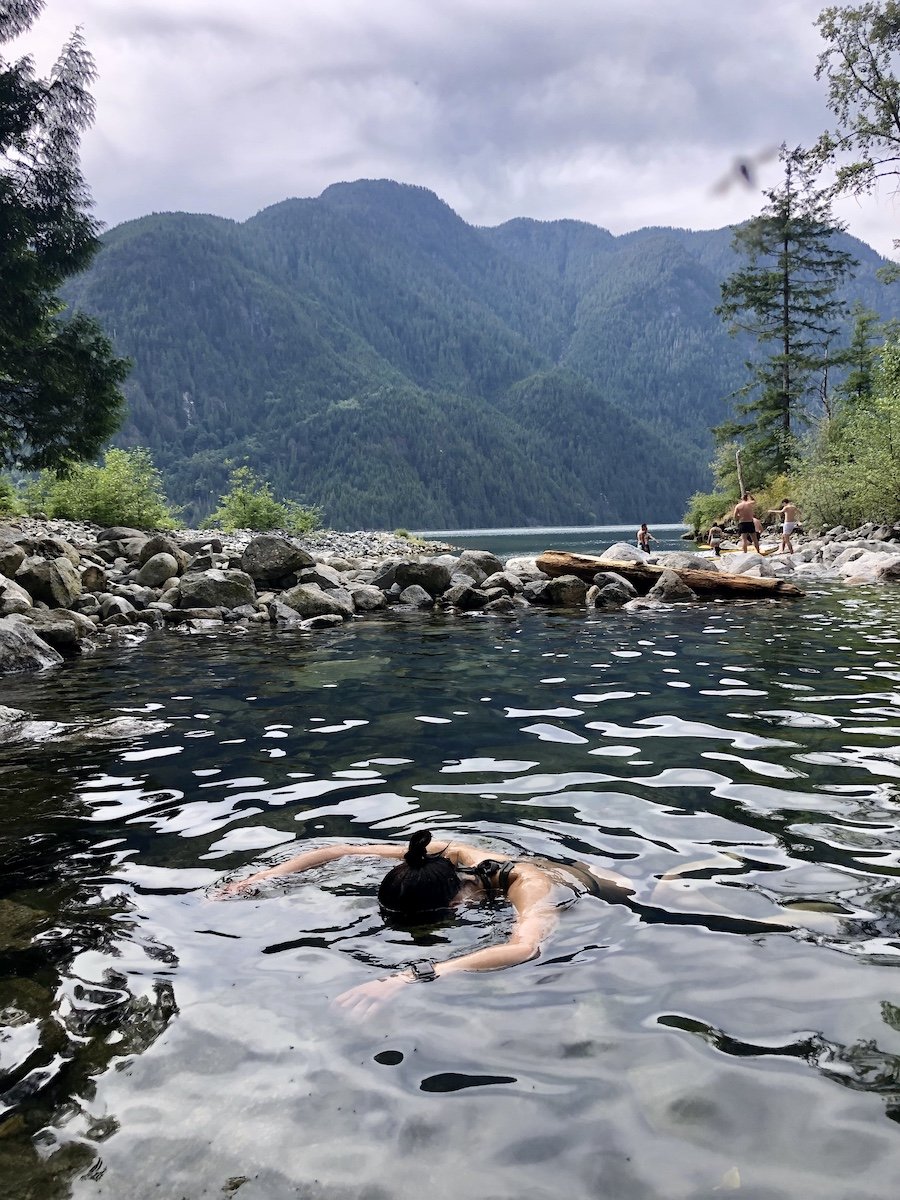 The signage generally discourages people from climbing up the falls as the rocks can be slippery and people have fallen doing so. We just did a short scramble up to get a view of the area from above while escaping the crowds a little.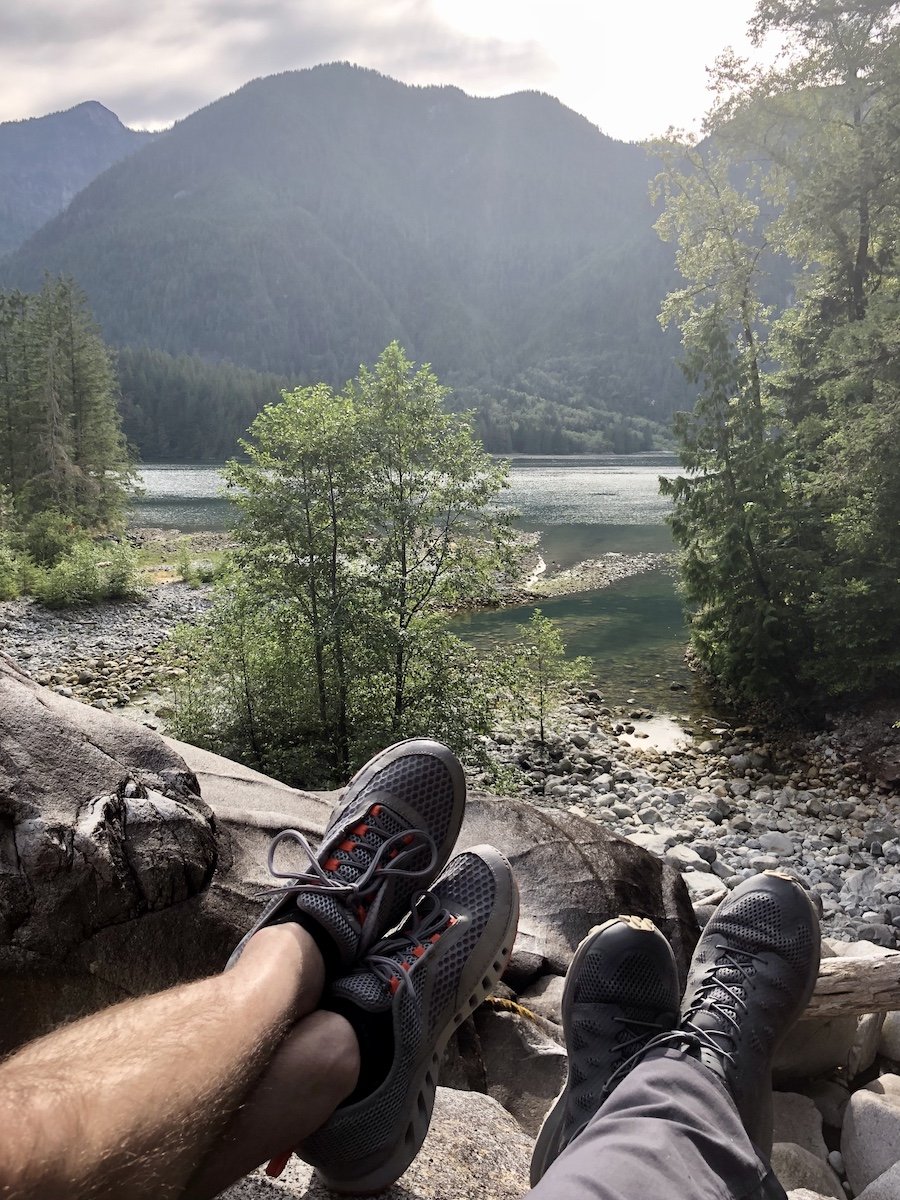 Most of the campsites are close to the water, so if you manage to get one, you're pretty much guaranteed to have a site with a view. There are outhouses and a food storage box to keep you food protected from critters at all the official campgrounds in the park. Be sure to bring a bear bag and hanging system just in case the boxes fill up. There is also a dock at Granite Falls (but not at Bishop's Creek) if you're not a kayaker and want to check it out from a power boat. There are no picnic tables, so we brought along a small folding table and chairs for our cooking convenience and comfort.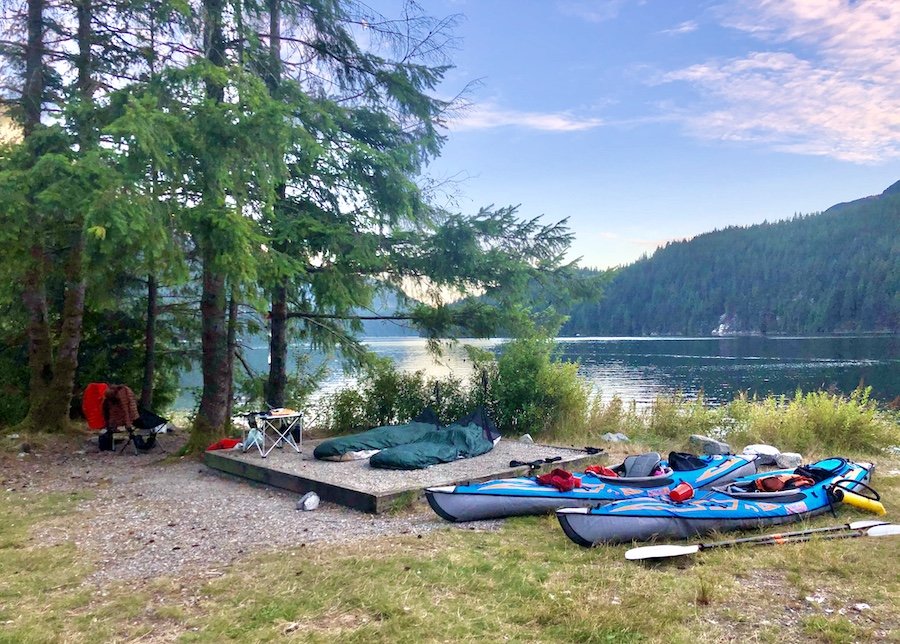 The down side to Granite Falls is that being the most beautiful of the campgrounds, it is also the busiest. If you go on a summer weekend with good weather, it will be full, so you have to go early to get a spot. We went on a Tuesday night in mid-July, and even then ⅔ of the sites filled up before the end of the day. If Granite Falls does fill up, however, you can always kayak back out to Berg's Landing at Bishop's Creek on the other side of Croker Island. If you are paddling North along the western side of the arm, it's a little past Silver Falls.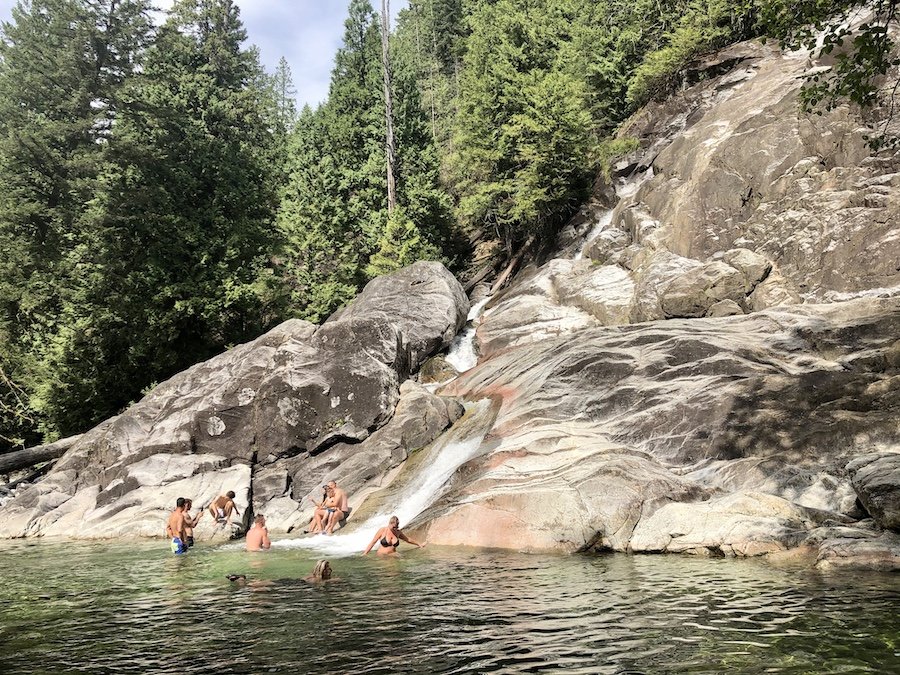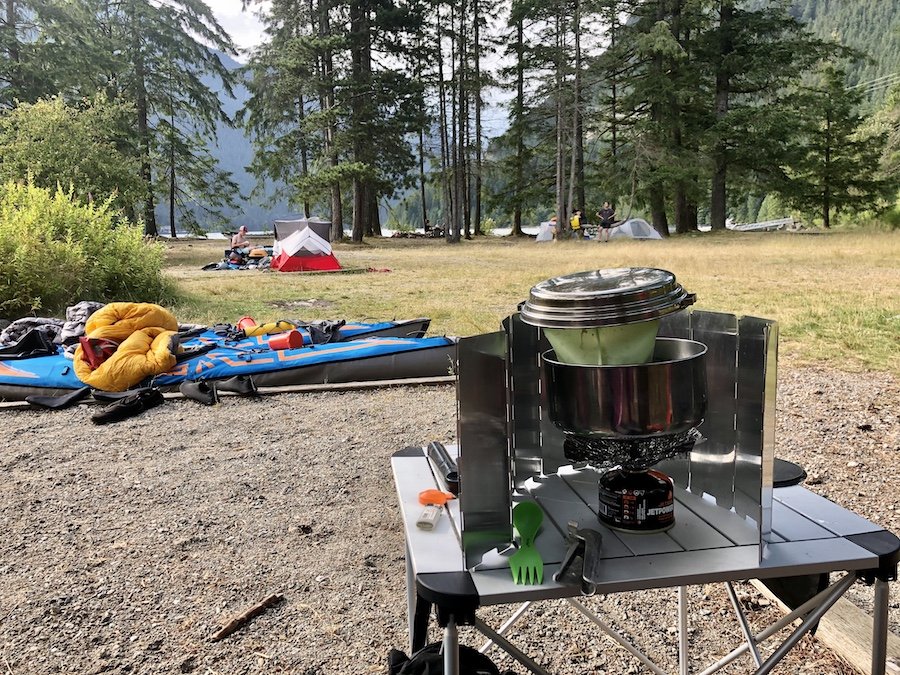 FYI: Campfires are prohibited anywhere in the park. There are no taps or hand pumps so you will need to gather and treat your own water. While Granite Falls and Silver Falls are likely to have fresh flowing sources, I read that Bishop's Creek can run dry sometimes later in the season, so bear that in mind.
The Joys of Early Morning Paddling
Since you can't do a campfire at night, you may as well go to bed early and get up and enjoy paddling in the early morning. It made particular sense for us, so that we could be going with the flow of the tide. I always wake up around 5am anyway, but even though Chris usually sleeps a little later, he also managed to get up by 5:45 that day, giving us plenty of time to pack up, inflate our kayaks, and leave well before the sun came over the mountains.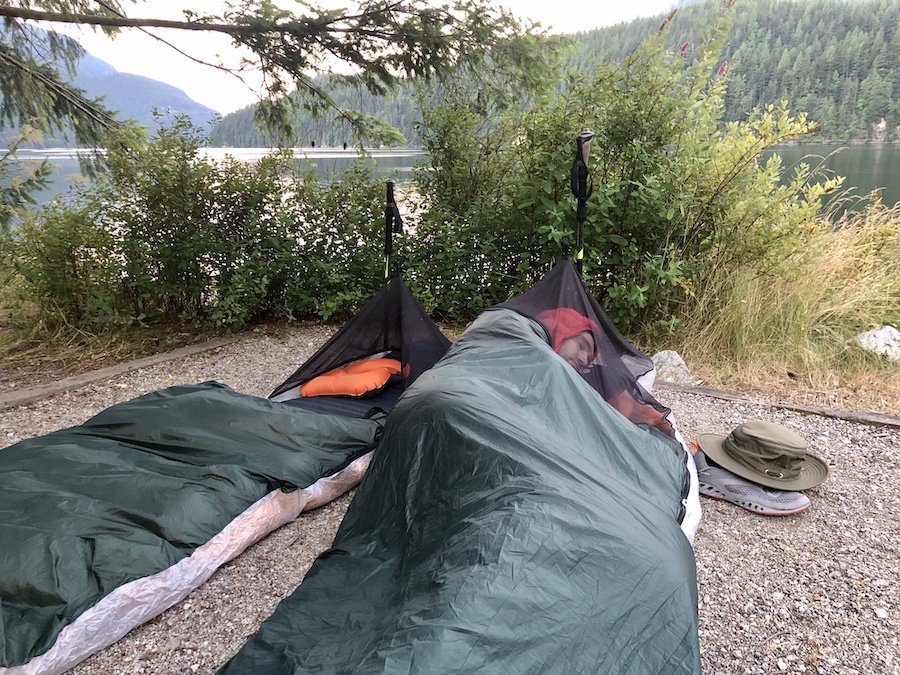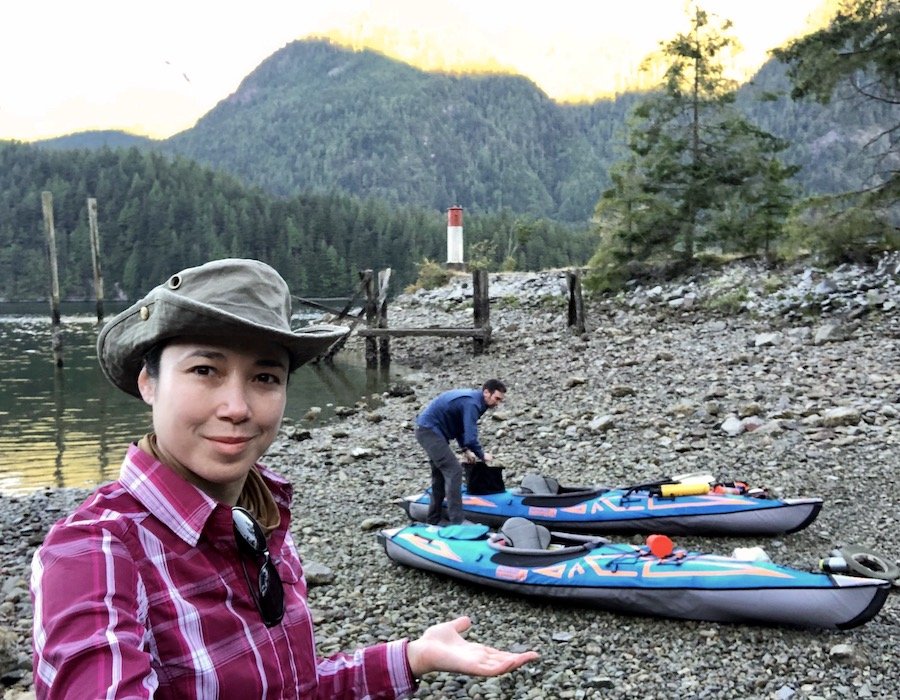 We hit the water at 6:30am, and boy were we glad we did! The water was incredibly calm with zero thermal winds and almost no power boats in the water. We didn't have peak tidal flow to help us along, but the calm water and lack of other watercraft made it easier for us to paddle straight up the Arm without having to hug the coast. This, along with the calmer waters, made our journey even faster than on our way out. It only took us 3.5 hours to get back to Deep Cove. Another benefit of paddling early is we spotted a lot more seals out in the water hunting for their breakfasts.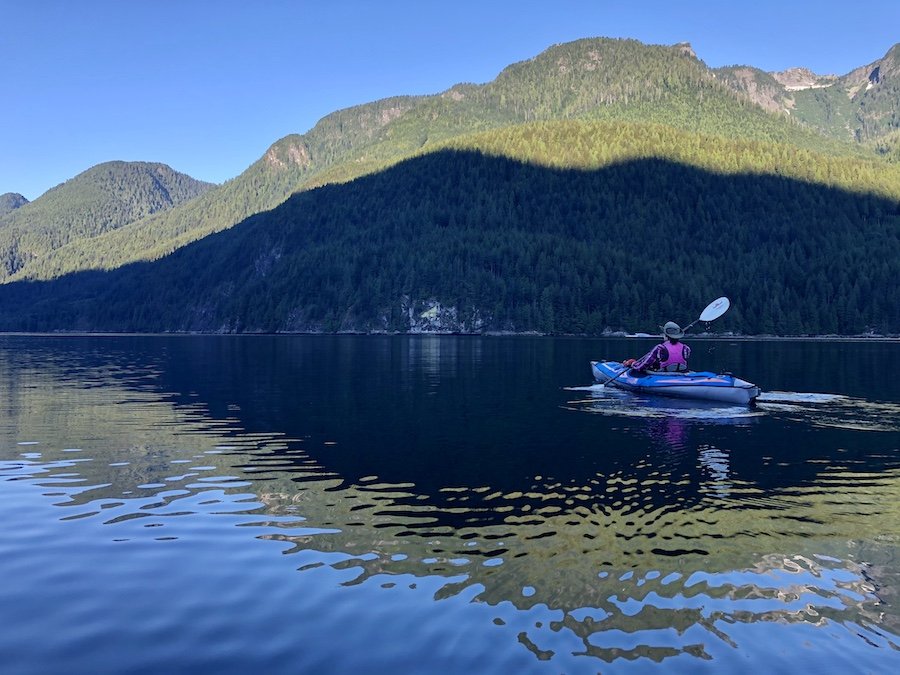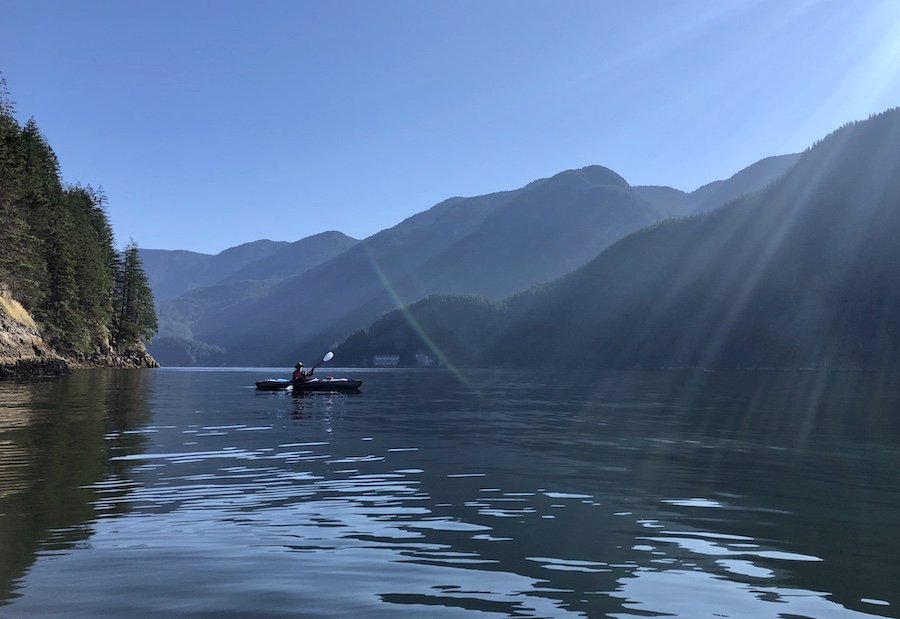 An Enjoyable Kayaking Overnighter Without the Drive
Granite Falls is a gem of a paddle for someone who doesn't want to travel far out of town to get an overnight kayaking trip in. It's calm enough for beginner paddlers, though I still recommend having a good base knowledge of reading tidal charts to make life easier, and to make sure you check the weather forecast too. These factors always have the potential to make an easy paddle a lot more than one has bargained for. So go ahead and give Granite Falls a shot if you're looking for some place local!
Have you ever done an overnight paddling trip to Granite Falls? What was it like for you? Please feel free to share your thoughts in the comments so we can all benefit from your experiences. :)