In my last post, I shared my packing list for my first solo backpacking trip, which I had poured over in excruciating detail down to the gram to be the best prepared with the least possible amount of weight. In this post, I'll share the first part of my journey on the Howe Sound Crest Trail. It was very challenging to say the last and will kick any hiker's butt, even experienced ones. It certainly kicked mine. My legs were sore for days afterward. But the greater journey in my experience of the HSCT was internal, having done it as my first solo overnight backpacking trip. I will try to convey this epic physical and mental journey in this blog post.
Why the Howe Sound Crest Trail?
I wanted my first solo backpacking experience to be epic... but I also wanted cell reception. The HSCT filled both these requirements. The trail itself is a 29km trek from Cypress Provincial Park along the Howe Sound Crest, exiting just south of Porteau Cove, with 1830m of elevation gain and 2600m of descent. It is rated as being "very difficult" by most accounts, but I wanted a challenge. I had chatted with a friend of mine who had worked with BC Parks for decades and he had told me that it had been recently reflagged, but that it travels through a lot of untamed wilderness along the way. By all accounts, the HSCT offered sweeping views of spectacular vistas. I was completely enamoured with it and wanted to experience it for myself
With the support of my husband, I set off on a Thursday morning in late August at 10:15am. He drove me to Cypress Provincial Park, snapped some photos of me at the trail head, gave me a kiss, then I was on my way. I had poured over maps, read many descriptions of people's experiences of the trail, planned my pack strategy in excruciating detail, but none of this could fully prepare me for what was to come.
Onward & Upward: From Cypress to St. Mark's Summit
Up. Up. Up. I started out on the trail around 10:15am on the last Thursday in August. The trail starts out taking you toward Bowen Island lookout with relative ease. I had visited that spot earlier this year, having snowshoed up to it. The vast majority of people, provided they are not hampered by injury, can handle this portion. I would consider taking my parents to that lookout. The most people I saw on the trail were between Cypress and this point. Soon after, the switchbacks begin. It's not like the switchbacks up to Garabaldi or Elfin, which are little more than a packed dirt trail and nothing interesting to see. They don't go on for long before it gets broken up with rocky patches that offer the odd peak-a-boo view, like the one below, which makes it more interesting than the monotony of the early portions of the aforementioned trails.

The first open view as I neared St. Mark's Summit gave me a stunning view of the Georgia straight and surrounding islands. The clouds had cleared so perfectly, I knew this was my money shot so I took the time to set up my mini tripod to capture it on camera. This is the shot that became the main header on the home page of this blog. I kept going and eventually got to St. Mark's Summit. I was so glad I had gotten that photo earlier, as the weather can change so quickly as you go, as you can see from my photo here from that summit.
As far as St. Mark's Summit, there were still people interspersed throughout the trail as I hiked, mostly couples, a few family groups, and the odd trail runner. It wasn't the unending stream you'll find at Joffre Lakes on a weekend mid-summer, but there were more than enough people around to feel like I was not alone.
Take note, that even if you're hiking only up to St. Mark's Summit, there is no opportunity to refill water on the trail and beyond Bowen Island Lookout. Past that summit, you're lucky if there are a few stagnant pools of water for refilling until you get to Magnesia Meadows. Many people, especially those hiking in the summer heat, find themselves running out of water, having not brought enough with them. So hydrate well before heading out on the trail on this trail, and bring lots of water with you.
My First Hurdles: A Lost Glove and a Judgemental Woman
When I stopped for my first water break, I noticed that I had lost one of my sun-protecting gloves Outdoor Research Ice gloves. I had paid $40 for them, so I decided it was worth back-tracking a little bit to see if I could recover it on the trail. I went back at least a kilometre, asking a number of people if they had seen it along the way, before I abandoned the cause.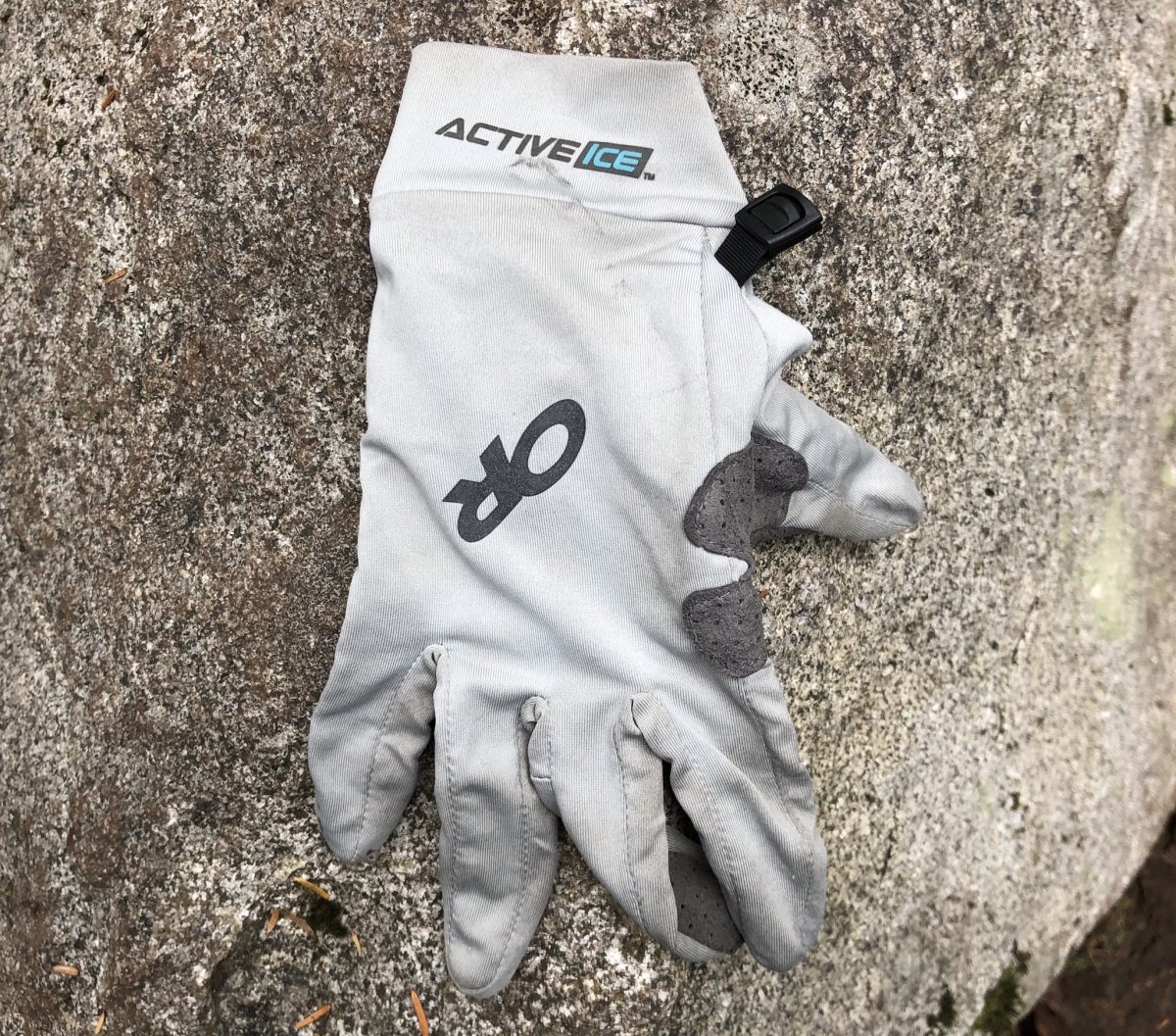 I resumed my course and picked up my pace a little to recover some of the lost time. Eventually I caught up to a lone older woman in her early 60s I had passed on my back, which led to an odd exchange.
"I'm glad to see you found the trail again," she commented. I was baffled by this since I hadn't had any issues with trail finding at this point. She went on to explain that how she had seen me when I had doubled back. She thought when I went back to try and find my glove that I had turned back to find the trail. I proceeded to explain her mistake, which she seemed to ignore, continuing on her original train of thought.
"You know you if you're going to hike this trail alone, you're much better off doing it on a weekend when there are far more people around. For your safety," she explained. I told her that I appreciated her concern, but that I was an experienced hiker and well-prepared. The woman took exception to this. I could feel her irritation seething and the tension building.
"I know you're type. It's people like you that get lost or take a fall then it's people like me who have to pay for search and rescue to bail you out," she barked. I tried not to rise to her tension, doing my best to respond kindly.
"I really appreciate your concern. I am capable and have everything I need to take care of myself. There is cell reception and I have my phone and maps," I explained.
"Right, and I'm sure you know how to read them too," she interrupted. This woman was starting to get on my nerves.
"Excuse me, but you don't know anything about me." She had judged me and I tried my best not to return the favour.
"I know that you're young and think you're indestructible," she defended. I wanted to give her the opportunity to see that she may have misjudged me.
"How old do you think I am?" She had assumed I was in my early 30s. She was wrong by a good few years, but I wanted to make her more wrong to make a point.
"I'm 45," I lied.
"Well, good for you, but that's not the only thing that matters," she retorted back. True enough, but my point was to gently highlight the fact that if she had misjudged that, then perhaps she may have misjudged my capability as a hiker. I then tried to thank her again for her concern and not to worry about me, but she cut me off sharply and barked at me to just "hike on." And so I did.
The Added Weight of a Mental Burden
I wanted to believe that I was magnanimous enough to shake off that conversation. I kept telling myself that I felt sorry for her, that it must be a terrible burden to be so hung up on judgements that you aren't willing to accept truths when they are presented to you, that she must have her own struggles as an avid hiker in her later years and feels the need to judge younger, more physically capable hikers by labelling them as foolhardy risk-takers. But ultimately, I was pissed at being judged without cause. And she probably only thought I was hiking to St. Mark's Summit and back. She probably would have had a conniption if I had told her I was hiking the entire HSCT. I kept replaying the conversation over and over in my head, trying to talk myself out of my annoyance, agreeing with the line of thought, but ultimately unable to unburden myself of the whole experience.
After a while, I made it to St. Mark's Summit. A lone trail runner named John who had passed me earlier was stopped there when I arrived. We chatted and I ended up mentioning that I had lost a glove earlier. He mentioned that he had seen it on his way up and very kindly offered to pick it up for me if he could find it and mail it back to me from his home in Whistler. Before he headed back down, I mentioned to watch out for the old woman with whom I had had my negative experience. I told him the story of what had happened and he replied, "Funny. When I had passed her, based on the way she was moving, I had questioned whether she should be up on this trail. It can be pretty gnarly."
John texted me to let me know he hadn't found my glove, but he had already given me something more valuable as I headed on my way. His empathy for my annoyance and his own judgement of the woman that he shared of me, helped reconfirm in my mind that I should feel sorry for her. Between that and the need to be more focused on my footing as the trail wound onward helped me to let go and move on from the experience.
All Alone on the Trail
I continued on down the HSCT from St. Mark's Summit. The further I went, the fewer encounters with people I had. There were still a few adventurous souls, some wearing loaded backpacks, some with day packs, but definitely a lot fewer people than on the previous section. The trail became harder to follow and harder to traverse. Not so hard that I couldn't find it, but there were fewer markers. I was alone for long stretches, but still felt confident that there wasn't anything I couldn't handle. The trail stayed relatively well-marked for a little while until I hit a sign that said I had come to the end of the section of the trail that had been restored, an ominous warning of things to come. Since I knew that the length of the trail had been recently re-flagged though, I trusted that I would be able to find my way.
Finding my way up to Mount Unnecessary was easy enough. The climb up to the ridge of this mountain was indeed necessary, despite the name, in order to continue on the HSCT. It's a steep climb, definitely a quad-burner, but I felt good doing it. My legs were still relatively fresh at the time. There were supposed to be some pretty amazing views from this ridge, but the cloud cover persisted for that part of my journey, as you can see in the photo below. I was thankful for this during the hottest part of the day. I was already pretty warm from the exertion, and happy enough not to have the heat of the sun added to it. I took my first break at the north peak of Mount Unnecessary at 3:15pm, breaking my fast with some cheese, pork rinds, and one of my bars, sharing company with a friendly Irish couple. It was the perfect combination to replenish my body, as well as my inner extrovert. It was the last real conversation I would have for the rest of the trip. After that, I only saw one small group of backpackers hurrying along the trail. They were the last people I saw until I was 1.5 hours from the end of my journey.

Mount Unnecessary is the highest you get to on the trail, which kinda makes you think it's all downhill from there. Not quite.... actually, not at all. The scramble down Mount Unnecessary made me super happy I had kept my pack so light. A few sections required both my hands. They were short enough and simple enough that I was able to simply let go of my poles and let them dangle from my wrists so that I could scramble down or climb down a rope. The hike flanking the West Lion is not for the faint of heart, and a misstep could send you tumbling down a steep hill to certain injury. I also had to pay much closer attention to find the faded trail markers posted on various boulders, making it to the col between the two Lions around 5pm where I stopped to nosh on another bar. Before heading around the West Lion, I saw the option to get off the HSCT and descend into Lion's Bay, an option I read that many commenters on this trail had taken when facing adverse conditions, whether it was their body giving out or the weather making the trek sketchy. I saw no need of this for my scenario so I trekked on. Even with the added scrambles and the whitewashed trail markers, at this point, I still felt like the "very difficult" rating given by Outdoor Vancouver for the Howe Sound Crest trail was unjustified. Soon after, I disavowed this notion.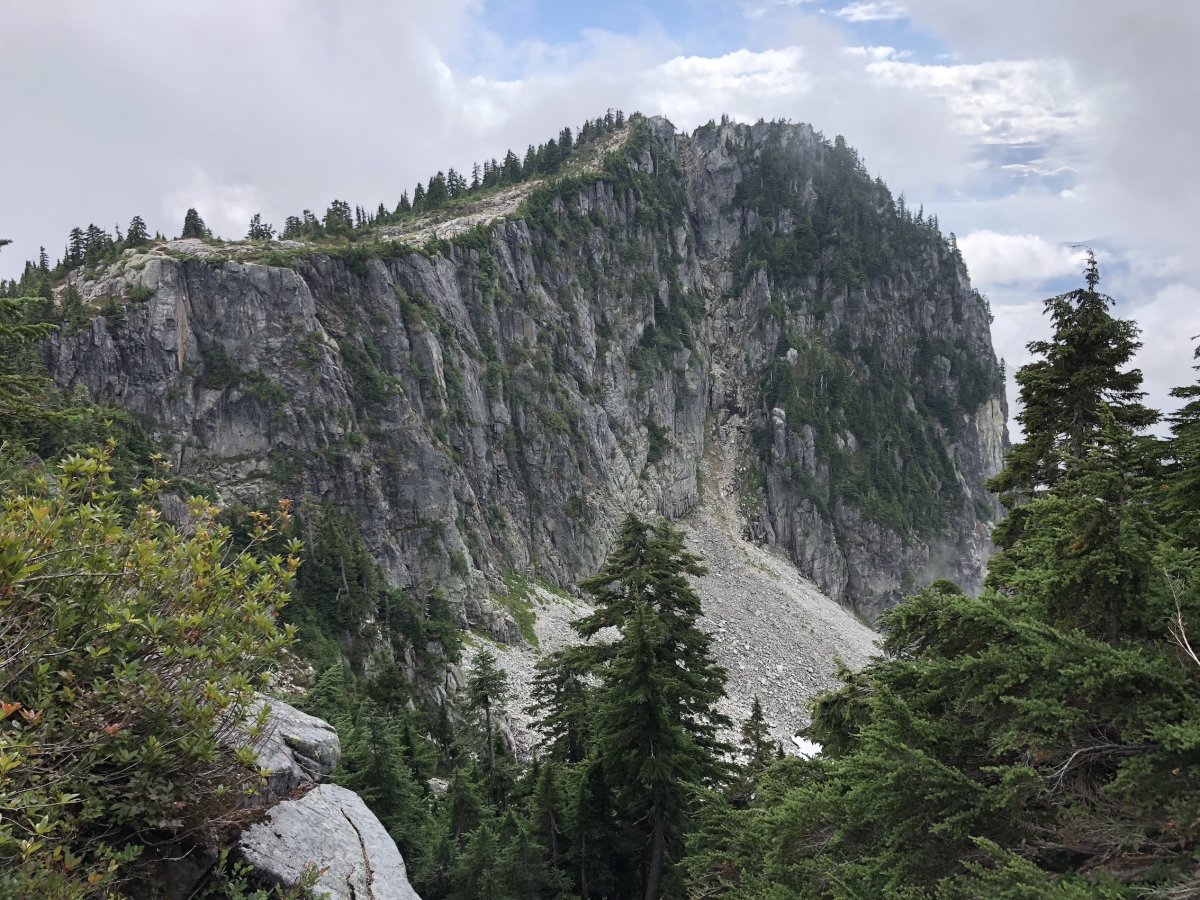 This story will continue in my next blog post: My First Overnight Solo Backpacking Trip: My Journey on the Howe Sound Crest Trail - Part 2.