Last year, I was browsing through a magazine and I flipped past image. It was a photo of a woman on a paddleboard packed with gear out on a beautiful river surrounded by forest. As I kept flipping, I paused registering what I had just seen.
'Wait...what?' I thought as a flipped back. Just as I thought. There was a bag of camping gear strapped to the top of the board. I was dumbfounded. It never occurred to me that you could paddle out and camp all on a paddleboard. I didn't think it would be able to take the weight and still manoeuvre properly. I read article and it talked about a paddleboarding over calm rivers to reach water accesible campsites. I decided then and there that this was something I wanted to try, so I enlisted my friend Lauren who supplied the paddleboards, while I supplied all the ultralight camp gear.
Choosing Our Location
To be clear, you can't just paddle out to any old marine campsite by paddleboard. You have to carefully consider the water conditions you're paddling in, as well as your experience level as a paddler, as paddleboards are a LOT less forgiving than kayaks or canoes. I am, admittedly, not a super experienced paddleboarder. I've gone out with Lauren and my family on lakes on occasion, but only sporadically over the years. Add in the extra weight from the pack and unfavourable water conditions can become a hazard.
We narrowed it down to two locations: Twin Falls in the Indian Arm and Alouette Lake at Golden Ears Provincial Park. We kept ourselves open to the two different locations as they have different weather systems and challenges. This would allow us to make a game day decision based on the conditions.
Twin Falls is the easier of the two destinations, and a great choice for complete newbs. It's only a 5.5km paddle to the site, making it an easier trip for a first-time overnight trip. Alouette's nearest marine campsites, at Meyer's Creek, are just over 9km away.
In terms of water conditions, the Indian Arm does have a tidal flow to account for, and on weekends an over abundance of boat traffic. That being said, it's easy enough to consult tidal charts to make sure you're not going against the flow, and since we were going on a weekday, boat traffic would have been less of a concern. Alouette Lake, on the other hand, can have wicked thermal winds when we get a string of hot summer days. This can be avoided to some degree by starting earlier, but they can be harder to predict.
In the end we went with Alouette because the paddle to Twin Islands just seemed a little too easy and the weather had been a little more temperate leading up to the day at Alouette. We decided to just start earlier and hope for the best.
Gearing Up the Paddleboards
In addition to having everything we needed to camp, we made sure we had everything we needed for safety when navigating out water (these thing are not required if just out "playing" on a paddleboard staying close to the beach). This included having PFDs (wearing them is optional on lakes as long as you also have a buoyant tow rope, which we did, but you need to have one with you no matter what.) We also had the emergency whistles attached to our PFDs, as well as additional safety equipment not required, including a ankle leashes, spare paddle, repair kit, first aid kit, and an air pump. If bad stuff was going to happen on the paddleboards we wanted to be ready for it. Be sure to check the regulations for navigating with paddle boards that are in affect for your specific region before heading out and consider bringing extra safety gear than what is required based on the trip you have planned.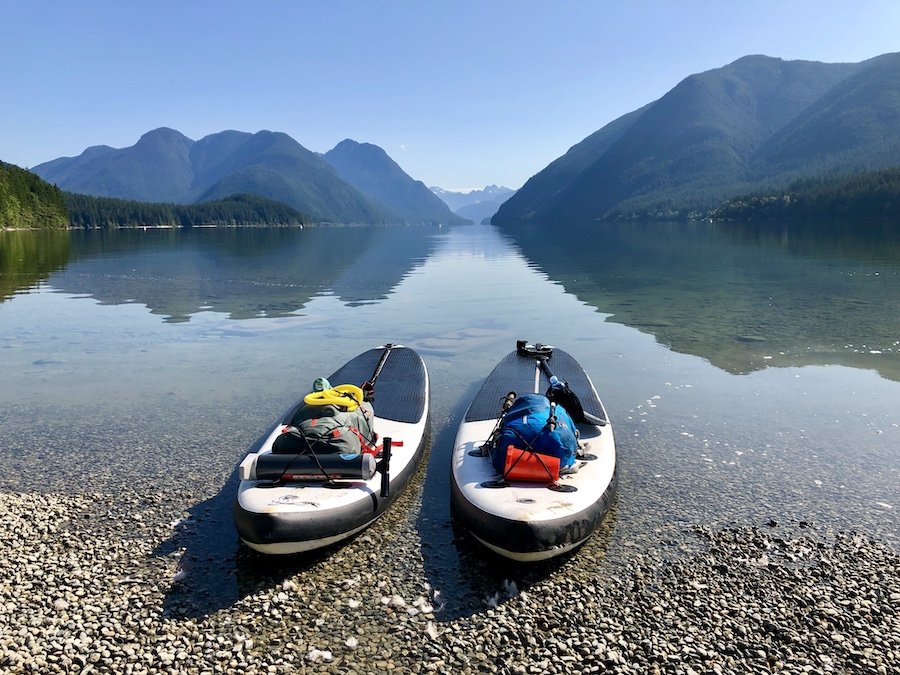 I had started out packing our roll-top waterproof packs with an ultralight mentality, but soon realized I didn't have to be so stingy with weight. The boards are designed to handle up to 250lbs of weight, and while I didn't want to go crazy with gear, I felt we could afford a few extra luxuries like fire starter and kindling (*Fires are allowed at Golden Ears marine camp sites as long as they are kept below the water line.) And since we would be strapping all our gear to our boards, I didn't have to be so careful loading our packs and ensuring they're well-balanced. I just made sure everything that we wanted to stay dry was in our small, roll-top backpacks.
A Calm Morning Launch
We arrived at Alouette at 9am on a sunny, not-too-hot July day. We carted all our gear down to the water, pumped up the boards, strapped on all our gear, and carried any items that weren't coming with us back to the car. When we launched, it was as though we were gliding in glass. It was that calm. Standing up as we paddled allows us views of the water from a higher vantage point than you can get from a kayak or canoe. The water was so clear. I could see massive dead trees submerged below the turquoise waters of the lake as I cruised by.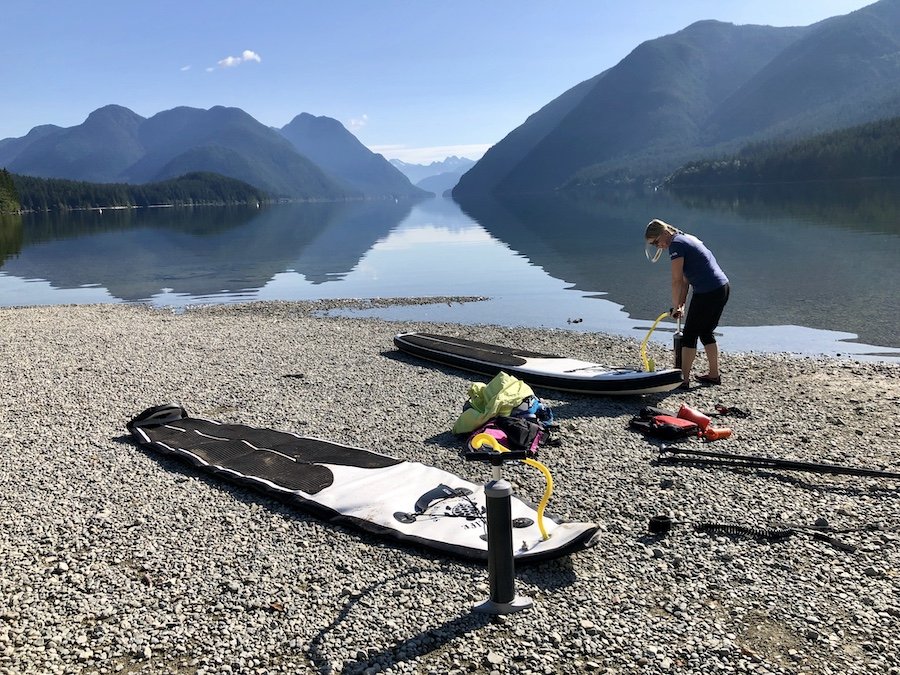 Finding Wild Reception
While I don't go into a state of panic every time I lose reception, it is a relief to connect to it here and there unexpectedly when out enjoying nature in remote areas. My work as a stunt performer relies heavily on communication by cell phone, so I consider it a perk when I can get some reception, even if it's only intermittently. There were a few points out on the lake where I would connect. And we also got reception sporadically from our campsite. We also took such random occasions as an opportunity to take water breaks and stretch out so we didn't put too much stress on the bodies.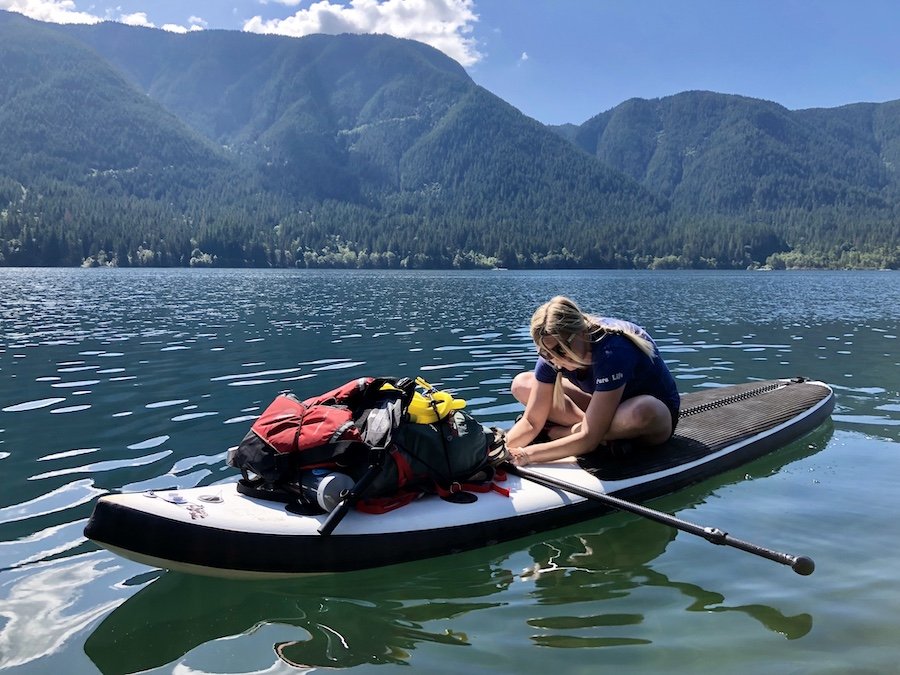 Our Journey to Moyer's Creek
The 9.25km paddle out to Moyer Creek was smooth and uneventful, taking us around 2 hours 45 minutes. We just enjoyed being out in the sun on that pristine lake. We took a couple of breaks on our way out, drinking water or taking a dip in the lake. As we got close to the campground, we scanned the waterline for tell tale signs of camping, clearings with flat, open areas. I knew there were outhouses, but didn't know what to expect other than that. Eventually we found one site they was close to the water, where we stopped and had lunch. A little exploration along the shore led us to all the different sites.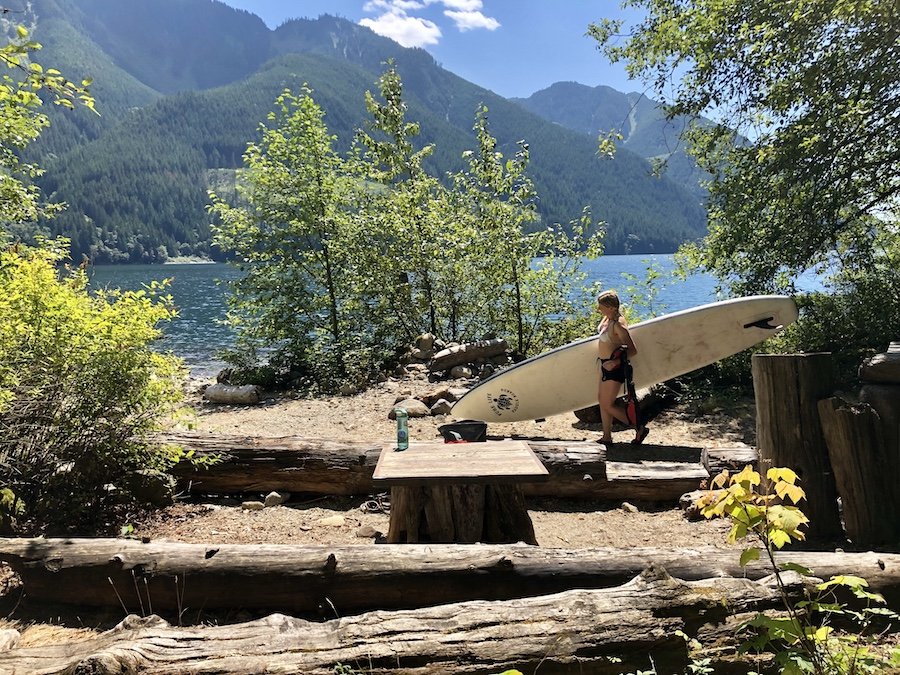 Camping at Moyer Creek
The camp area has much more than I expected from a backcountry marine site. Most sites had picnic tables, a very happy surprise. There were also a few great spots for campfire rock rings by the water, with just enough shelter to make fire-building easy, as well as great sitting logs. There was even a collection of unused fire logs nearby. Moyer Creek itself offered fresh, fast-flowing glacier-fed water that was so clean-looking it's hard not to be temped to drink straight from the creek. We still, of course, filtered it to be safe.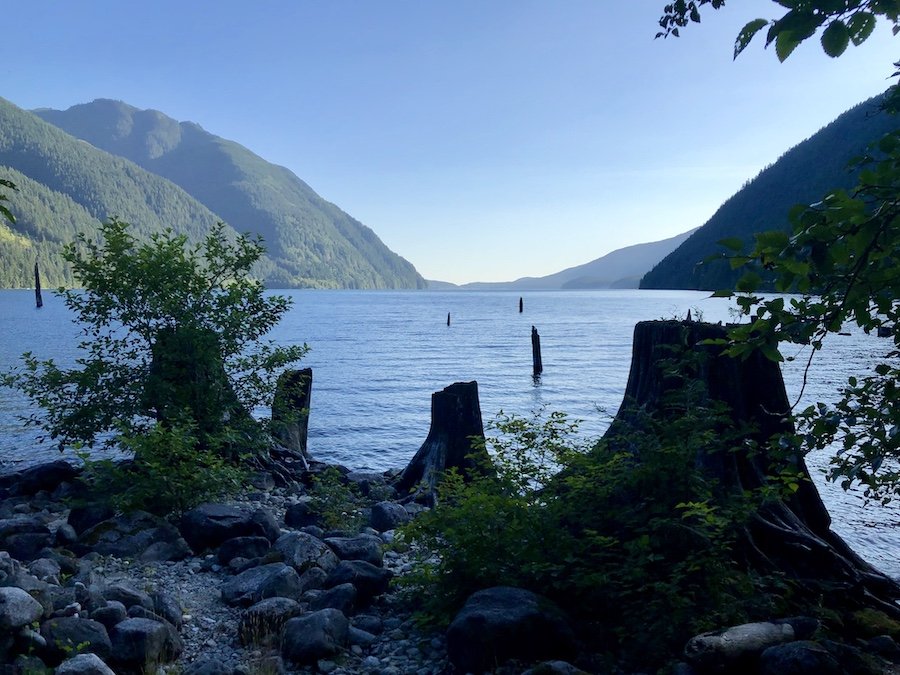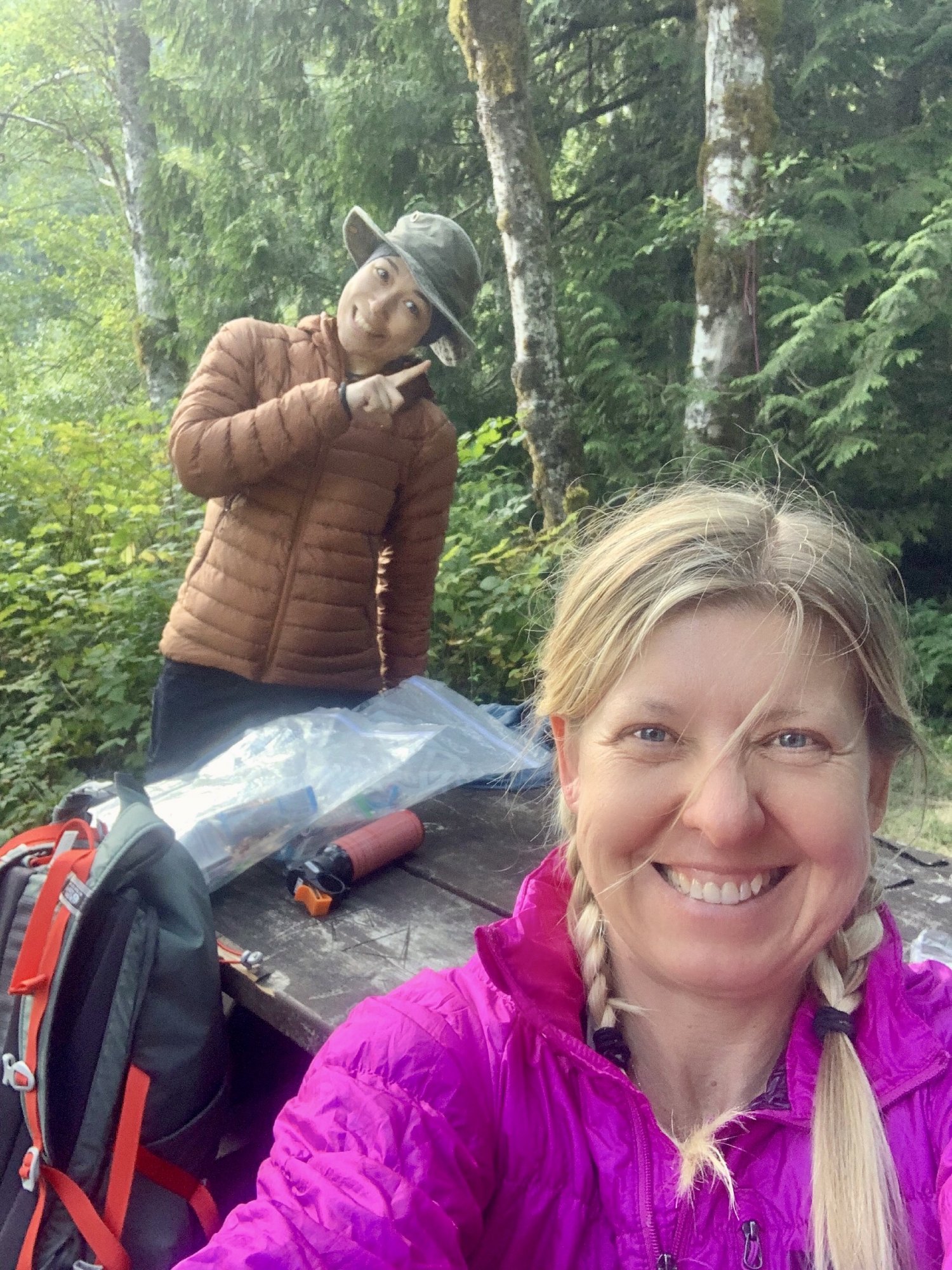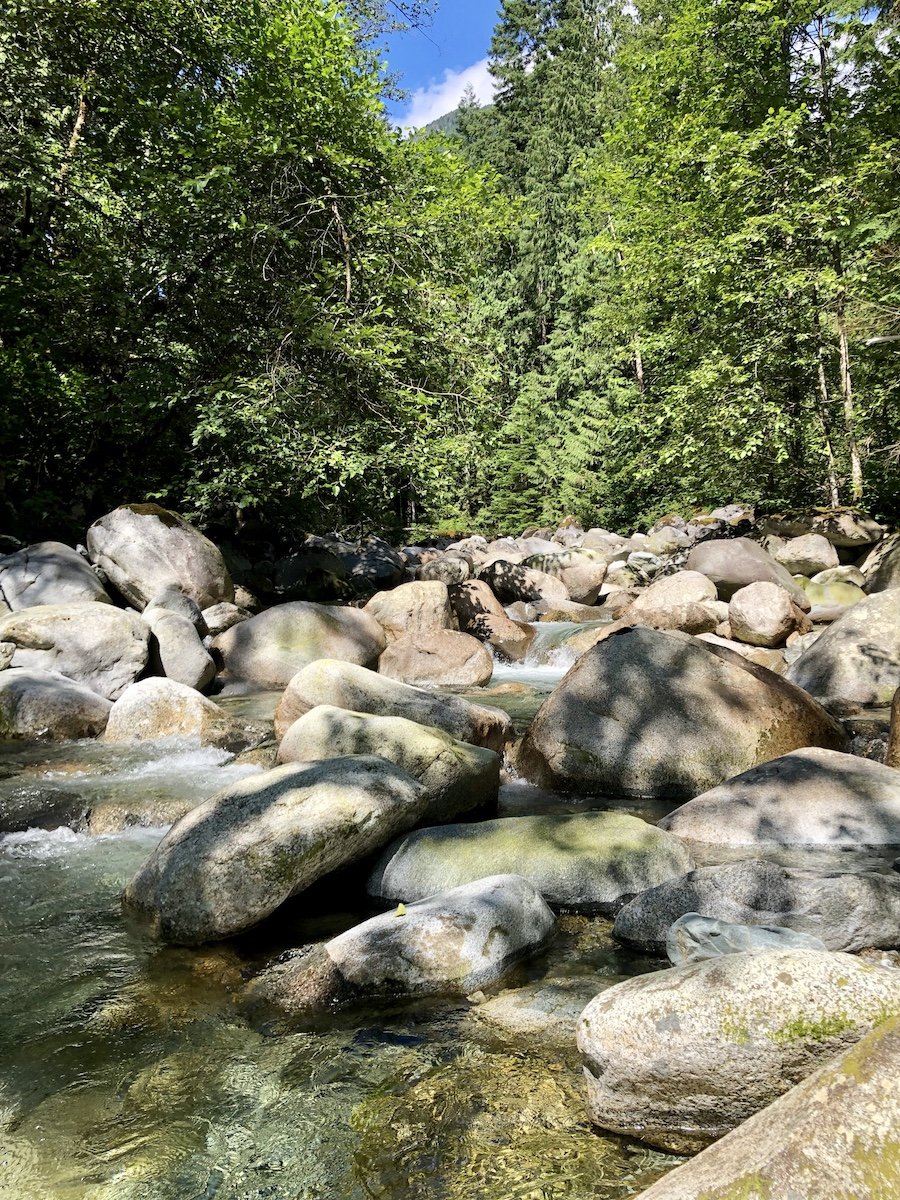 We chose what we considered a perfect site for tarp camping. It was flat, had a view of the water, which was gorgeous at sun rise, but was still sheltered from the wind. There were even a string of blackberry and salmonberry bushes around, both producing ripe berries at the time. The site, however, was a little too small to be able to use the paddleboards as extra cushion for sleeping, a nice perk of using paddleboards as our mode of transportation.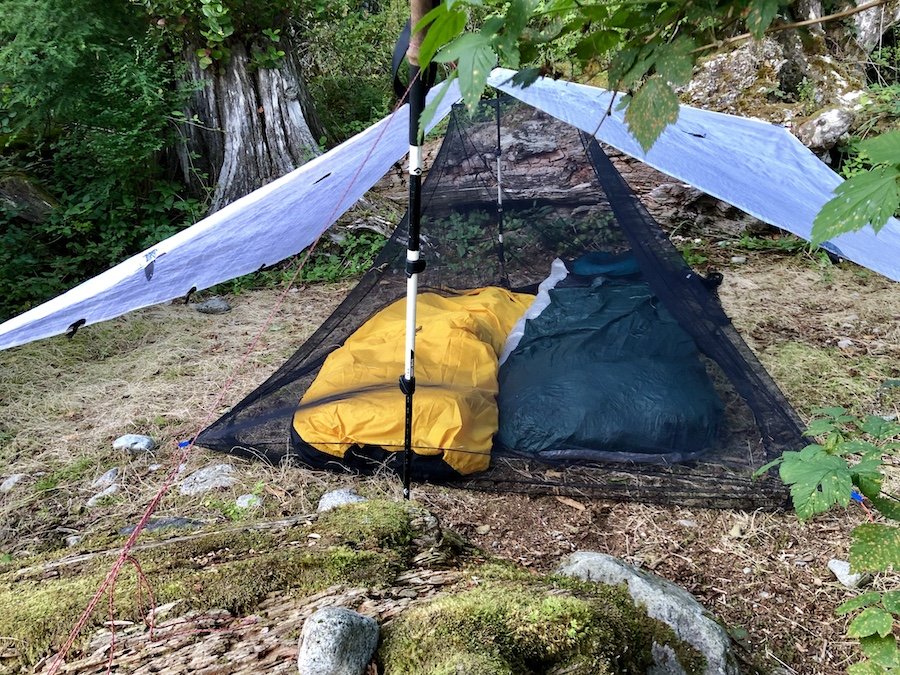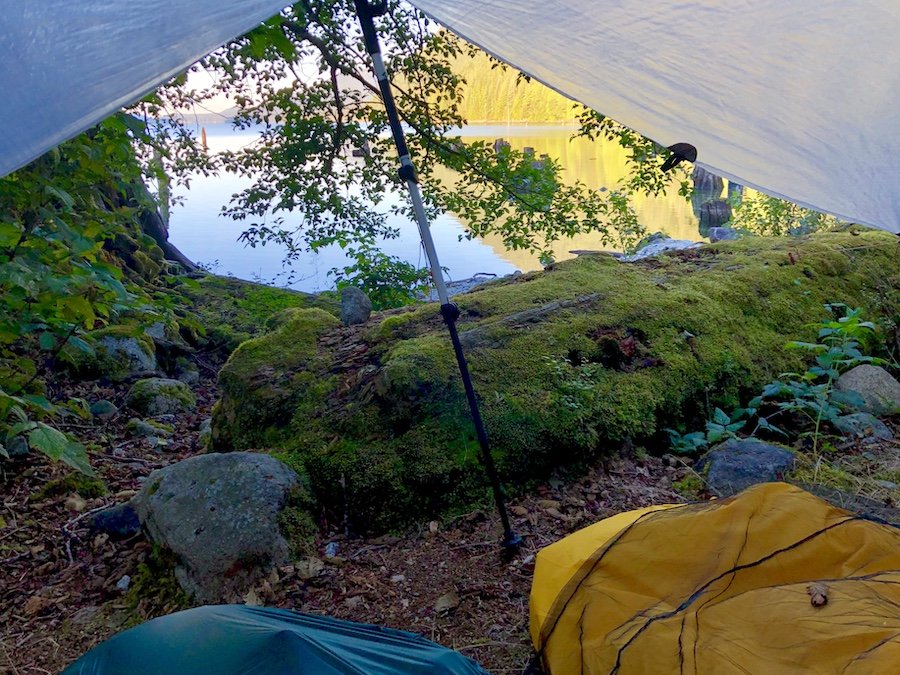 As the sun slipped past the mountains, the temperature dropped fast. We started cooking dinner and started a fire. With so much dry wood, we were able to enjoy it's warmth until we were ready to turn in for the night.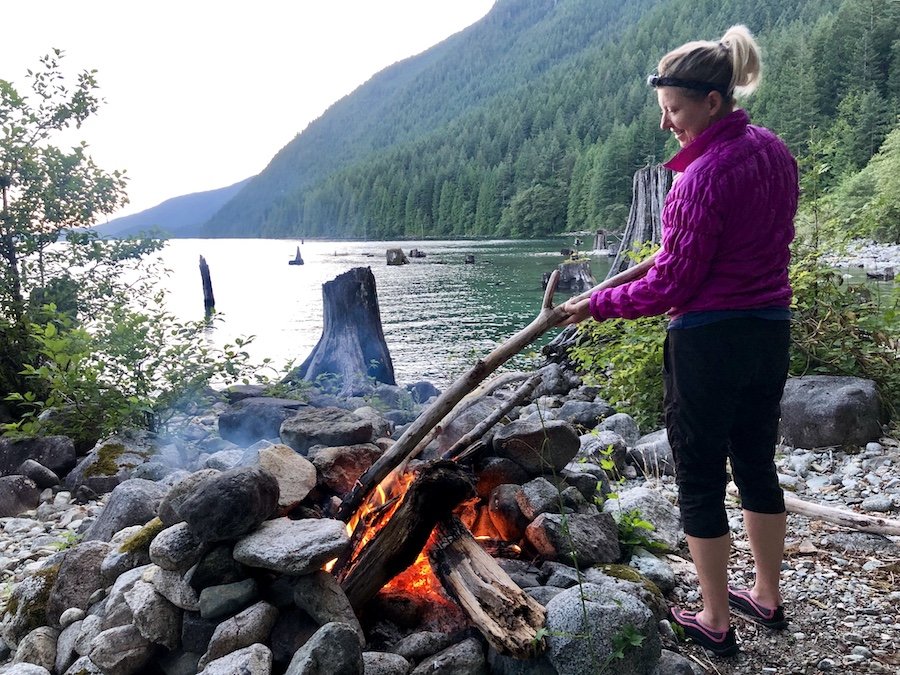 While Meyer's Creek had some unexpected luxuries, it did lack one thing: bear boxes or hanging facilities, which is always preferred to doing a bear hang of questionably effectiveness. We did our best though and hiked around hunting for an ideal branch. I found one that wasn't perfect but it was good enough. Fortunately, it remained undisturbed until morning.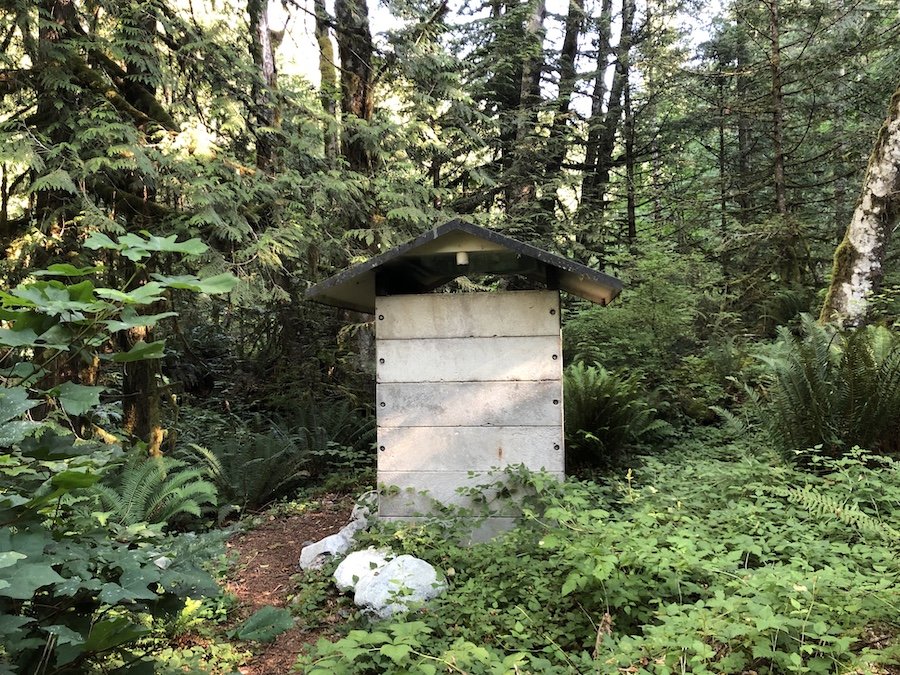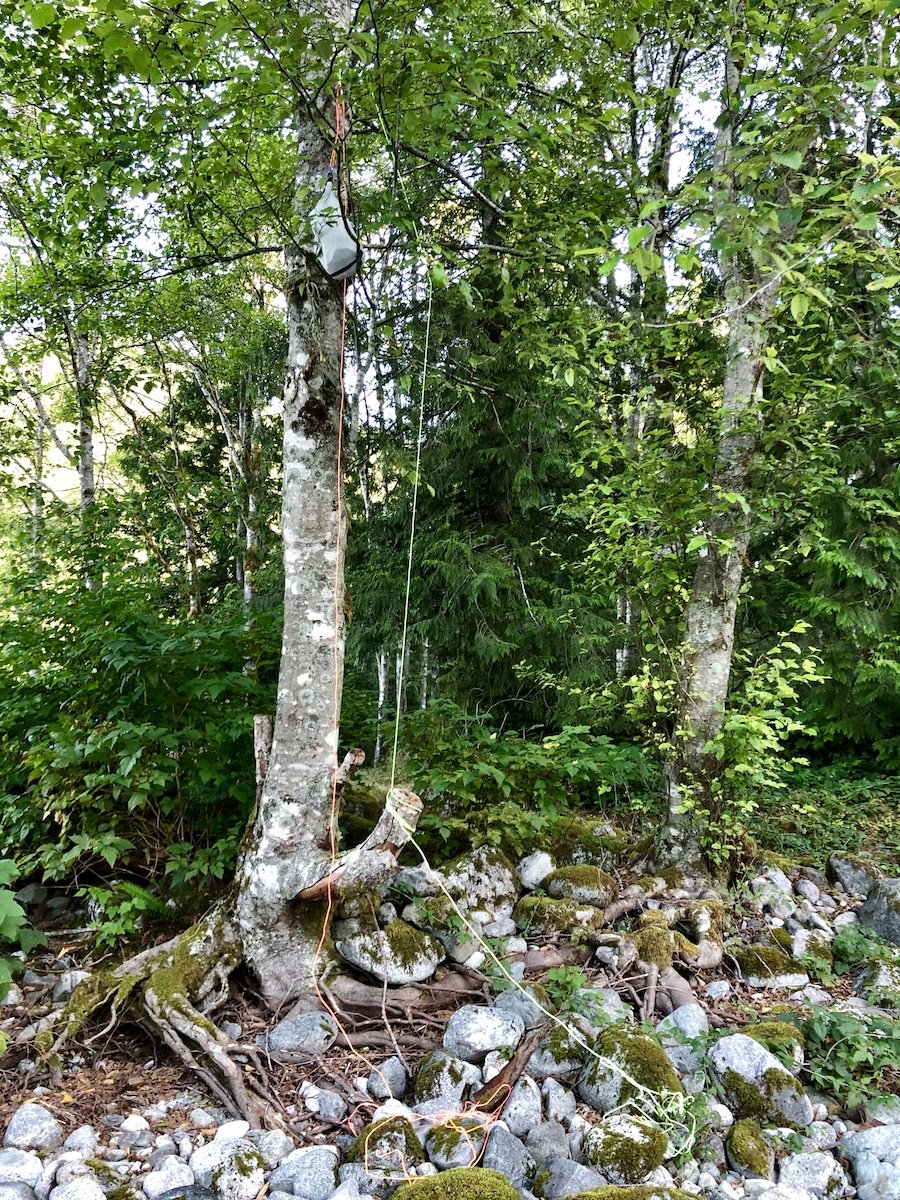 Fighting Thermal Winds
After we had coffee, enjoying the sunrise and the view of the lake with a smattering of morning mist, we broke camp, pumped up the paddleboards (you always let some of the air out when they're not in the water and it's hot out to prevent them from popping), and headed back, departing at 8:30am. The lake was calm once again, so we took our time. During one of our breaks, Lauren showed off her skills and did some headstands and some back dives off her board. The journey home was much the same as the journey out... except the last 20 minutes.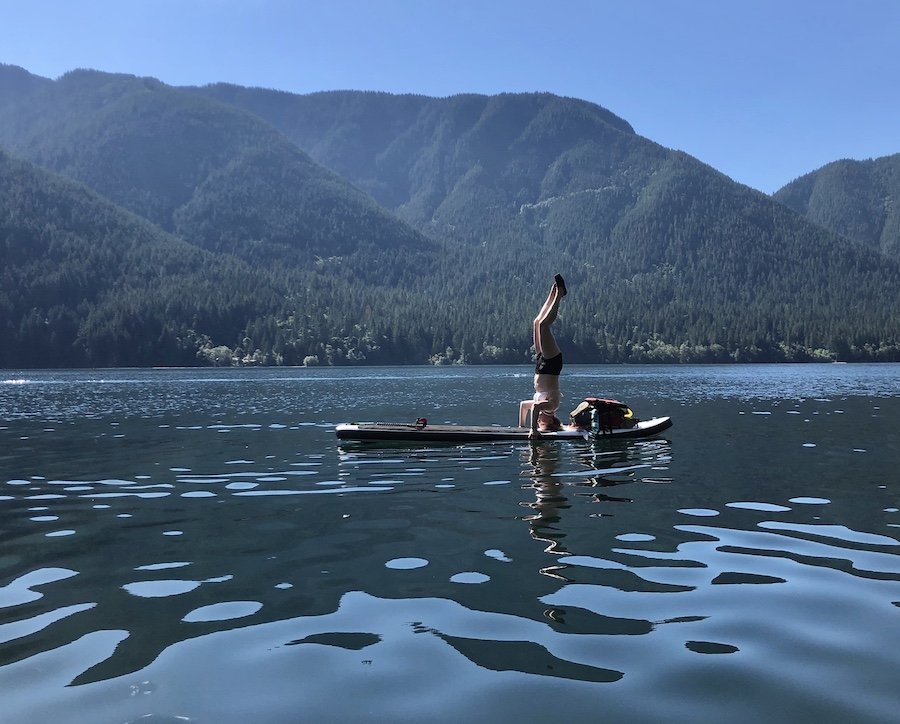 Right at 10:37, when we nearly back and in sight of our launch point, a wind kicked up, seemingly out of nowhere. At first, I thought it was a change in the weather pattern because it was so dramatic and unrelenting. But then I realized, it was the thermal winds, and they were strong. I am not a strong paddleboarder, having only gone out casually on occasion when Lauren has invited me out, so it became a real struggle to make any headway. At one point, I was being blown in the path of a motorboat. Lauren told me to dig my paddle deeper to get more power and control. I snapped back that I was trying but simply couldn't. The winds were driving hard all in the same direction, forcing me to use only one side to paddle, my right side, the side that has a very old chronic stress injury in the shoulder that flares up when pushed too hard for too long.
I dropped to my knees and paddled the rest of the way from there. Standing up can turn your body into a sail when the winds are strong. Being lower on the board can take some of the pressure off from the winds, though you have less leverage with which to paddle. It helped. Thankfully, we were at the end and I was able to ensure it enough to make it back. If the winds had been like that from the start, we might have had to ask for a tow at least part of the way back from one of the motorboats. This is something to bear in mind if you are thinking about trying this trip out on a paddleboard. Kayaks and canoes are a lot less forgiving in windy conditions.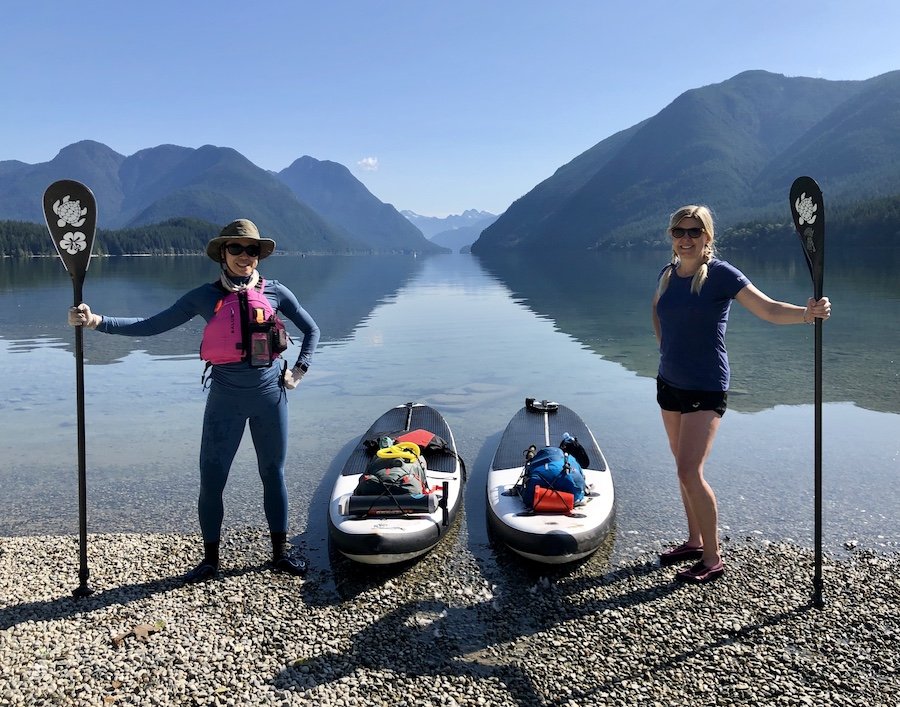 My Impressions and Tips on Paddleboard Camping
I quite enjoyed my experience paddleboard camping, but by the very nature of the craft, feel it's important to keep a few things in mind if you're thinking about giving it a try.
Paddle to your experience level. This is especially true if you're doing it for the first time. Adding weight to the board, even if you go ultralight, can affect how it handles, which adds up over longer distances, and when conditions worsen.

Have multiple location options to choose from. Don't get stuck on one particular paddle site. Have a couple in different areas with different weather/water conditions, so you can choose the one with conditions that are most favourable. We had two places in mind to do with the paddleboards. I didn't mention, however, our third option, which was abandoning the paddleboards altogether. If the conditions were just not going to work for them, we had given ourselves the option of doing a backpacking trip instead.

Pack lighter, but don't forget about water safety. Keeping things lighter makes the board more forgiving if the conditions worsen, but you always want to make sure your needs are covered for safety. Observe the marine laws for paddleboards. They are there for your safety. In our province of BC in Canada, this means having PFDs, a signalling whistle, a tow rope ...
Have you ever gone paddleboard camping? What was your adventure like? Please share your thoughts in the comments, as I would love to hear all about them.