If you're like me, you've been feeling like you have been spending a little too much time at home over the holidays. I've been jonesing to get out snowshoeing, even do a little winter camping, but have been reluctant to go to the usual local trails at Cypress and Seymour for fear of the record numbers of people they've been getting on the trails due to COVID. The other day, I decided I had had enough indoor time, and needed to get out in nature overnight, so I looked into a less travelled option for our snowshoeing/winter backpacking destination: Pinecone Burke Provincial Park.
The Trail Less Travelled for a Reason
Pinecone Burke lists winter recreation activities as one of its features, as well as year-round backcountry camping. It is not a fully serviced park by any stretch, so the trails are only minimally maintained by volunteers. There are no big orange poles keeping snowshoers on track to their destinations like they do at Cypress, Seymour and Garabaldi. In the winter months, the trails on the upper levels of the mountain ridge are unmarked for all intents and purpose. This means that fewer people venture out onto them, as they require a little more preparation and know-how to snowshoe there safely.
With less people going out onto the trails in the winter months, there was complete lack of information as to what to expect on the trails before heading out on them. I could only find information on what to expect in the non-winter months, and only one or two websites where I found a scant amount of info of what they're like in late fall and late winter. And you certainly can't just do a hashtag search on Instagram and immediately pull up current photos of the conditions like you can with the more popular trails. As such, Chris and I had to hope for the best and plan for the worst, not really knowing what to expect. We grabbed a screenshot of the park's trail map and used Gaia, a GPS topo map app, to track our route and went on our merry way.
Our Serendipitous Snowshoeing/Winter Backpacking Trip
Being our first time heading up to this park in the winter, I made what I considered to be a fairly conservative trip plan. As with most winter backpacking, the goal is to plan your journey so that you arrive at your destination where you intend to camp at least 1-2 hours before sunset, so you have enough time to set up camp and have your dinner before it gets dark, then turn in for the night spending 15 or so hours bunkering down in a tent that's only slightly warmer than outside temperatures, bundled into sleeping bags.
I knew that we would have to hike up much of the elevation carrying our snowshoes before we would get to the snow line. I knew that, in the non-winter months, it normally takes people around 2-3 hours to hike to the site where a failed ski lodge area used to operate. From the information I had gathered, I made what I thought was a conservative estimation that it would take us around 2 hours or so for us to cover approximately 3km to get to where I expected to see the start of the snow line. I figured we might just camp at whatever nice spot we could find even if we didn't make it all the way to the old ski lodge area. There was also snow in the forecast for later in the day. There were just so many variables and not enough solid information, it was hard to look at my plan is being foolproof, let alone reliable, but we're both experienced enough with outdoor adventuring and risk management that we decided to make a go of it.
We hiked up the route that took us along the old Harper Road extension, which formerly was the road to the old ski lodge. We didn't think it would be too long before we could use our snowshoes, so we opted to awkwardly carry our snowshoe bags for the first part of the trail. This went on for a couple of kilometres nearly straight uphill with no snow in sight. When we got to a gate where the road continued on, a man drove up in a truck with his 4-year-old son in the back. He unclipped the gate and was about to hop back into his truck but then stopped and turned around and asked us where we were heading. When we told him our plan, he offered to cut down on our hiking time and take us most of the way up. He owned a cabin not too far from the old ski area and was heading up to it himself. We thanked our lucky stars and accepted the offer enthusiastically realizing it was taking us much longer to get to the snow line than expected, and that having carried our snowshoes awkwardly for all that distance had tired us out more than expected.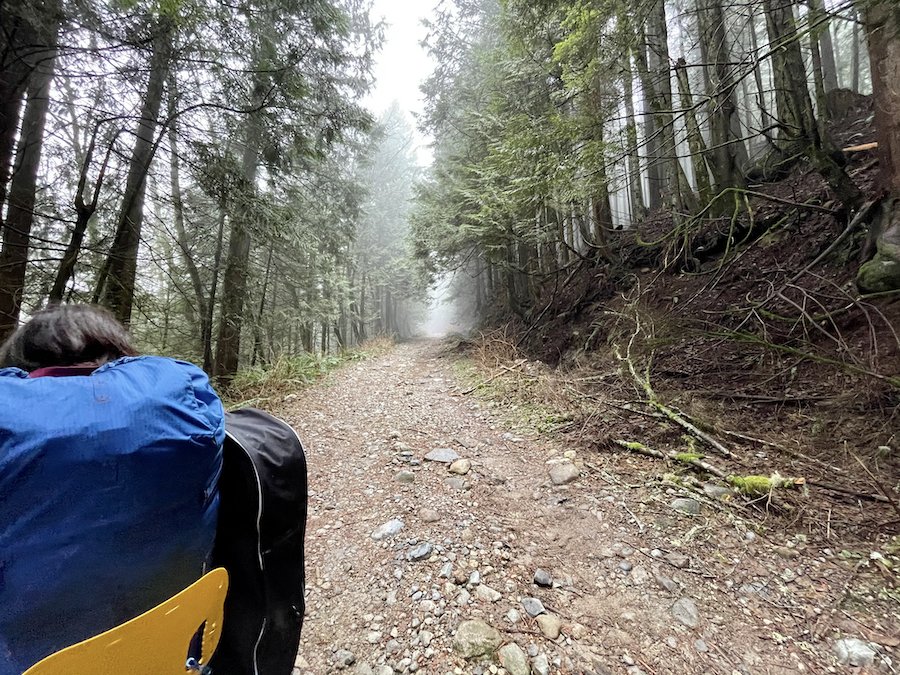 Arriving at the Snow Line
Our good samaritan friend drove us a couple of kilometres taking us right up to the snow line. He parked there and he and his son then started donning their own snow gear so they could snowshoe out to their cabin. Since we were in a bit of a hurry to make it to a camp-worthy place before sundown, we thanked him for his kindness and immediately set off at a solid pace down the trail snow-covered road that had recently been used by a snowmobiler.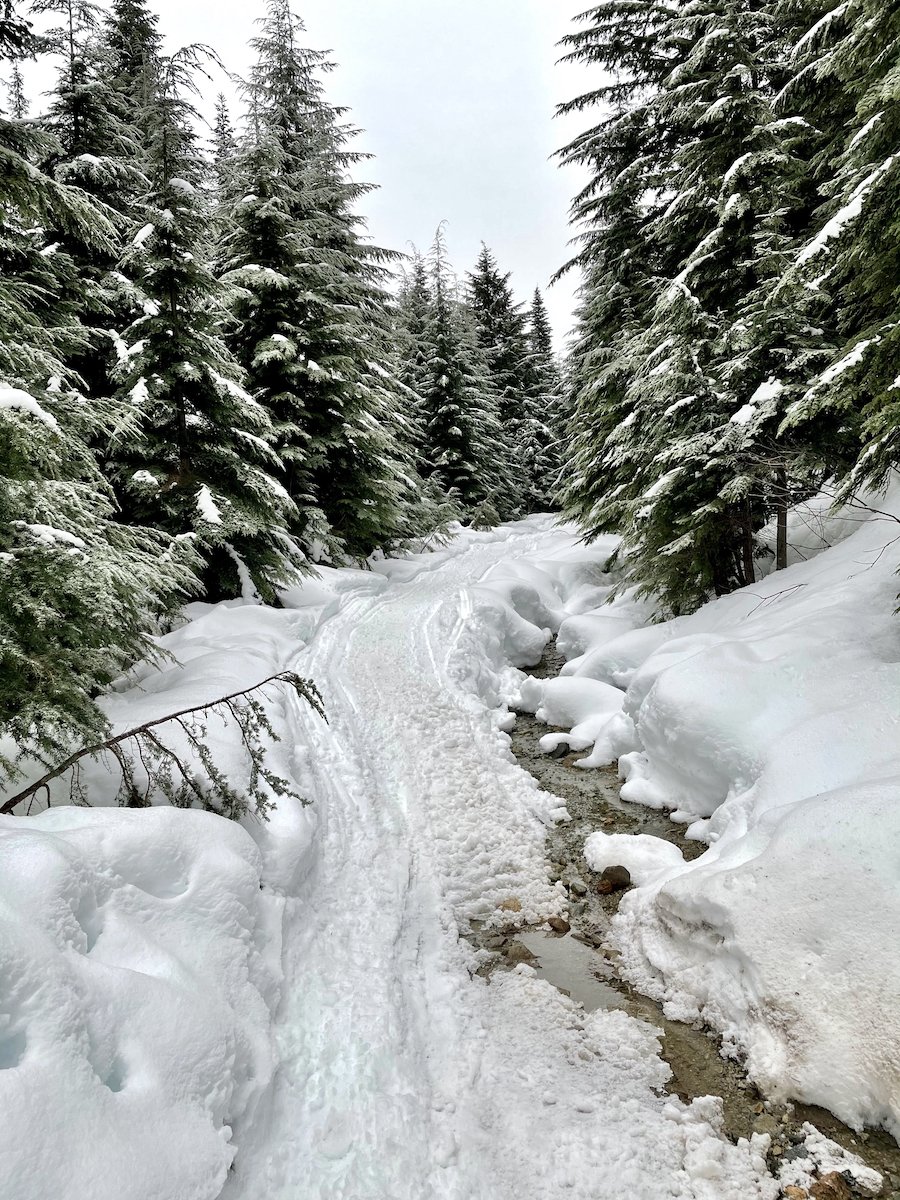 Having reviewed our the Gaia GPS map of the route we took, I realized after the fact that our friend brought us on a longer route than we would have taken if we had gone on foot. He told us to continue on the trail and not make any right turns and that we should make it to the ski lodge. We made it to what appeared to be a ridge that was likely part of the former ski resorts slopes, but it wasn't super obvious with the snow. We ended up doubling back toward the cabin area to find a nice spot next to creek near one of the abandoned cabins.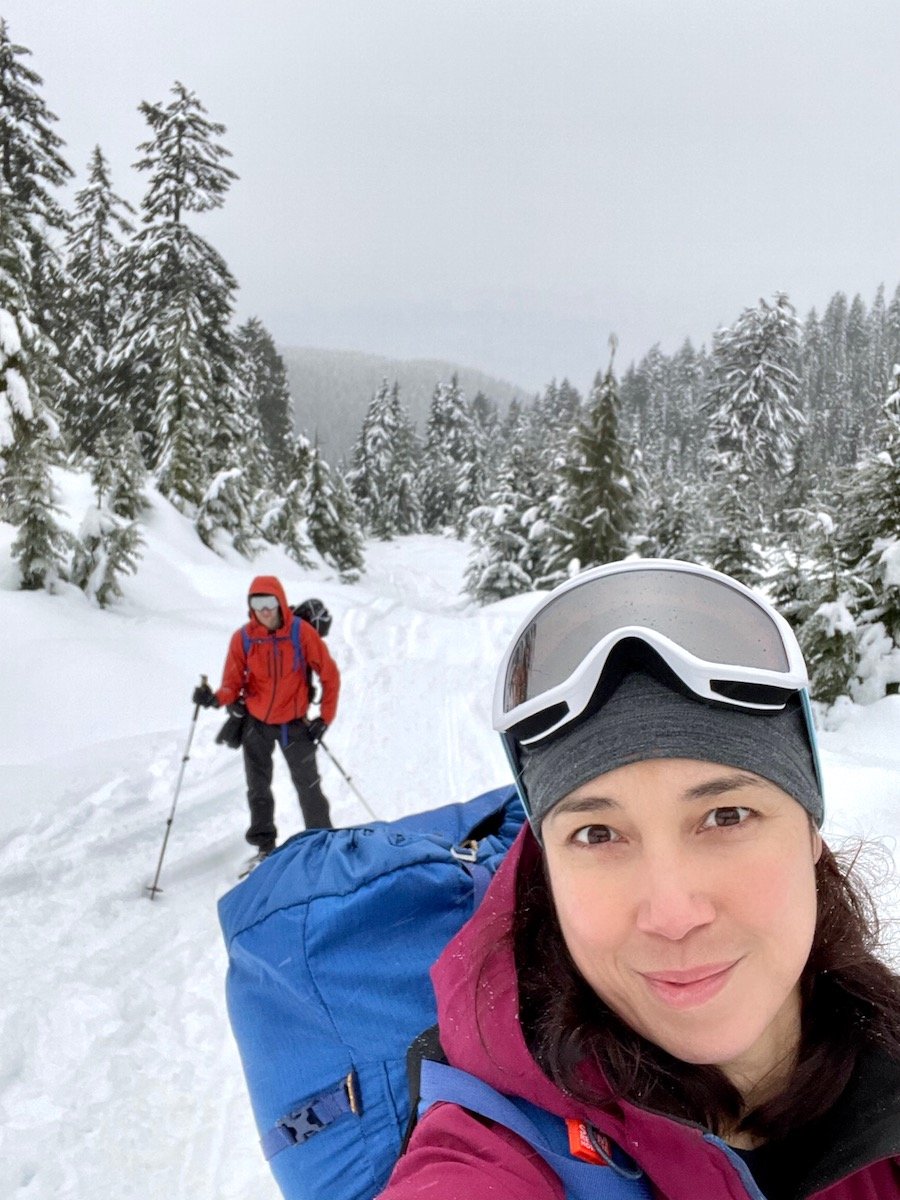 Pinecone Burke Cabins
According to our good samaritan, the group of cabins at Pinecone Burke have been there since around the time of the ski lodge's operations in the late 1960s. Many of them are no longer in use and have fallen into disrepair. Some have been maintained and are owned privately by people like our driver. I can only assume that the cabins that are privately owned were passed on to the descendants of the original owners. I doubt anyone can simply buy into property that is now part of a public park. I wish I had asked more questions now, as the history seems interesting to me. More about the historical timeline of Pinecone Burke.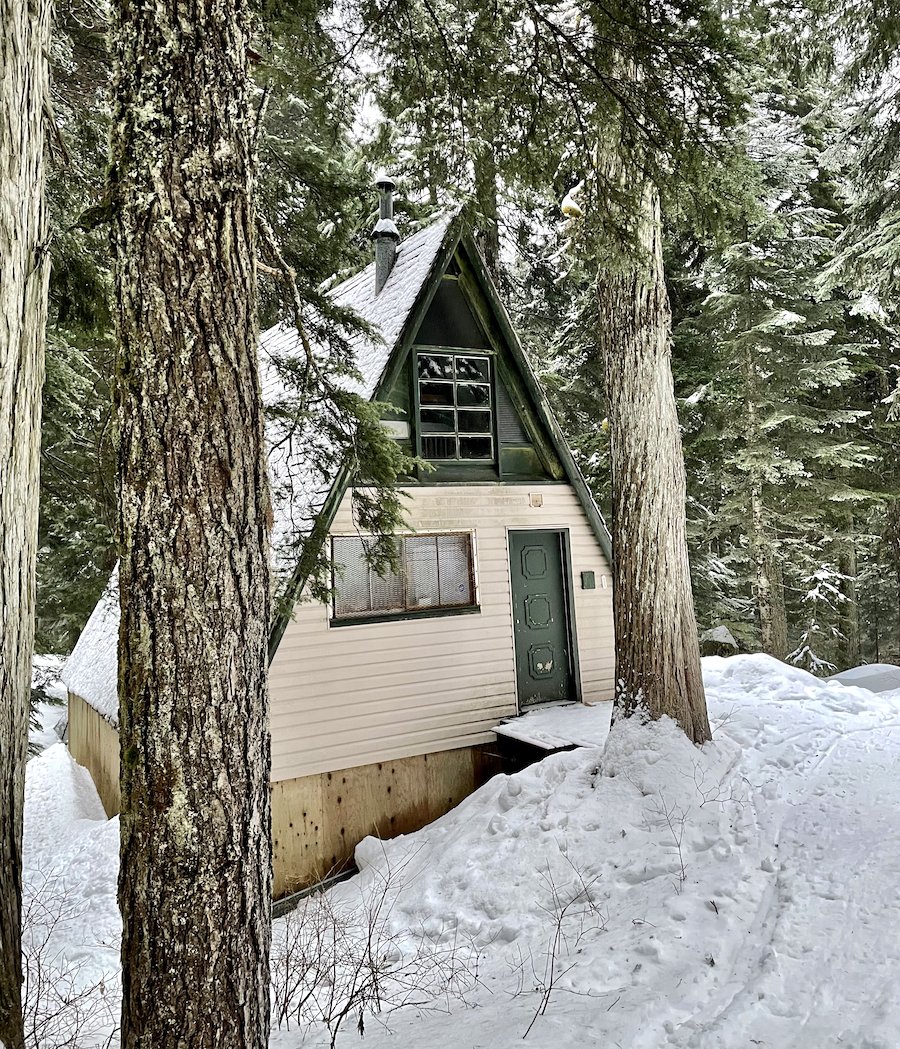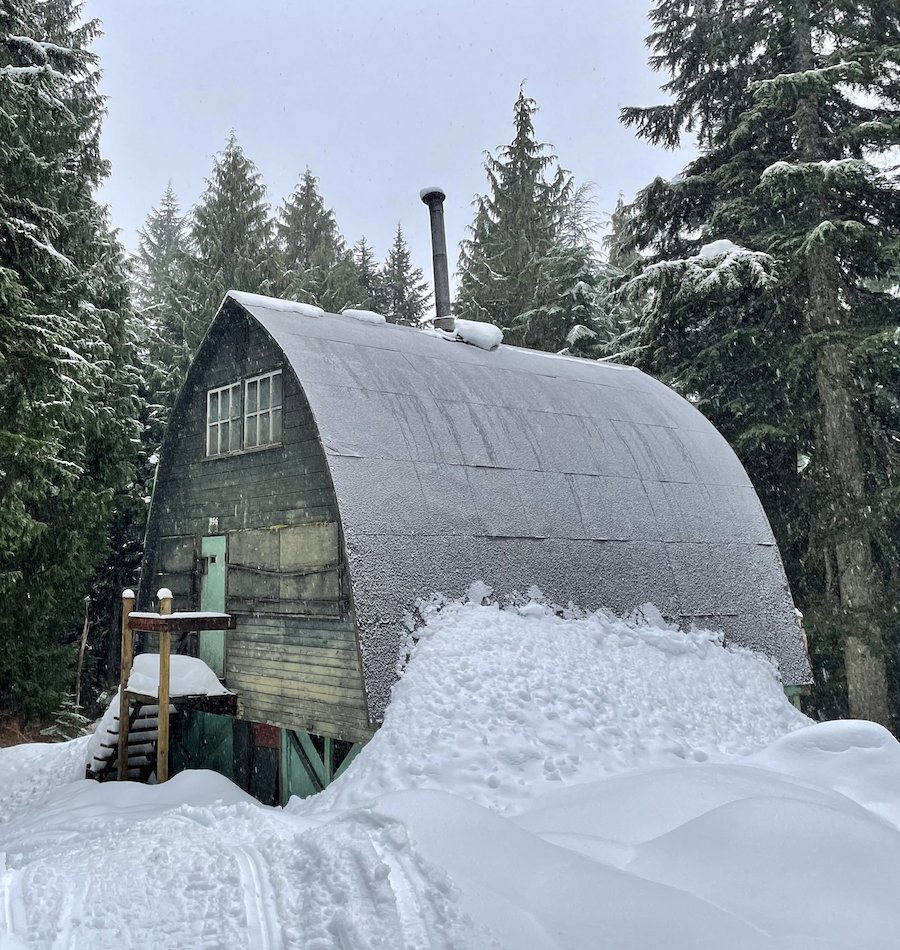 Backcountry Camping at Burke Mountain
There is not a ton of information about backcountry camping on Burke Mountain other than that it is allowed year-round, provided that it is done in a way that doesn't damage the ecological system. There is no camp area with official sites and bear boxes. Fortunately, since we were winter camping, we were not so concerned about attracting bears and other wildlife. No fires are allowed and all campers are expected to practice "leave no trace" principles. Currently, no fees are collected for camping at Pinecone Burke. As such, there is not much in the way of service in the park. Anyone doing backcountry camping should be experienced in the backcountry and practice sound safety principles. It's also a good idea to have satellite communicator, especially if you're doing winter backcountry camping, since cellular connection is spotty throughout the park.
Our First Winter Backcountry Camping Experience at Burke Mountain
Since we were losing the light, we found a nice, flat spot near to one of the abandoned cabins next to creek. We quickly stamped down the snow, set up our tent, cooked our dinner then bunkered down to while away 15 hours of darkness before we could hike out again.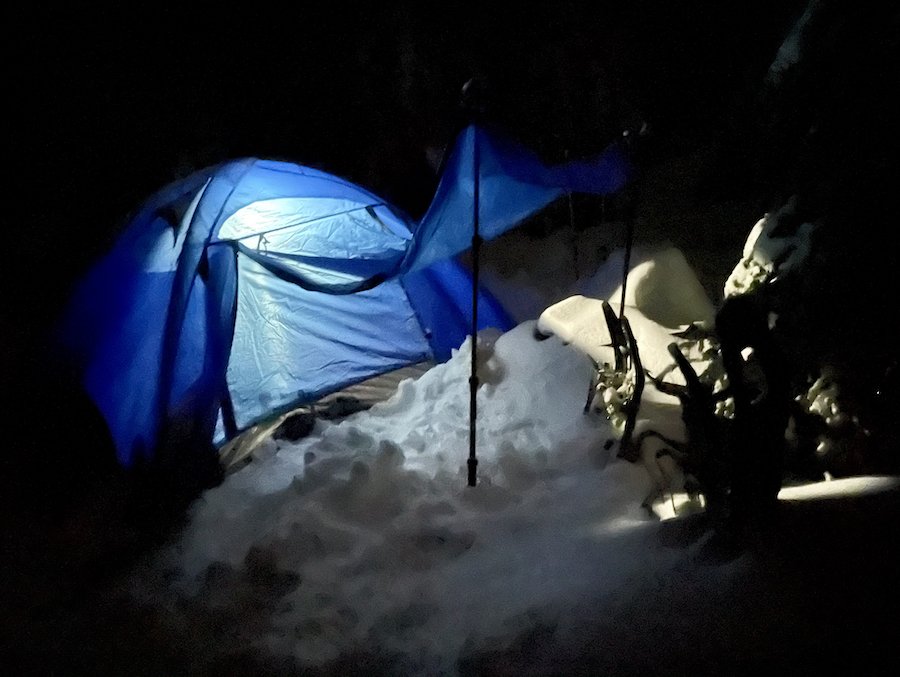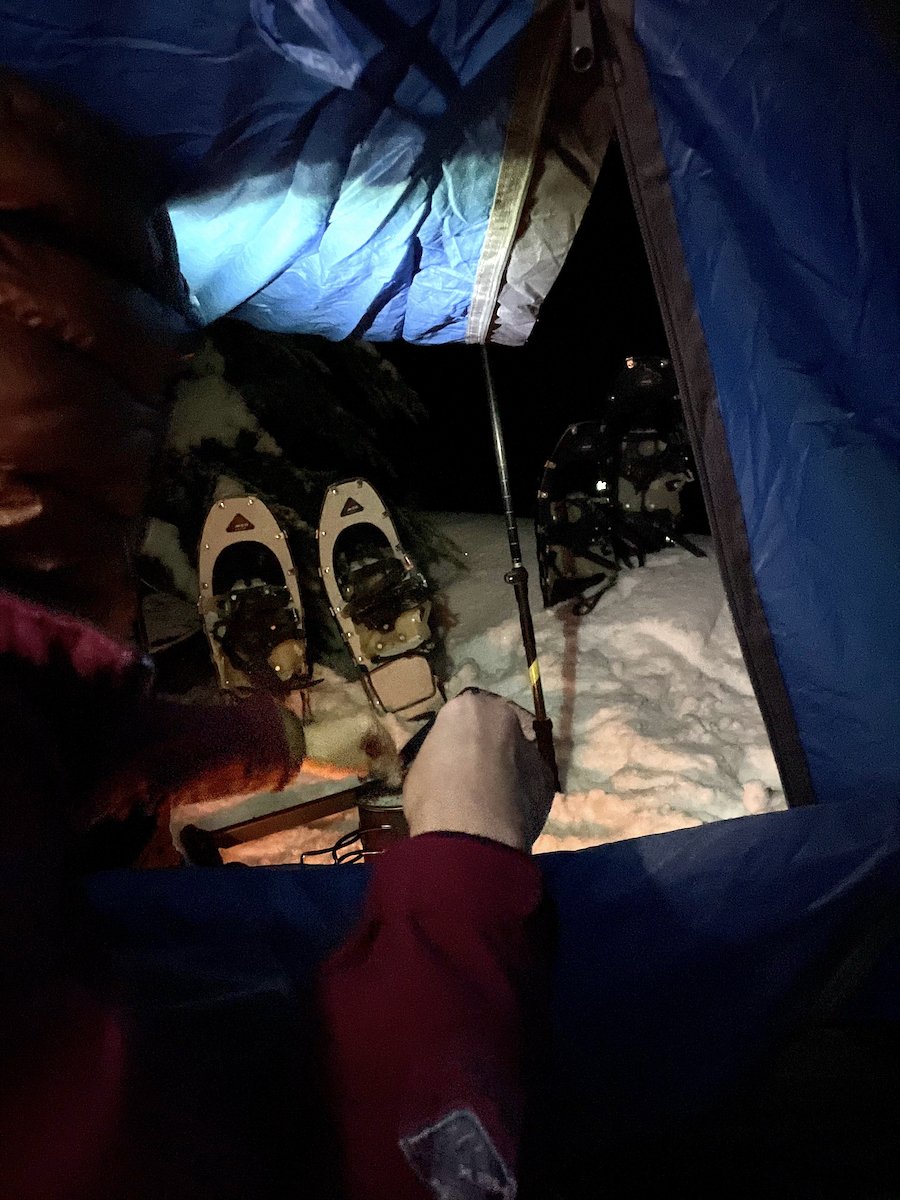 Before heading off on our adventure, had checked the mountain forecast for Burke Mountain. Note that this is different from the Coquitlam weather forecast as the conditions are quite different up on the mountain that in the city. We also checked and re-checked the avalanche risk reports, a must before doing any mountain-based snowshoeing adventure. We were expecting to get around 10-15cm of snow from evening until morning. We ended up getting closer to 50cm. Mountain weather is so unpredictable and you just have to be ready for it to not be what you expect. This happened to us once before when we [attempted to reach Artist's Point in Washington State on a winter backcountry camping adventure]https://feednflow.com/blog/post/the-hunt-for-artists-point-an-overnight-winter-backpacking-adventure) last January.
We spent the night sleeping with one eye open to check the snow build-up on the tent, giving the roof a bang every so often to clear the snow. By morning the snow had crept up all around the sides of the tent, as well as on the door that we had hung up on our trekking poles.
Breaking Trail and Snowshoeing Back to the Car
The upside of a huge dump of snow was that we got to snowshoe back on pristine, unspoilt, powdery snow. Also, the snowfall doubled the amount of snowshoeable trail so we didn't have to carry them anywhere near as far as we would have had to on the way out. Untracked snow has a way of making everything look prettier. Plus, snowshoeing is a lot gentler on the joints, which my partner-in-crime really appreciates. Even without any expansive views, we smiled the whole way home as the snowflakes fluttered down all around us.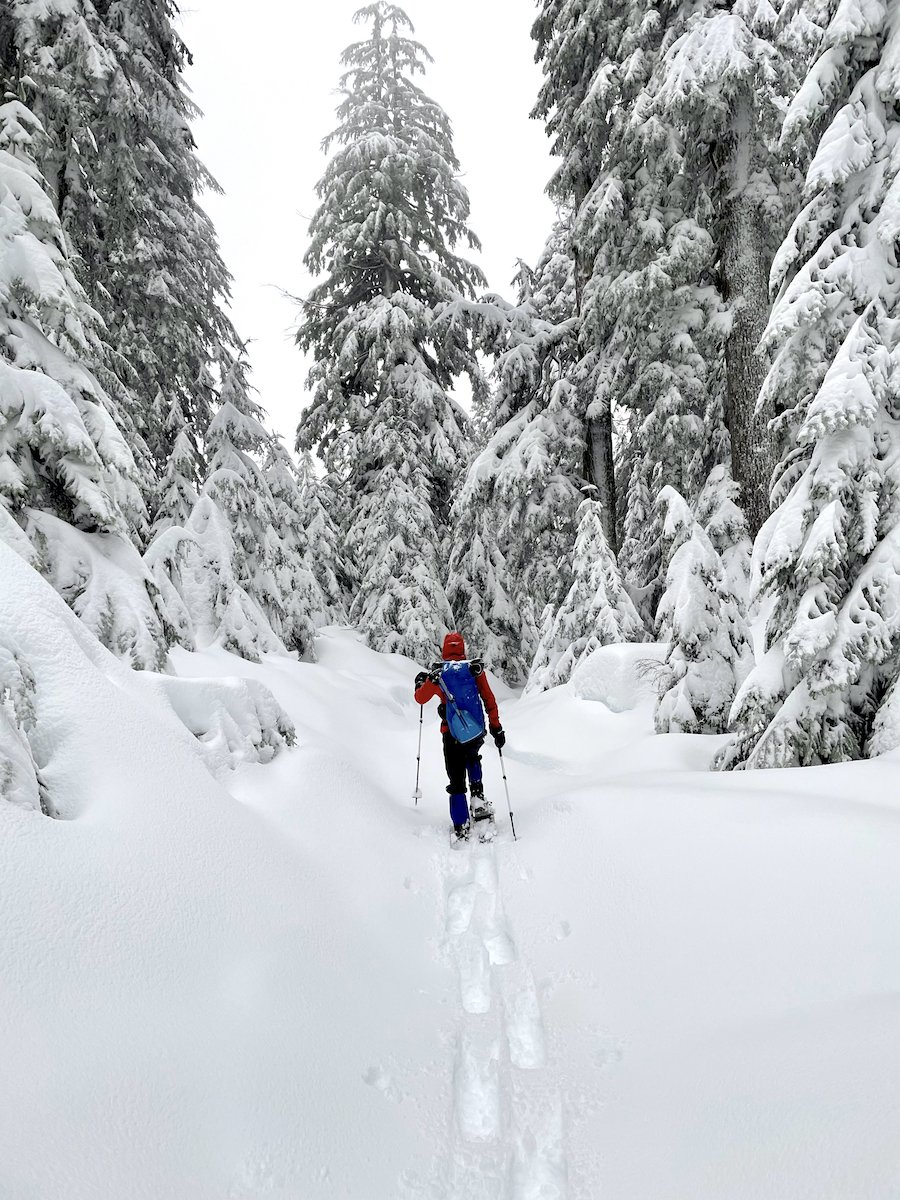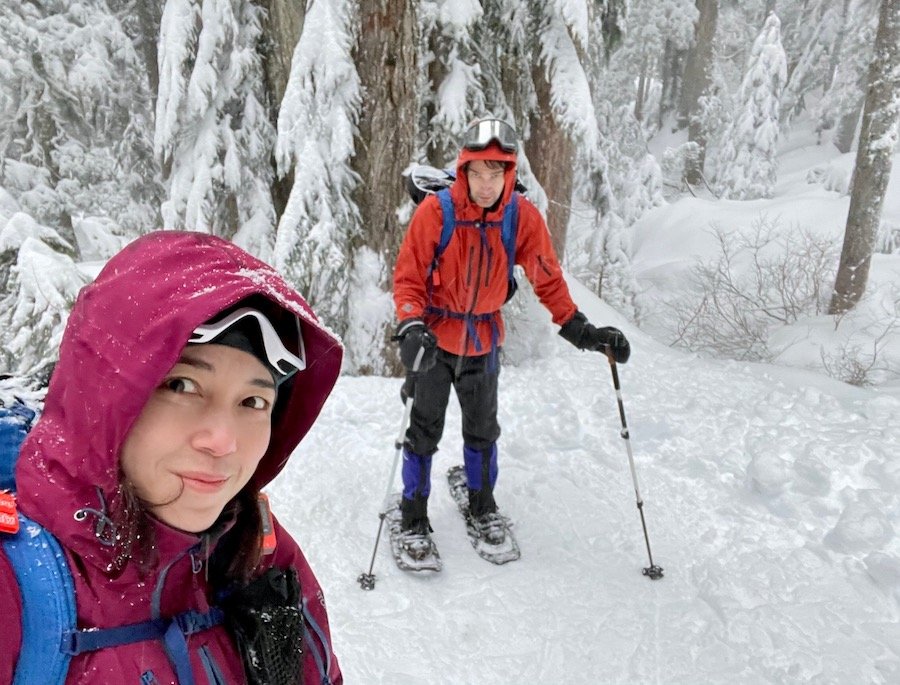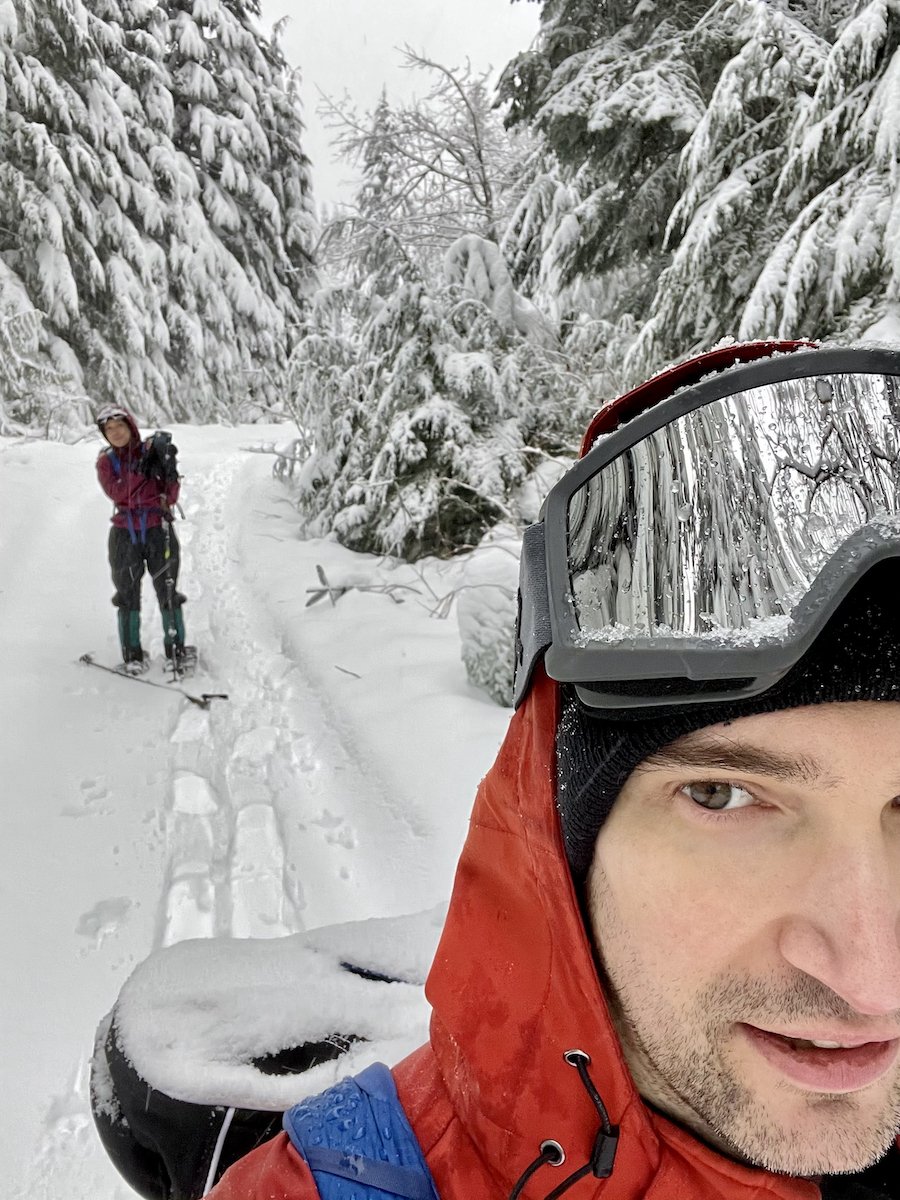 The Trade-Offs of Winter Recreation at Pinecone Burke vs the Usual Trails
You can do all the same things at Pinecone Burke as you can at Cypress or Mount Seymour, and without having to pay any fees. The difference is that latter two are better serviced, maintained and reported, and also have stunning views without having to hike very long to get to them. The downside is that they are so popular that they are extremely busy at peak days and times, and especially so right now with the pandemic still in full force.
Pinecone Burke is not only minimally serviced and maintained. It's also a lot less accessible. You have to hike up a ways before you can even don your snowshoes, which weeds out anyone who isn't committed enough to take on the extra time spent hiking. As such, it is a lot less busy, we didn't see anyone as far as the snow line other than the guy who gave us a lift part of the way. Quieter trails means a more peaceful nature experience. Of course, this also means you have to be more experienced and prepared for emergencies since there's a chance you won't be able to get the help you need when you need it. And though the snowshoeing experience is more peaceful, I would also argue that the views aren't as impressive as the ones at Cypress and Seymour.
So which is the better choice? If you're less experienced or only intend to do one or two snowshoeing trips over the course of the season, you're probably better off going to Cypress or Seymour at non-peak times, if you can manage it. If you prefer a less busy experience, or you have already visited the more popular mountains, Pinecone Burke is an awesome option if you don't mind the extra safety precautions and physics effort to do it.
Now over to you. Have you ever gone snowshoeing or winter backpacking at Pinecone Burke Provincial Park? Do you have any tips to share. Please feel free to share your thoughts in the comments.