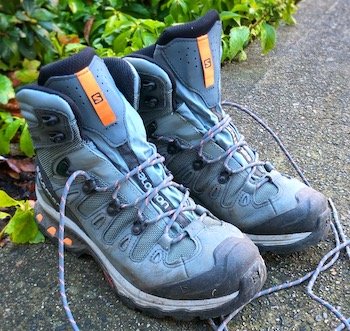 I recently decided to kick my old pair of hiking shoes to the curb. They were a lower budget boot that I had bought when funds were lower, but they served their time and I put many miles on them. In replacing them, I decided to splurge and get boots that are super supportive with a higher boot, but still light on my feet.
Lightweight and Breathable Gortex Hiking Boots
I tried on a number of different pairs of boots in the $200-$300 range. Some just weren't the right fit. Others just felt heavy. I knew as soon as I put on the Salomon Quest 4D 3 Goretex hiking boots that they were the right boot for me. Even though they look big, they feel light and nimble on my feet. I also wanted a Gortex based boot rather than a waterproof leather because I wanted them to be a bit more breathable for warmer months, while still solidly waterproof for the wet climate of the Pacific Northwest.
Comfort, Cushion and Support
I always wear liner socks under my hiking socks to prevent blisters, but even without them, the rubbing on my usual hot spots wasn't as bad as it was on my old boots. There's just more cushion built into the boot in general. Wearing them feels like my feet are being hugged. I almost didn't trust this at first, like it was too good to be true. Hiking boots are either comfortable or supportive in my experience, not both. But I've gone on several long hikes and backpacking trips with my Salomon Quest 4D boots and they are everything I hoped they would be.
The foot bed seems to handle shock really well. My feet don't feel as tired as they did with my old boots, and this is with the footbed that came with them. I ended up replacing the cheap foot bed that came with my Keen Liberty Ridge boots because they just didn't give enough cushion and they caused blisters on the underside of my heels to boot. The Quest 4Ds flex in the right places as I hike, but are still supportive where I need them to be. Their tread handles wetness well too.
Long, Grippy Laces
I often find that hiking boots come with crappy laces that are either too short and/or aren't grippy enough, not long enough to do a double knot and so slippery that I found myself having to re-tie them way too often on the trail. The laces that come with the Quest 4Ds are Goldilocks perfect.
Should You Buy These Boots?
Like with any footwear, try them on first. A number of customer reviewers stated that they are on the narrow side. This was good for me because I have narrow feet. But if the fit works for you, and you intend to do a lot of long hikes or backpacking trips, do yourself a favour and invest in these quality boots. The Salomon Quest 4D 3 Goretex hiking boots come at a price tag of $289 but I've seen them go on sale for 20-25% off, so you might be able to get a better deal than straight retail price. If you're used to trying to save money on hiking/backpacking boots, do yourself a favour and get the right boots for your needs. Having sore and blistered feet makes every trip miserable.