Early fall is one of the best times to go backpacking in BC. The bugs are gone. The weather has cooled off. You might even get some fall colours depending on where you go. I try to get out backpacking as often as I can this time of year.
Backpacking Trip Planning Around Unpredictable Fall Weather
I do my best to make plans, knowing that I might have some patchy weather, or even have to abandon a plan altogether if it's really bad, but for the most part things tend to work out. I usually try to have several locations in completely different weather systems so that I can pick the best one. I had four picked out for this particular overnight trip. Only one of them looked reasonable for weather, with promises of patches of rain the first day, clearing up for the second. My backpacking partner Sean and I had our destination chosen, the Skyline 2 Trail to Mowich Wilderness camp at Manning Provincial Park, and we set out for a 2.5 hour drive to get there.
It was pouring in the Vancouver lower mainland and most of the Fraser Valley. But Sunshine Valley past hope looked promising with the clouds clearing and letting some sun shine through. I had high hopes that the promised precipitation had cleared up sooner than expected as we started our hike on the trail.
Soaked with Rain, Followed by Snow
It wasn't until we were about an hour in that we saw the first sprinkles of rain. Another 30 minutes later, we decided to put our rain paints on. Another 30 minutes as we gained altitude, the rain started to look a little textured. Then it was like this: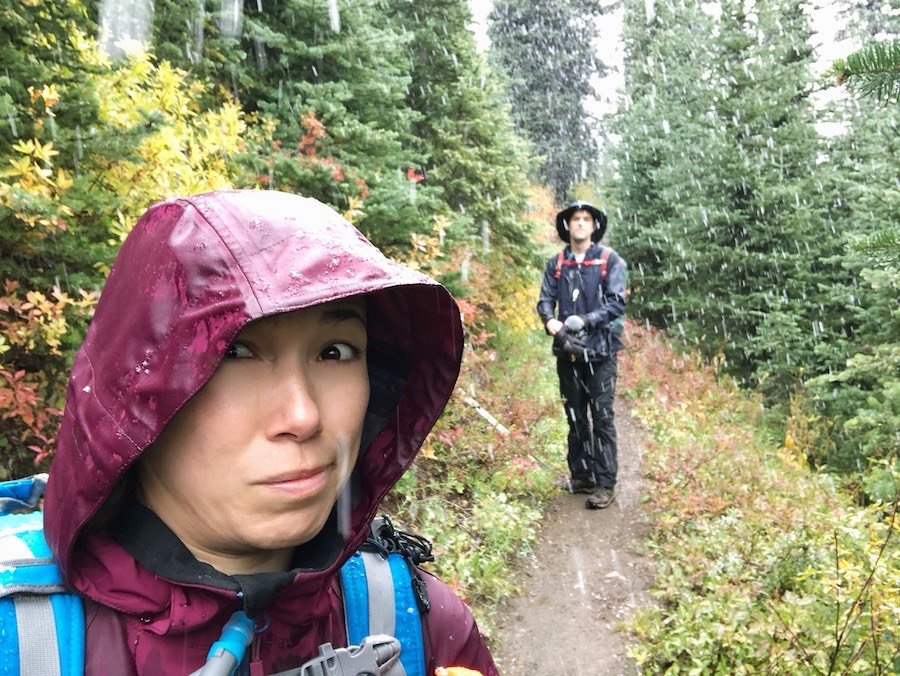 We were nearly soaked through our rain gear and worried that the drop in temperature could lead us to abandon the trip as we had done the previous spring when we attempted a backpacking trip on the HBC trail. This time was different though. Because it was fall, the ambient temperature from the ground wasn't as cold and because it had started snowing, it gave us a break from the soaking, which kept us from getting that "soaked and chilled to the bone" feeling that is impossible to warm up from without a heated environment. It was still snowing when we made it to our first valley view, as you can see below: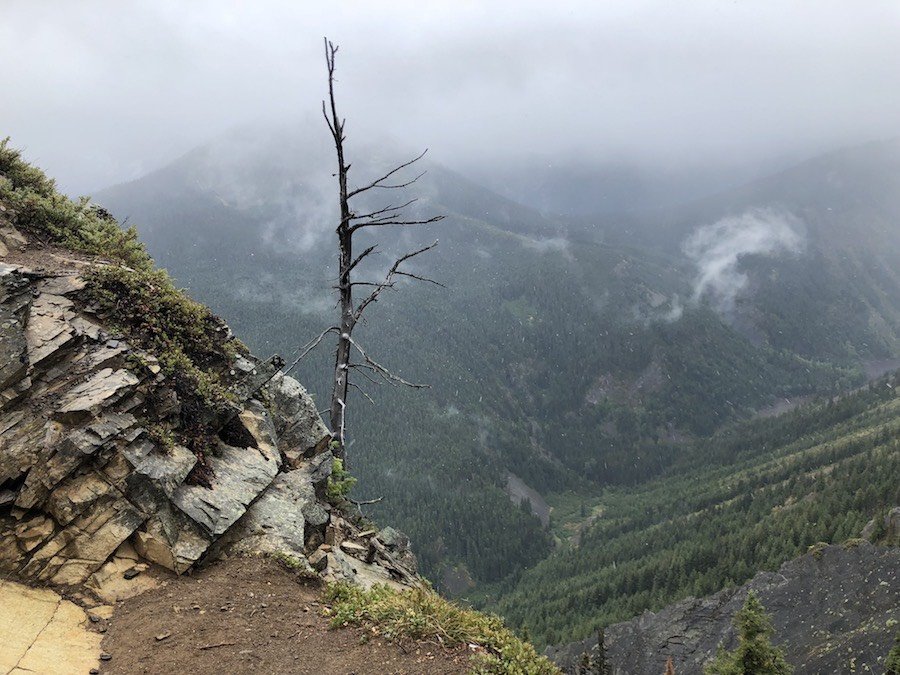 We trekked on and fortunately the snow let up. We also went down in elevation, which raised the ambient temperature. We even got some patches of sun. As we hiked along, the exercise got our core temperature back up. I even found myself opening the pit zips in my jacket. And then we got to the part of the trail for which it was named, the ridge along the sky line. For several kilometres, we hiked along a ridge with sweeping views overlooking the surrounding mountains. Even with the clouds on that first day, it was still breath-taking, as you can see here: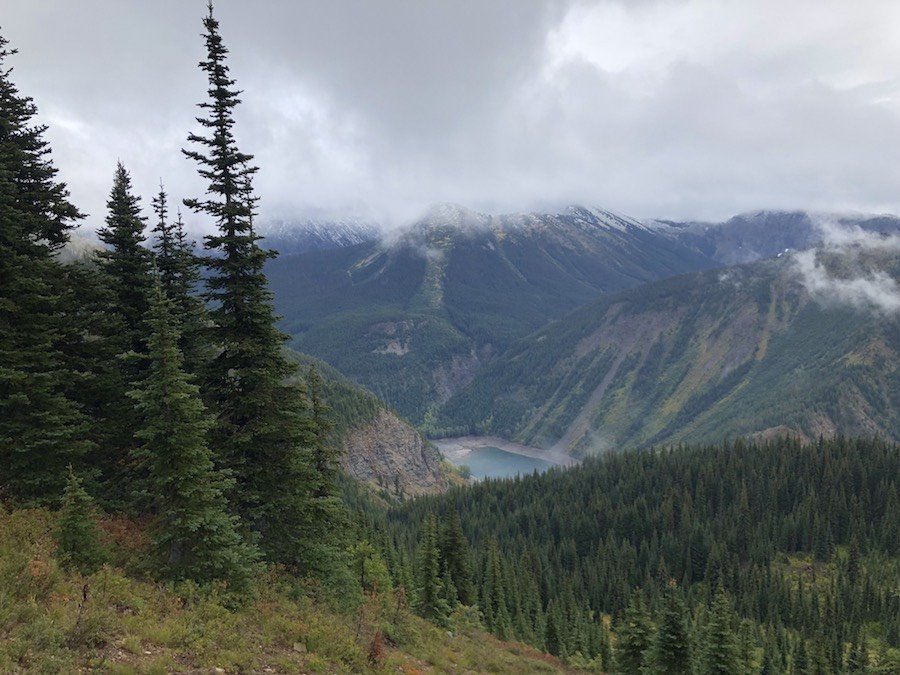 Grim Thoughts and Staying Focused
While the trail isn't technically hard at any point. There are barely even any trail markers because it's so well used, you don't need them. Along the ridge, it's hard not to become intensely aware of how it would only take one misstep to go tumbling down the mountainside until you're lucky enough to have your fall broken by a big tree.. if you're lucky. Sean and I discussed how we both had had the same thoughts about how it only would take a momentary lack of focus to lead to a disastrous situation, which increased our resolve to be aware of every step on the trail.
A Hare Too Close for Comfort
The view wasn't the only thing to take our breath away on the isolated trail with no one on it for miles. Sean, who was taking the lead at the time, stopped dead in his tracks, clearly unnerved. The photo on the right shows what he had come across right in the middle of the trail. It was clear that it was a fresh kill, and we both know that it's not wise to stay near to fresh kill for whatever killed it may come back for it. We increased our pace, wondering what kind of animal had ripped that rabbit in half. A bear? A cougar? Sean reconfirmed the position of his bear spray canister while I make sure my air horn was ready in hand. A few minutes later, a flash of white burst from a nearby tree as we hiked back into the tree line. It was a large owl. Based on its colouring, we were pretty certain it was a snowy owl even though that would have been strange give the location and time of year. I breathed a sigh of relief. The idea that the rabbit may have been victim to an owl was much better than the alternatives I had previously imagined. Still, I kept my air horn close at hand.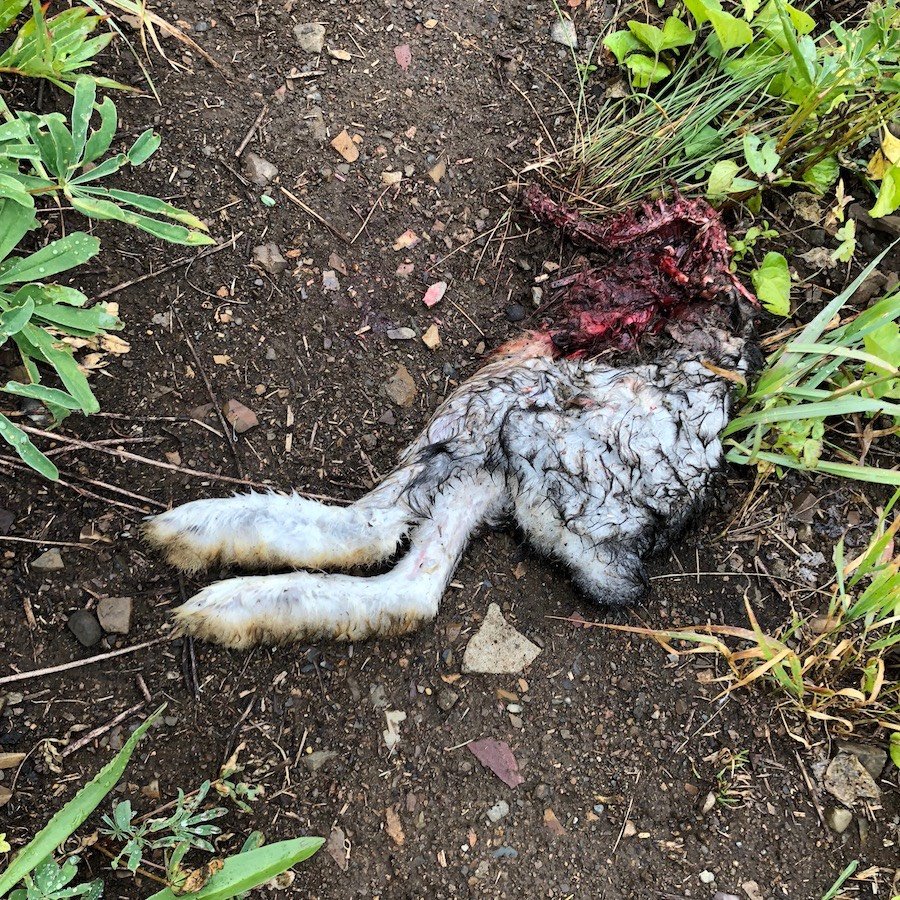 A Little Less Shelter than Expected
It wasn't much longer before we arrived at Mowich Wildnerness Camp at around 2:45pm, completing the hike in to camp in around 4 hours. Mowich was fairly understated as a campground. Well, actually, some parts were overstated. The Manning Park website stated that there was a shelter at camp, but this was all that there was:

We walked all around the area, past the outhouse and the bear cache. We located the meager remains of Mowich Creek, our only water source. We then compared the existing structure to photos we had seen online, and figured that it had probably collapsed at some point and this was the remains. We found a site that partially protected by the trees and set up our tent while the weather was still favourable.
Tally Ho to Hozomeen Ridge
Once camp was set up, we kept on with our hike on the trail to Hozomeen Ridge. The weather only got better and better as we went along the ridge trail. And we were treated to amazing views all around us, as you can see below.

We decided to go as far as we could, hoping we would make it to the end. We managed to get some views of Ross Lake and Hozomeen Mountain, but didn't get to the end of the trail. At around 5:15pm we decided it would be prudent to turn back, giving us an hour or so to get back, with still time to prepare our evening meal. We were satisfied enough with the views we got anyway.
Unexpected Company
As we got back, we heard voices coming down the trail. Being a Sunday evening with not the greatest of weather, we were surprised to see two younger couples coming into camp, setting up tents for the night. Manning hadn't been their first choice, having tried to get a site at Garabaldi (which was full), but they had been pleasantly surprised with what the Skyline 2 trail had to offer. Like me, they had found the reviews of the trail and camp to be less than enthusiastic, but we all agreed that the overall experience was much better than reported, even though the campground itself isn't much itself.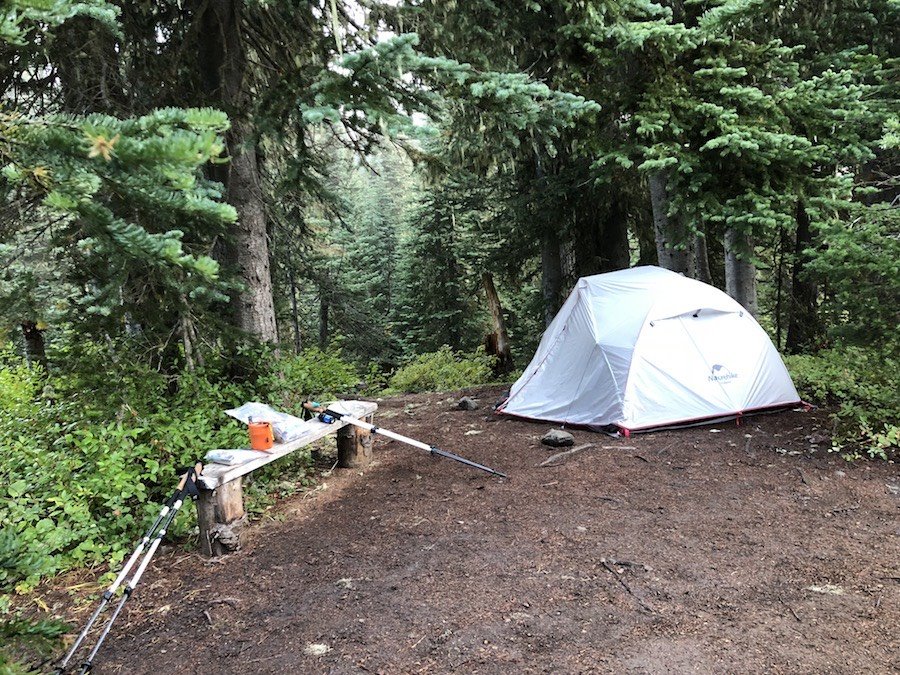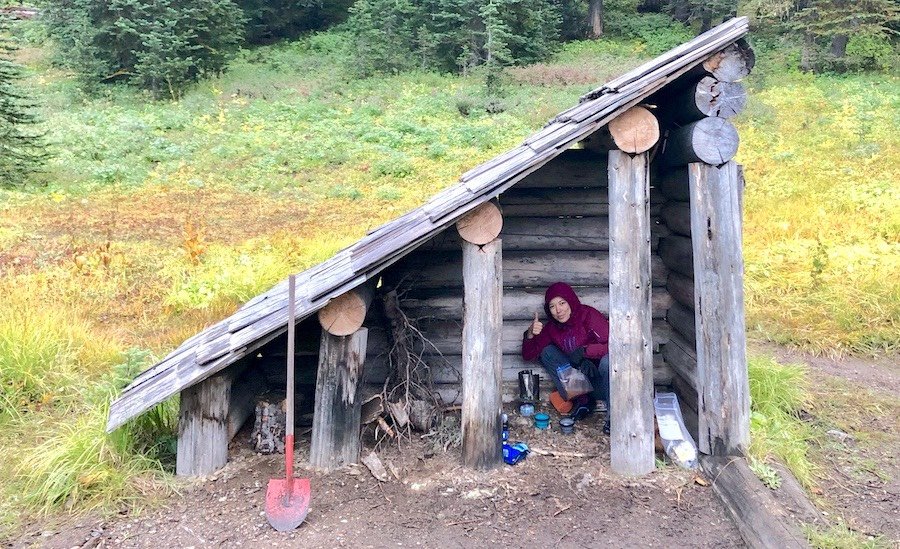 Sean and I settled in to boil water for our dinner and enjoy a boozy hot chocolate before turning in. In the evening, the mountain air started to cool. I decided to do the cooking in what was left of the shelter. We even had enough space to pull up a log, squish together and eat. It was enough to the wind a little and keep us a little warmer as we ate. I prepped a chicken and rice dish with dehydrated egg for Sean, while I had my first homemade keto camp meal. I had dehydrated canned chicken, egg and broccoli and mixed it with some powdered butter and cheeses to make a keto camp Alfredo. I was quite pleased with how it turned out. It was both tasty and satisfying. Soon after eating, we both were ready to warm up in the tent. We used the washroom put our food bags in the bear cache and packed into our sleeping bags. It was only 8pm but we were ready to rest. We chatted until dark while we heard our neighbours starting and enjoying a fire in the park fire pit. I vaguely remember hearing them comment about a dusting of snow as I drifted off to sleep, hoping I wouldn't have to get up in the cold of night to go to the outhouse.
A Chilly Start to a Sunny Day
I woke up at 6:30am. I made it through the night, but it was time to get to that outhouse. It was a chilly morning with a bit of rain. I pulled out our food bags from the bear cache and got started boiling water for coffee in the shelter. I used some water to make Sean's oatmeal for breakfast (I do intermittent fasting in the morning so I was saving my appetite for when we got back to civilization). We quickly broke camp and got started hiking back. The weather got better and better as we went and the skyline portion of the trail gave us even better views the second day. We, of course, took the time to capture the sights on camera before quickly hiking out.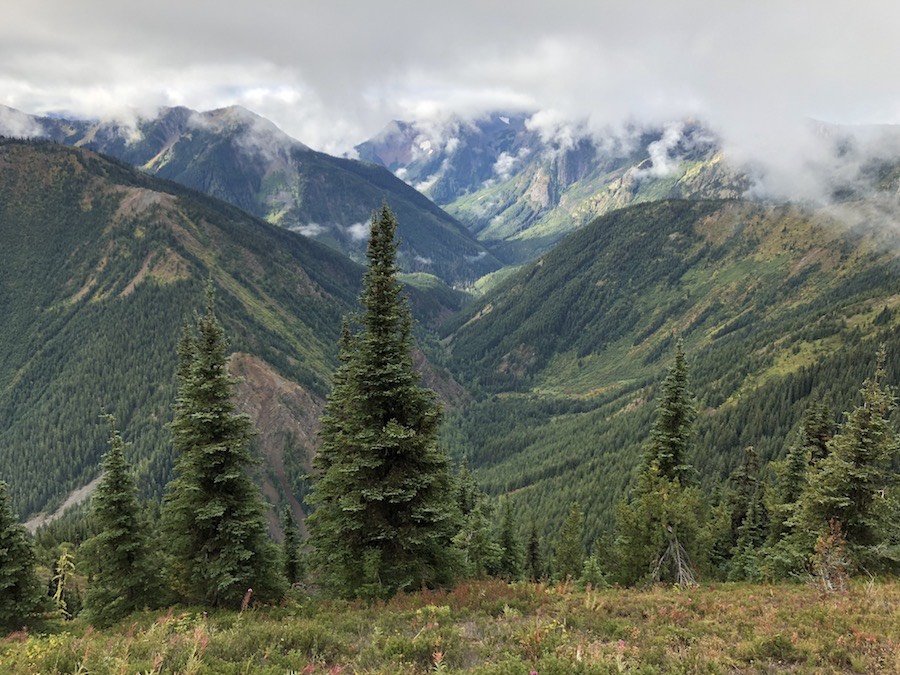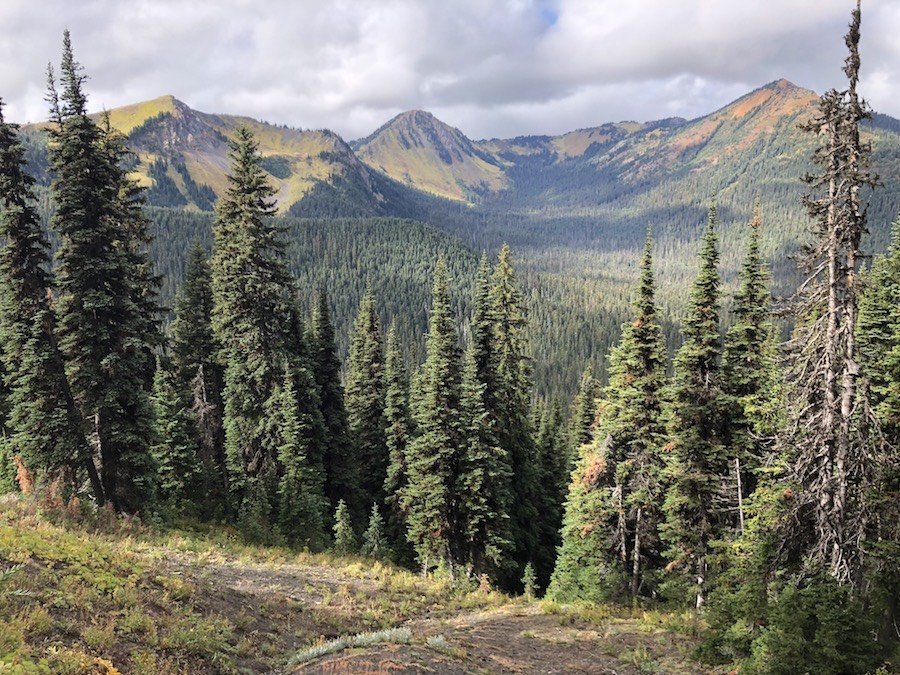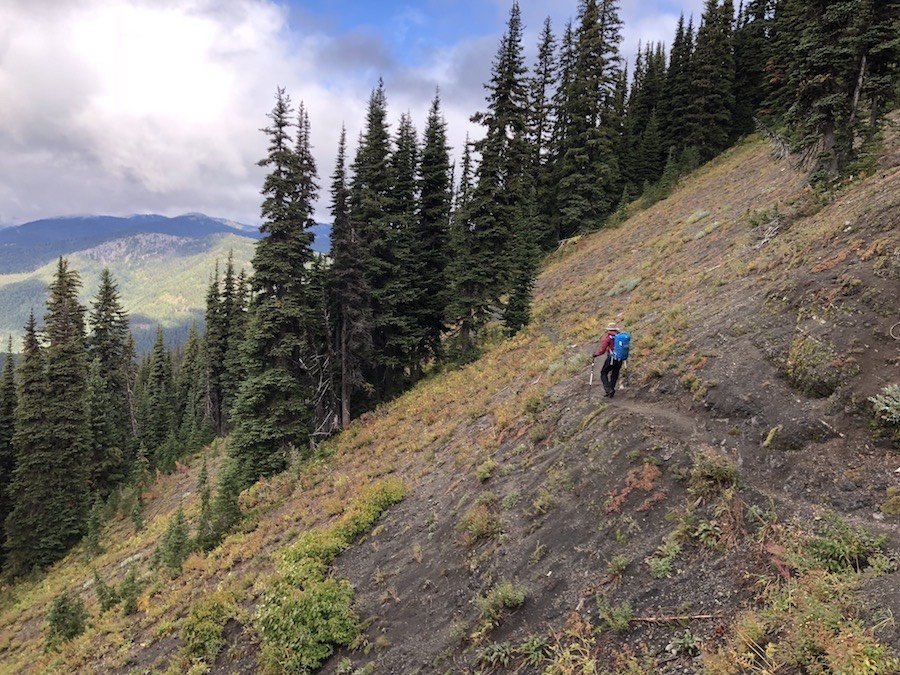 Finishing the Trip in Comfort and Going "Home"
After exiting the trail, we took advantage of Manning Park Resort's washroom to wash up, change our clothes, and brush our teeth before driving to Home Cafe for a well-deserved post-backpacking meal. Nothing like burgers, fries and pies to refill your body and soul after a very physical trip. It was neither a keto nor a proper carb-up meal. Sometimes you just work so hard, endure so much cold, and burn so many calories, that you can just eat whatever with complete abandon, and the Home Cafe is perfectly located on the way home in Hope, thus completing our trip, and our first experience backpacking at Manning Provincial Park. I will surely want to explore more of this area as there are plenty more hiking and backpacking routes around there that have gone untouched and are far less frequented than the ones closer to Whistler and Squamish.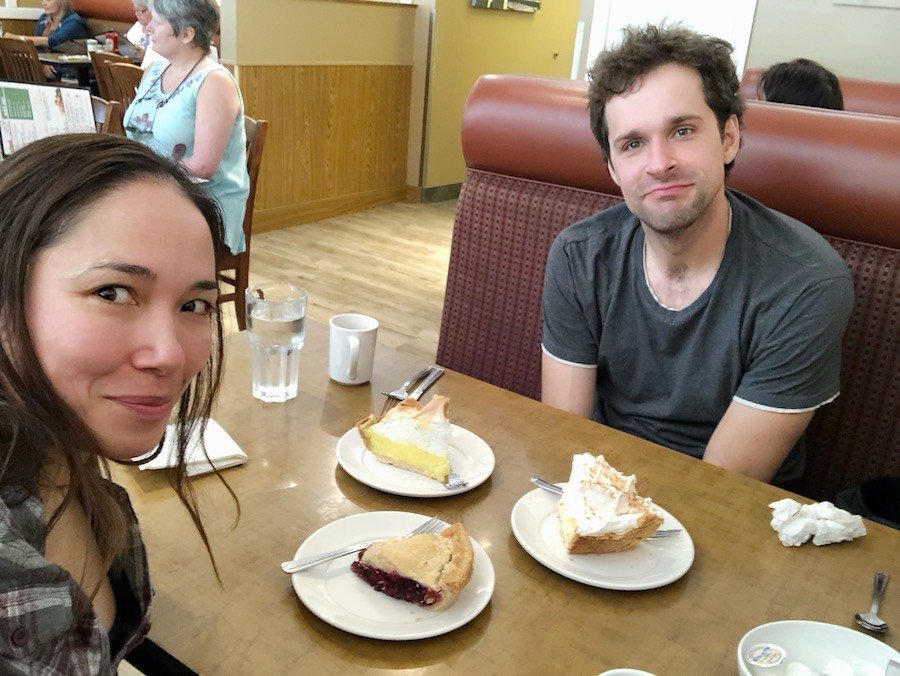 Now over to you. Have you done any hikes or backpacking in or near Manning? What ones would you recommend? Please share your thoughts in the comments.