During my parents last visit, we wanted to take a weekend camping trip as an outdoor getaway, which led us to finding Rasar and Rockport State Parks in the North Cascades area in Washington State. While Chris and I would have been fine with camping in tents, or our rooftop Skycamp tent for a bit more comfort, my parents needed a bit more than that for their needs, being in their mid-seventies. A little research online led me to the cabins offered at Rasar State Park, only about a 2-hour drive from the Vancouver area.
Rasar State Park - Camping Accessibility for All Kinds of Campers
Rasar State Park has large, beautifully treed campsites for car camping of all sorts, whether you're tenting, towing a trailer, or driving an RV. This is as you would expect in a campground. Standard camp sites are $20-50 per night depending on season and site amenities (See full list of WA state park camp rates). In addition to the standard options though, it has heated cabins complete with electricity. Some also have plumbing, and a couple of the newer ones even have a washroom with a shower and our wheelchair accessible. We reserved one of the latter to remove the need to hike to the washroom in the middle of the night. The cabins range between $79 and $99 per night, depending on the season, plus an $8 reservation fee when booking online.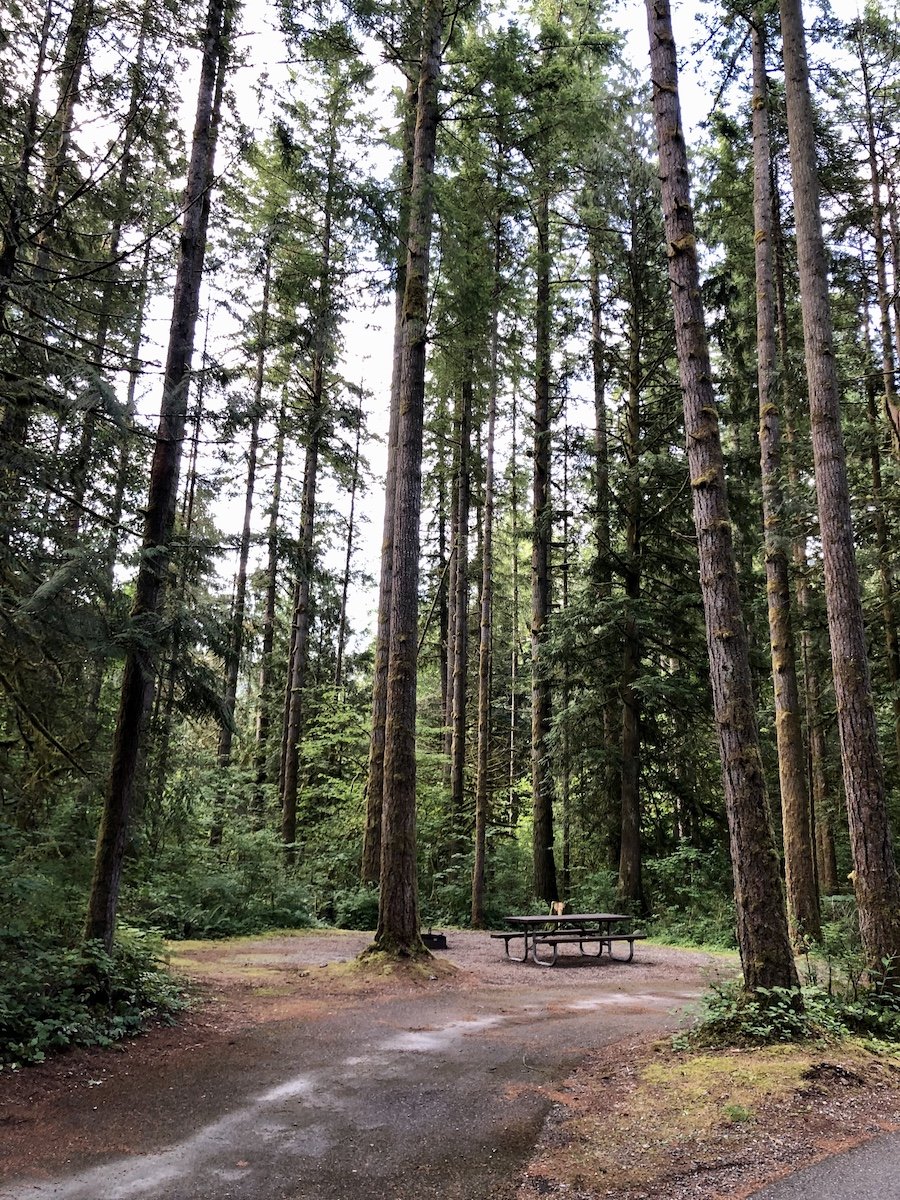 Another notable offering are the walk-in sites that have partial shelters, which I've never seen at any other campground before I went there. These shelters give you a place to set up a mattress and sleeping bag off the ground and out of the rain. You can even sit and socialize in them while keeping out of the rain. These shelters eliminate the need for a tent or pop-up shelter, giving a higher level of comfort for hike, bike or motorcycle camping. The walk-in sites are $12/night for any season.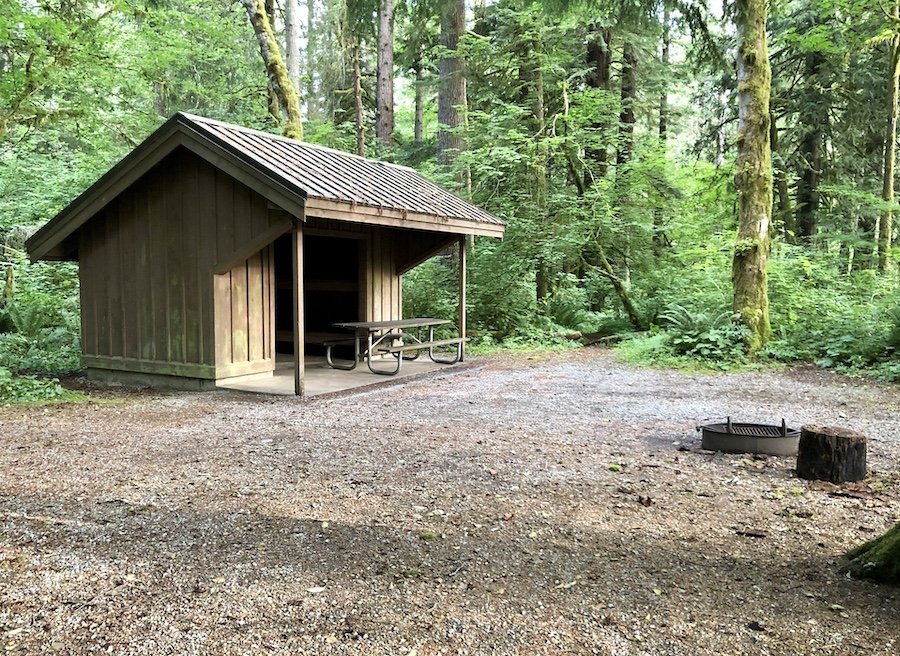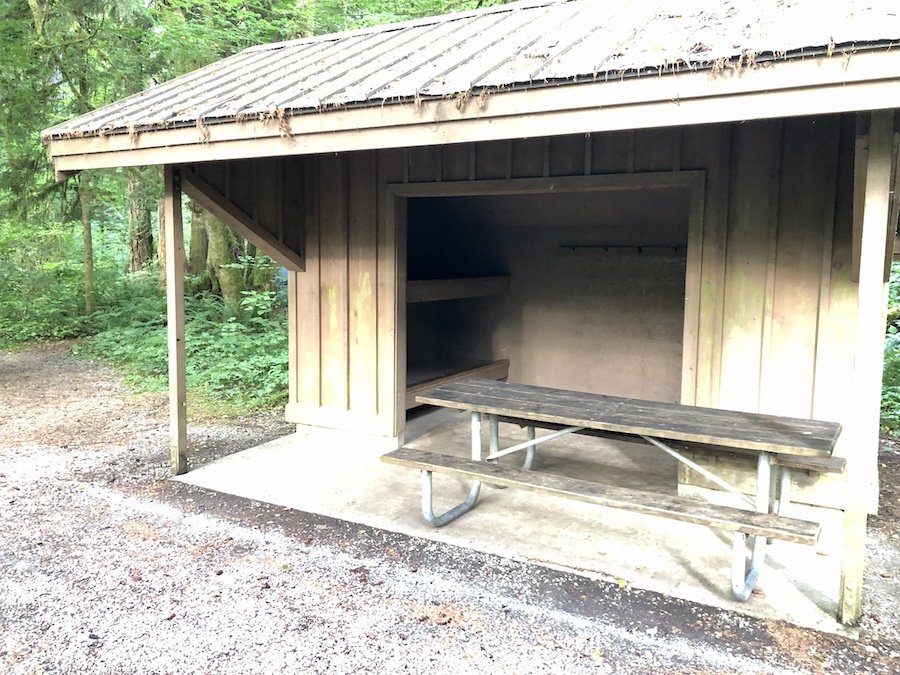 Rasar State Park Cabins - Luxury Camping for a Reasonable Price
The cabin we booked sleeps 5 people with a bunk bed that has a double on the bottom and a single on top, as well as a sofa-bed that sleeps 2. There is an indoor kitchen table with 4 chairs, a kitchen sink and a counter top. The cabin is fully heated and even has independent heating in the washroom. There are two Adirondack chairs under shelter out front, as well as a full picnic table. There are only two full-accessibility cabins of this type (with washrooms), but there are 3 other cabins that are similarly equipped without the washrooms.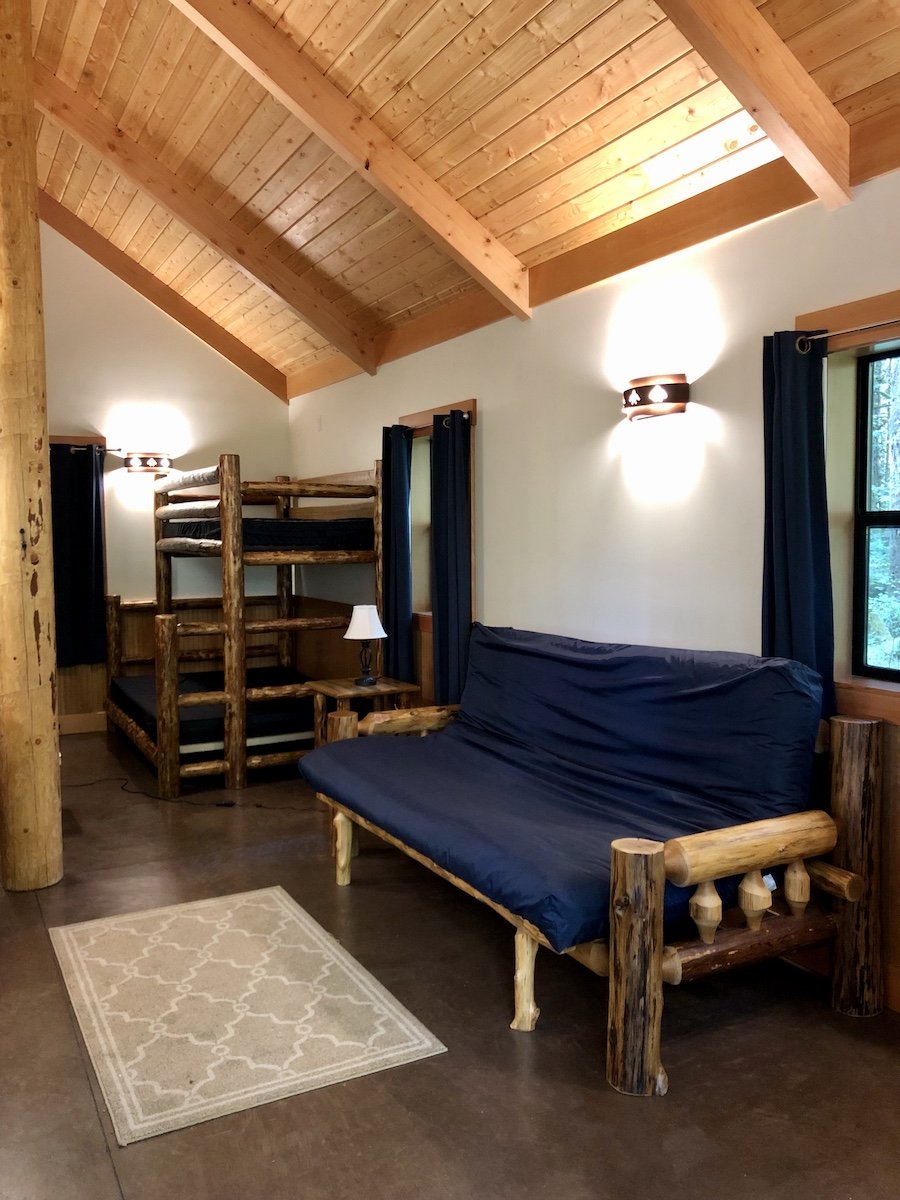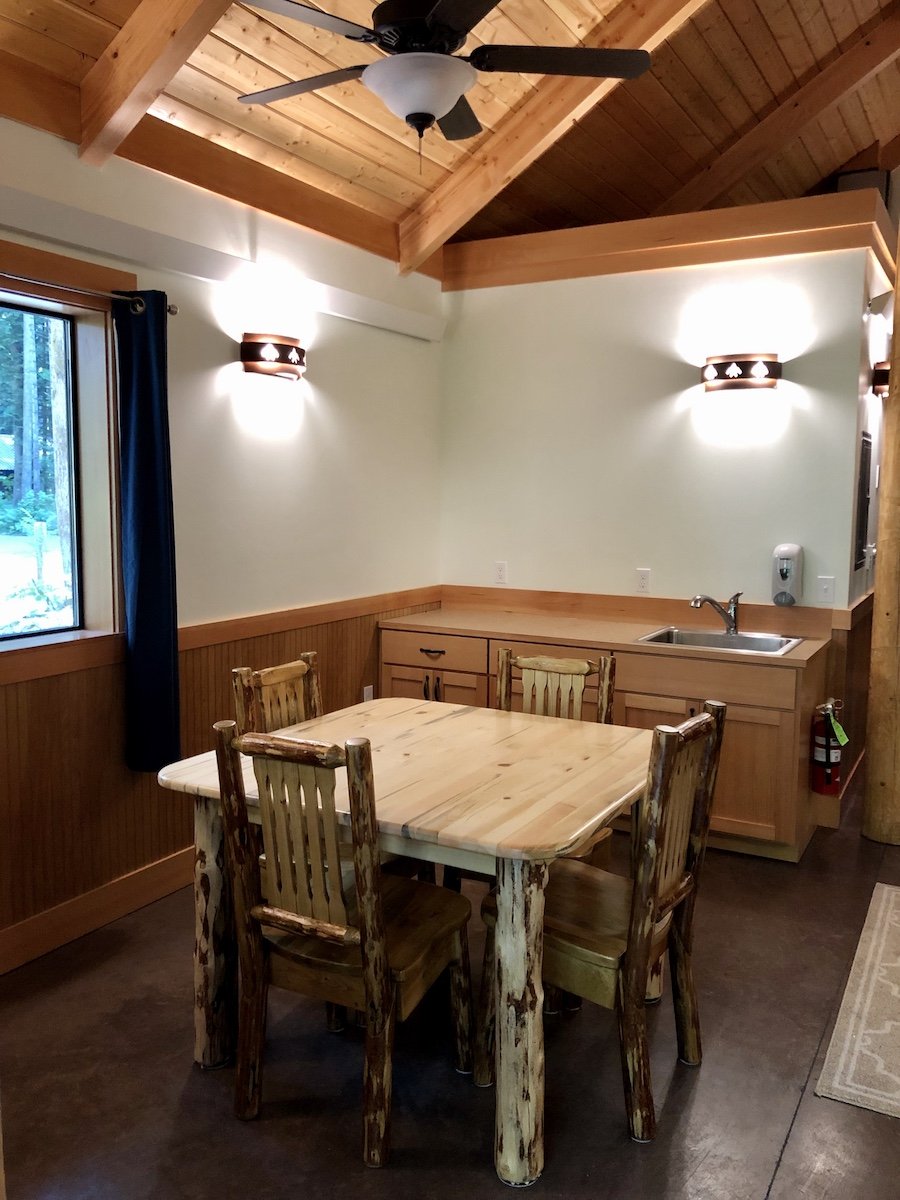 The only down side to the cabins is that they are across the highway and a long walk away from the river and the beach. It's a nice walk, but a long one, so if you're making it more of a day at the beach, complete with picnic, etc, you'll probably want to drive there with all your gear and cooler. You can dip in the water here, perhaps even launch a kayak or small boat further up then easily paddle down river, however the swimming might be iffy for younger children, and there is no lifeguard monitoring the beach.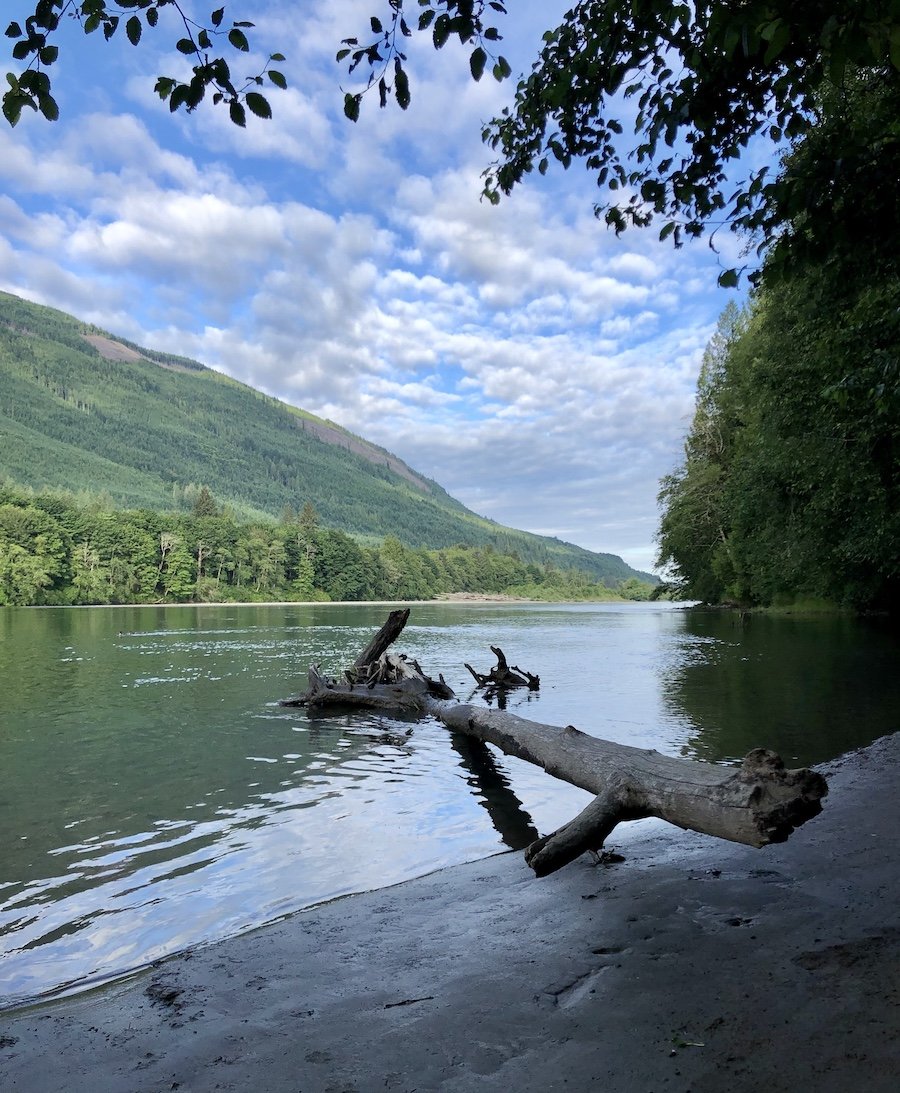 Rasar and Rockport State Park Hiking and Walking Trails
For those looking to hike, walk and explore nature, there are a number of options of varying degrees of difficulty, from flat nature walks to more ambitious mountain trails.
Easy Walking Trails for Everyone
Rasar State Park Trails: There are 6km worth of flat walking trails going around the perimeter of the north part of the park and along the river near the main camping area, as well as touring the hold farm lands that were once owned and tilled by the Rasar family. There are second-growth forest of big-leaf maples, cedars and Douglas firs, as well as plenty of fruit bushes and trees along the way, including Indian plum, salmonberry, bleeding heart, elderberry and huckleberry. Many trees are coated in moss giving the whole woods a look of being upholstered in soft velour. Be sure to go down to the river trail at sunset too. The views are awesome at that time.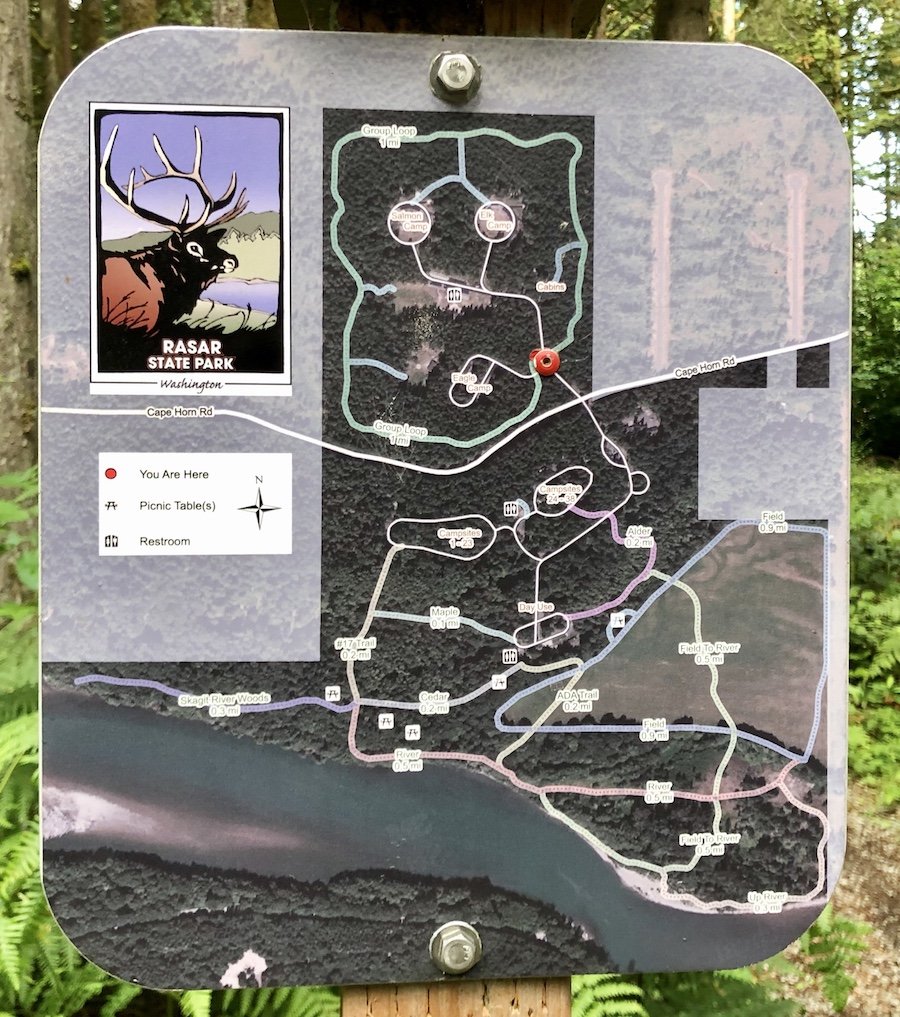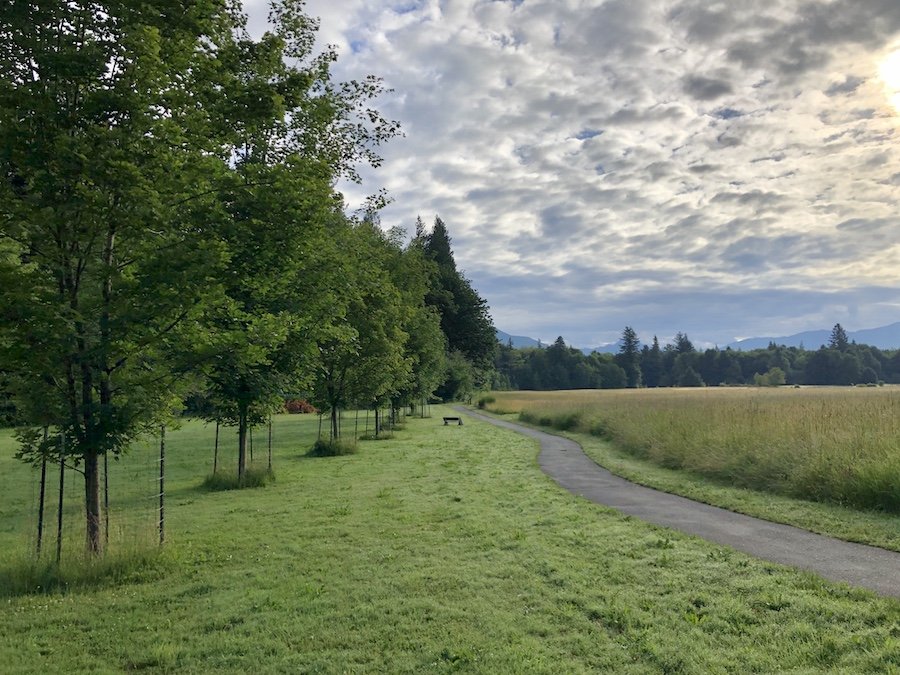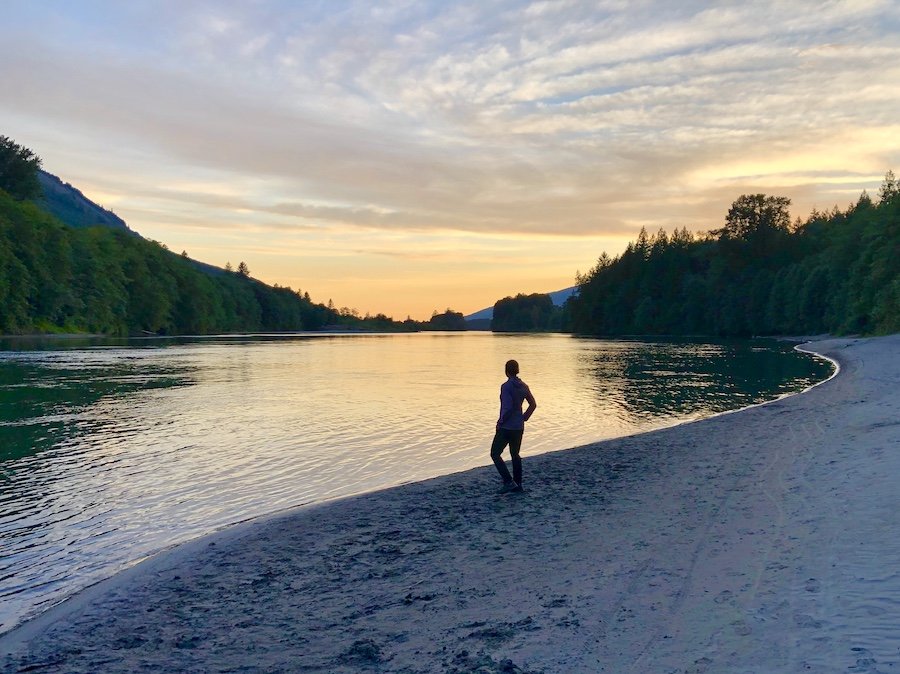 Rockport State Park Trails: A few kilometres up the road from Rasar, this park once allowed camping but has since been relegated to day use only with an initiative in place to help restore the park's ecological state. It is definitely worth a visit though, with several short, flat walking trails to check out. The best one is the Evergreen Trail, which offers 5km of trails through old-growth forest, with informational placards about the natural features of the area. Teaming with life at the ground level, there are also many towering red cedar and Douglas-fir trees to appreciate, some reaching heights of more than 250 feet. The Sauk Springs and the Skagit View trails offer another mile of easy hiking with a river overlook, though the views are somewhat underwhelming.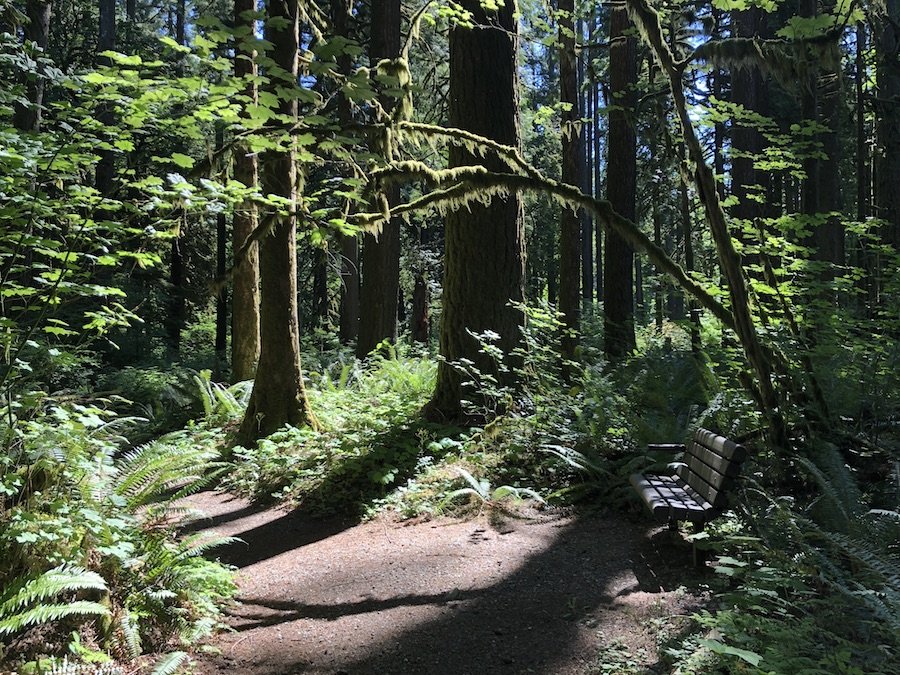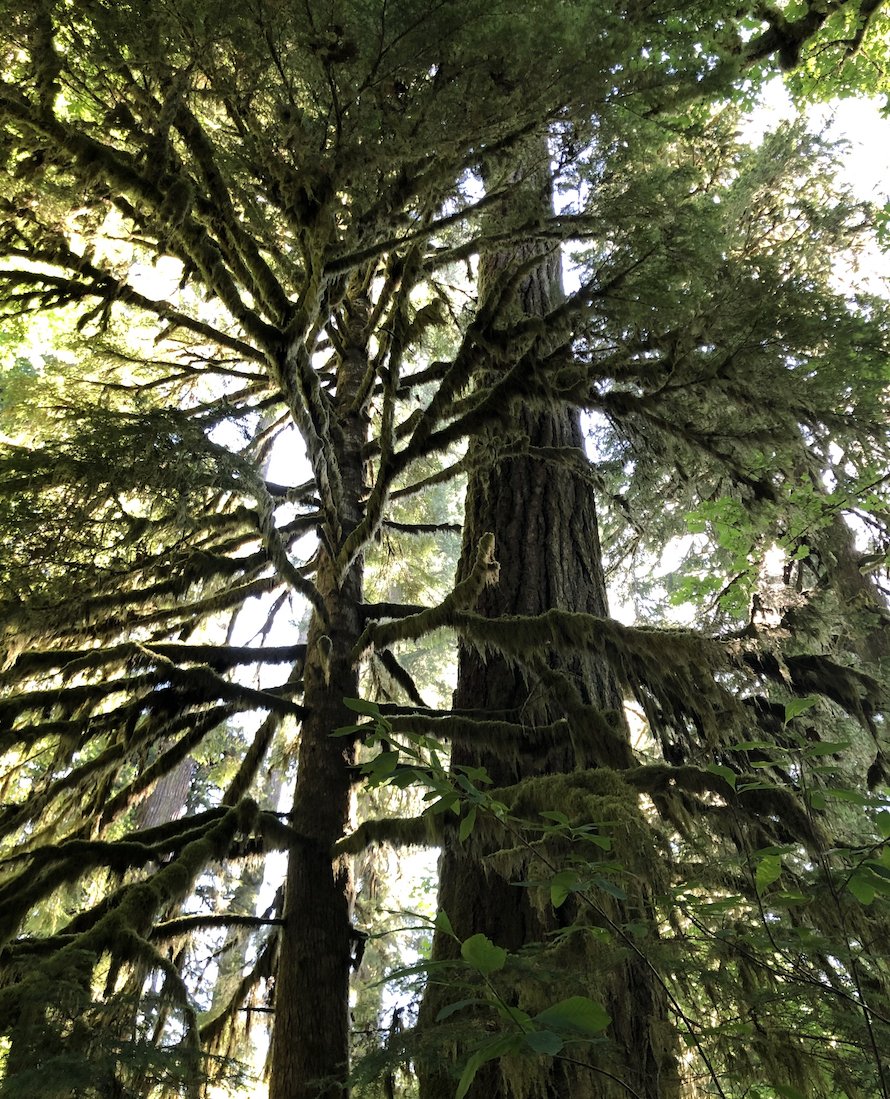 Sauk Mountain: A Hiking Trail for a Little More Challenge
A short distance away from Rockport is the Sauk Mountain trail, which is more my kind of trail. You have to drive most of the way up the mountain, nearly 13km on a somewhat sketchy forest service road near the west boundary of Rockport State Park. The hike from the trailhead to the summit is just over 3km, mostly switchbacks that are moderately steep. The summit offers gorgeous views of the Skagit Valley and the North Cascades, but you can still enjoy these views even if you don't go all the way up. My parents didn't want to do the whole trail, but we still got some amazing views only a short way up the trail. Even the view from the parking lot was worth the drive.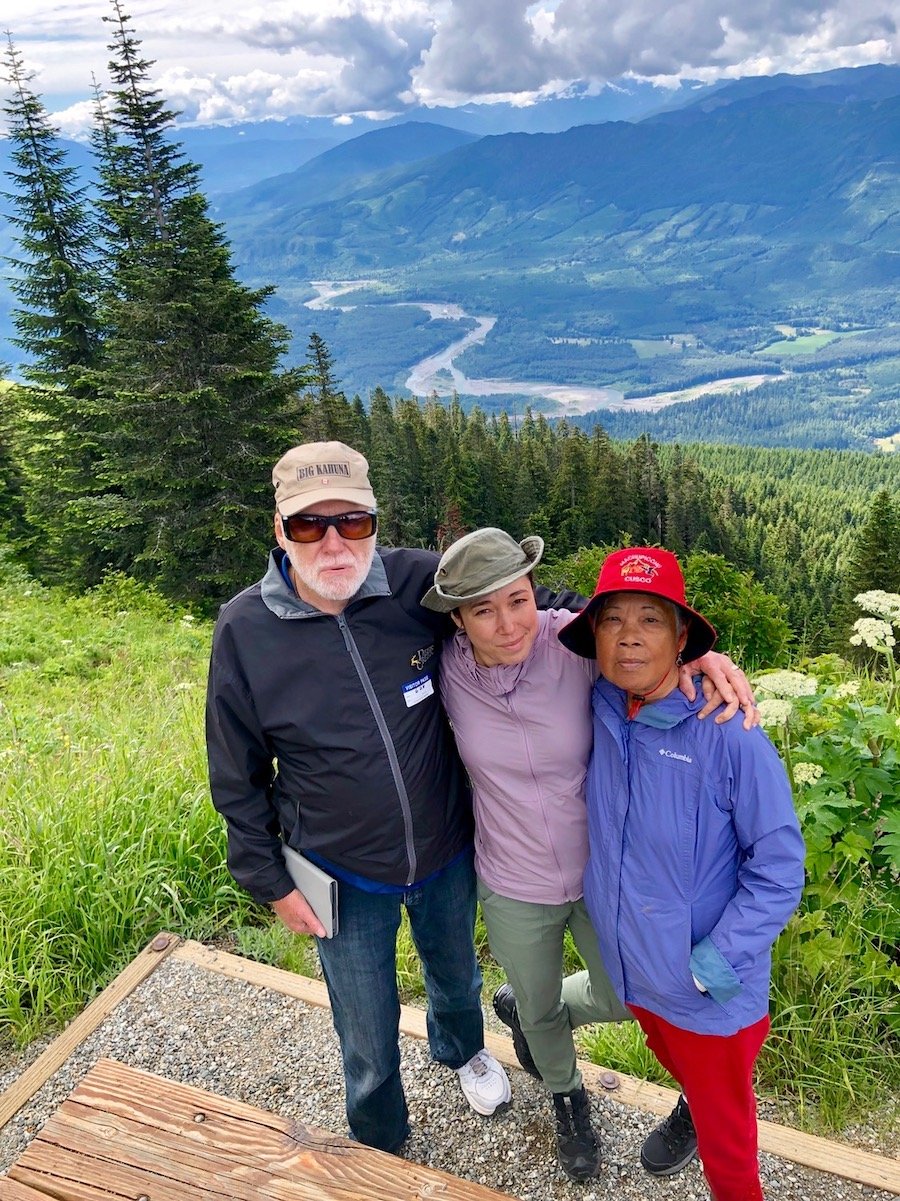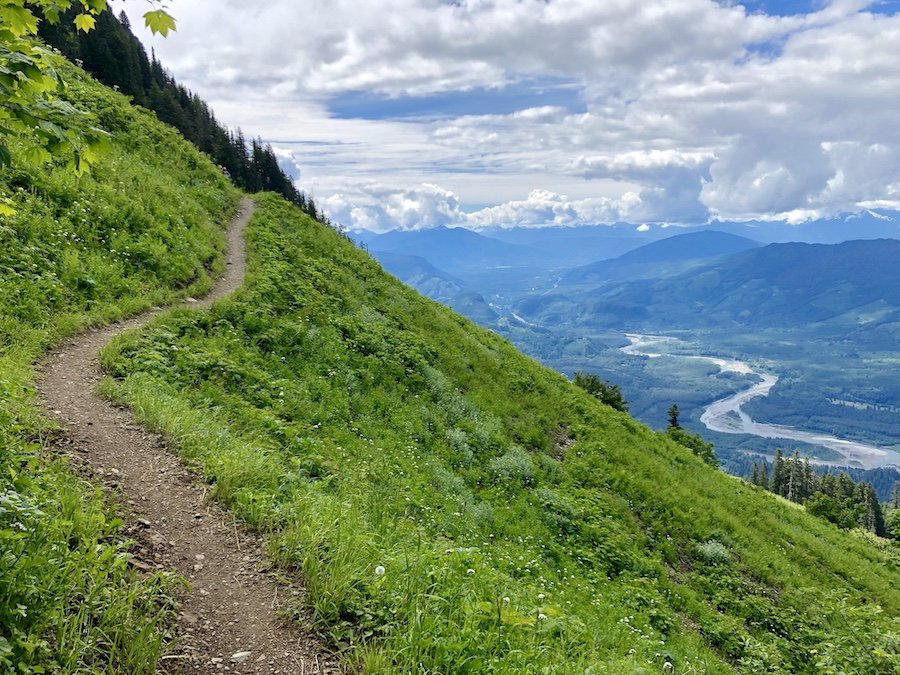 Other Local Activities to Enjoy
In addition to hiking, you can also enjoy a number of other area activities while camping in the area. get out and do some fishing, kayaking, even enjoy perusing the Concrete farmer's market that takes place Saturday from May 25 until Labour Day weekend. There is also a vintage aircraft museum in Concrete if you're into that sort of thing.
An Enjoyable Weekend, Family Glamping Trip
Camping at Rasar, whichever camping option you choose, is a great option for a laid-back car camping trip, with fun things to do for the whole family. It works as a weekend getaway, but I probably wouldn't stay any longer than that as there aren't that many things to do in the area, unless you're happy enough to just enjoy the experience of car camping in a not-too-busy camp ground.
Have you ever been to Rasar and Rockport State Parks? What was your experience like? Please share your thoughts in the comments.