When going to a foreign country where you don't know the language and you have no local contacts, you usually end up having to navigate through all the various tourist offerings to figure out what options best suit your needs when it comes to going on outdoor adventures. This is to ensure that whatever you ones you choose, you stay safe, to protect you against unknown dangers that come with the outdoors that might pose a threat, against dodgy business practices that may threaten your safety or that of the flora and fauna of the area, and to protect against fraud and theft. I sifted through a lot of online descriptions and reviews to pick out our chosen adventures for our weeklong trip to Cozumel, Mexico, which I'll share in this blog post.
Getting in Touch with Nature and Inner Nature at Ventanas Al Mar
We stayed at a quiet, eco-friendly, adult-only hotel on the east coast of Cozumel called Ventanas al Mar, which was perfect for being a quiet refuge from the craziness of the port side of the island where all the hotels are and cruise ships come in with their own visitors. It is the only hotel on the east coast of the island. This is probably because there is no power on that side of the island (the hotel is entirely run off generators). Because there is no power and no other establishments, it makes the hotel an ideal location for nights staring up at a star-filled sky, not to mention morning sunrises from your patio, if you get a seaside room. Bear in mind that you'll want to have a rental car if you stay at this hotel because most attractions are a drive away.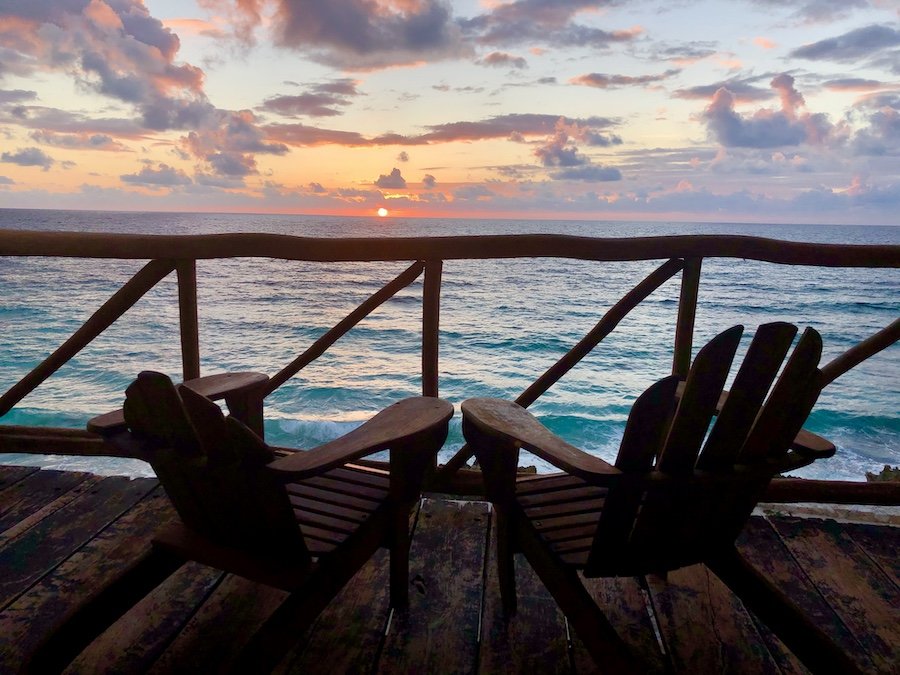 Because the hotel is run off generators though, there can be hiccups related to this dependence. The first half of the week we stayed there, the generator that was normally used to run the hotel's air conditioning was defunct, and because it was New Year's it took a few days before they were able to have it fixed. Even then, the generator for air conditioning is only run at night, so if you need to have AC 24/7 and are not able to deal with the potentially unpredictable nature of the generators, this may not be the hotel for you.
The hotel does, however, have many other benefits. The staff is friendly, kind and accommodating. They seem to genuinely care about giving their visitors the best possible experience at their hotel. Full breakfast is included with your stay, and it is served in their gorgeous open dining patio, in full view of the sunrise each morning. The beach itself is quiet and beautiful. I started each day with a walk on the beach as the sun rose with my feet in the water with no around but me and the birds.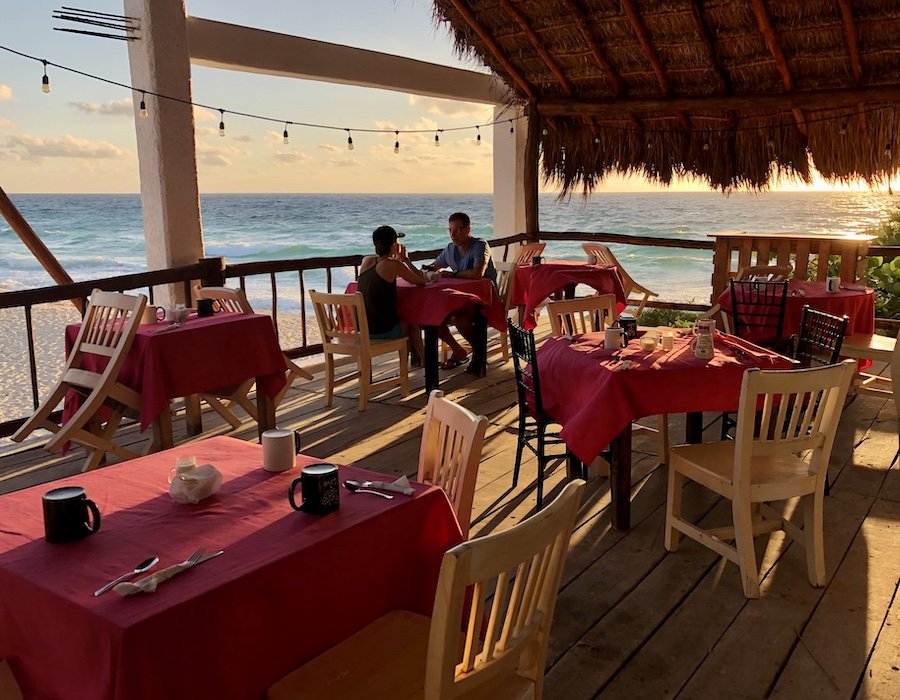 While we we did get out and a little snorkelling off the beach on our first day, most other days the waves were to choppy to go out. Even the day we went, I got a little seasick from the waves. There are some coral reefs and fish to see there, but nothing anywhere near as pretty as what we saw at Playa Azul, about which I'll go into more detail later on. It was fun to go out and just play in the waves, followed up by a relaxing swim in the hotel's heart-shaped pool, which was cleaned every morning and not disgustingly over-chlorinated.
The east side of the island seems to be better known for surfing beaches, as we saw a couple of surf schools on its shore, though we didn't have time to give it a try ourselves. A little further south, driving distance of the hotel is the El Mirador Lookout, which is worth a stop if you're on the way to some other place.
Scuba Diving Adventures in Cozumel
Our main interest in going to Cozumel was to do scuba and free diving. With so many reefs to explore, and drift diving that is famous the world over, we were excited to get in the beautiful turquoise waters. Scuba Life Cozumel had the best reviews on TripAdvisor, so we decided to book two days of diving with them. On our first day, we went out on a boat which took us to the Palancar Caves, a part of the Palancar Reef where the coral forms natural caves to swim through and explore. We saw lots of different colourful reefs and the experience of swimming through the coral caves was unique and memorable.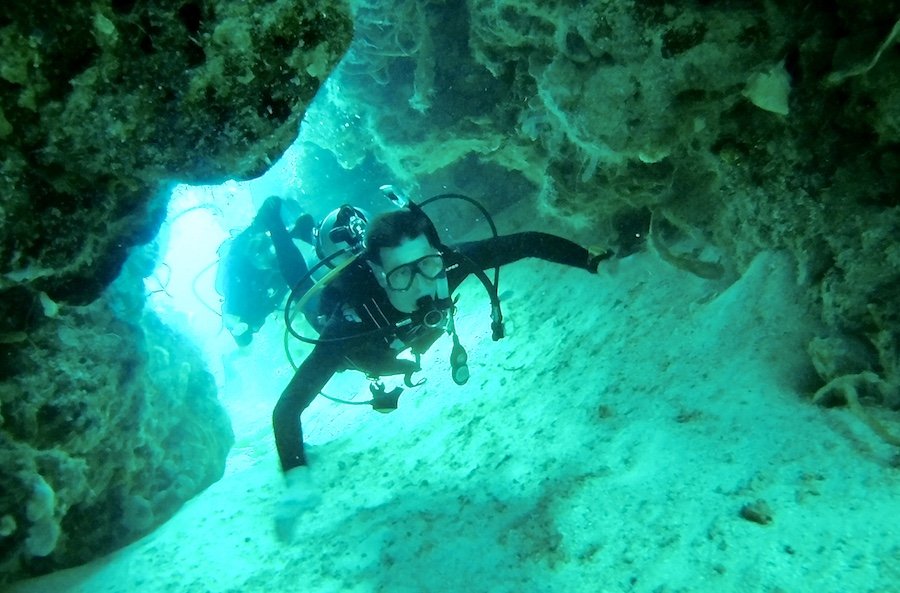 The second dive we took was at the San Francisco Wall. This was a drift dive during which we effortlessly swam with the current, exploring all the marine life living in the wall, including moray eels, lion fish, puffers, lobsters, stingrays, etc. While it didn't have the same wow factor as the caves, we did see quite a lot of marine life, which made the dive special. Sadly, our second dive day got cancelled due to a storm, but Scuba Life promptly issue us a refund for our lost day, and made some excellent suggestions for offshore free diving, which we made use of.
Free Diving/Snorkelling in Cozumel
The best shore location we went free diving at was Playa Azul, on the northwest coast of the island. It, along with the beach at Money Bar Beach Club were their top recommendations for free shore-based snorkelling. We only had time to go to one at that point, so we went with Playa Azul. Both beaches are accessed through resorts, but you have only to walk through the resort to get to the beach. Parking is free at both. You don't have to pay anything to go out snorkelling, unless you need to rent gear, though I'm sure the local establishments would appreciate your business.
Playa Azul has a few dock access points to the water. You can basically put your gear on and jump in to water that 6-8 feet deep, and right into your free diving/snorkelling adventure. There are a number of submerged statues along the length of the waters, and plenty of fish to see. We saw barracudas, angel fish, trunkfish, pork fish, butterfly fish and more besides.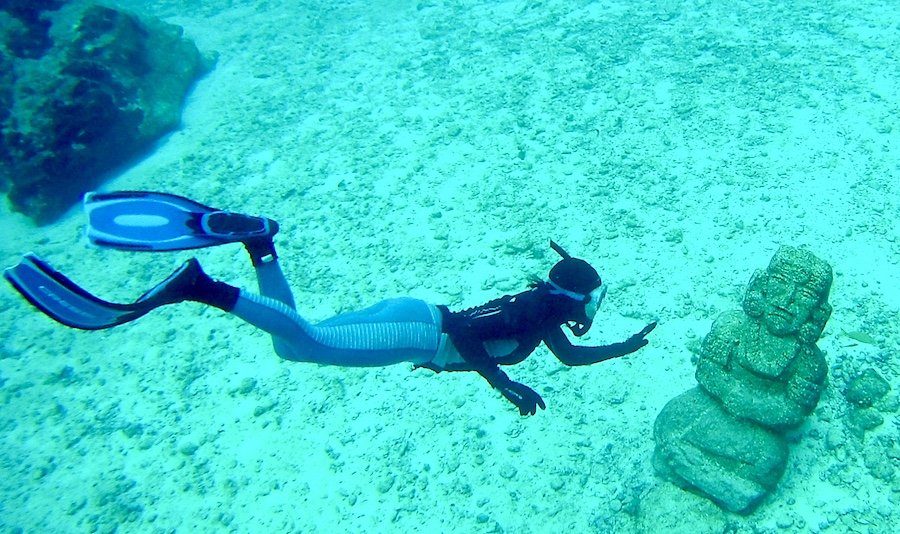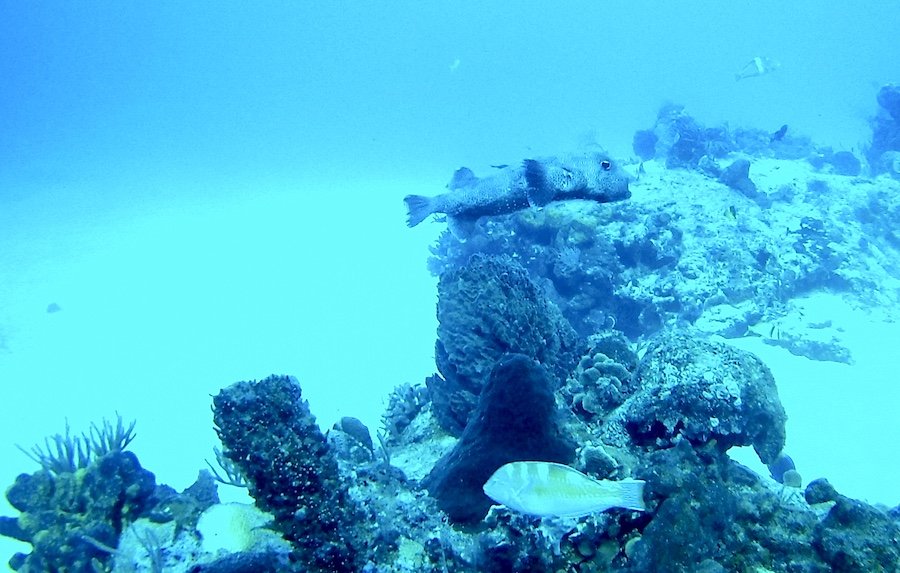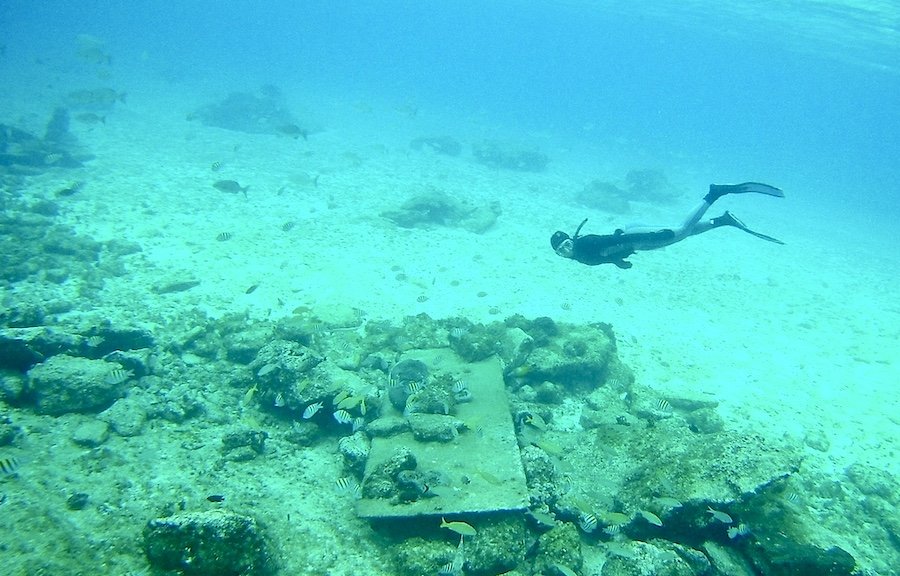 Avoid tours like the one offered at Stingray Beach, where they keep a few depressed sting rays and sharks penned just off the beach so that tourists can get close to them and force them to be held just so they can get picture with them. We were really glad we asked for suggestions from our environmentally-sensitive diving masters because they were the ones who advised us against places like this.
Crocodile and Other Wildlife Viewing and Clear Blue Waters at Punta Sur Ecological Park
When I read that the Punta Sur Ecoolgical Park was a state reserve that put all its entrance fees toward the park's conservation efforts, I wanted to give it a visit. I was particularly interested in its unique lagoon system of which you can do a guided tour free with your admission fee. Our tour guide spoke many languages and showed us a flock of flamingos, as well as a crocodile asleep in the sun. You can spot more crocs at various viewing towers in the park too. If you're lucky, you may even spot some colourful birds just walking around the area. While we were changing at our car into our wetsuits, we saw a bright green hummingbird flitting around all the tree buds next to our car for a full five minutes. In addition to the flora and fauna in the area, there is also a light house and a few Mayan ruins you can also check out. If you're in the park for the day, it's not much trouble to check them out, but they're not the highlights of the park.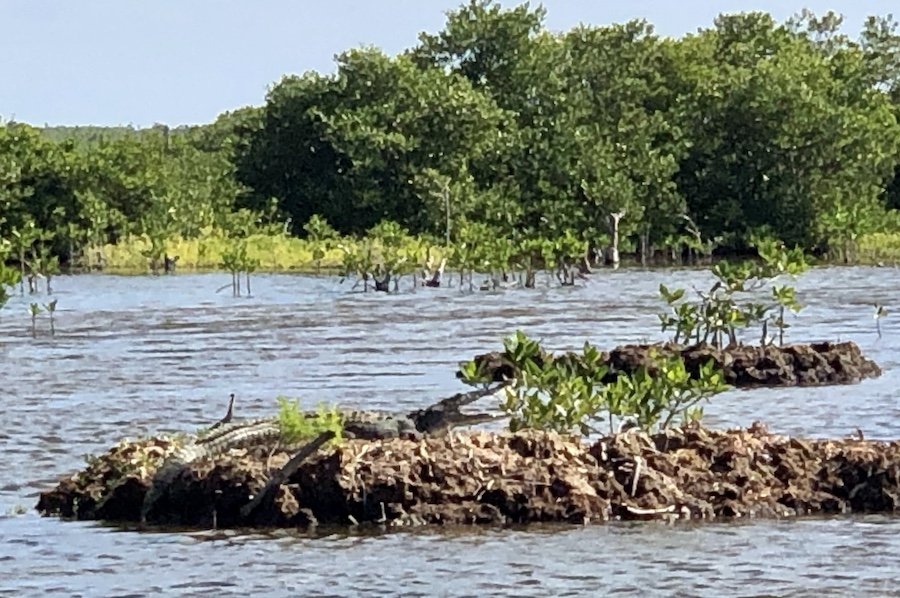 There is snorkelling in the park, but the area closest to shore is mostly sea grass. You'll see a few colourful fish here and there, and if you go further out to Playa Del Cielo, the waters are bright turquoise thanks to the white sands below reflecting the sky. Other than that, you'll only see star fish around there though. As a snorkelling destination, Punta Sur isn't all that special. You can, however hang out in the lounge chairs and hammocks in the beach. Servers will try to sell you drinks and food, but you don't have to buy anything to use the chairs, and they make it clear that's the case. Of course, they would prefer that you did and there is a policy of no outside food in the park.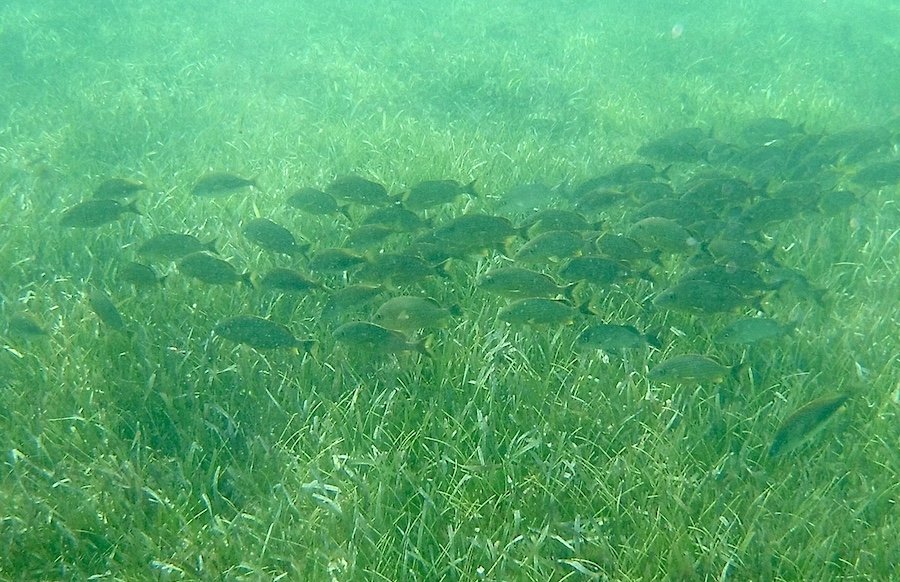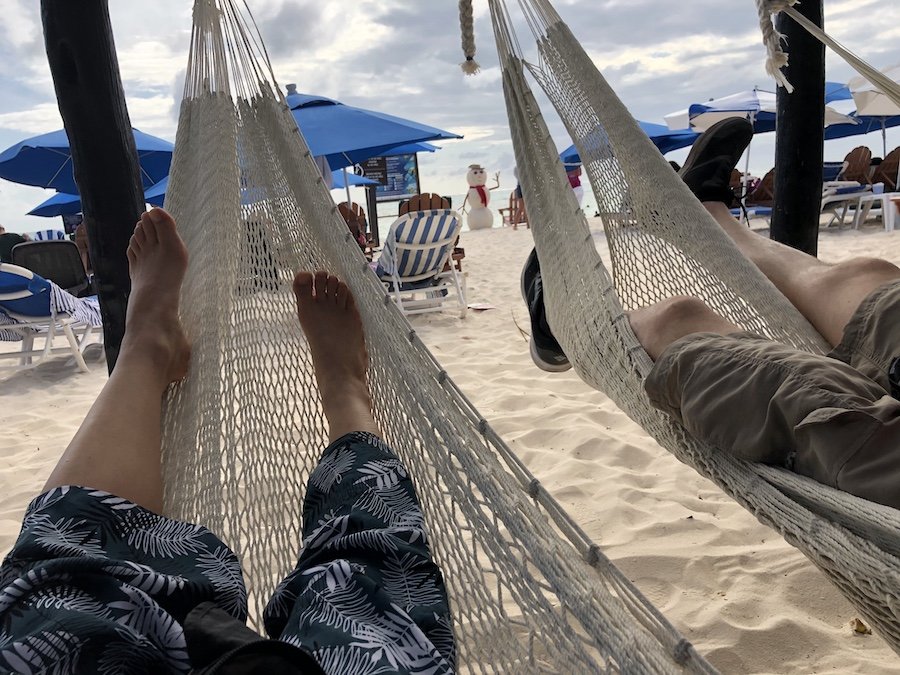 One other rule to note is that sunscreen is not allowed in the park. While reef safe sunscreens do exist, they aren't widely available in Mexico, making it hard to police, so they just don't allow it at all to prevent damage to sensitive coral reefs in the are. If you go to the park, respect this rule by wearing sun protective clothing to prevent damage from the sun's rays, in the water and out.
Venturing Out in the Jungle
We decided that we also wanted to take a little adventure into the jungle and check out a cenote on the island, so we signed up for Cozumel Jungle ATV's Jade Cavern Cenote Excursion. I had never ridden an ATV before so this was a great opportunity to do so. Our guides were good at making sure everyone understood riding safety and etiquette with an instructional video that was reinforced with verbal instruction with feedback before we headed off. The ATV trail was bumpy and muddy in places but that just made it all the more fun a ride.
Our main destination was the Jade Cenote, revered and enjoyed by the ancient Mayans. There was a small Mayan relic marking its entrance. We got to take a swim in its clean mineralized waters and stare up at the stalactites and the massive colony of bats slumbering on its ceiling. We also got to do a slow drive through the Coral Cave, which was once a Mayan habitat. The entire experience of riding the ATVs, visiting the cenote, as well as the subsequent free tequila tasting was a memorable experience that was worth the expense.
Cozumel for Outdoor Adventure
Overall, we found Cozumel to be a lovely place to go on an outdoor adventure location, but we might not have enjoyed it as much if we had stayed on the main strip with all the noise, tourists and cruise ships. My suggestion would be to find a place off the main strip, either on the northwest or southwest, or if you want to go further off the beaten path, stay on the east side at Ventanas Al Mar. Make sure you do your homework and figure out your activities ahead of time, especially if you're going during the high season. We waited a little too long and only had 2 days to choose from in a week because it was all booked up at the place we had chosen. I would also recommend staying for at least 10 days, as we found that one week wasn't quite enough to really relax into it, while still getting out and doing various activities. While this trip wasn't the wildest of outdoor adventures, we were there mostly to relax and spend time by the ocean and in the ocean, and have a bit of fun, and that's exactly what we did.
Have you ever been to Cozumel, Mexico? What kinds of outdoor adventure activities did you try out? Please share your experiences in the comments so that everyone can benefit. :)