Under the current COVID travel restrictions, we are advised to stick to local mountains for our outdoor activities. This past weekend, Chris and I decided to celebrate Valentine's Day cozied up together in a tent on a snowy mountain after a day of snowshoeing. We chose Mount Seymour Provincial Park as our local destination, which would be Chris's time experiencing it in winter. Myself, I have snowshoed there on multiple occasions and done one overnight winter backpacking trip, so I already had a good idea of what to expect.
Well-Marked Winter Routes for Snowshoers of Every Level
One of the appealing things about Mount Seymour is that it has trails that are manageable for snowshoers of every level, each of them well-marked with orange tipped poles. All of these trails can and should be done without snowshoes, using good boots and micro-spikes instead if there hasn't been any recent snow. For the times I have gone though, I've usually gone super early to take advantage of fresh snow, so I mostly relied on snowshoes.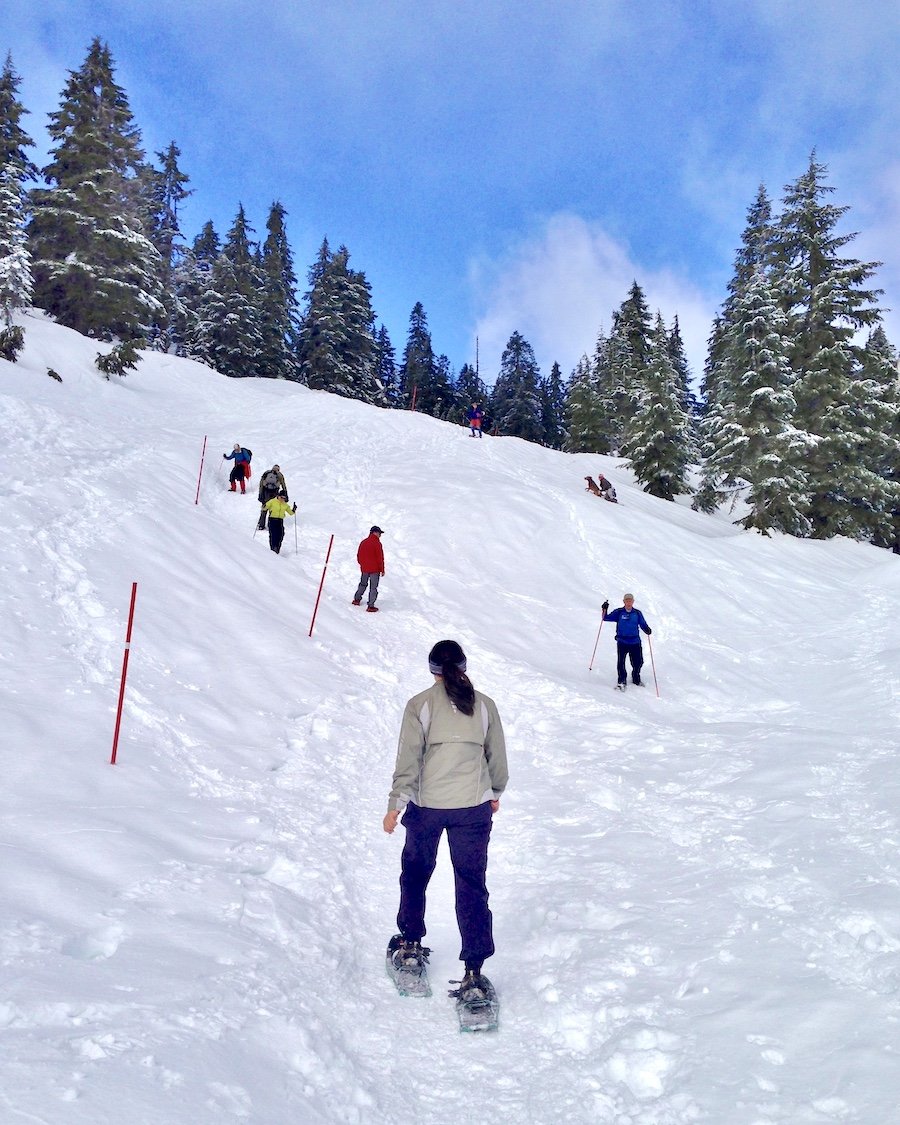 As with all mountain snowshoeing, be sure to check the avalanche reports before making tracks. They can be found at Avalance.ca. If you're using the provincial park trails, your are required to park at lot 1 or 5. If staying overnight, you have to park at lot 1, leaving a note indicating the duration of your trip and where you plan to camp on your dashboard. All the provincial park trails are free to use for day trips and overnight camping, but there is a $15 day pass fee for the discovery trails run by the resort. From what I gathered from the park website, if you're new to winter camping and just want to practice your set-up without straying too far from your car, you can currently do walk-in camping at the group campsite next to the parking lot. The shelter is closed to public use due to COVID for now, but you can just go in there and pitch a tent and if you get cold feet, so to speak, you can just go right back to your car in a 2-minute walk.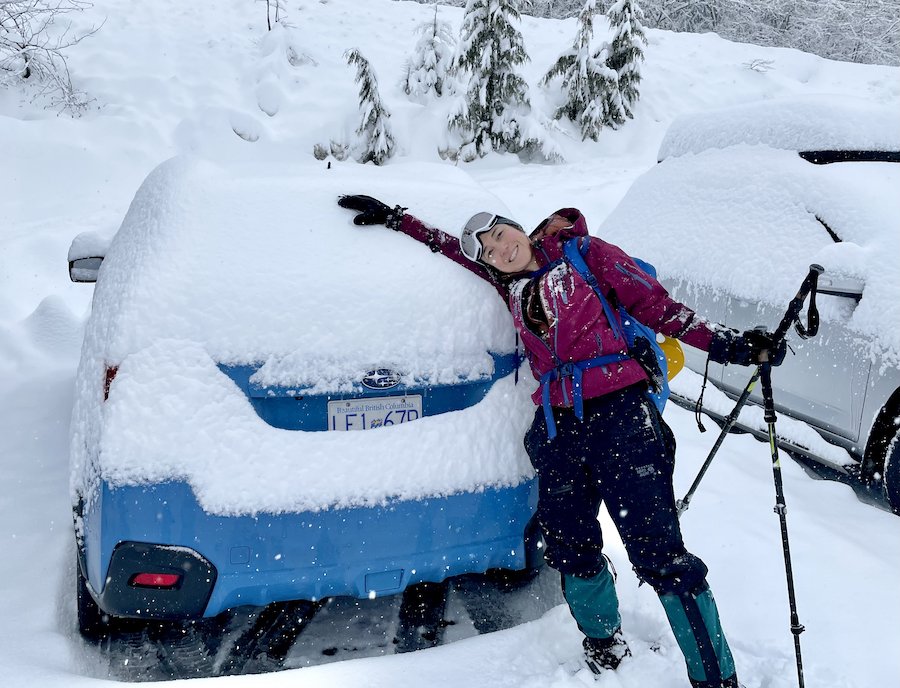 Discovery Trails
The easiest trails at Seymour by far are the Discovery Trails available through the Mount Seymour Resort. Unfortunately you have to pay for a day pass to use those trails, and there are no winter camping opportunities there. The may be a better choice for someone who needs flatter trails as they work their bodies up to handling greater physical challenges. Since there are loops built into the trails, they're pretty flexible if you want to change your plan. You can choose to go further or turn around and go back without having to hike the same way you came. I've never used them myself though since there are free trails with better challenges (and views) available through the Mount Seymour Provincial Park. Just make sure you have a map and GPS capability so you don't bite off more than you can chew.
Dog Mountain Trail
The Dog Mountain Trail is by far the most popular of all the winter trails. I've done this trail quite a few times in the past. It's a shorter trail, only 5km round trip, taking 1.75-2.25 hours on average, round trip, depending on how busy it is and how strong a snowshoer you are. It's not perfectly flat, an undulated trail that brings you up and down until you reach the Dog Mountain lookout where you get a gorgeous view of the city on a clear day.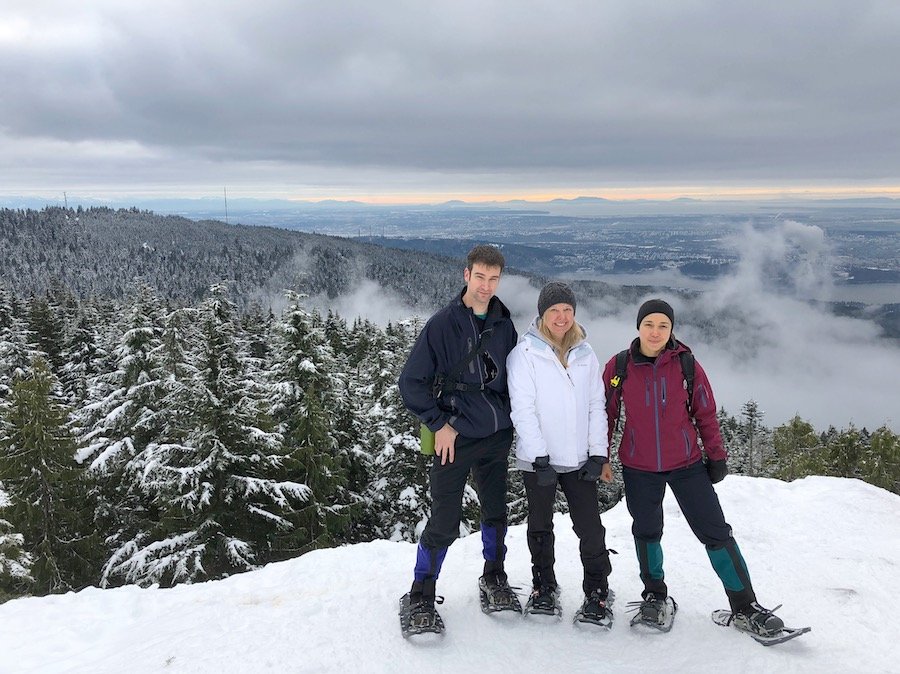 On the way, you'll pass by First Lake, which makes a nice stopping point for a few photos as well. You can't camp at Dog Mountain, but it is a great trail for a shorter day trip that's not physically demanding if you're in good shape, and a rewarding view that everyone can appreciate and enjoy over a hot chocolate and a snack.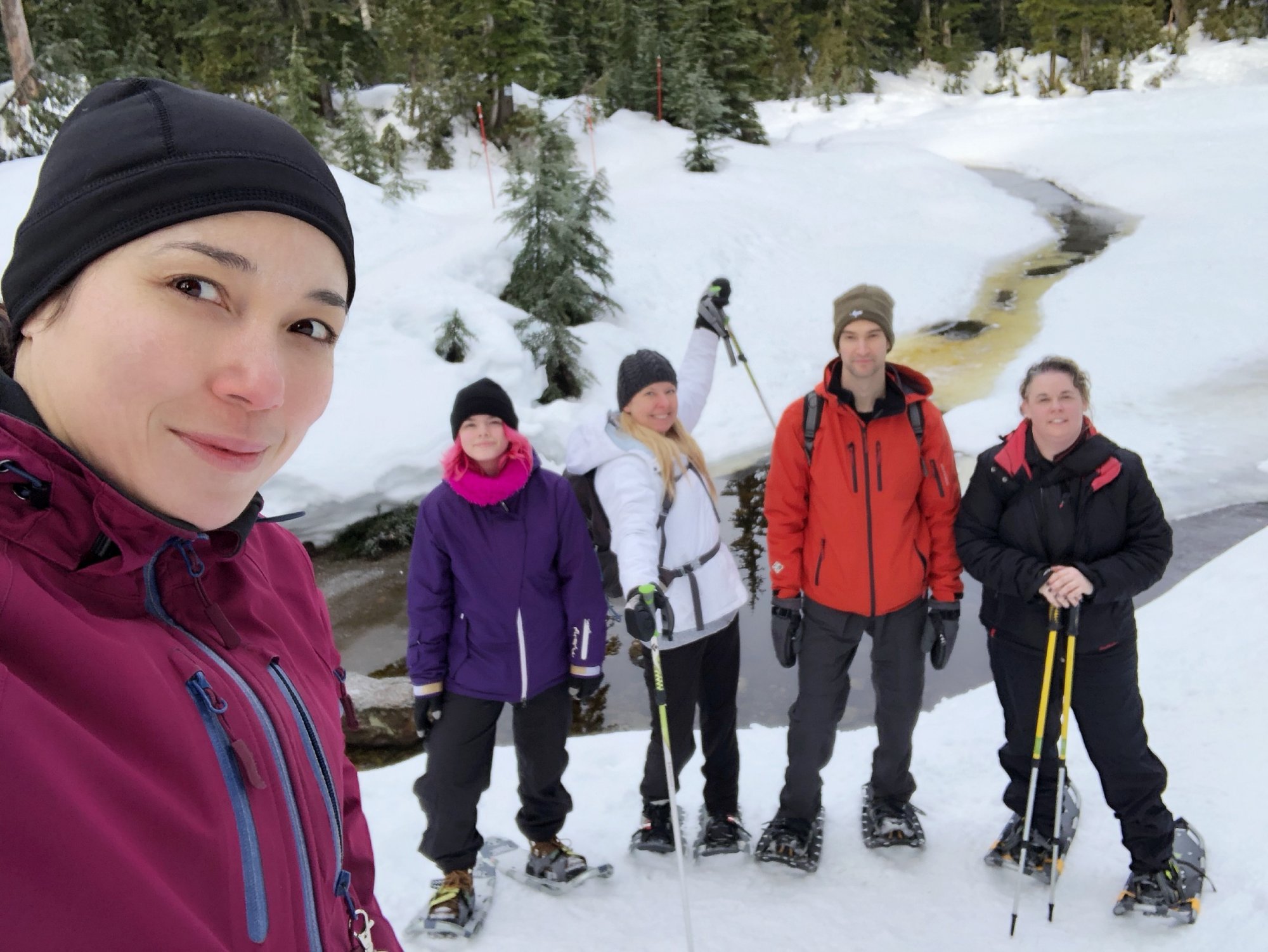 If you go on a weekend mid-morning, expect a LOT of traffic. If the COVID-19 pandemic is still a thing as you read this, you'll definitely want to wear a mask if you go on a weekend morning. Some people will go later, closer to dusk, so they can watch the sun set over the city. There would be less people at that time, but on a weekend, it would still likely be busy, especially on a clear day when the view would be at its best.
Dinkey Peak Trail
The Dinkey Peak Loop Trail is a much shorter trail than Dog Mountain, only 2.5km, taking only around 1 hour or so, if you take the route that loops you around First Lake. There is a bit more inclination (96m elevation gain) than the trail to Dog Mountain, but it's half the distance. It also tends to be a little less busy than Dog Mountain. If you want to make it a shorter trip, you can leave out the loop around to First Lake, making it a little less than 1km.
The time I did Dinkey, we went there direct as it was me and my hiking partner's first time doing winter camping and we wanted to get there faster to give us enough time to set up camp before the sun set. We were taking it really slow, carrying heavy packs and doing our best to not sweat too much so we didn't get too damp (we had decided not to bring spare clothes to minimize weight), which would put us more at risk for hypothermia. We had a few mishaps setting up our tent, the worst of which was a tent pole that slid across the surface of the snow and partway down the mountain, burying itself in the deep snow tip first. It was a bit of a struggle to find it, but I did, and we got set up just in time for sundown. It was really cold so we opted to skip on the dehydrated meal and just eat heaps of jerky, cheese and trail mix instead, of which we had plenty.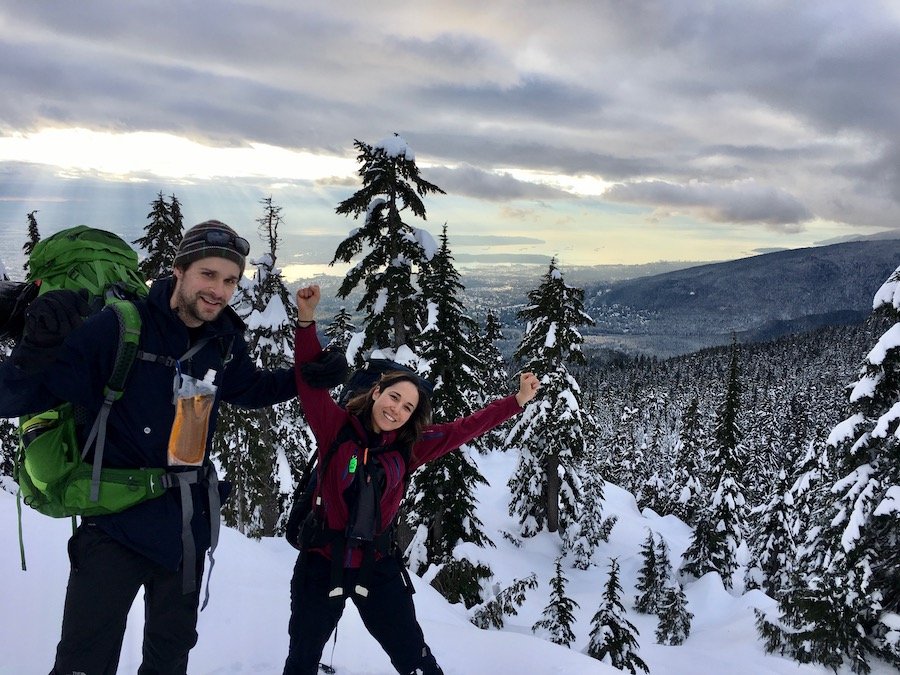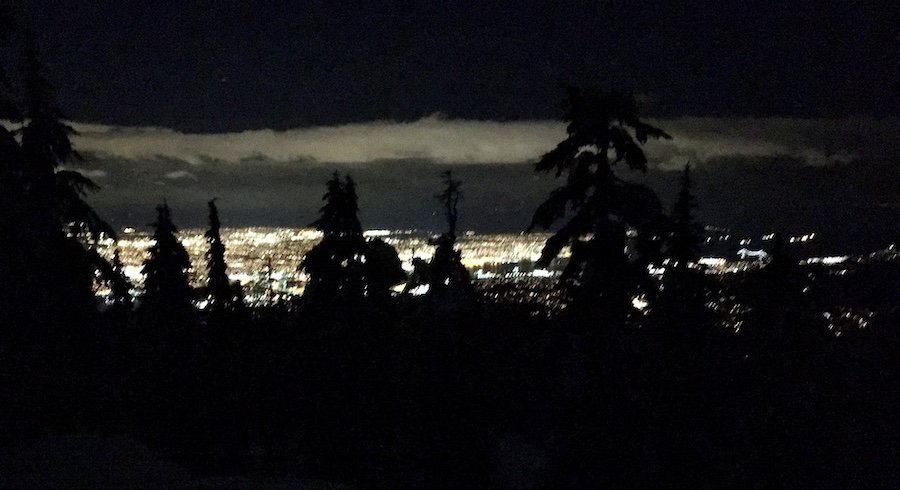 Although it snowed overnight, it wasn't so much that we didn't have enough periods of clear skies to see the city lights far in the distance below. We also had a gorgeous clear morning, complete with whiskey jacks trying to steel our oatmeal. (*Note: At the time we did our overnight on Dinkey there hadn't been any limitations on camping there, but it appears that may have changed at some point as the Mount Seymour Provincial Park website says that backcountry camping is allowed north of Brockton Point, and Dinkey Peak is not.)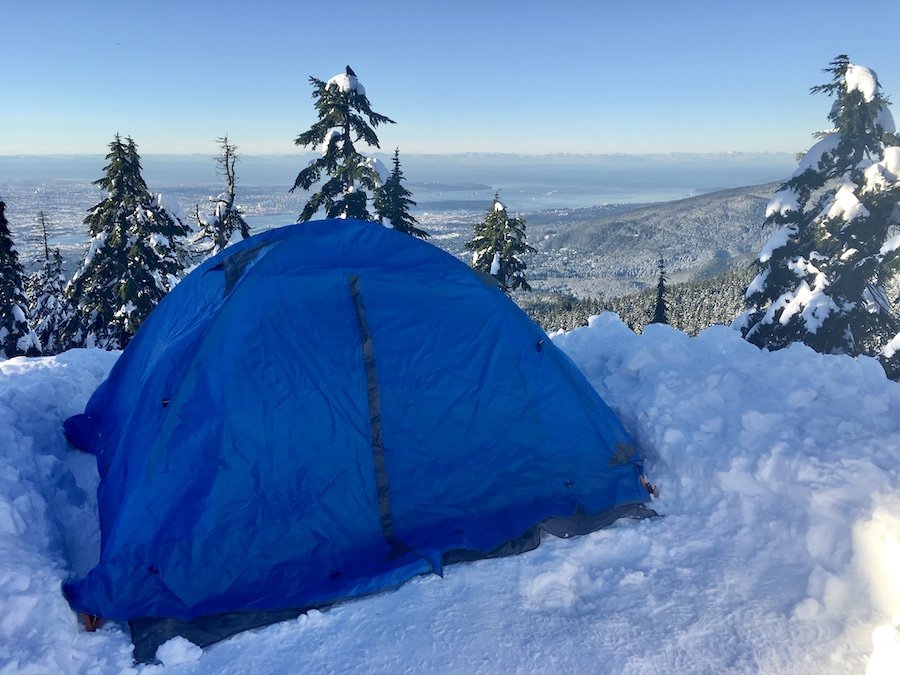 Pump Peak Trail
Pump Peak trail is also quite a popular trail, shared by both snowshoers and backcountry skiers, but there's also more room for people on and off the trail to make space for COVID physical distancing. I would still wear a mask if going on a weekend mid-morning for the busier sections of the trail. It's always a good idea to have a map and GPS, just in case the conditions change and the route becomes harder to follow, especially if you're doing the Pump Peak trail. It's a longer trail of moderate difficulty, 7km roundtrip, taking around 3-4 hours, depending on your ability and how long you stop at the top. Net elevation gain is 373m, so be prepared to get your heart pumping a bit. The trail mostly goes uphill, with a few dips in the terrain at the treelike before making your final ascent to Pump Peak. The view from alpine portions and from First Pump Peak are awesome to behold on a clear day.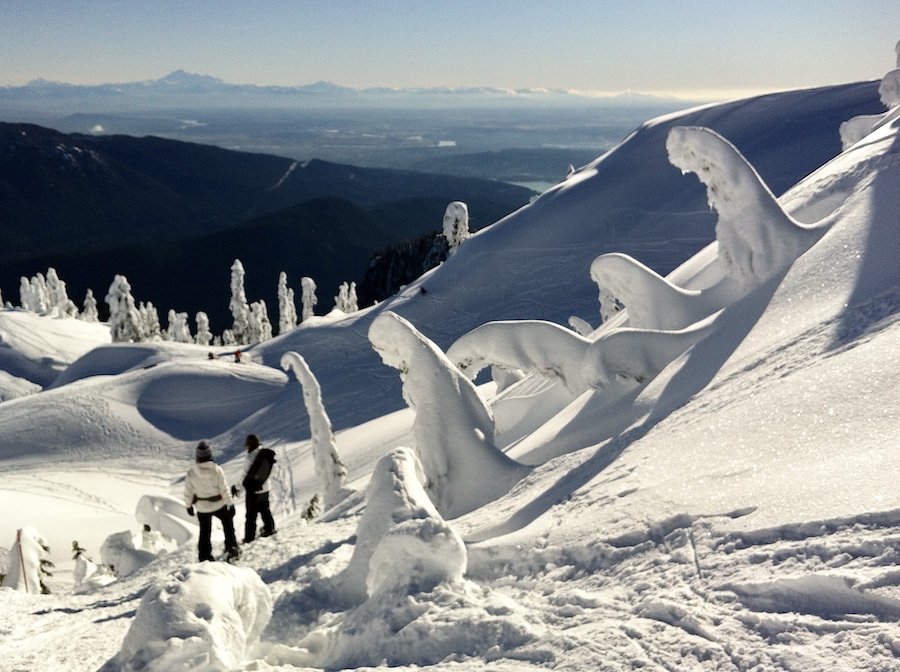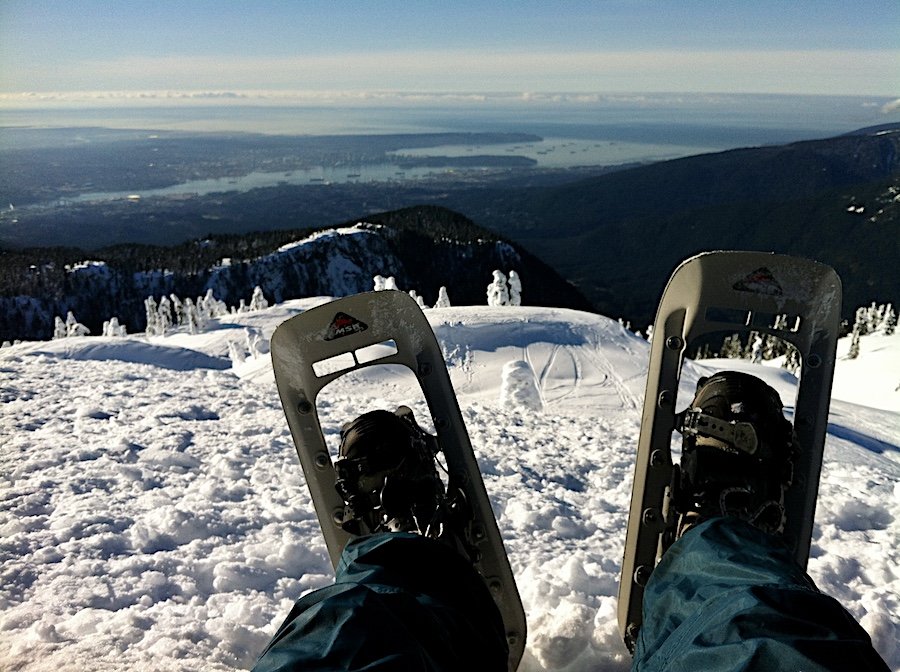 On my most recent trip last week, Chris and I went on a day when it was snowing enroute, getting around 10-15cm over the course of the trip. It tends to be warmer when it's snowing, and since we were camping the night, I didn't mind too much, with an expected low of -3C and a windchill of -8C. Since the skies were going to be overcast the whole time, and the avalanche risk considerable at the alpine levels of the area, we decided to focus on finding a good camping spot north of Brockton Point close to the tree line, and didn't bother making the ascent to Pump Peak.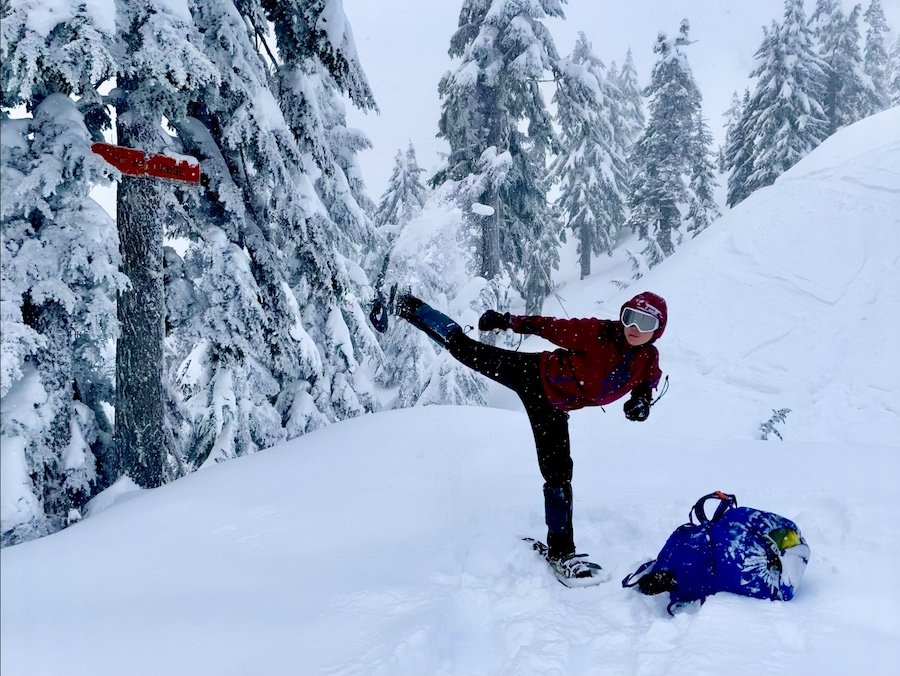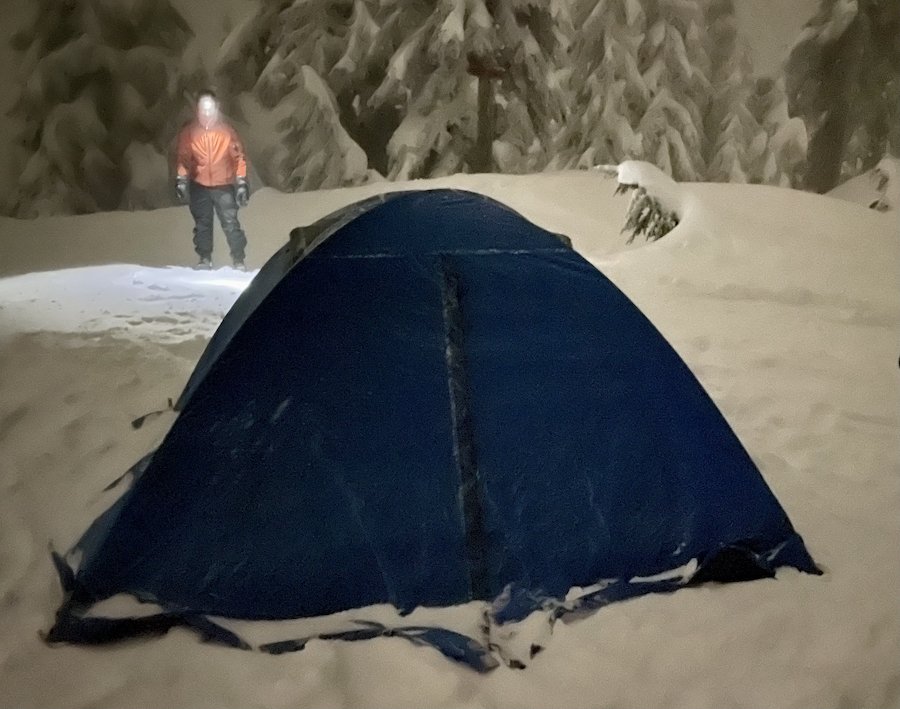 While we didn't get the views, but we did get the fresh snow, which is its own beautiful experience. Getting to make fresh tracks and be the first ones to snowshoe on the upper levels of the trail is truly magical.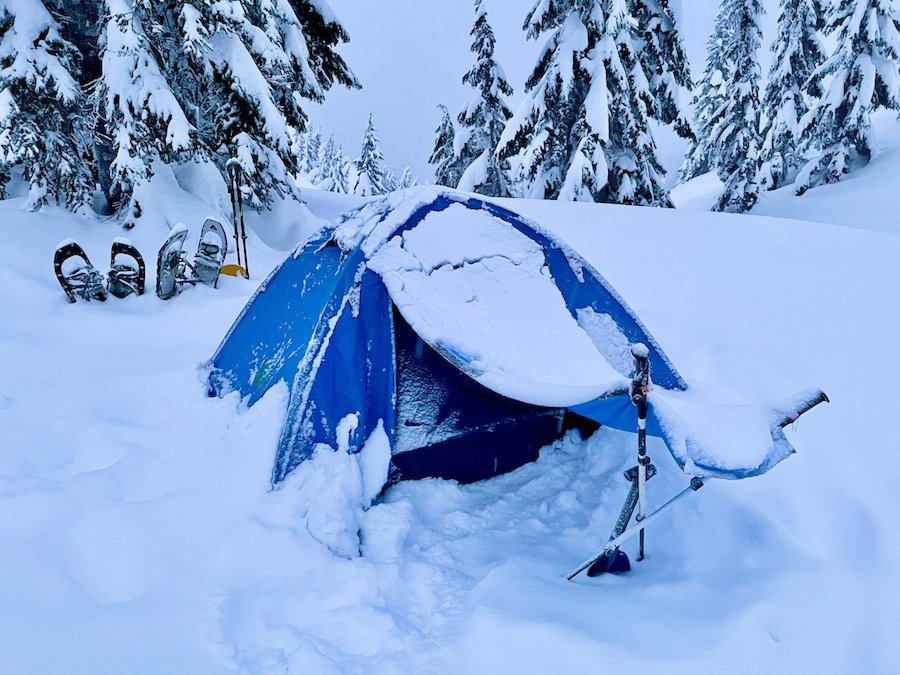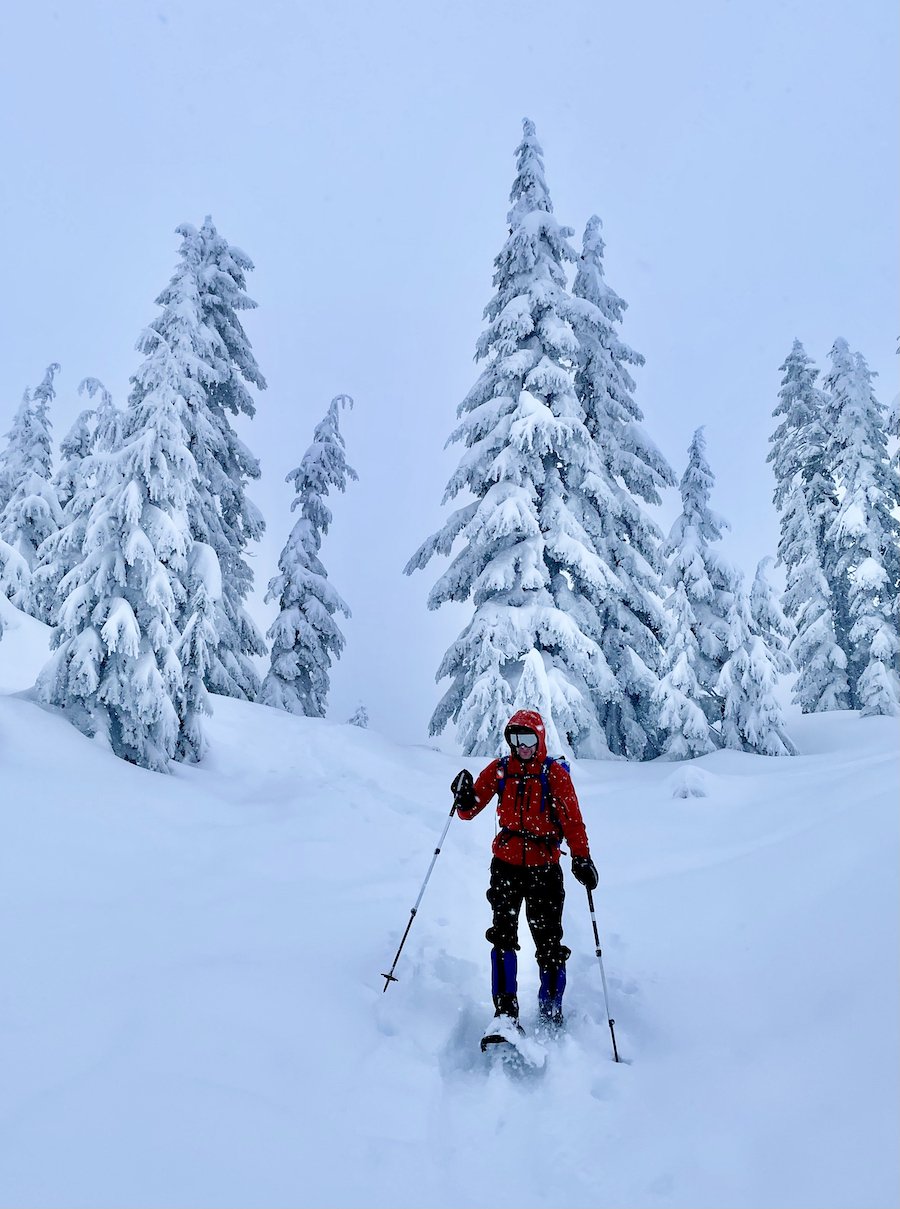 Choose Your Own Snow Adventure
While we may all be limited to local outdoor adventure activities at the time of writing this, at least we are fortunate enough to live in an area that has abundance opportunities to enjoy nature that is scalable for anyone interested in giving it a go. Just be mindful of COVID restrictions and make sure you bring and wear a proper mask appropriately, and if you can, try to go at lower traffic times. Have fun and stay safe!
Have you ever done any backcountry snow adventures at Mount Seymour? Please feel free to share your experiences in the comments. :)