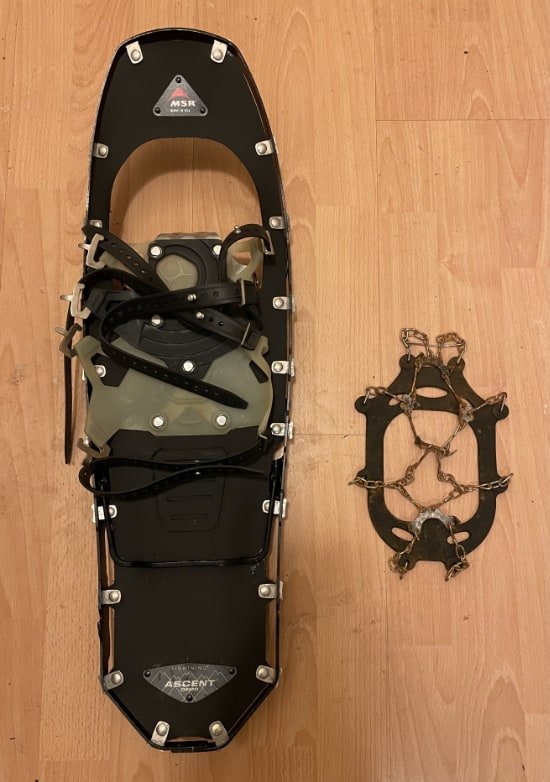 One thing that I have noticed when I go out hiking/snowshoeing in the mountains at winter here in the Vancouver area is that many people only have snowshoes, so that is what they bring with them, no matter what the conditions are. They likely do this because they haven't much experience with winter hiking and only go out once or twice a year at most. The reality is that this far from optimal, and possibly even dangerous depending on what the conditions are like. I have been wanting to write a piece explaining the differences for people who want to get into snowshoeing/winter hiking.
Snowshoes: For Powdery or Deep Snow
Design: A wide, light foot frame that is bound to the foot. Purpose: Worn to float on powdery or deep snow on flat to moderately sloped terrain.
The wider, longer footprint of snowshoes serve to distribute the hiker's weight over a larger area, allowing them to walk on snow. While they are generally designed as floatation devices, some are equipped with crampons for traction to deal with mixed snow-ice conditions, most are not intended for use in icy conditions. The same can be said of sloped terrain. Some more expensive models are equipped with heel lifts to make going uphill more comfortable, but most don't have this feature, mean more for traversing flat or low-angle terrain.
Snowshoes vary by size of footprint and materials. When choosing a pair, bear in mind that the deeper the snow, and the greater your weight (factoring in your pack as well), the longer and wider the frames should be to allow you to float over the snow. That being said, those that are smaller and narrower are better suited for compacted snow on well-travelled winter trails. I use the MSR Lightning Ascent Snowshoes, along with the additional floatation tail attachments when I'm going out in deep snow with a heavy pack.
Microspikes: For Icy Terrain
Design: Chains with small spikes that are attached to your boots or shoes. Purpose: Worn in icy conditions on flat to moderately sloped terrain.
Microspikes are made up of chains and small spikes attached to a flexible frame that you slip over your boots or shoes for added traction. They are small, light and inexpensive, making them an easy add to any winter hiker's bag of tricks.
Their design is similar to that of chains placed over tires on vehicles. The spikes themselves are about ¼ to ½ inches long, giving the wearer the ability to dig into icy surfaces and packed snow. Since the spikes are relatively short and usually placed at the inner portion of the sole, microspikes are preferred for flat terrain or low-angle slopes. The best use for microspikes is hiking or running in packed snow or icy conditions on relatively even surfaces. That being said, the ones that are longer and are equipped with more spikes, like the microspikes I use can handle more slope, and I've used them for hiking local mountain trails. If you're doing steeper climbing (the winter version of "scrambling") crampons designed for mountaineering would be more appropriate.
When to Bring Both Snowshoes and Microspikes
As a general rule, if you find yourself asking the question, "Should I bring snowshoes or microspikes for today's hike?", the answer is probably both. While you can read every trip report and weather report on the Internet before heading out for your hike, things can change as fast as the weather, and even faster when heading up into the mountains. I know it can be a bit of a drag to bring both, especially if you're backpacking with a bunch of heavy gear as it is, but having them gives you added security and safety if the conditions shift, or an unexpected weather front rolls in. I would also like to add that if you have snowshoes with tail attachments, always bring the attachments in case you get an unexpected dump of snow.
Hiking poles equipped with snow baskets are also something I always bring whether I'm using snowshoes or microspikes. They give you added stability when terrain is slippery or uneven, and can also be used to pitch a tarp if you need to bunker down in an emergency situation.
Now over to you. Do you winter hike? Do you use snowshoes, microspikes or a combination? If you use a combination, how do you use them? Please share your thoughts in the comments.