Last year, I solo-hiked the West Coast Trail. It was one of the most magical and memorable hiking experiences of my life. The trail was physically demanding, but it rewarded you with some of the best coastal views that BC has to offer. This year, I had planned to hike the Sunshine Coast Trail and kayak the Broken Island group in May and June, but both trips got cancelled due to the COVID-19 pandemic.
Disheartened at having missed out on two trips, with only one week to plan and prepare, I decided to solo-hike the Cape Scott and North Coast Trails on Vancouver Island in British Columbia, Canada, starting on Canada Day, July 1. It was open for camping and there were taxi and shuttle services in operation, so I decided to take advantage and do what I expected would be a similar adventure to what I experienced on the WCT. It was NOT so similar, but it definitely was an experience. It may not have been the hike I wanted, but it may have been the hike I needed. While the Cape Scott Trail was relatively easy, once I get onto the North Coast Trail, it was a whole different ball game in which I was tested physically, mentally, and emotionally.
Starting out at San Josef Bay
I arrived at the Cape Scott parking mid-afternoon on July 1. Rather than start my trek from there, I decided to take it easy that first day and recover from a 5am start and 8 hours of travel, driving to the ferry, crossing to Nanaimo then driving all the way across Vancouver Island to get to the park. I did an easy 2.5km hike to San Josef Bay from the parking lot, where I would camp for the night. It only took me around 30 minutes to get there, and the trail was something easily manageable by basically anyone who could walk that distance. No worries about getting lost or stumbling on roots. It is wide and really well-maintained.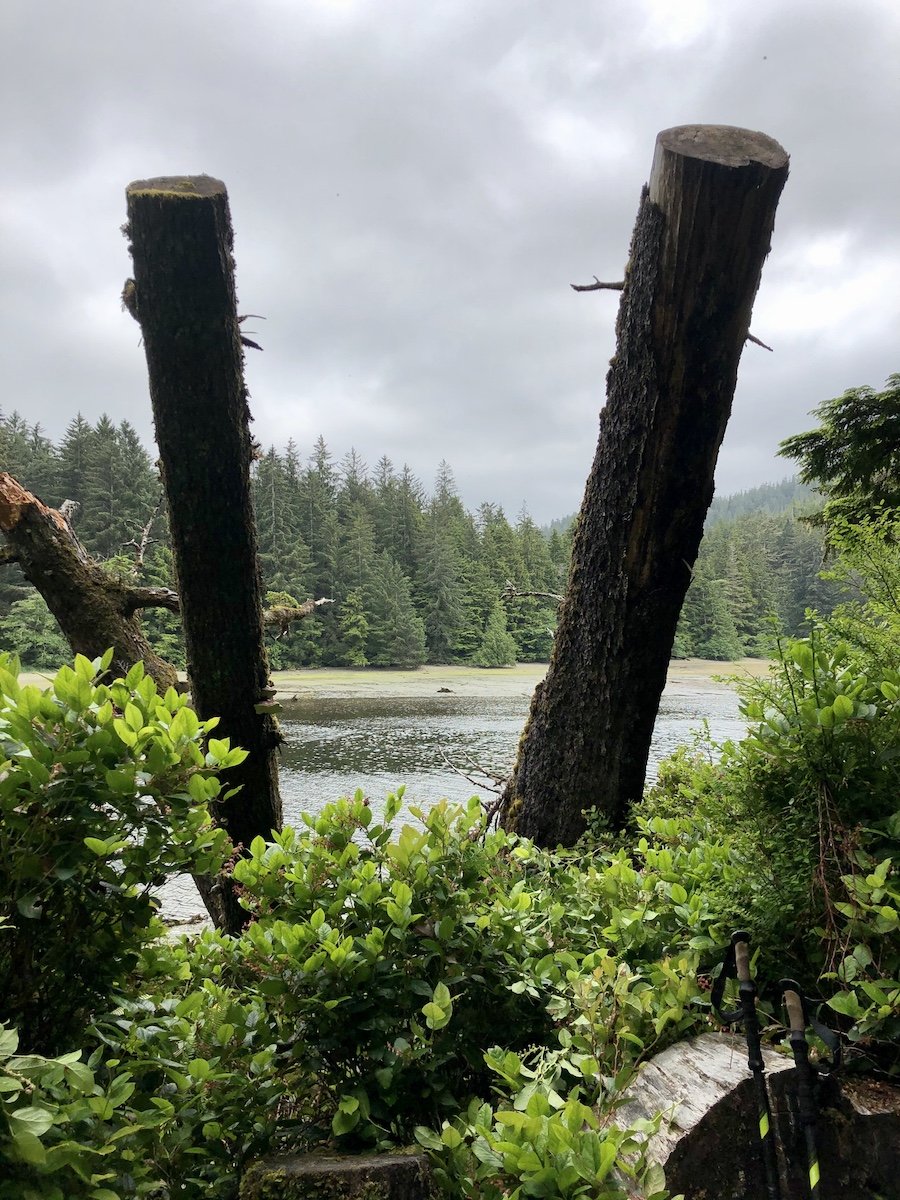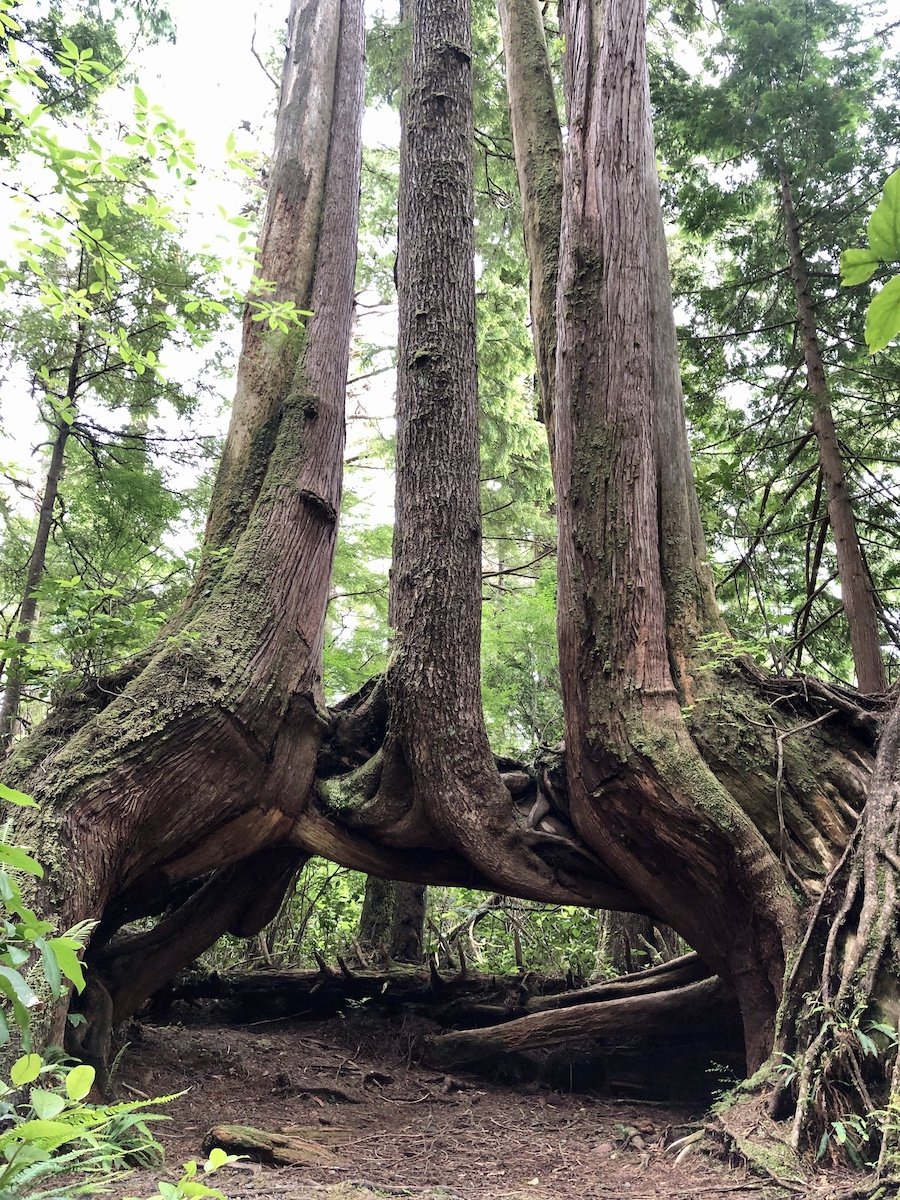 I spent my afternoon beach crawling, taking photos and chilling out. You have to walk to the other beach to get to the water source, which is most easily done at low tide. Low tide brings about some gorgeous landscapes too, with interesting rock formations, a sea cave, and just a lovely sandy beach. Some of the ocean vistas at San Josef were some of the prettiest of my entire hike, and super accessible from the parking lot, making it easy to visit even if you're not down with backpacking or camping.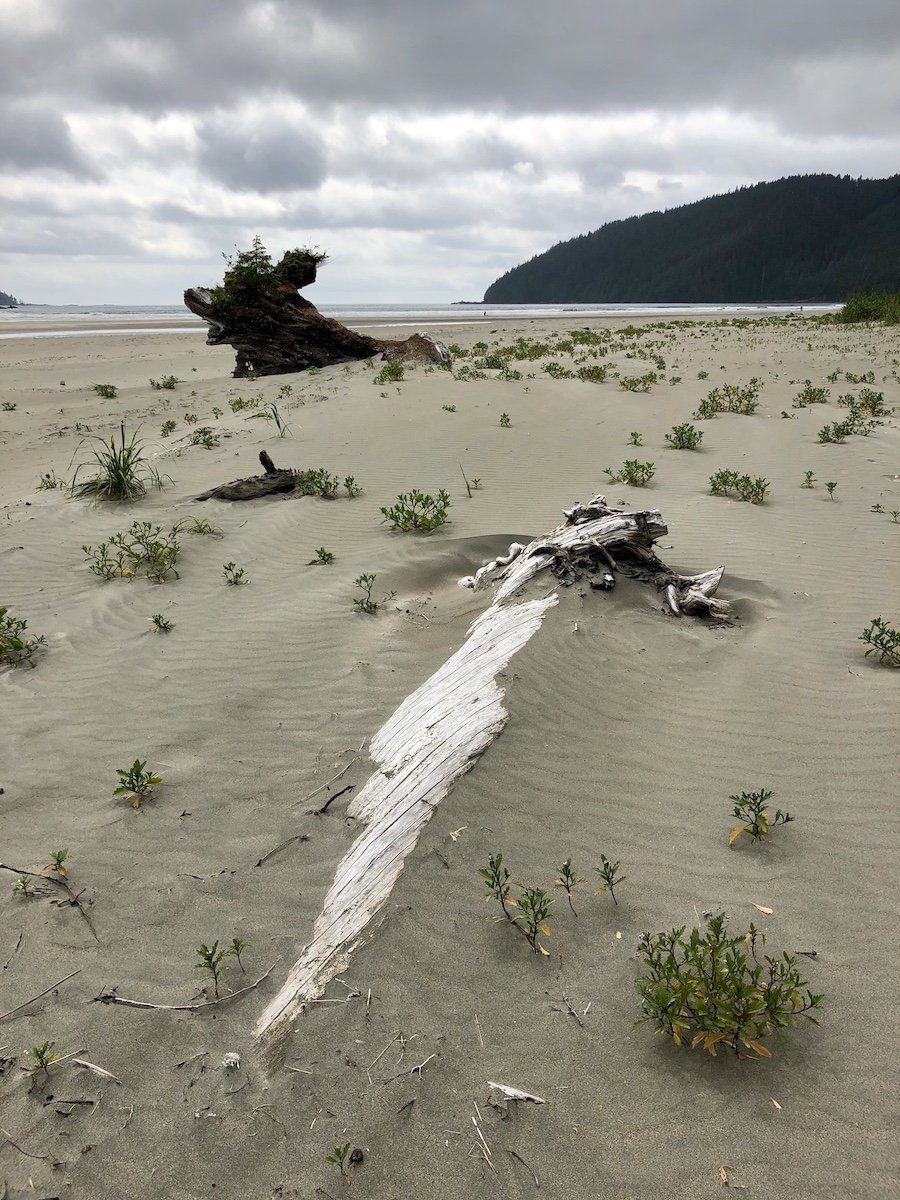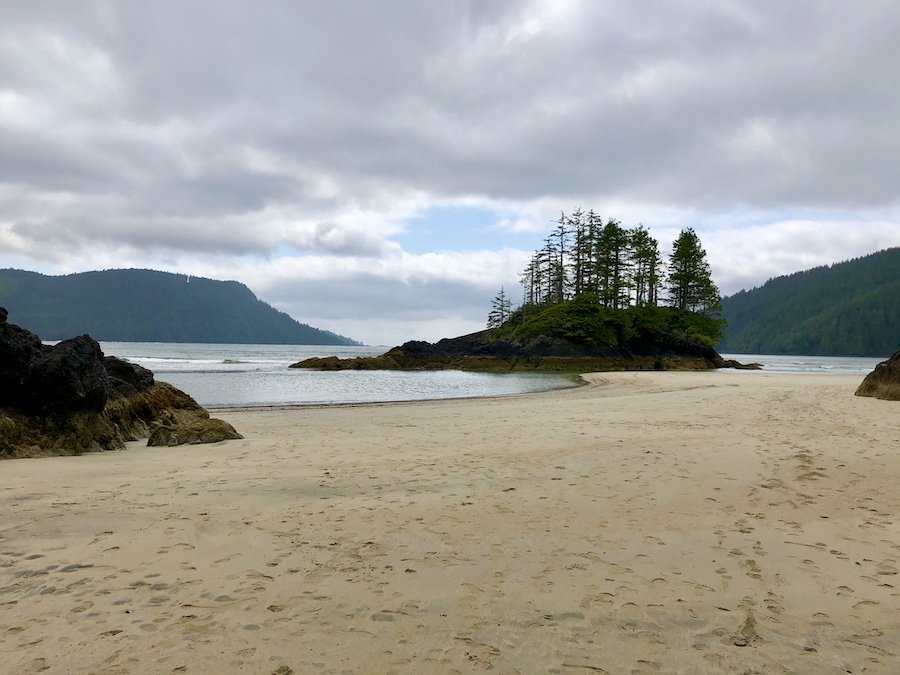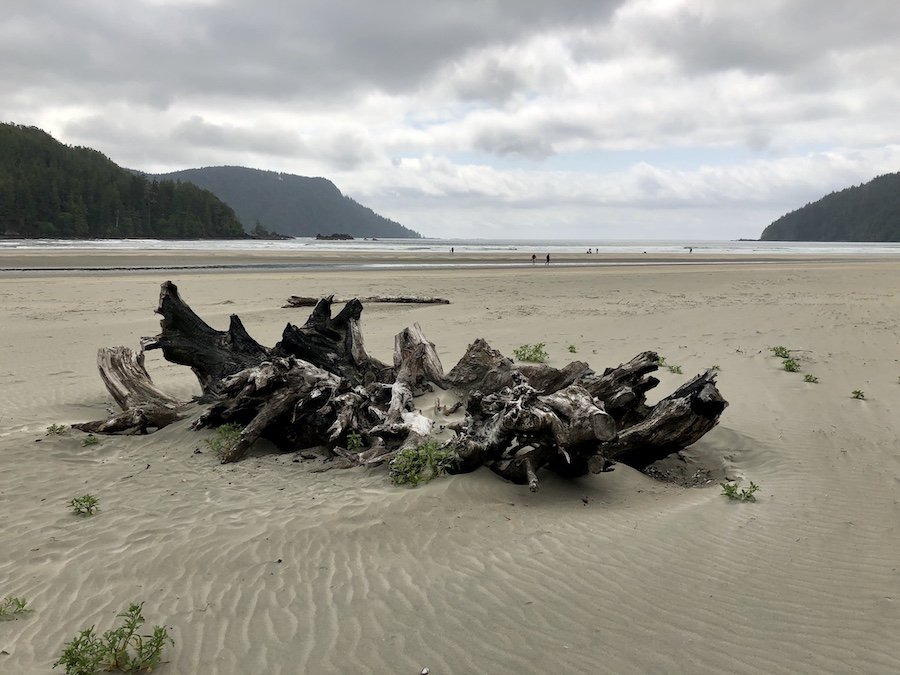 I made friends with some fellow backpackers, a couple of navy guys and their friends who had hiked the Cape Scott Trail over the past few days. We meandered around the beach enjoying a bit of a chat, discussing their adventure. It was a nice relaxing evening. Little did I know how much more challenging the trip would get from there. I never got to relax like that again for the rest of my time on the trail.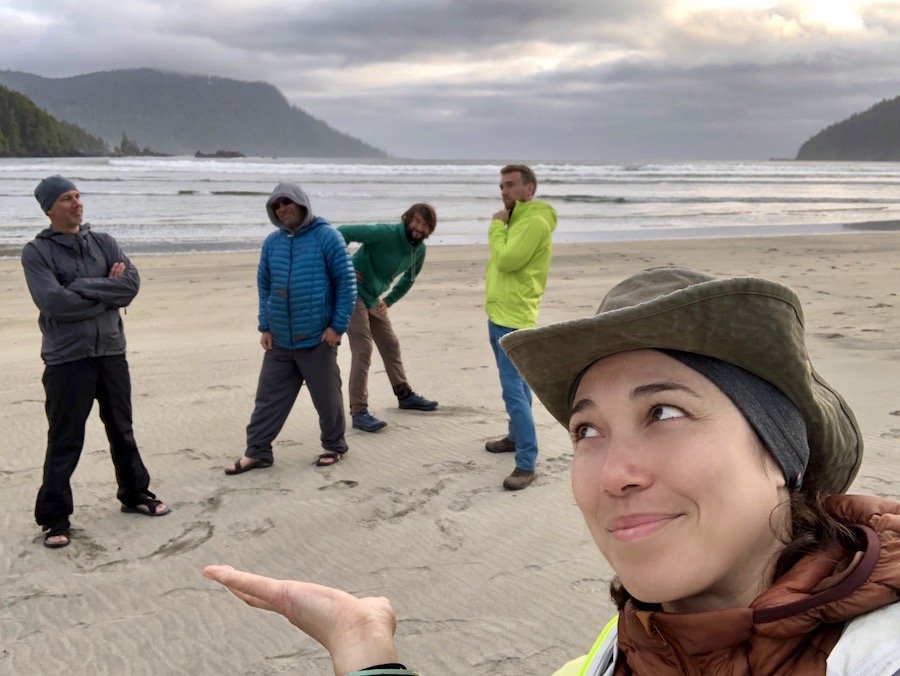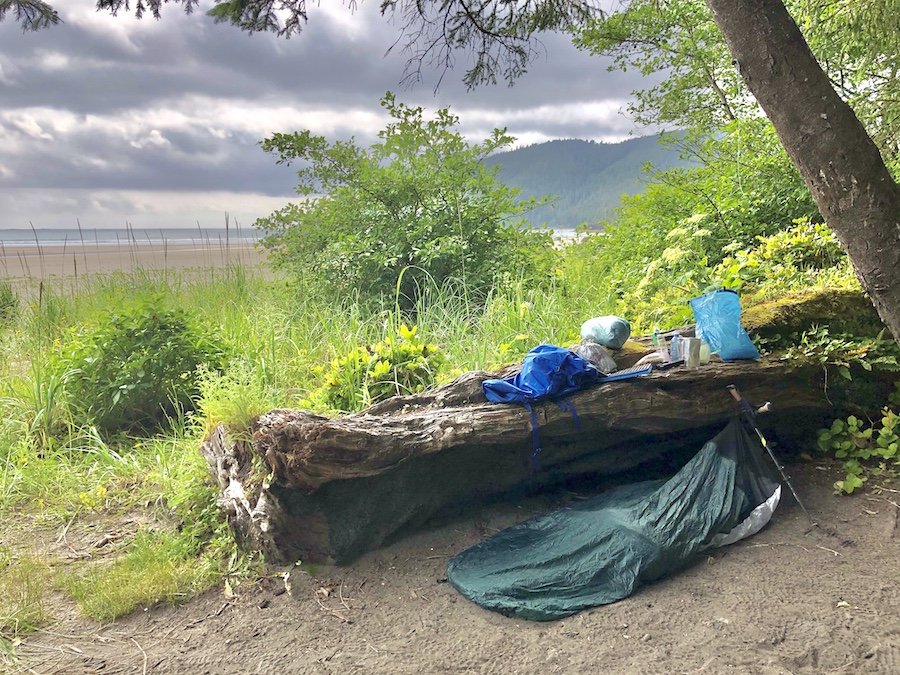 Starting the Cape Scott Trail
I woke up at 5am with a plan to get on the trail for an early start. I packed up my bag and headed back to the parking lot where I refilled my water bottles and grabbed extra food. From there, I turned right back around and headed north on the trail into the backcountry. I took note of the warnings about wolves being active in the area, as well as the one to exercise COVID-19 pandemic protocols, both sensible warnings for anyone on the trail.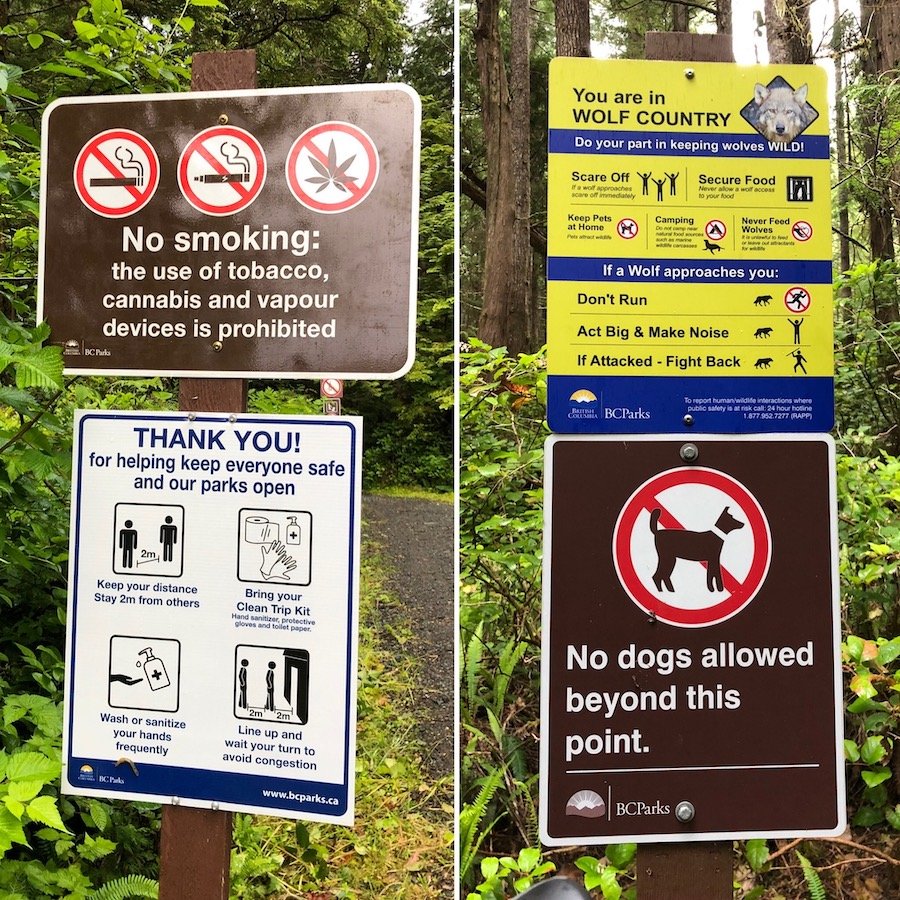 The Cape Scott Trail is noticeably less maintained than the one to San Josef Bay, as you would expect from a backcountry trail. It's nothing too dissimilar from trails you might hike in the Vancouver area, except for some extra puddles and slightly muddy sections here and there. Most of the wood structures going over muddy or boggy sections were well-maintained. I was able to make great time hiking through the forest past the Eric Lake campground and Fisherman's River, then through a marshy area that had plenty of well-maintained boardwalks. It seemed like I blinked and I was already at the Nissen/Nels Bight junction, where I headed west continuing onto the remaining section of the Cape Scott Trail. And that's where the most beautiful parts of the Cape Scott Trail are.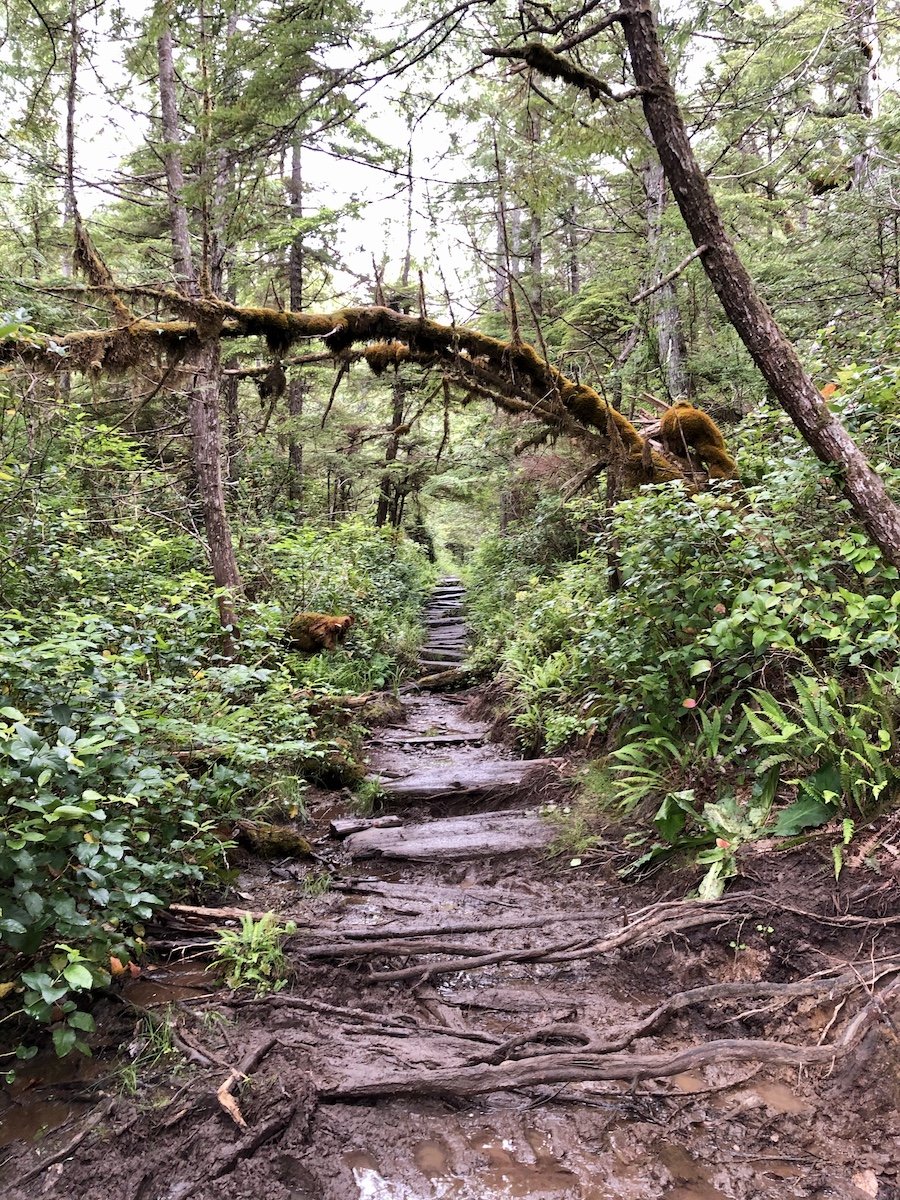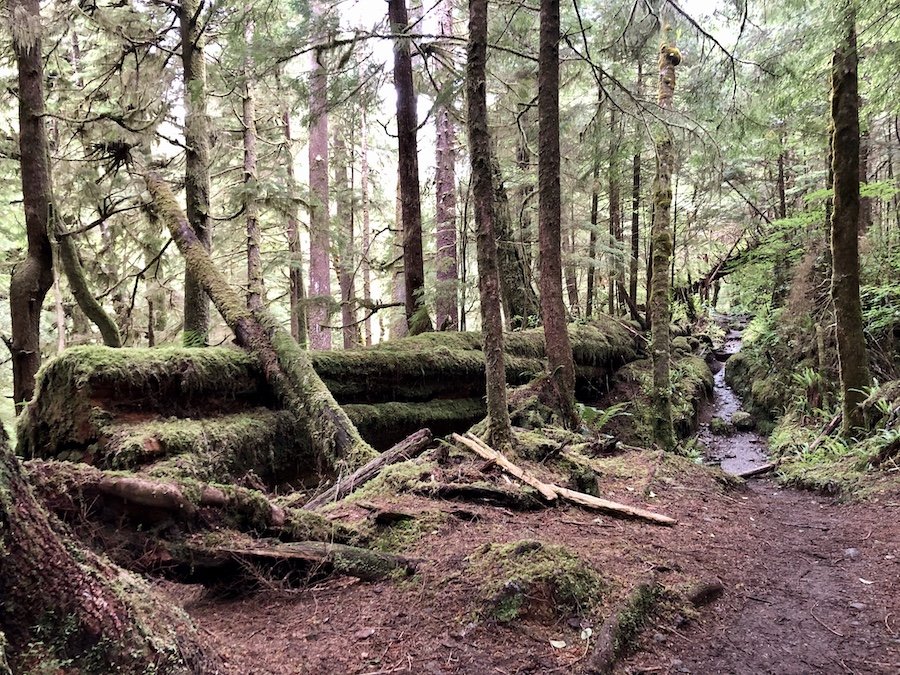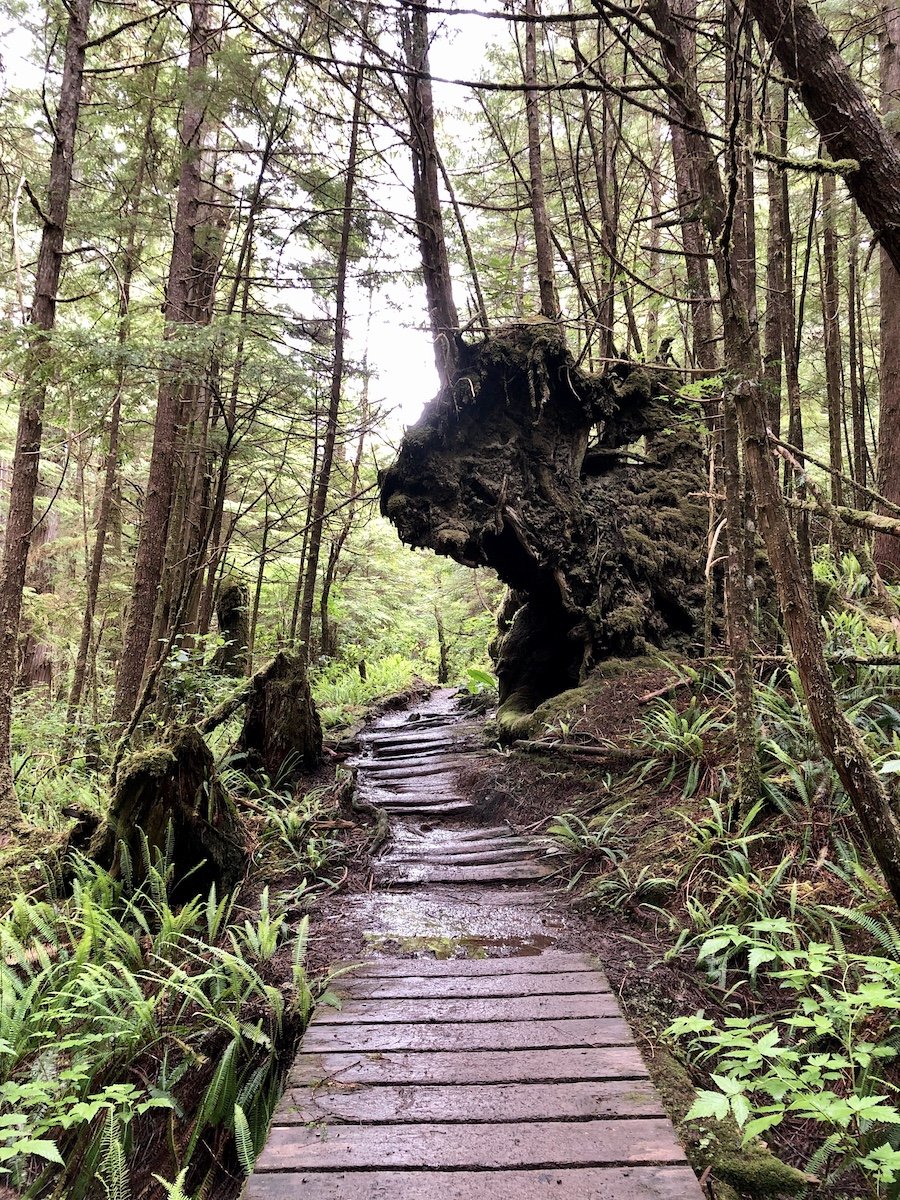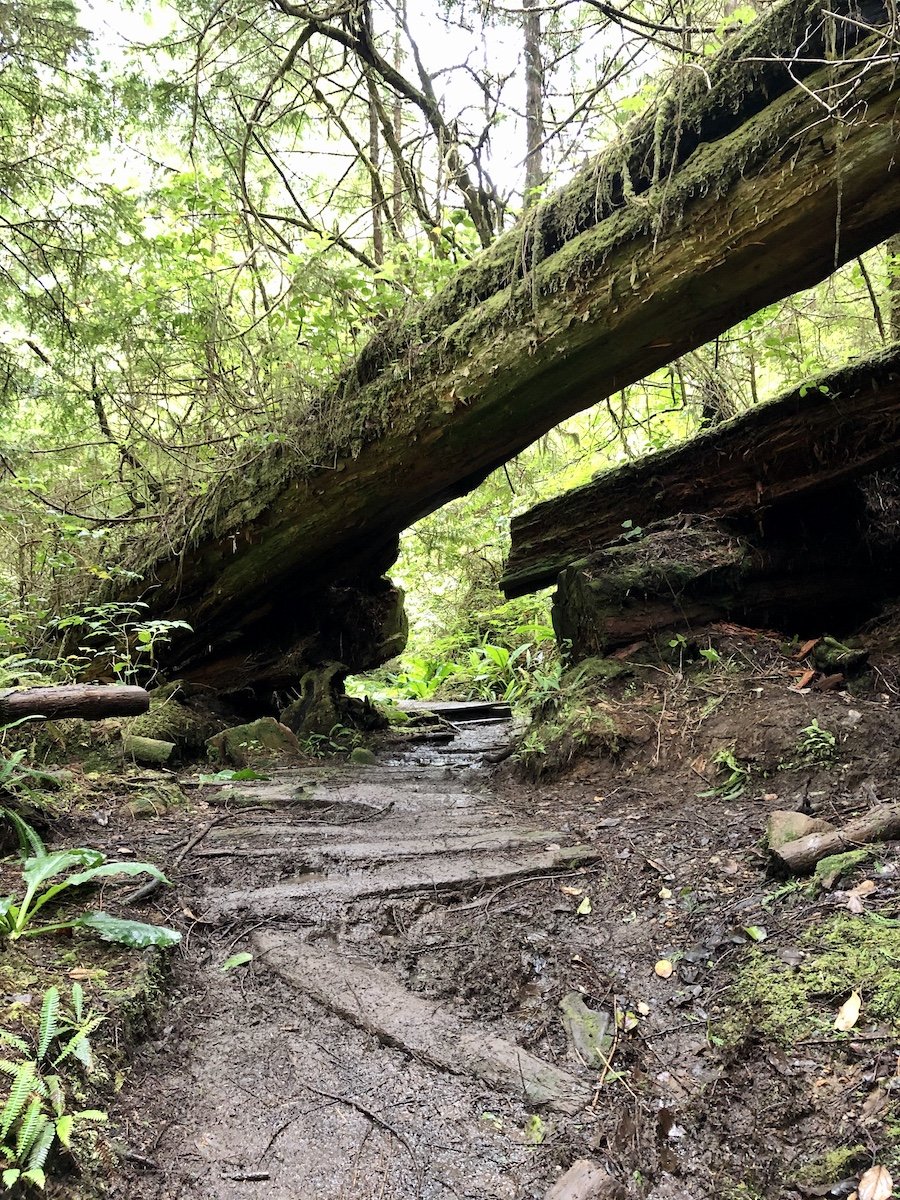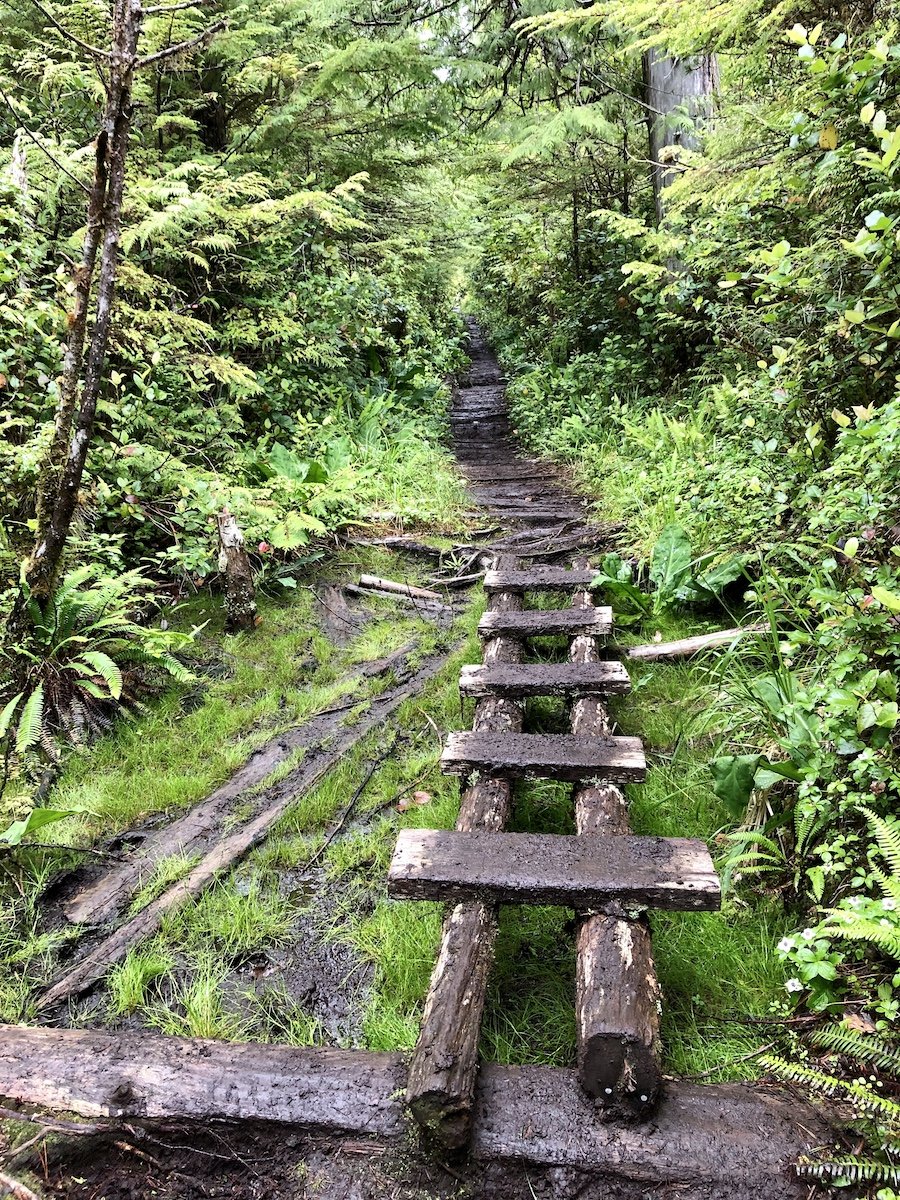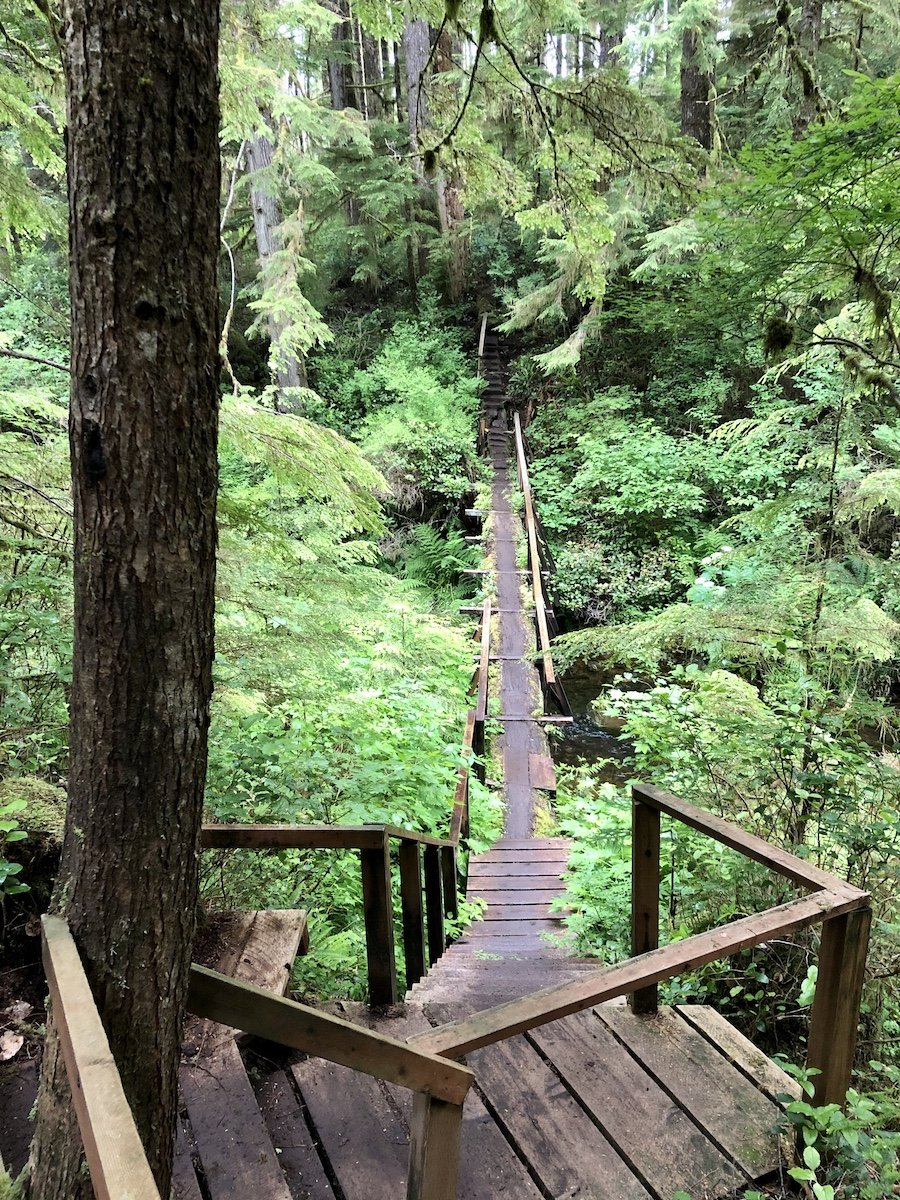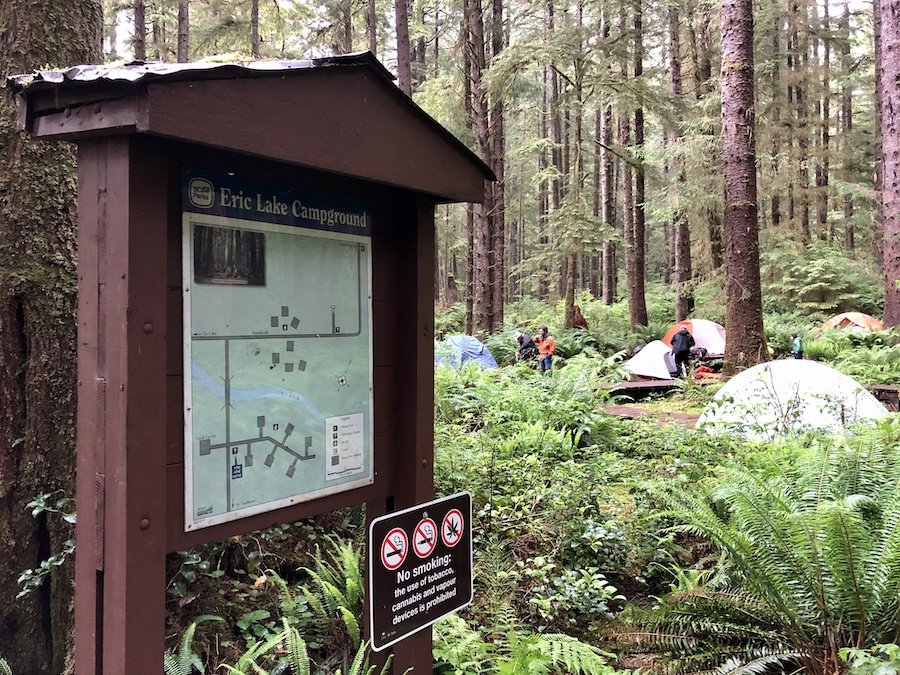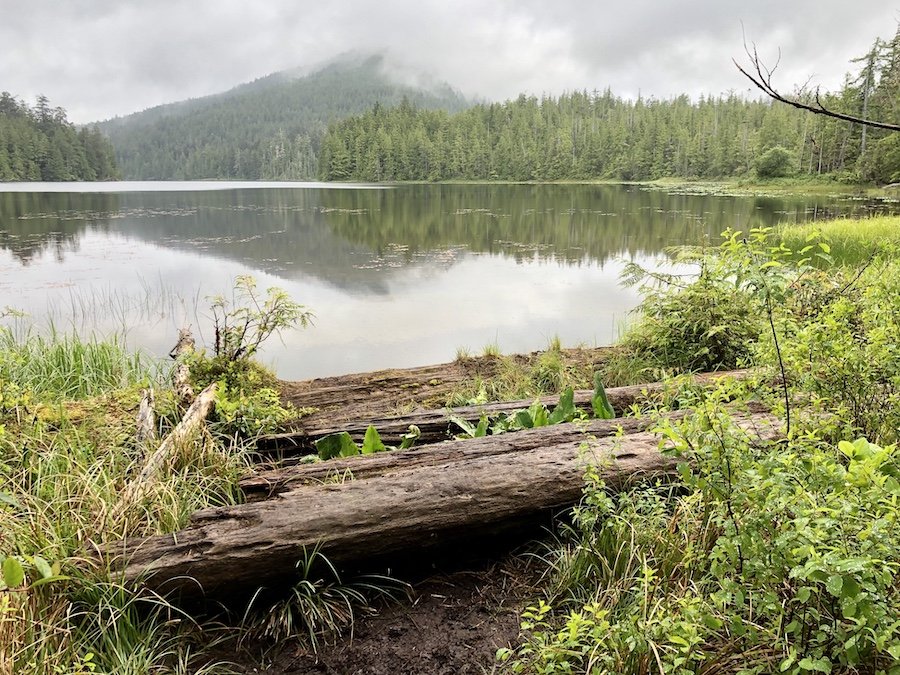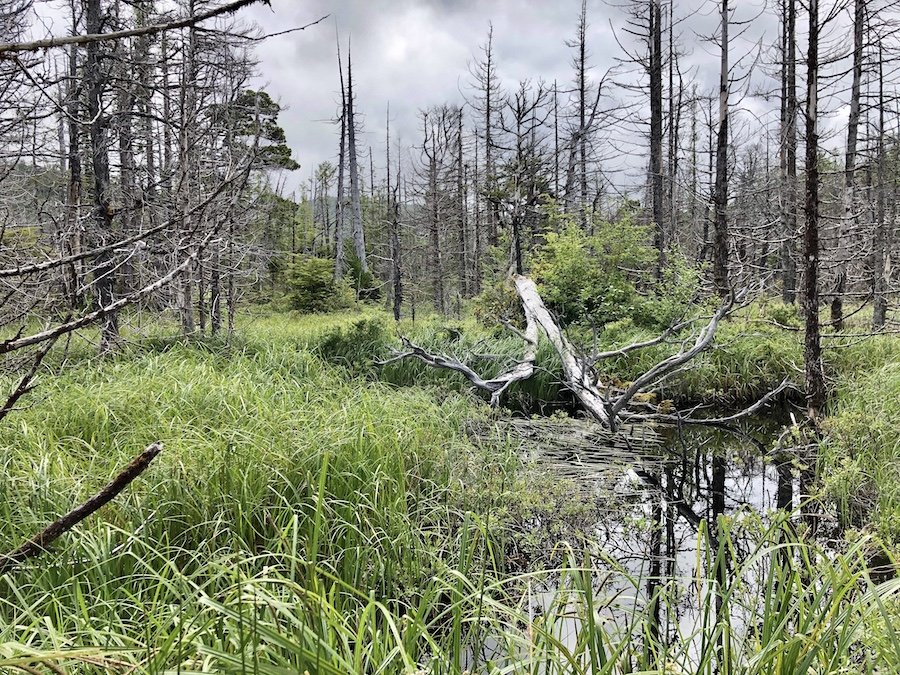 Cape Scott Coastal Beauty, Farming Implements, and Wolves
As I travelled toward the cape, I saw the signs of the old Danish settlements that had been attempted on this wild coast. Old relics of farming implements were scattered around with signs explaining early settler life at Cape Scott. A walk across an open field, with irrigation ducts running through it, connects you with what farm life must have been like for those early settlers. In the end, they didn't have enough infrastructure support from the government and the settlement was doomed to fail, but it did give birth to this amazing park and trail.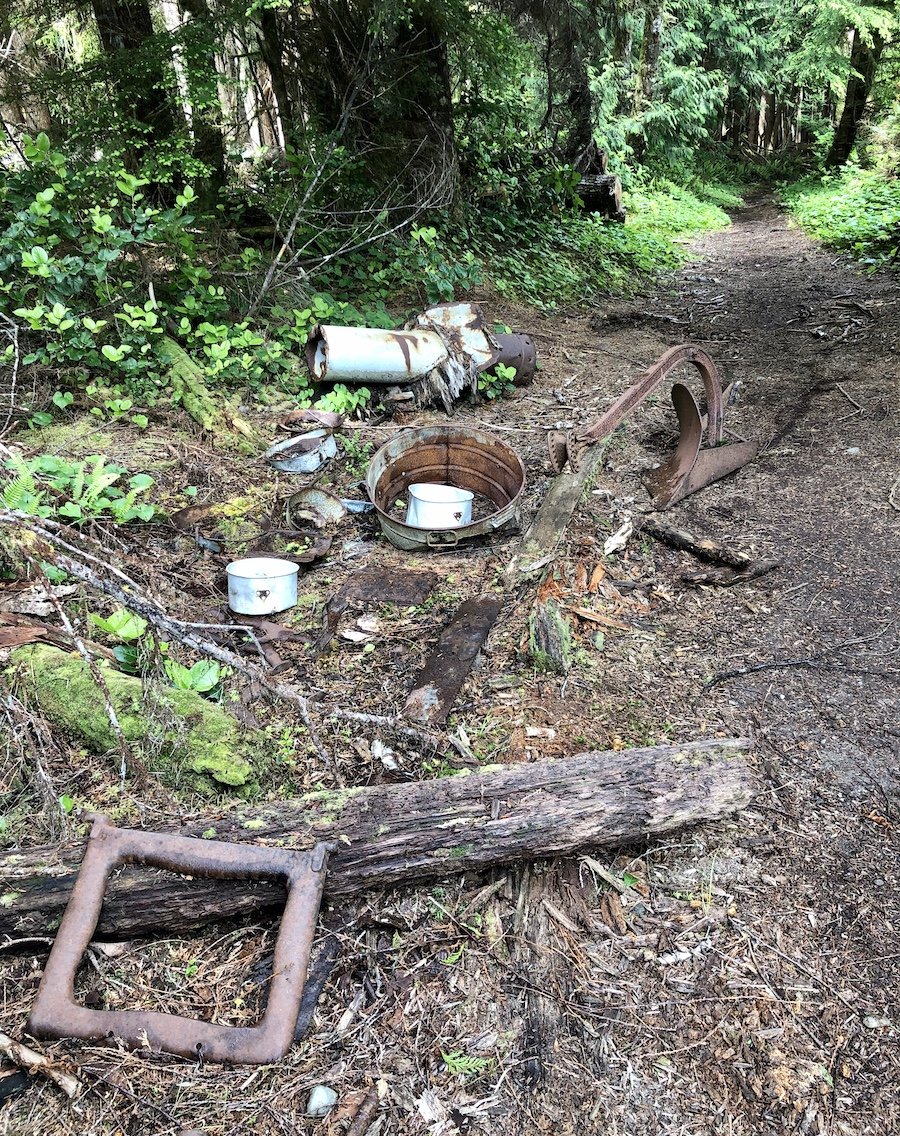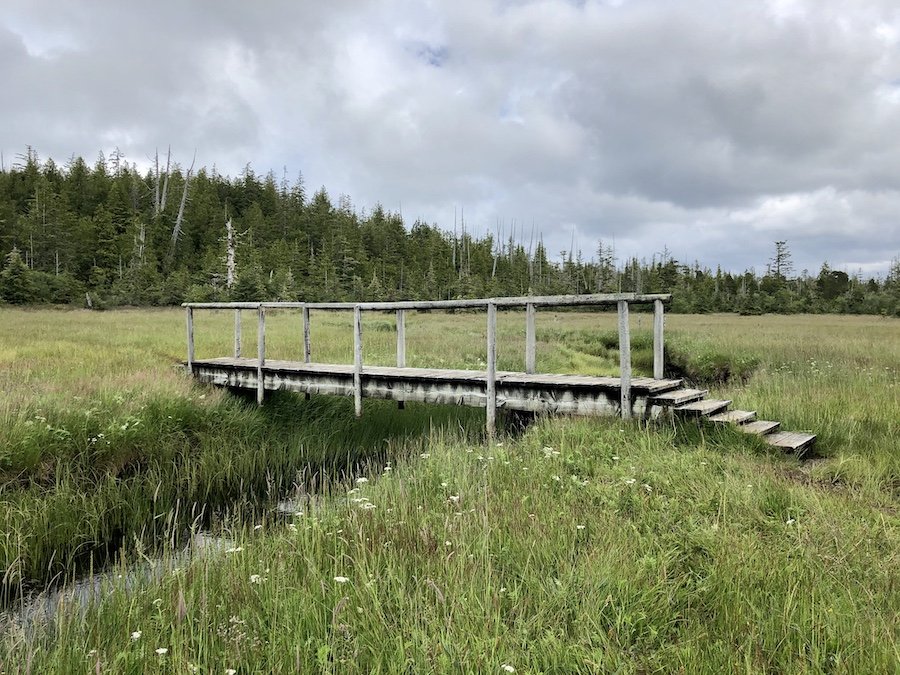 After the hiking through the field and forest, you arrive at Nel's Bight, a huge sandy beach with plenty of places to camp, a ranger station, food caches, water sources and outhouse. There are even a couple of improved seats and hammocks built into the trees conveniently near camp spots. While it was pretty, I wanted a slightly less busy campground, so I continued on to Guise Bay.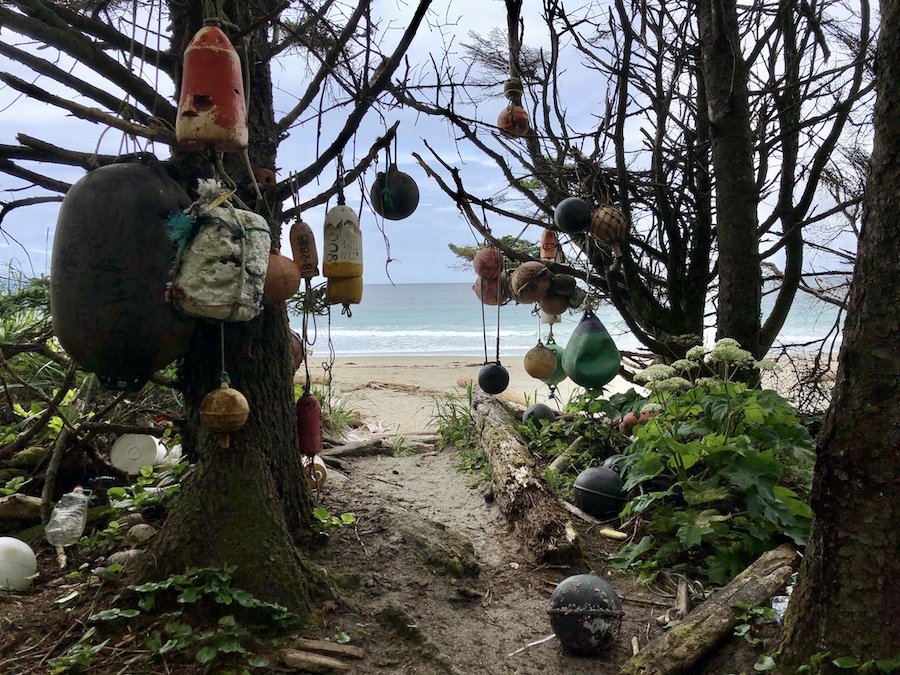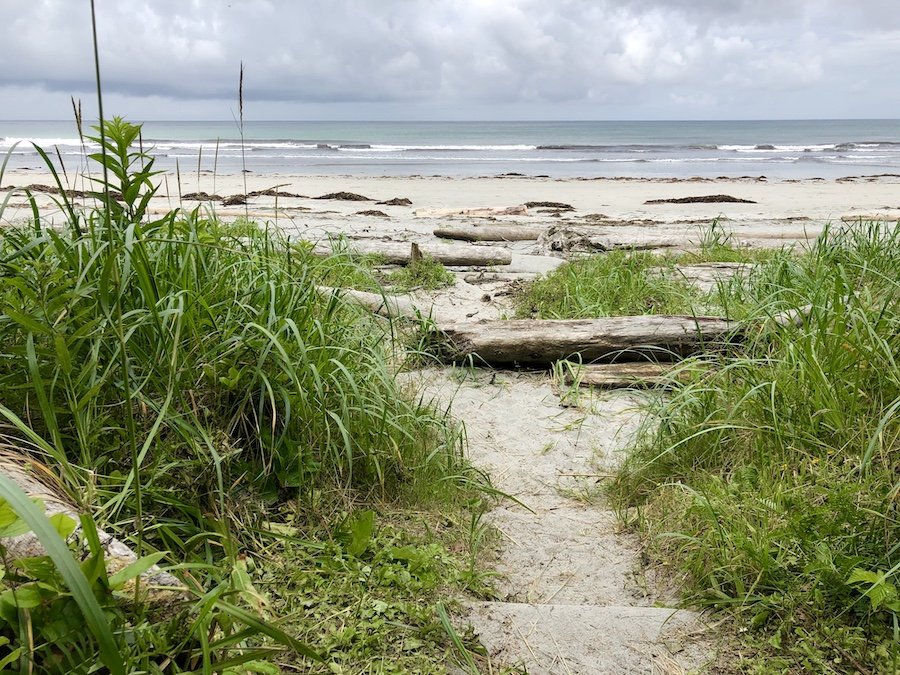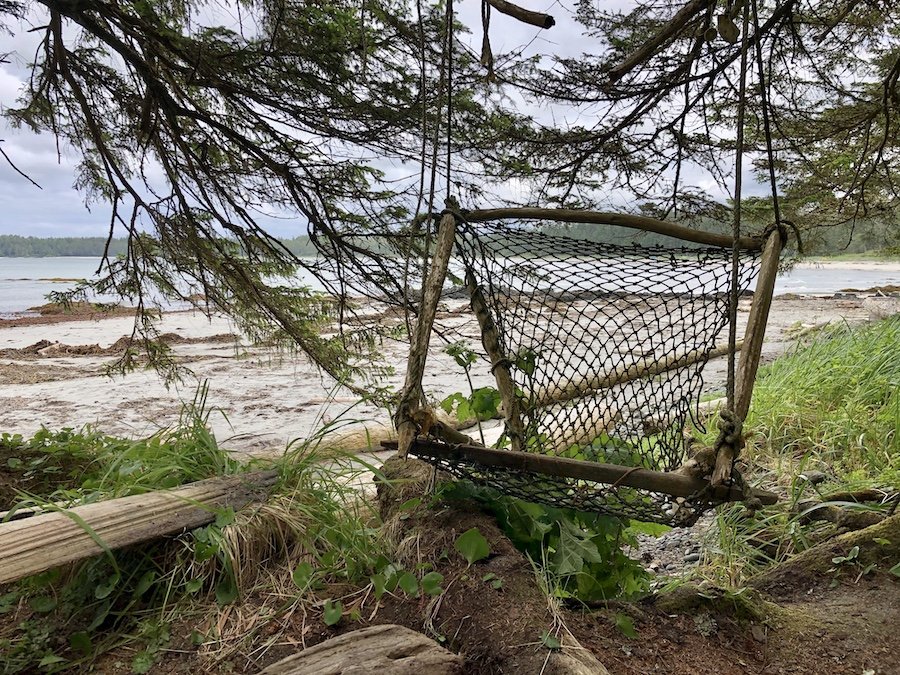 To get to Guise Bay, you end up hiking across Experimental Bight, a lovely coastal section that doesn't have any camping, but makes a nice place to rest, if needed, or simply snap a few photos as you hike, as I did.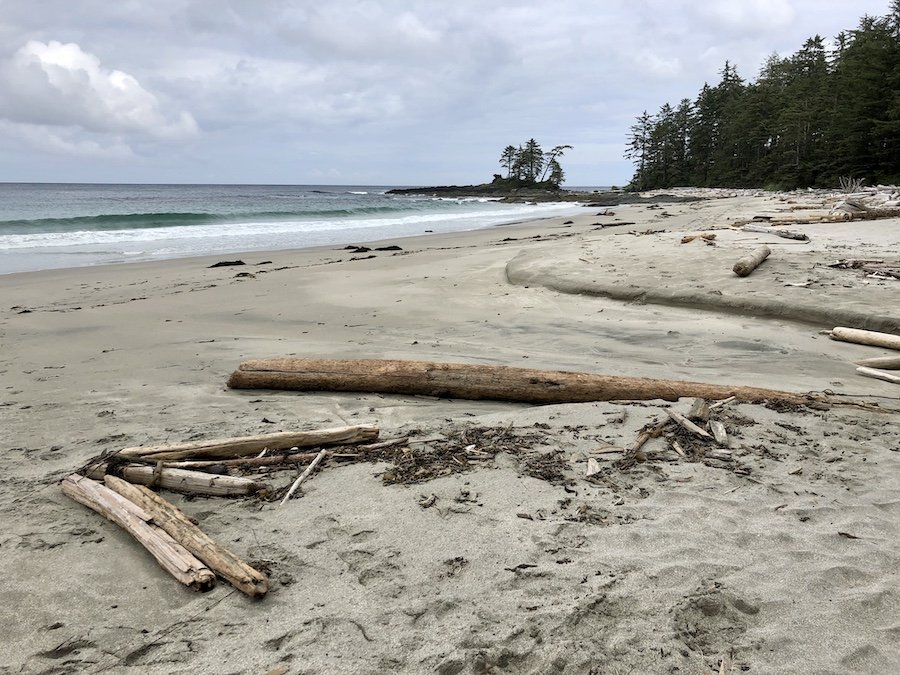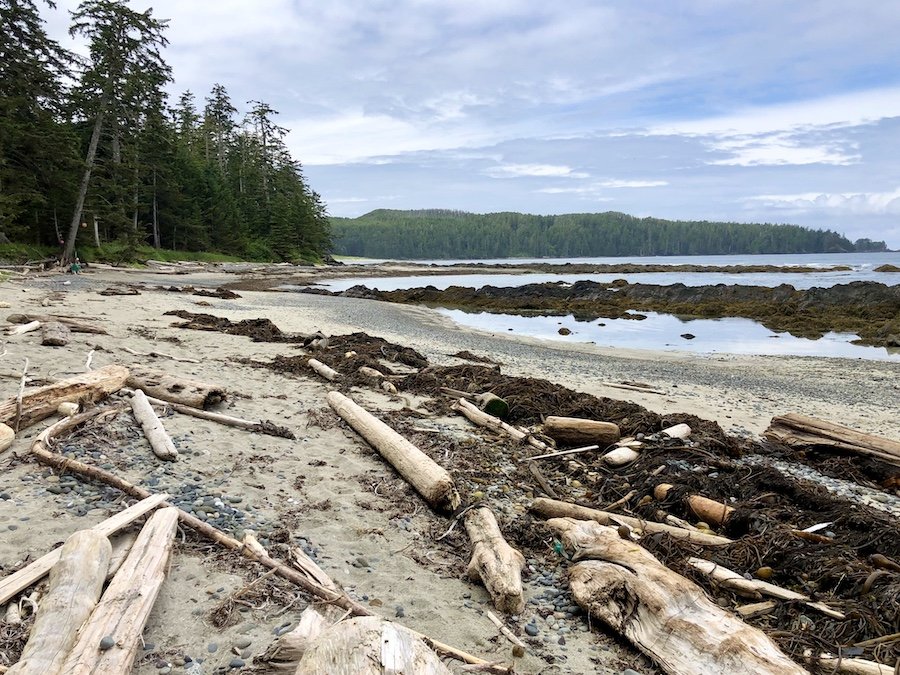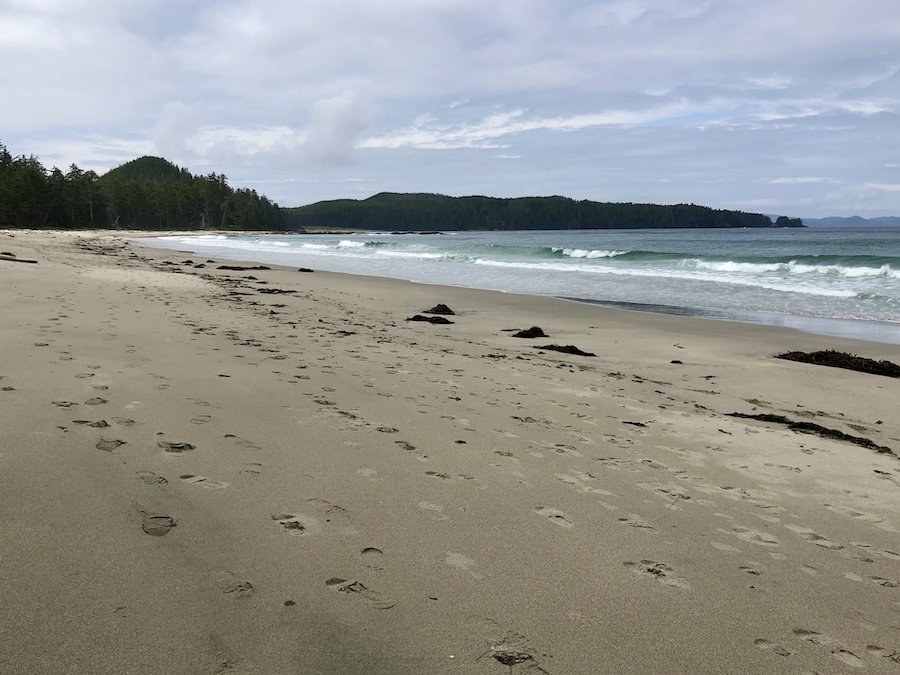 One the way, I saw a lot of crap on the trail. Literal crap. The local wolf population has decided that the trail is a good place to go, which is mildly unsettling. I saw plenty of wolf tracks on the beach where they forage during low tide, but I never encountered any myself. I did chat with one guy who said his friend had a large wolf come at him aggressively the day prior. It growled at him and started moving toward him (maybe it wasn't just wolf poop on the trail?). Fortunately, he held his ground, made noise and made himself big, which scared the wolf off. And that's why it's important to have a plan in your head for how you will approach different animal encounters, specific for each animal.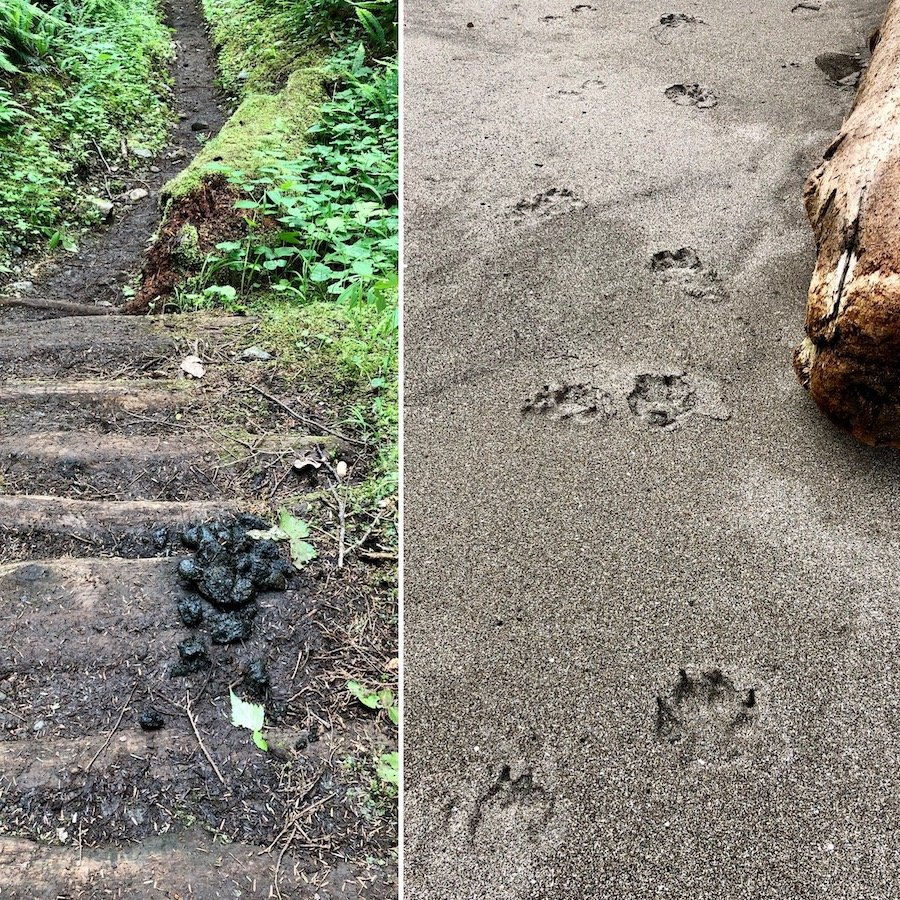 Windy, Rainy Guise Bay Camping and A Failed Attempt at Seeing the Lighthouse
I am an ambitious hiker. If I still have energy left in me, I'll keep right on going. After claiming a spot for my bivy, I ditched most of my gear and kept going, even though I had already hiked over 23km that day. I hiked past a dead sea lion on the beach, snapping a quick photo without dawdling, (there were wolf track around it where they had been feeding on it).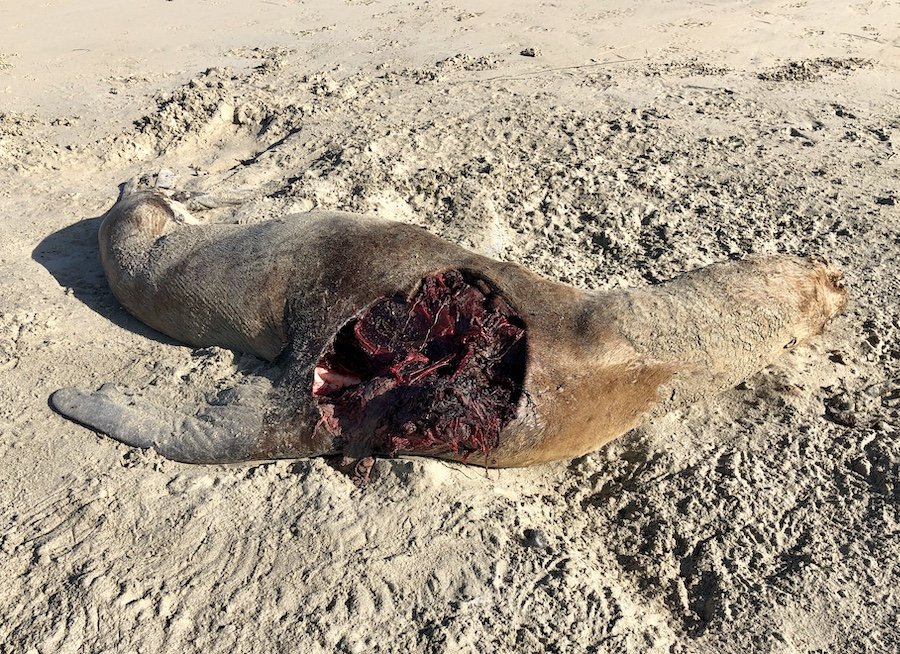 After hiking on the lighthouse trail a short time, I eventually came to a couple of massive downed trees that were completely blocking the path. I followed in other people's footsteps to try and make my way around it, but it was going too much into the brush for my liking without enough of a clear path through. At the time, I was feeling too tired to figure it out, so I decided to call it a day and headed back to camp.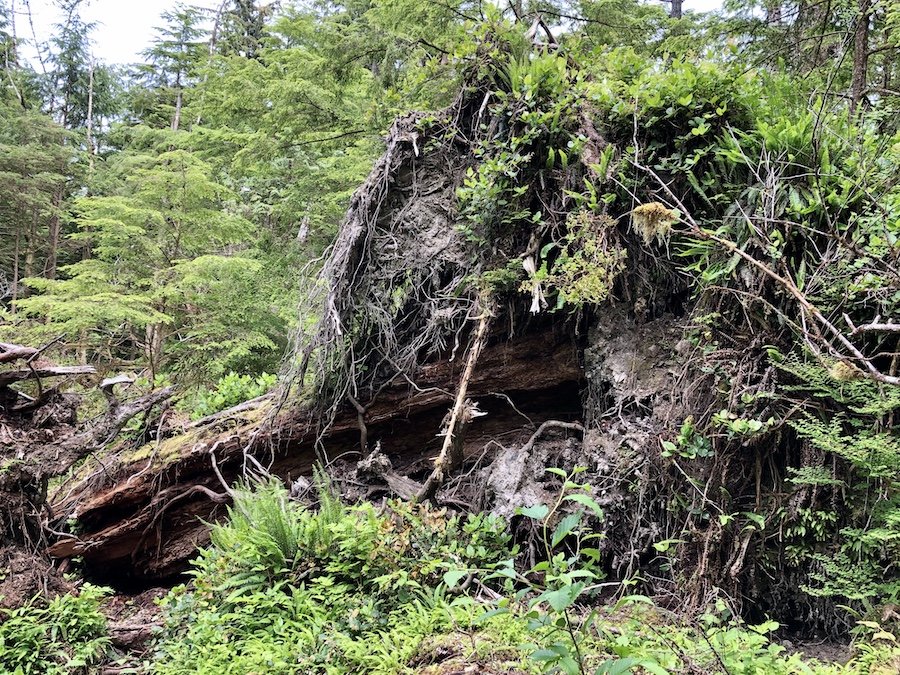 While nowhere near as social a trail as the West Coast Trail, a group of three friendly hikers in their 20s, Jason, Anya and Tessa, set up camp near to where I was. They had chosen the spot for the same reason I had; it wasn't quite as windy as it was further up the beach. The wind gusts were huge that day and evening. I worried the winds would make it hard to use my Esbit Stove, which uses solid fuel cubes, but I managed to create enough of a wind shelter using the beach's logs to get my stove going to boil water for my dinner. There had been some rain and I expected (correctly) we would get more overnight. My tarp is so light that I didn't feel comfortable using it spread out to its full size, worried it would make it more likely to get snapped up in the wind, especially considering the sandy beach on which I was setting up. I decided to fold it into quarters and just use it to cover the open part of my bivy, hoping the top material of said bivy would be enough to keep any rain out. I also decided to use my Z-packs dyneema pack cover to wrap around the foot end of my bivy, hoping to provide more shelter against the rain. It was a stupid idea, as it is so light that it just blew away in the wind at night.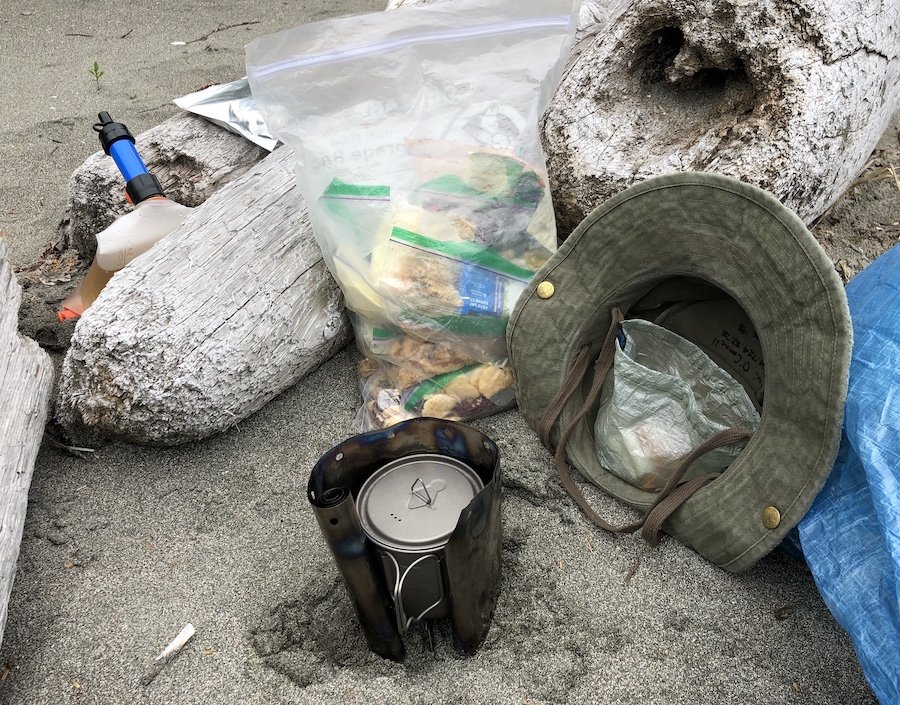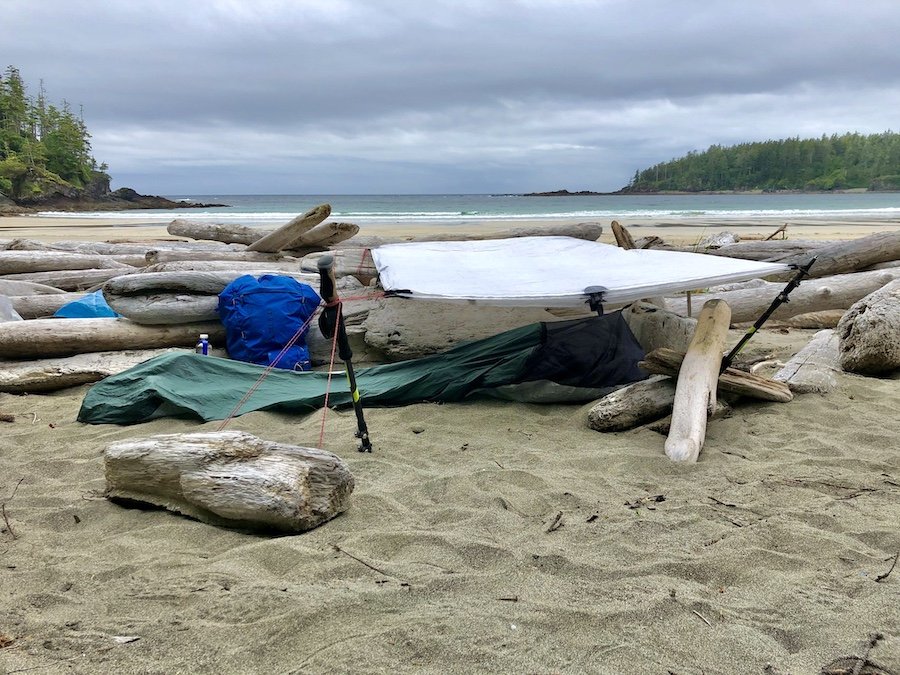 Before the rain came, the group of three near me managed to get a fire going, despite the gusty winds. It was chilly, and I gratefully accepted the invitation when asked if I wanted to warm up a little by the fire. All three from Cranbrook, and all three lifeguards, they all shared some of the same current life challenges with COVID-19. Their usual pool that they worked at was closed, and now they were faced with a new reality in which there isn't as much work for them doing what they do. I admire their youth and their ability to pivot and move to another place, which can be more effort for me being so much more established where I am in my current life situation. That being said, there is a lot to be said for the wisdom that has come from the extra life experience I've had.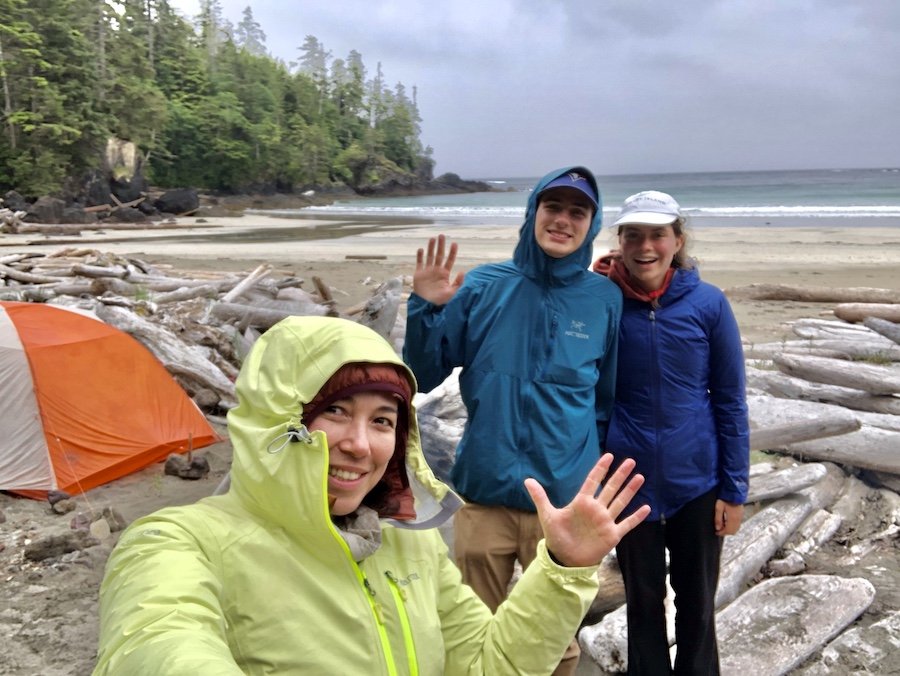 A Way Through is Found: Finishing the Cape Scott Trail
After speaking with a few kindly older women in their late 50s who were hiking together, I learned that there was a way around the fallen trees on the lighthouse trail on the right side. The next morning, I decided to get an early start and give it another shot. I really did want to say that I had actually finished the entirety of the Cape Scott Trail, which ends at that lighthouse, even if I didn't care so much about the lighthouse itself.
When I got to the trees, it wasn't exactly clear where to go to get around it on the right side. I went up a small ridge and worked my way around, then had to drop about 10 feet to get back down to the trail. I was pretty sure that wasn't the way the women had told me about, having said it was "super easy," but I made it around. I saw the lighthouse, which was anti-climactic, as I expected. There were also a couple of nice side trails to beaches around the cape that were definitely worth checking out too, and making that section of the trail more than just about seeing the lighthouse.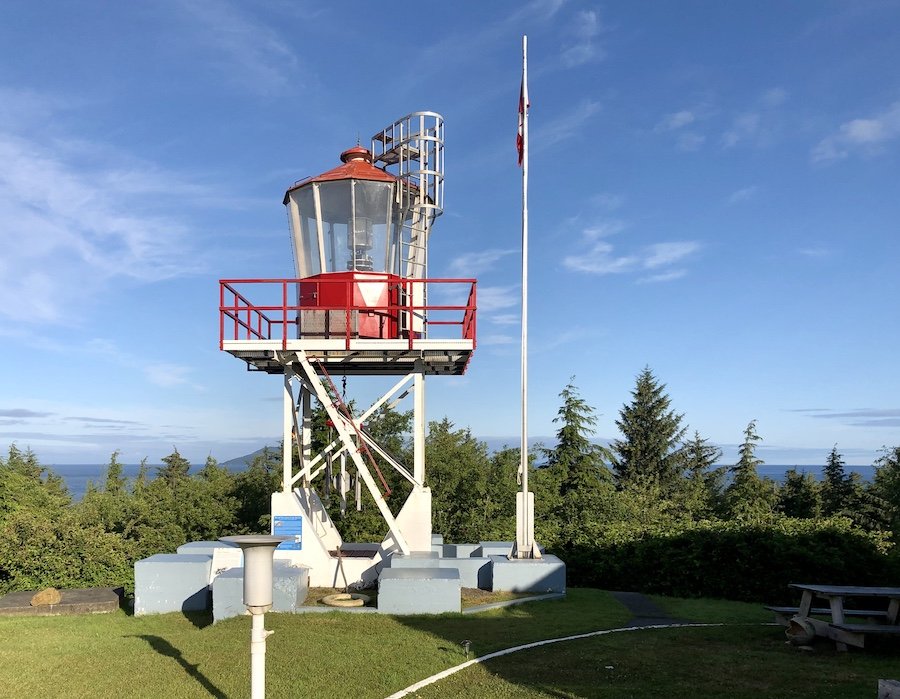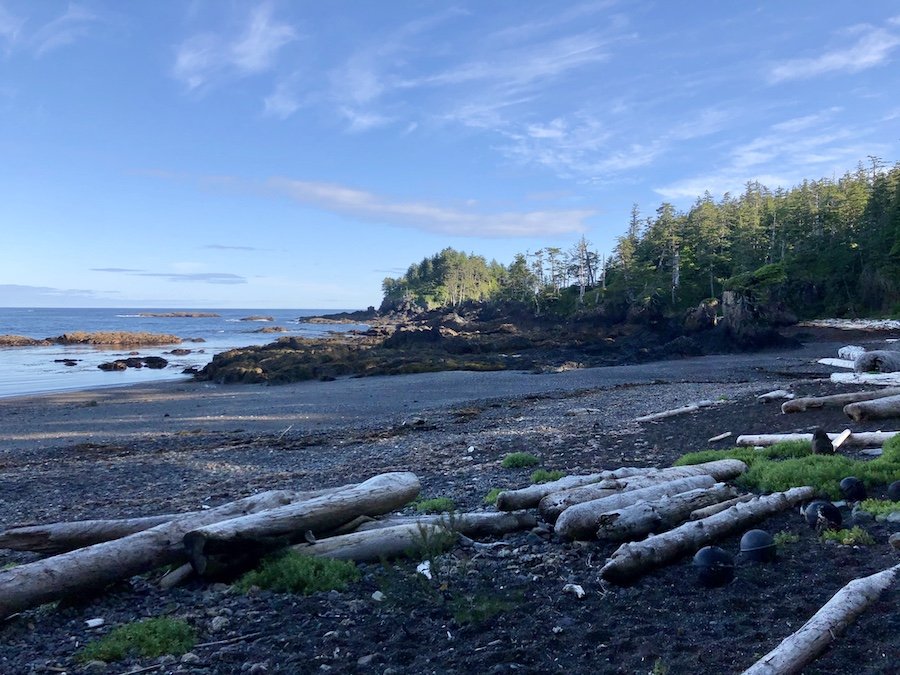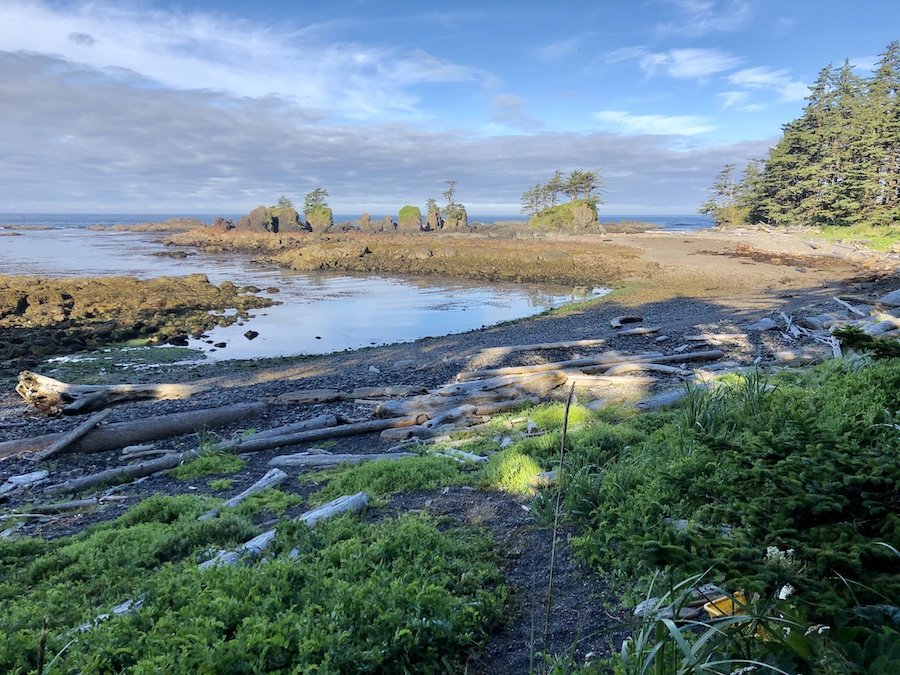 On the way back, I got to the fallen trees once again. From the other side, the "easy" way through was so much more obvious taking you under the tree trunks rather than around them. I snapped a quick photo so I could share it with my camp buddies and show them where to go so they would have an easier time than I had. Sharing information about the trail is all part of the fun, and also makes everyone's trips safer and better, so I always do my best to give helpful suggestions if I think they will be appreciated.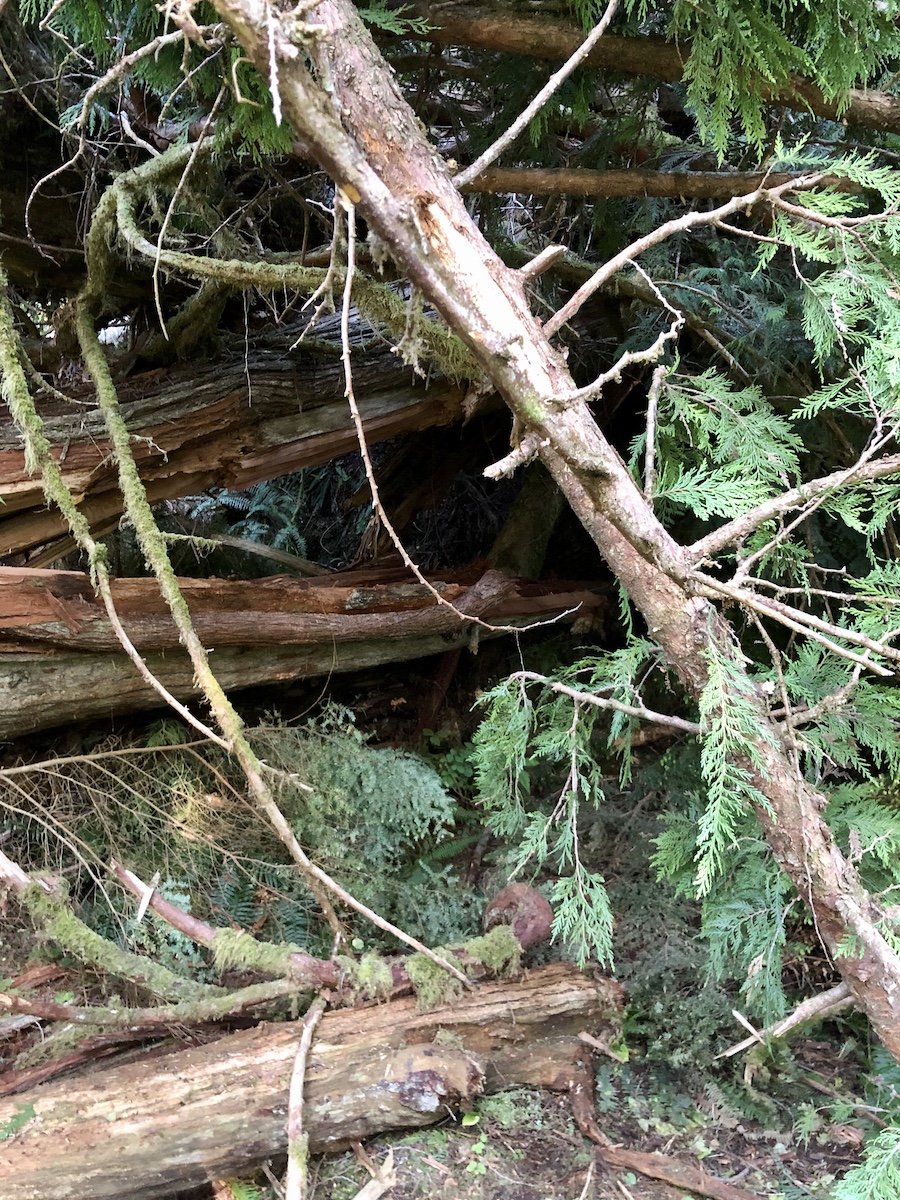 The short 7km hike out and back from the lighthouse gave the sun a bit more time to come up so that I could dry out my gear a little more before heading back on the trail. Happily, Anya managed to find my lost pack cover in the bushes... which I managed to forget to pack, having left it wrapped around the end of a log to dry out. After I got back from the lighthouse, I let Jason and Anya know how to get around the trees on the trail, so they wouldn't make the same mistake I made. I shook off any remaining drops of water, packed up my gear, used the outhouse one last time and grabbed my food from the bear box. The North Coast Trail was calling...
An Overview of the Cape Scott Trail
If you're looking for a backpacking trip of moderate difficulty with relatively well-maintained and marked trails, taking our time with it and doing it in 4-6 days, the Cape Scott Trail may be a good choice for you. You could even bring older kids and/or a dog on this trail if they can handle the hiking distances. You can make it a little longer by adding in a side trip to San Josef Bay and doing the additional hike to Mount Patrick as well. Doing this trail as an out-and-back hike also dispenses of the necessity to pay for the costly water taxi and shuttle in order to get back to your car at the end. And if you're looking for an easy place to test out your gear or introduce a newbie to backpacking camping, you could just do a weekend trip to San Josef Bay if you live close by or are not far from the area.
The North Coast Trail is a completely different animal. Once you're on it, after having hiked the Cape Scott Trail (if you went that direction and not the other way around), you'll find yourself saying, "Toto, I don't think we're in Kansas anymore..." In my next post, part 2 of this series, I'll go into detail about my experiences hiking the North Coast Trail, including all the challenges.
Have you ever hiked the Cape Scott Trail or camped at San Josef Bay? What were your experiences like? Please feel free to share in the comments so everyone can benefit from your thoughts. :)