I had put off writing this blog post about our recent snowshoeing/camping trip to Artist's point in the Mount Baker-Snoqualmie National Forest, particularly after all the physical distancing measures were put in place and hiking trails were closed as a result. It was an awesome adventure we went on back in early March, before the outbreak prevented us for travelling across the border. The reason why I didn't feel up for telling the story was simply because it would make me relive it and pine for more experiences like it. It would seem like the COVID-19 pandemic is going to be around for a while though, and now that I have to come to grips with this fact, I'm ready to start writing about outdoor adventures again, even if they are ones long in the past. It will serve as a reminder that there are many more adventures to look forward to in the future, and maybe this might serve to inspire plans for your and other readers' own adventures.
Judging the Weather and Making the Call
As with all winter backpacking adventures, it is vital to be on top of weather reports and snow conditions. The forecast called for snowfall of up to 23cm with a low of -12C overnight. We consulted the NWAC website for the avalanche report and the risk was listed as only moderate, which is within our comfort zone for our safety.
Since we had tried to plan this trip multiple times only to have the weather prevent us from going, we decided to give it a go. After all, a little fresh snow makes for a beautiful landscape, and provides plenty material to building wind walls. We did, however, decide to bring a tent instead of using a tarp and bivy system as it would hold up better to snowfall. We ended up being super happy we made that choice.
Finding the Trail to Artist's Point and Making Tracks
The details on the various websites as to how where the trail began were confusing at best. The description on the WTA association website didn't match where the trailhead was placed on Google Maps, so we drove back and forth trying to figure out if we were in the right place. Google Maps showed another parking lot further along, but that route was closed, so we weren't 100% sure we were at the official start point to the winter trail. The parking lot did, however, have the outhouses that were mentioned on the WTA description, and there was indeed a winter trail that started to their left, so we decided that we were in the right place.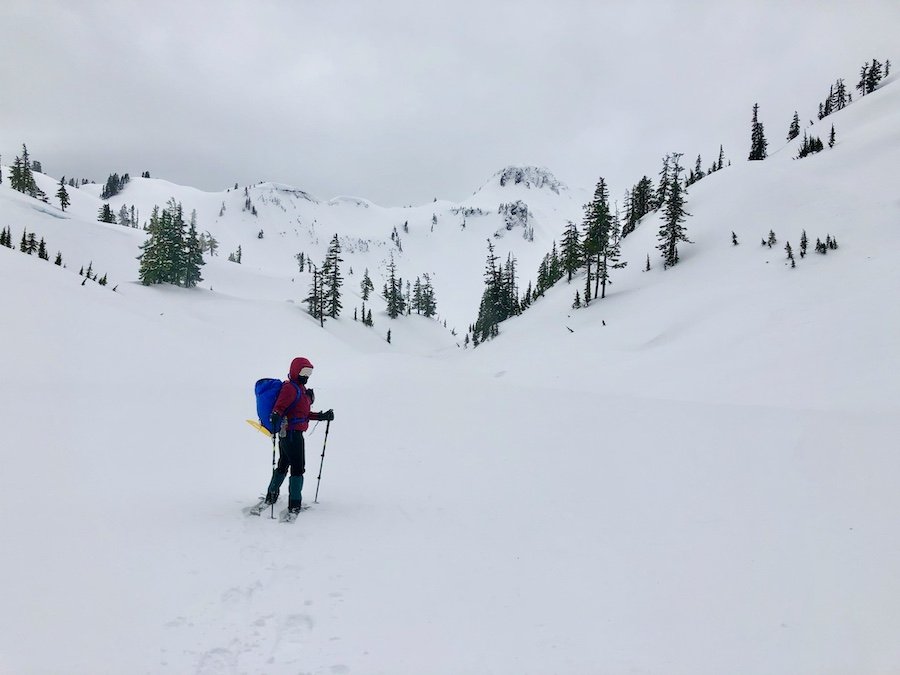 Beyond the start, there was no indication as to where the official trail went, no tall highly visible orange pole trail markers like those used on our BC winter trails like the popular Elfin Lake Trail. I'm sure if we had gone on a day without any snow, when locals had used the trail before us, it would have been a lot more obvious, but we had to work with the conditions we had.
We had the Gaia GPS app for guidance, but a clear trail was not marked on it. We also had some not-super-detailed PDF maps we found online to give us some idea too. Gaia had the destination marked, as well as helpful topographical info and live tracking of our route and position, so we used that to help us figure out our way.
Unexpected Conditions
As it turned out, the weather ended up being a lot windier with more snowfall than expected. This slowed us down substantially and made visibility a challenge. In the end, we decided not to try and make it all the way to Artist's Point and decided to set up camp in a copse of trees at the high point of of Austin Pass, which gave us a reasonable view of the way we had come, during the moments when the snow wasn't so heavy. This was the safe choice because we didn't want to get too far from our start point and potentially end up having more dangerous conditions that we had originally anticipated. We also didn't want to lose too much light (and warmth) while we set up camp and made our dinner. The conditions had slowed us down as it was.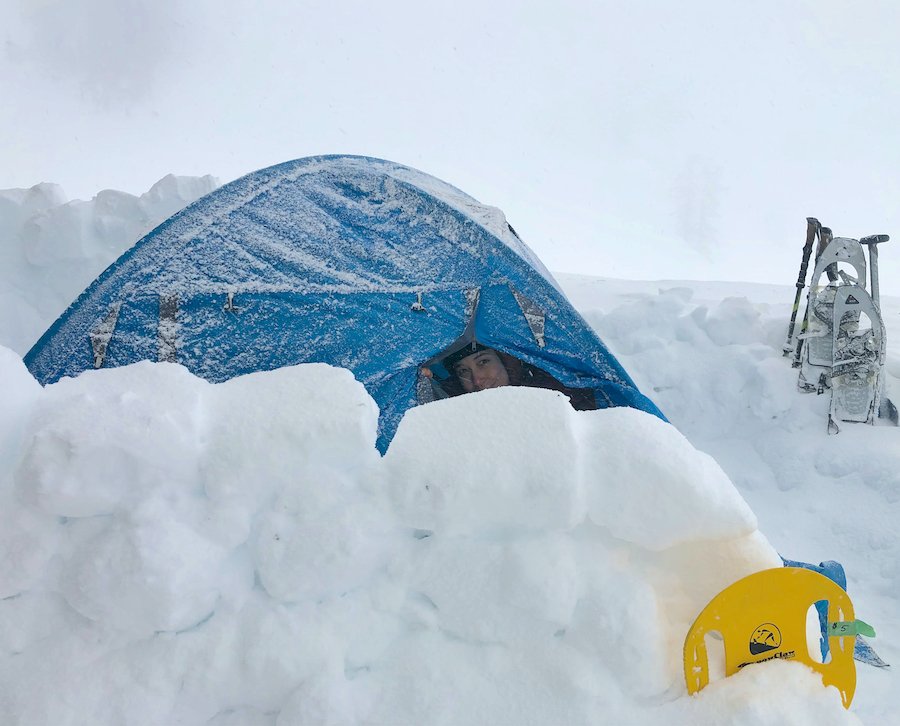 Our Snow Sheltered Tent Set-Up
Using our shovel and a snow claw, we were able to build up some snow walls to shelter our tent more from the wind. We also made use of the natural barrier the nearby trees gave us, without putting ourselves in a position in which tree branches could break and fall onto our tent under the weight of the snow. It took us a little over an hour to get it it set up, leaving us plenty of time to make dinner and eat before turning in for the night.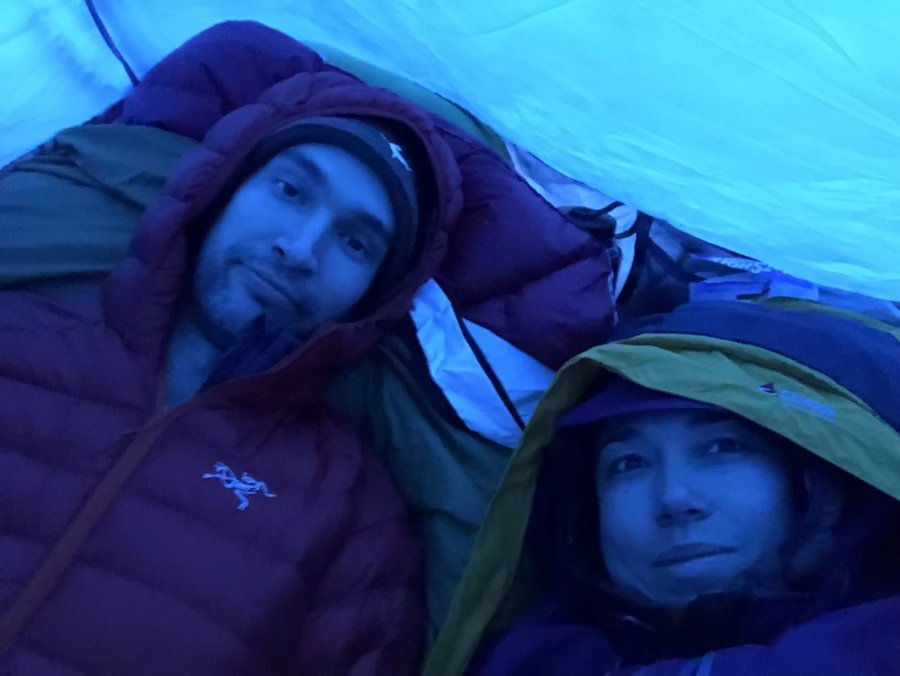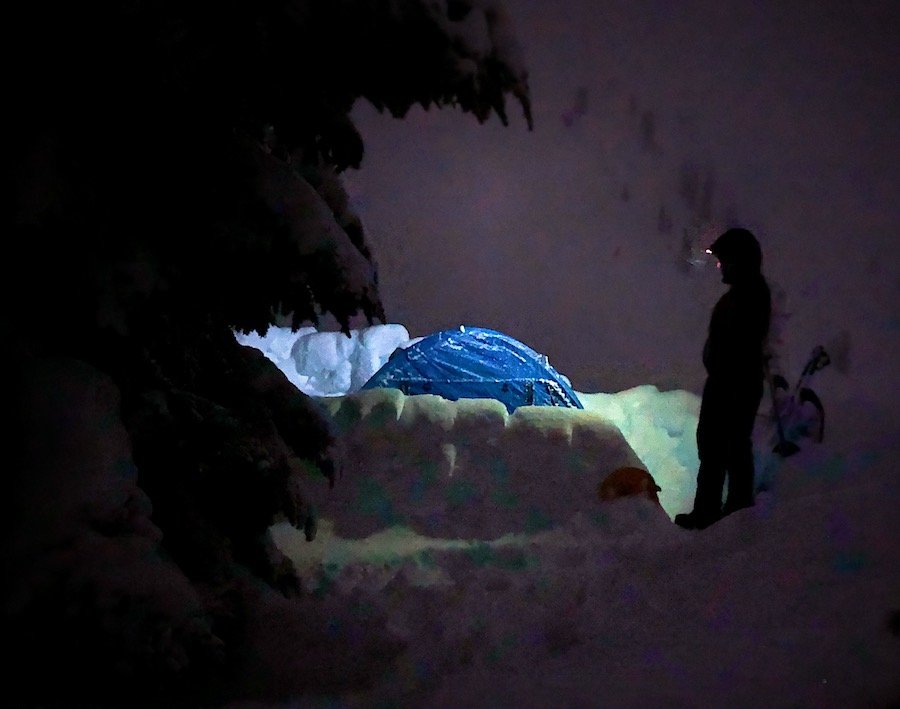 Overnight Snowfall
In the end, we ended up getting over 50cm of snow, more than double what the forecast had predicted. Thankfully, it wasn't as cold due to the warming effects of the snow, but we did have to monitor snow accumulation on our tent, and give it a shake and a poke every couple of hours to knock it off, which made for a fitful sleep.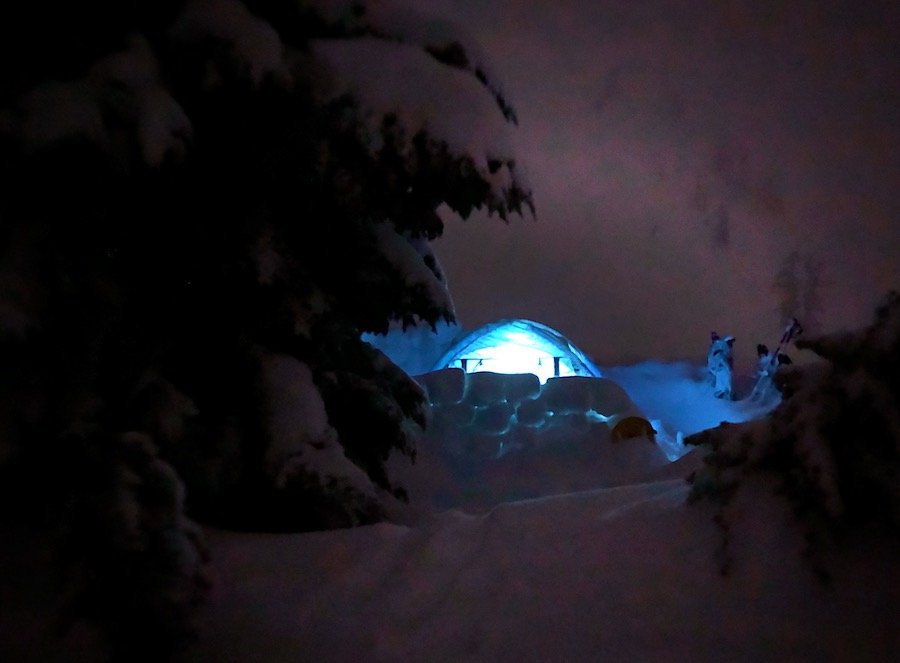 We awoke to a bright, snowy landscape. It was still snowing out, but the ubiquitous snow reflected whatever light managed to make it through the clouds. We also awoke to the sound of explosives being set off at the nearby ski hill as part of avalanche control. Not good, we realized. We looked down the mountain the way we came and saw how much snow there was. We had our coffees and broke camp as quickly as possible. We realized how critical it would be that we make it down the mountain quickly so that we wouldn't be dealing with as much snow accumulation, but also carefully, so as to not cause an avalanche along the way. We kept our voices to a whisper and made our way down.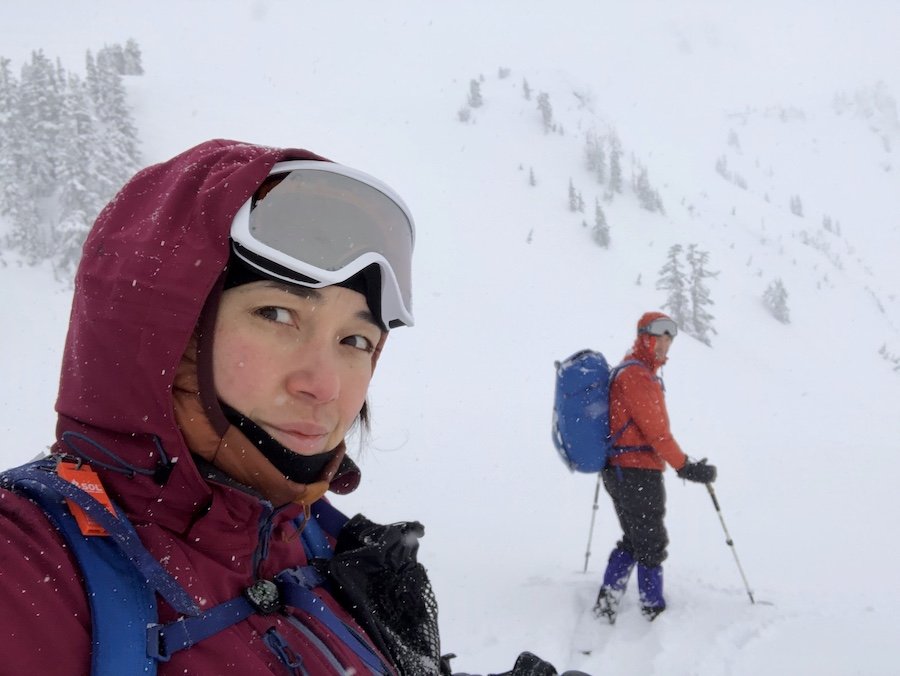 It didn't take us very long, but it was a harrowing experience we would prefer not to repeat. That being said, it was an incredibly beautiful and awe-inspiring trek as well, as we maneuvered through untouched snow with large flakes floating gently to the ground all around us. We breathed a sigh of relief when we saw the end of the trail and the parking lot in the distance.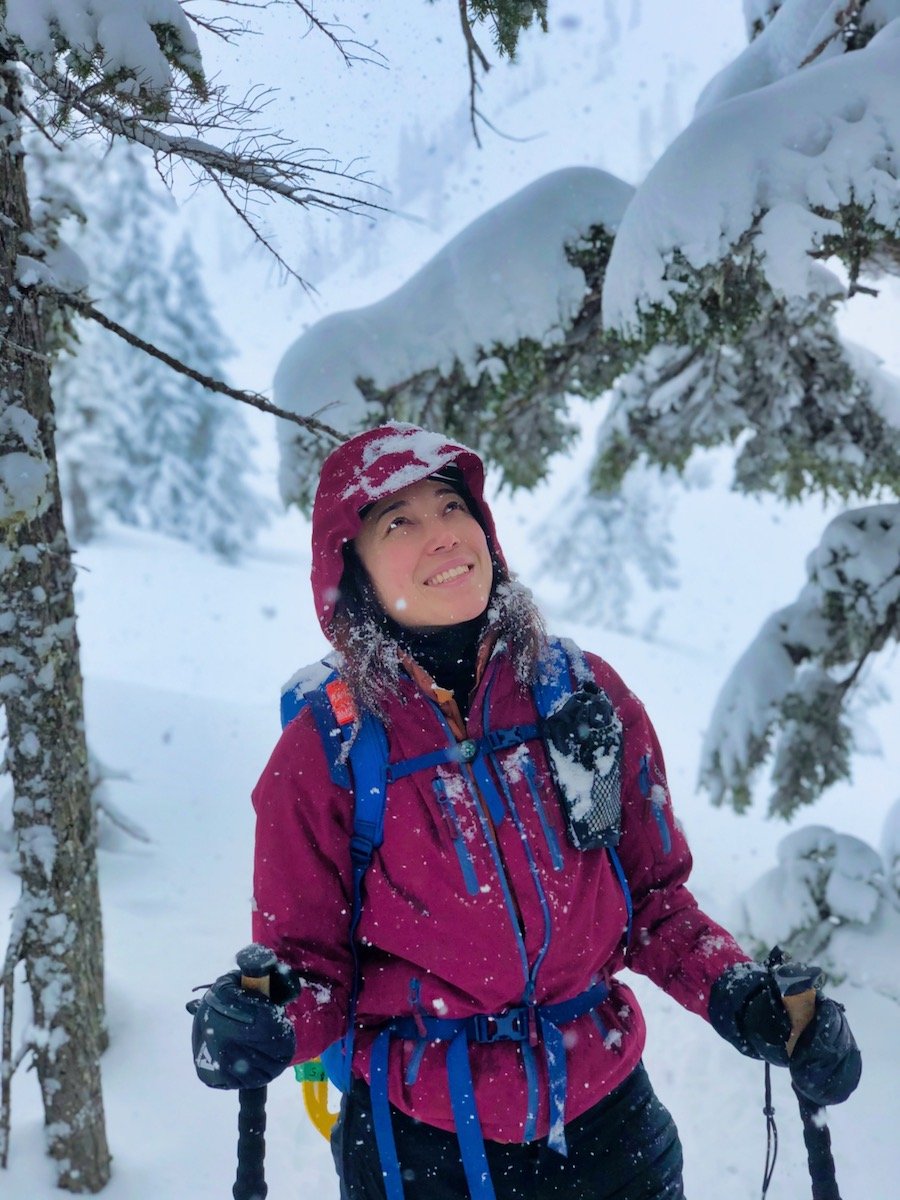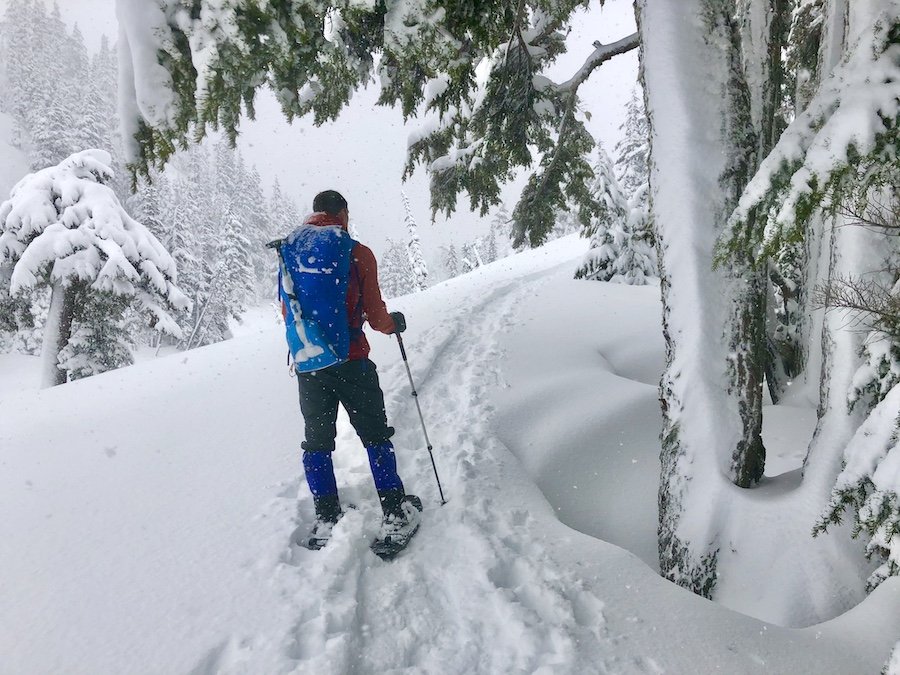 Our car was completely buried in snow, but were were just happy to have made it back safe and sound. Clearing the snow took some time, but we derived a strange pleasure knowing that we survived that big a snowfall as part of our overnight winter backpacking experience in search of Artist's Point. While it may be a while before we can go across the border, maybe we'll be able to give it another shot next winter.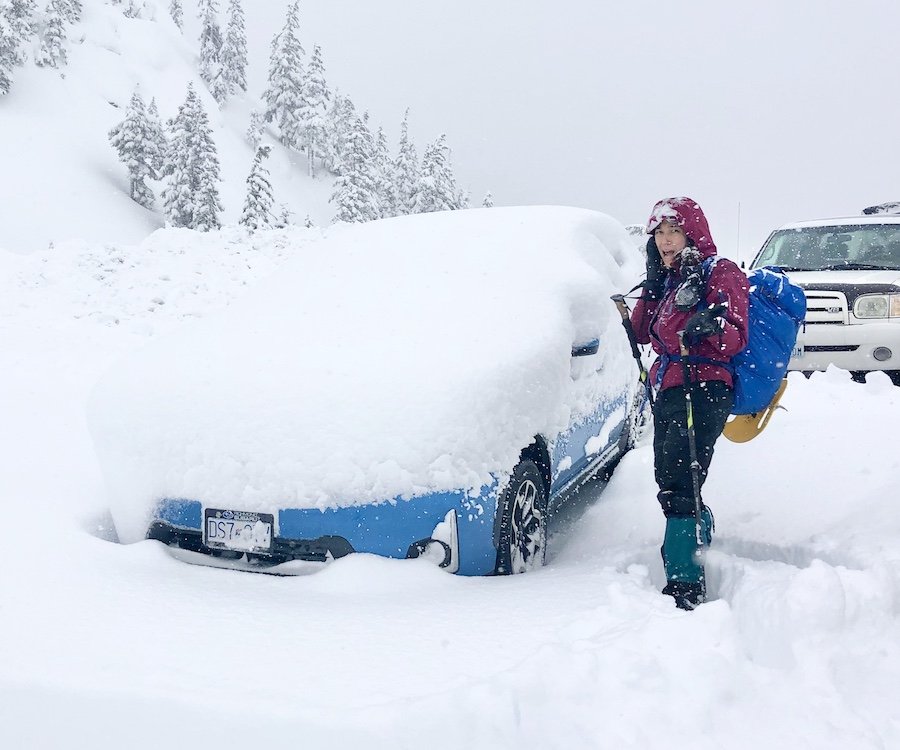 Now over to you. Have you ever backpacked to and camped at Artist's Point? What was your experience like? Please share in the comments for us all to benefit from your experience.