After a few weeks of a busy work schedule, I was super keen to escape the city and get out in nature to make the most of the Family Day long weekend. My husband and I decided to give winter camping at Manning Provincial Park a try. As I made conversation with my co-workers about my long weekend plans, there were a number reactions, ranging from widened eyes all the way to verbal exclamations of "You're crazy!" When I explain that we'll be camping at a place that goes down to -17C (1.4F) at night, even I think it sounds a little crazy. That being said, it's not as bad as it sounds, especially when you're car camping and either have certain kinds of gear or certain facilities at the campground, or a combination of the two as was the case for us last weekend.
The Car Camping Situation at Manning Provincial Park
There is one campground at Manning that is specifically designated for winter camping for small groups, Lone Duck 1. Lone Duck 2 is also available if doing camping with a large group. The weekend we went there was a scout group camp going on there, but you can also book it as a private group. There are two options for camping at Lone Duck 1, tenting in the woods, right near the parking lot, or camping right in the parking lot if your campingvset-up is your vehicle itself (i.e. an RV or camper van), a towable (i.e. a trailer), or attached to your vehicle, as was the case with us and our Skycamp rooftop tent. There are two outhouses for campers to use, stocked with toilet paper, but not a hand sanitizer so that's something you'll probably want to bring.
For those camping in small groups, the cost is $13/night. There is no camp host so you have to go to the front desk at Manning Park Resort to pay (cash only). They'll give you a key to the warming hut (if needed), on which you'll pay a deposit which will be refunded to you on return of the key. This is also your last chance to enjoy the luxury of a flush toilet and running water before heading to camp, so take advantage. They have a store there too, so if there's anything you may have forgotten, you can pick it up (at a marked up price of course). If you didn't bring your own wood, you should be able to buy some there.
Tent-Based Car Camping at Lone Duck 1 Campground
I totally understand how people might think tent camping in such cold conditions would be terrible, but there was a lovely warming hut available for use by all the campers, complete with a fire and tables for cooking and eating, or whiling away the hours after sunset, playing games by lantern or enjoying a few drinks, that is if you're not outside enjoying a roaring fire, which most people did at some point.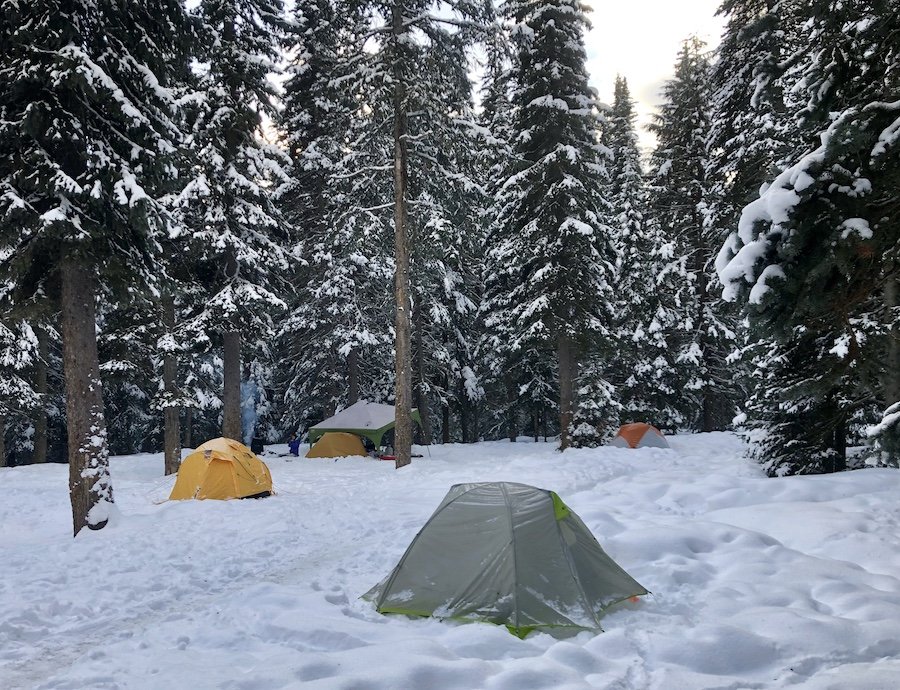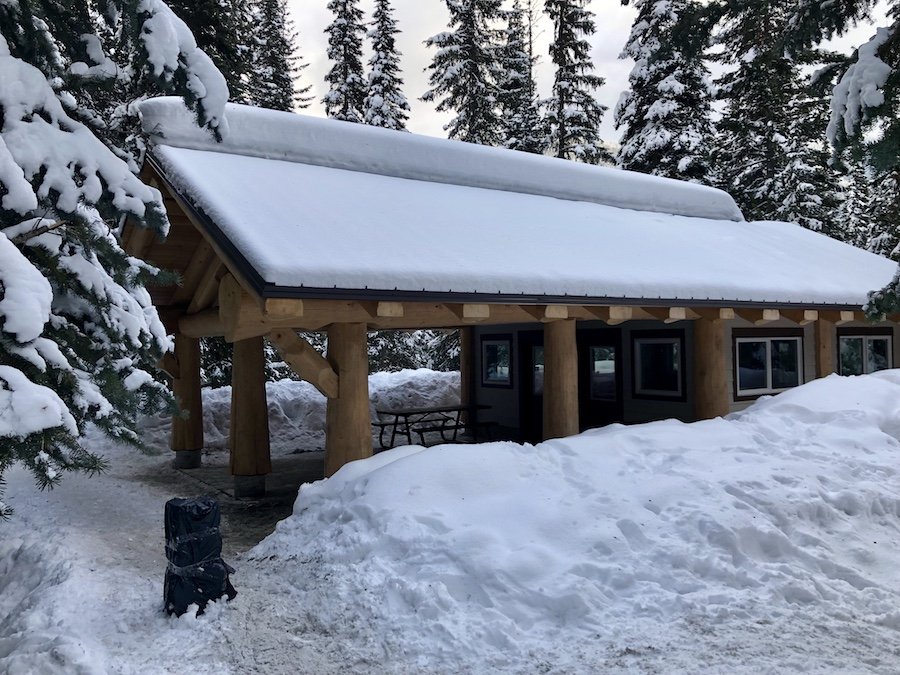 We didn't use the hut, but we totally would have if we hadn't had the annex room set up with our Skycamp, allowing us to heat the space so we could comfortably cook, eat, play games, etc. Not everyone doing tent camping used the hut either. Some people set up their own lean-to's or used snow to build walls around their campsite to help contain the heat from their fire and to provide extra shelter against the wind as well as insulation. Others with fancier equipment use tent heaters to help keep their tents warm at night, and even if you don't have that, you can get by with winter sleeping bags, mattresses, plenty of layers, and perhaps a few well-placed personal warming pads. If you have the know-how and the equipment, winter camping isn't so bad, and the rewards of the quietly, snowy, pristine landscapes surrounding you, without the usual crowds you get in the summer.
Parking Lot Car Camping at Lone Duck 1 Campground
I admit that I wasn't enthralled with the idea of camping in a parking lot with surrounded by cars, RVs and their generators. But even on what would theoretically would have been one of the busiest camping weekends of the winter season, being the Family Day long weekend and all, it was still relatively quiet compared to what you would expect in the summer. There were only 2 RVs and one camper van in camping, and even with all the cars for the tent campers, we were all able to carve out our own private spots without feeling crowded together.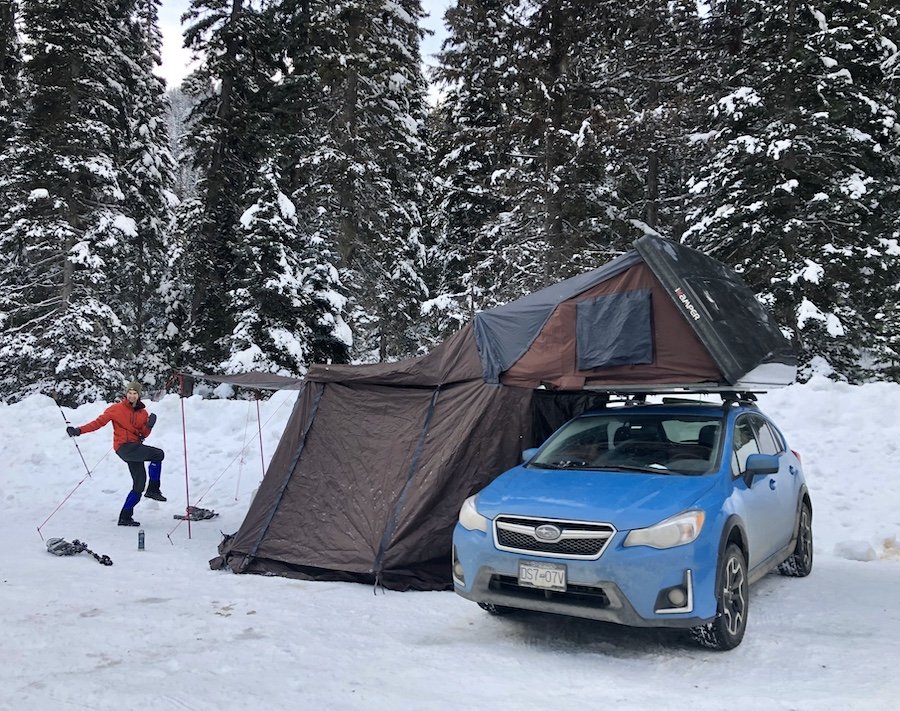 There was also a lovely social element to the experience. It does, after all, take a certain type of person to go out and "enjoy" winter camping. As such, those of us who were camping in the parking lot make fast friends. A number of people came over to ask about our rooftop tent set-up. One couple even invited us over to share their fire, which we took advantage of. It was nice being able to throw my foil-wrapped s'mores in an actual wood fire for a change. I shared hospitality in drink form and made our hosts hot chocolate with a shot of Fireweed cinnamon whiskey, which we were both already enjoying.
Snowshoeing Routes at Manning Park
There are a number of beautiful snowshoeing routes to enjoy, as well as cross-country skiing routes. I can't speak much about the cross-country skiing, so I'll stick the the snowshoeing routes of which I am more familiar.
Lightning Lake Loop Snowshoeing Trail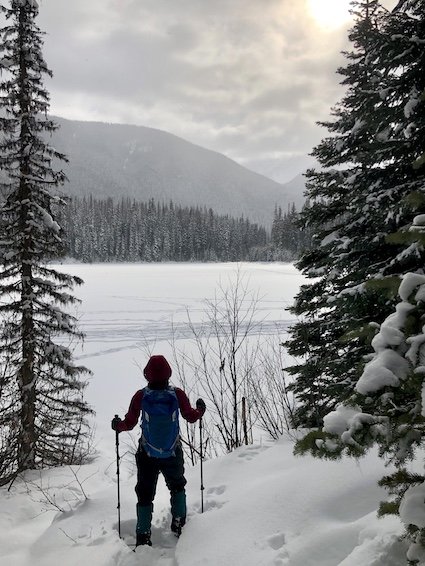 Distance: 4.5km (return) or 9km (return)
Difficulty: Easy
Elevation Gain: minimal
The short loop cuts across the lake at Rainbow Bridge while the longer distance goes all the way around the entire lake. As there are some cross-country ski routes, take care to not snowshoe across the tracks or use the central skate skiing route. There is a track specifically for snowshoeing that hugs the edge, so stick to that. Since the lake is human-made, officials warn that it doesn't freeze reliably. As such, travel across the lake is not recommended. That being said, when it's below -10C and you can see plenty of tracks out on the ice, you might not mind taking a calculated risk for yourself, but be mindful that it is indeed a risk.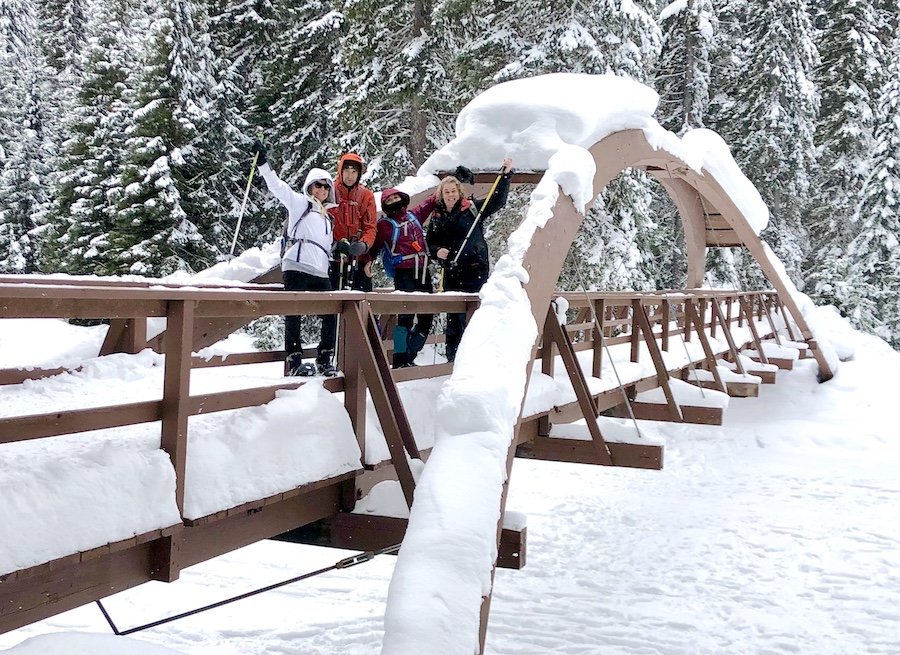 The Lightning Lake loops are probably the most popular snowshoeing trail at Manning Park, enjoyable for people of all levels. A couple of friends who joined us for the snowshoeing portion of our trip both had limited mobility due to injuries and still were able to handle the short loop comfortably. Whether you do the short loop or the full lake loop, it's a gorgeous romp in the snow, and it wasn't even that busy considering that it was a Sunday on a long weekend, when it would be at its busiest. Not even close to the crowds you would expect on the trail in the summer.
Shadow Lake & Three Falls Snowshoeing Trail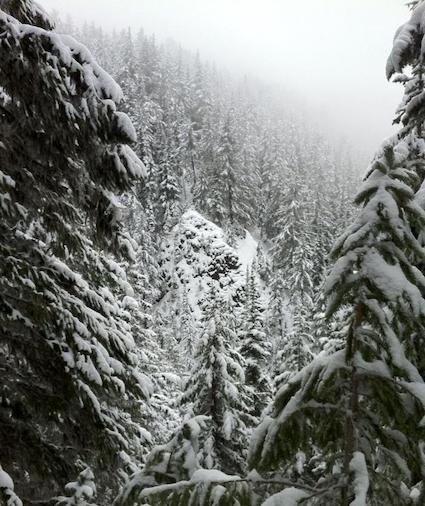 Distance: 4km, 5km or 9km return
Difficulty: Easy (if just doing the Shadow Lake Portion), Moderate (If doing the Three Falls Portion)
Elevation Gain: minimal
Starting from the Strawberry Flats parking lot at the upper end, you'll see a large yellow snowshoe trail sign marking the trail head. The trail is well-marked with orange flags through trees and open meadows around the edge of Shadow Lake all the way up to the T-bar at the downhill ski resort. As usual, do your best not to snowshoe across the groomed cross country trails. This trail is more about appreciating the snow in the trees as you romp through the forest. The trees are less dense than they are around Lightning Lake, and for the most part, you're not near the cross-country trails, so you can you go a little off-trail and experience the joy of stomping through perfect, powdery snow.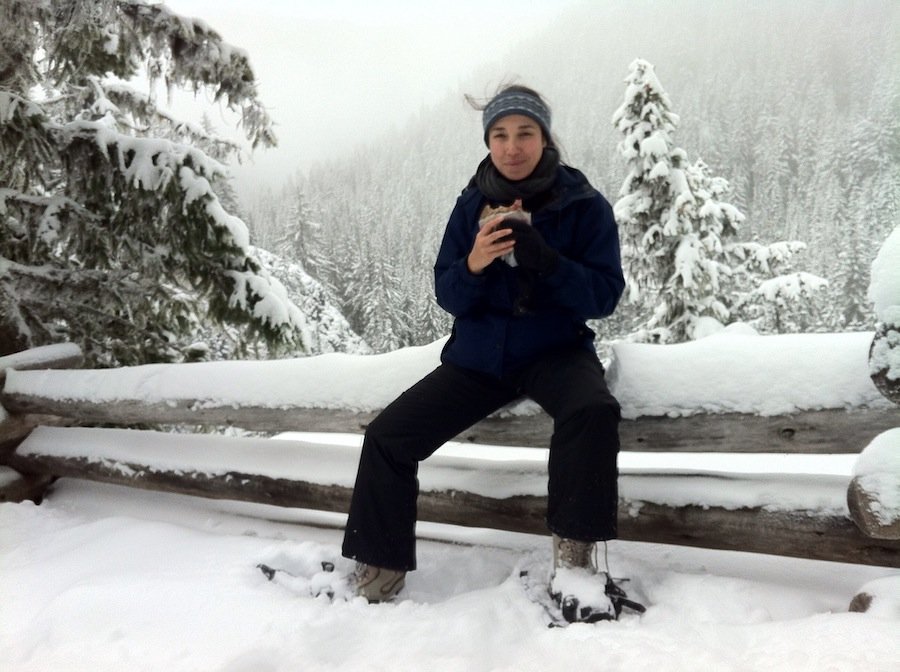 If you continue on past the ski resort, note that the trail is unmarked and that there are a number of drop-offs so it's safer to stick to the trail as best you can. There are indeed 3 sets of falls: Shadow Falls, Nepopekum Falls and Derek Falls. When Chris and I on the Three Falls portion of the trail, there was so much snow that the trail leading toward Derek that it seemed unsafe to proceed (always check avalanche reports, especially when heading out into uncut trails after fresh snowfalls), but I have read it is the prettiest of the 3 sets of falls. We could see Shadow Falls from the lookout point way below though it was hard to make out any details. It was still a nice place to stop and eat anyway with the expansive view.
A Must-Experience Winter Camping Location
After having done winter car camping and snowshoeing at Manning Provincial Park in the Lightning Lake area, it has now become a place we will visit once or twice a season. It's set-up with warming hut and outhouses make it a great choice for first-timers wanting to give the winter camping experience a try.
Have you done winter camping at Manning Provincial Park before? How was your experience? Any advice for people thinking about going? Please share your thoughts in the comments for the benefit of all. :)