One of the trips Chris and I have had on our BC hiking bucket list has been to go to Cathedral Provincial Park, out near Keremeos, to hike the Cathedral Rim Trail, along with a few others in the area. I was told it was one of the best hikes in southern BC. We tried to plan a trip last year, but the wildfires kiboshed that attempt. This year, the fires in the area weren't severe, so we booked a trip for mid-September, as I was told this was a good time to go for more good weather and less crowds. Little did we know that things wouldn't work out exactly as we hoped.
The Best Laid Plans...
Cathedral Provincial Park is massive. The starting point for all the best hikes are halfway up the mountain. There are routes to hike up to that point, but all reports say that they are long and don't have anything of interest to offer for your efforts. This is why most people take the shuttle service offered by the Cathedral Lakes Lodge, a private company offering rooms, cabins and meals for those who prefer something more comfortable than camping. We booked the shuttle up the mountain, but chose to stay at the campground. To us, this is luxury in that we don't have to carry all our gear on our backs for the hikes.
The shuttle costs $75 each way per person, while the camping costs $10/night for the core area backcountry sites. If you decide to go with the shuttle, be warned that the company's website states that "Fees are non refundable, non changeable and no credits are offered for future visits. No exceptions." If you stay at the campground at the base of the mountain before hiking up, it's $13/night.
Our plan was to drive to the park early on a Thursday and take the 2pm shuttle up the mountain, then stay at the campground for 3 nights. This did not work out as planned. I ended up booking work that made it impossible for us to make it there for the shuttle we booked. I reached out and asked if it might be possible to switch to the Friday morning shuttle, knowing that they had every right to reject my request, hoping that it might be a more convenient situation for them to take us up that day instead. Thankfully, they granted me my request.
And then our plans when further awry. Our cat River came down with pancreatitis, which meant that one of us had to stay home to keep tabs on her condition and administer medication. Fortunately, I knew my friend Kiri was taking time off work, so I reached out to see if she might want to take Chris's place last minute. Thankfully, she was was gung ho to do so, wanting to revisit places she experienced with her family over 40 years ago. The only other change we had to make was to camp at the base of the mountain for our first night, and lose half a day of hiking. At least I was still able to make the trip happen. This was only the start of the list of unexpected events to happen to this trip.
Camping at Lakeview Trailhead Campground
We arrived at the Lakeview Trailhead Campground around 7:30pm. There was only one other vehicle at the campground and no one at all camping there. It was eerily quiet, but we walked over to the river next to the bridge crossing to the trailhead where the tent camping sites were and set up our tent quickly before dusk took hold. If you have an RV or similar vehicle, you can also camp right on the parking lot. Once we were done setting up, we bundled into our tent and crashed for the night, lulled to sleep by the relaxing white noise of the river... or at least I was. Apparently the river was a little too loud for Kiri and it kept her up most of the night. She was exhausted the next morning, making it a rough start to the day for her.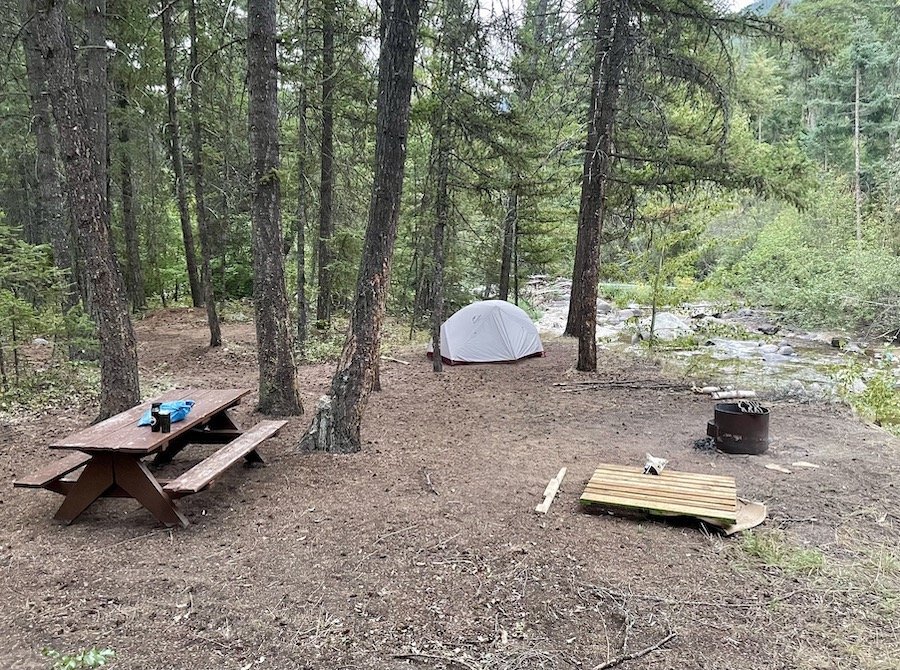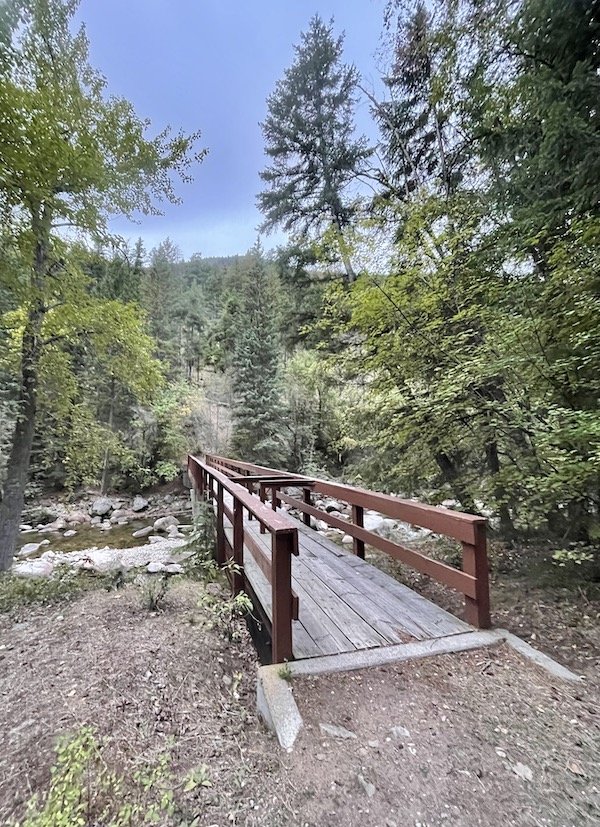 We didn't have to be at the base camp for pick-up until 10am, so we decided to take a little drive out to check our phone messages since there was no cell reception at the campground. We drove back out to the main entry road, across the river from the Crow's Nest highway, where I was able to get reception through the Virgin network. It would be the last time I would check my phone until the trip was done since there's no reception anywhere in the park from what I understood.
A Bumpy Ride Up the Mountain
We threw put on our masks and threw our packs into the back of a truck and jumped into a 4x4 to be driven up the mountain. It was a bumpy ride, but the driver was competent and made it as comfortable a trip as possible. He even pointed out a view on the way up and stopped so we could take photos. It took just shy of an hour to drive up to the lodge where we were dropped off.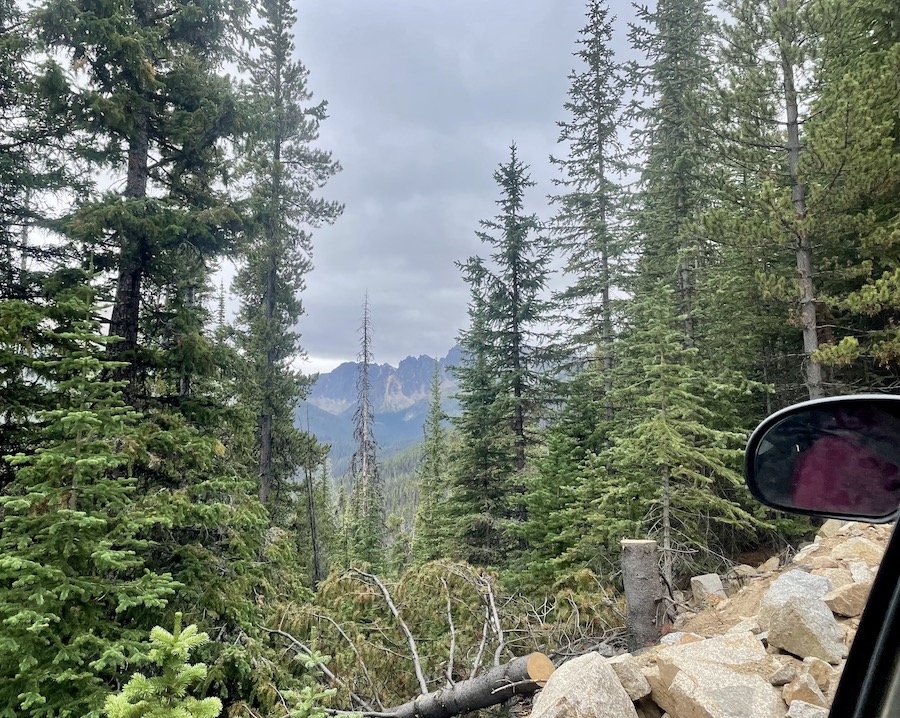 Setting Up Camp at Quiniscoe Lake
There were 2 backcountry campgrounds available at the time of our trip: Quiniscoe Lake and Lake of the Woods. Pyramid also used to have a campground, but it was closed due to the large amount of dead trees from pine beetle devastation. We decided to camp at Quiniscoe because it was only a 5-minute walk from the lodge, and closer to the main hikes of the park. Think of it as luxury backpacking in that you get shuttled most of the way then only have to hoof it with your stuff for only a short walk before you set up camp for your stay. This is also the best choice if you decided to pay for any of the buffet meals offered at the lodge while camping. They even ring a bell at meal times that can be heard all the way from the campground sites.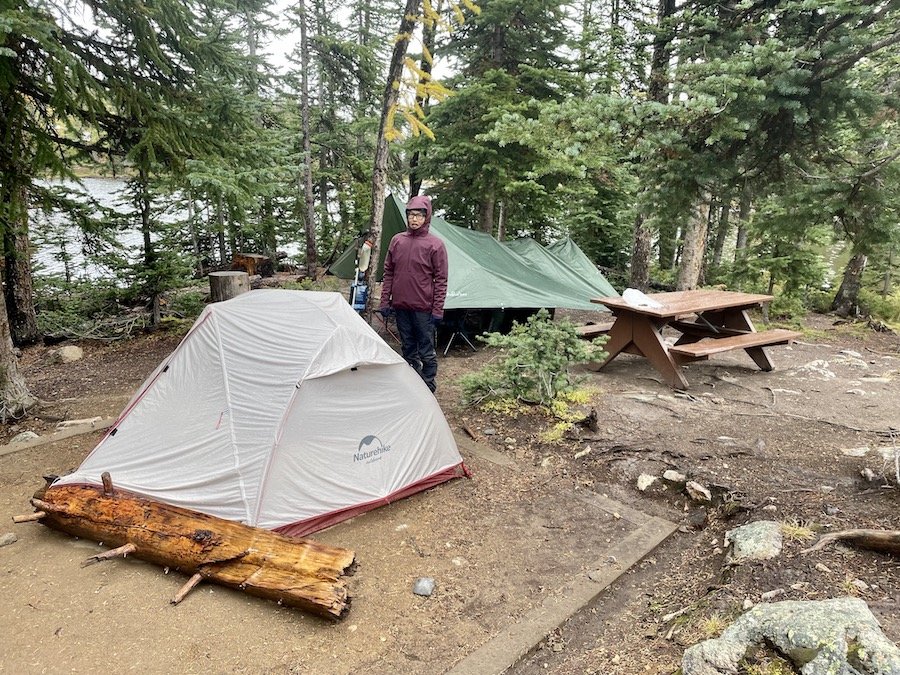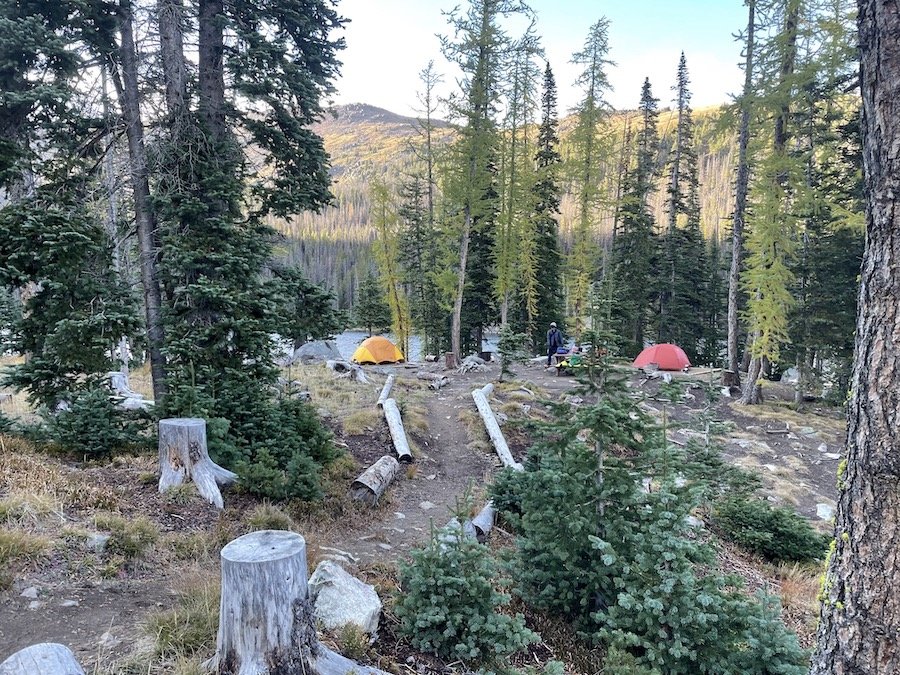 The Quiniscoe Lake campground was well-maintained, with outhouses that didn't smell bad, a bear hang apparatus and wire boxes for smaller things that you want to keep little critters out of. The bears weren't active while we were there, and all our food was contained in odour-proof bags, so we decided to store our food in the more conveniently located mesh boxes. That being said, if you go at a more active time of year for bears and you bring anything with you that might present an enticing smell for them, go with the bear hang instead and be sure to observe bear safety protocols to avoid incidents.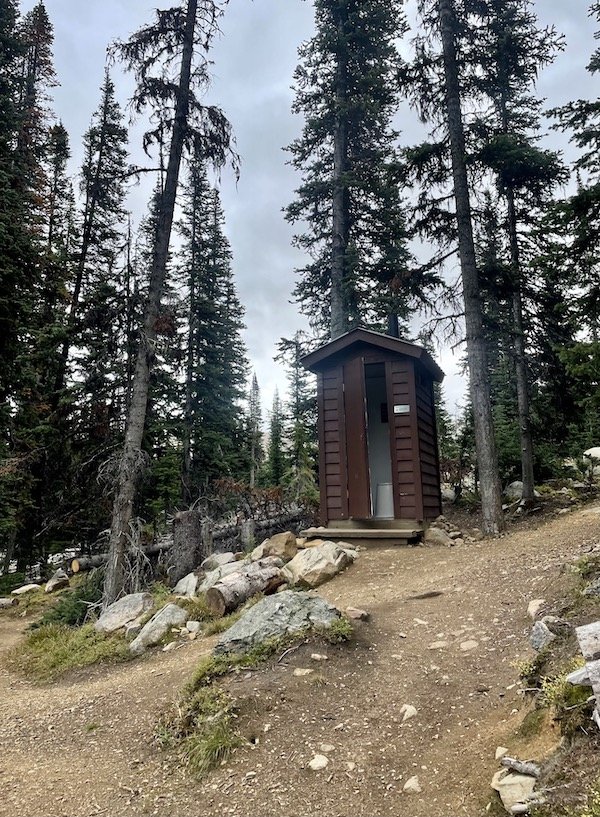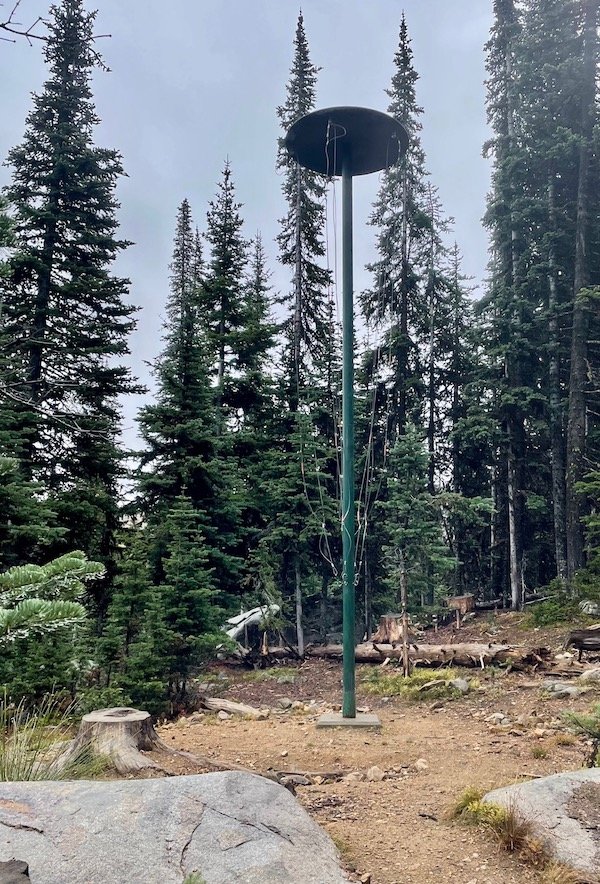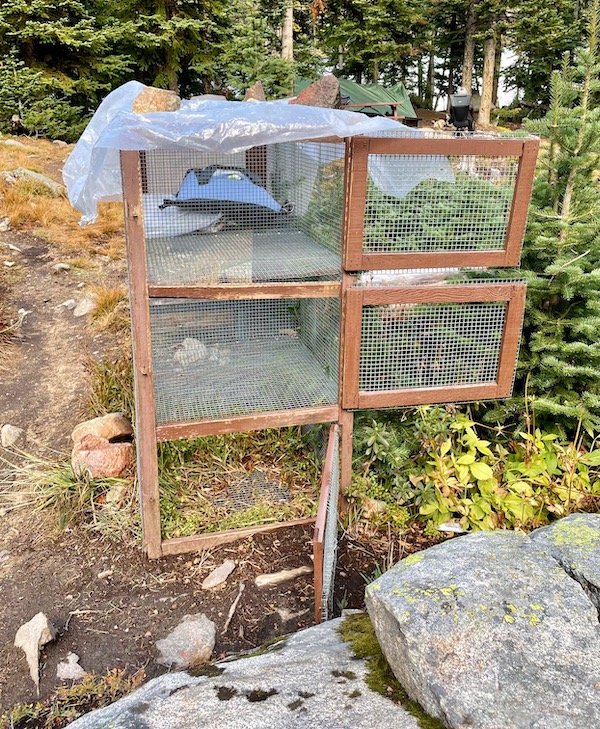 Picturesque Sites at the Lake of the Woods Campground
The Lake of the Woods campground is around a 30-minute walk from the Lodge. This is a long enough walk that if you decide to stay there, you would probably want to be able to pack all your gear in a way that can be easily carried that distance. If you decide to go with this option, you'll be rewarded with some gorgeous campsites with more pretty views than the sites at Quiniscoe Lake. The facilities offered there are the same as what you get at Quiniscoe, but you have to walk a lot further to get to the Lodge and the more popular trailheads. It's also quieter as most people choose to stay at the former. It's a trade-off either way.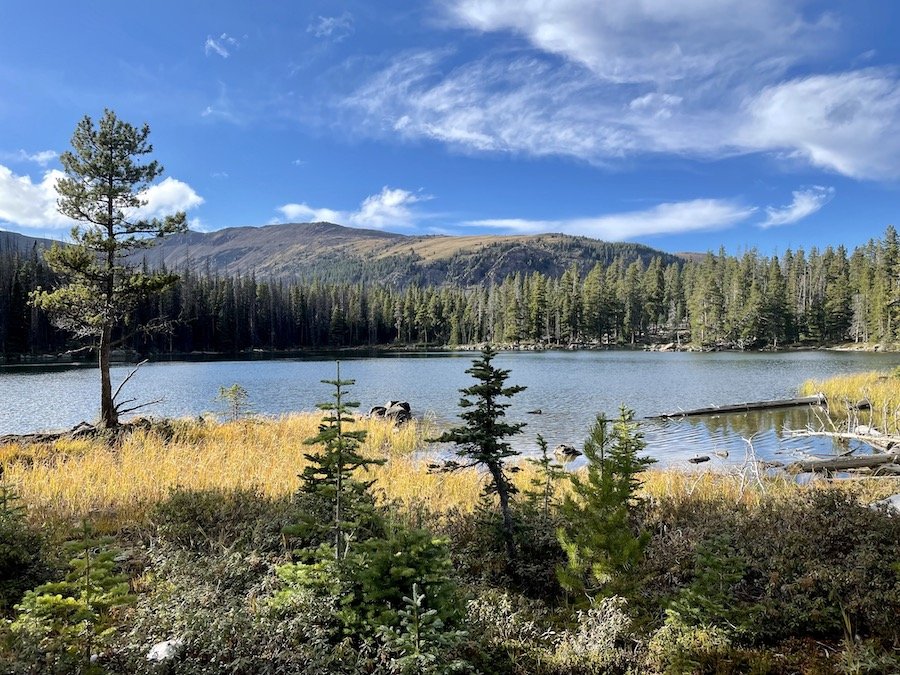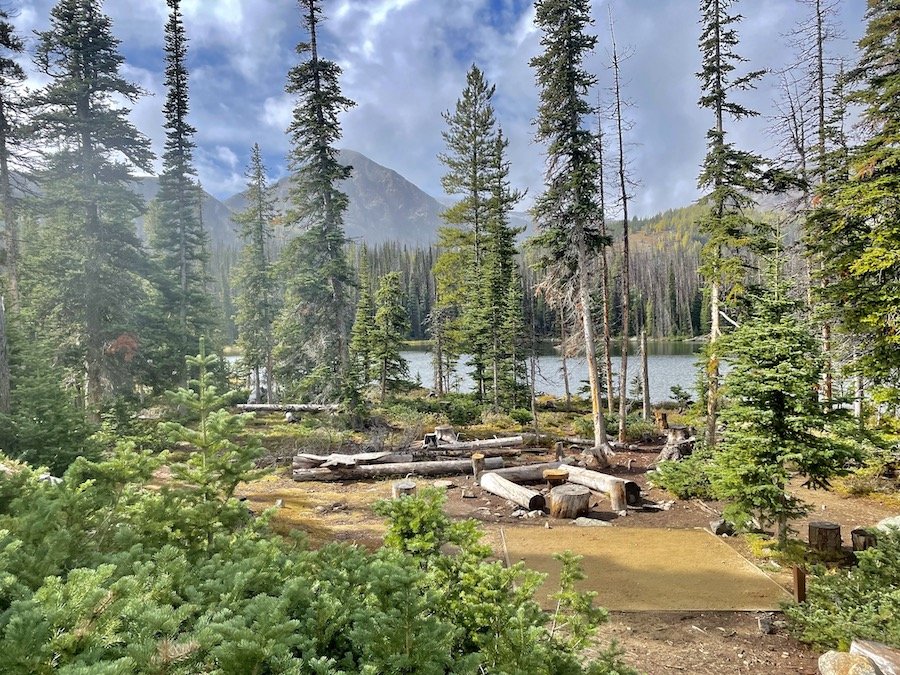 Diamond Trail Hike with a Side of Altitude Sickness
After we got our camp set up, we set off to hike the Diamond Trail around Scout Mountain. We walked back through the lodge area, up a short incline to reach the trailhead. As we did so, Kiri was finding to be a struggle to make it up the hill. This was highly unusual as her and I always hike at around the same pace. She was experiencing heart palpitations, unusual fatigue and later even a migraine. All of these were clear symptoms of altitude sickness, the price some people have to pay for such a quick ascent to higher altitude. I didn't have to pay this price, but we met others who did. It seemed to be quite random who would get it and who wouldn't. Regardless, I agreed to take it slow and match her pace as best I could, as she said she wanted to give it a shot and just do her best. I am so glad she did because it was a gorgeous trail.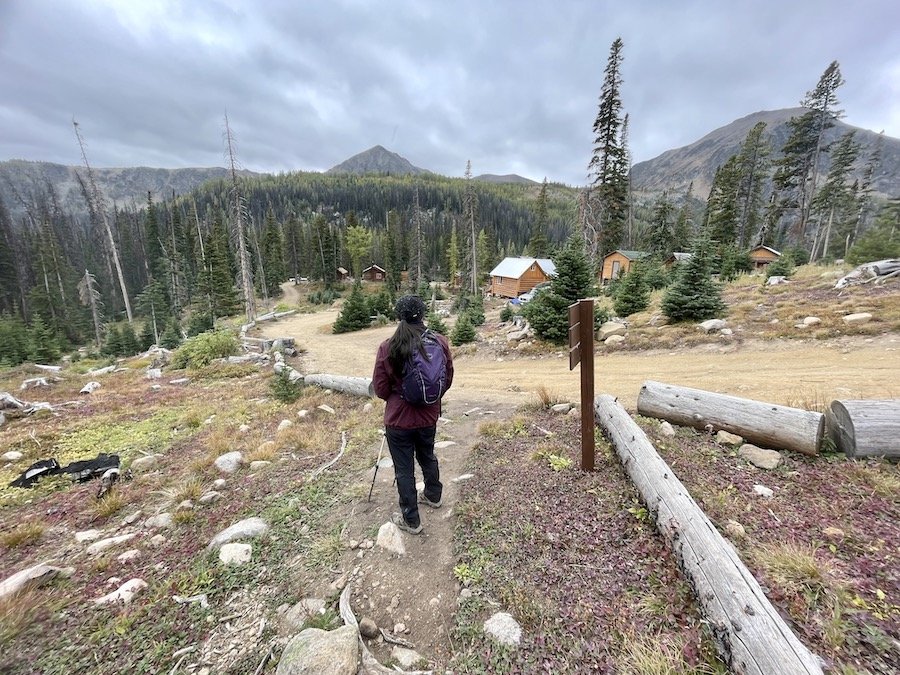 It started off winding upward through the tree line, past creeks, boulder fields and across bridges, as we hiked around Scout mountain. We decided not to bother hiking taking the short trail off the main one to see Scout Lake since Kiri was in rough shape as it was, saving it for later. Near the start of the trail, Kiri pointed out a the flowers of the fireweed lining the trail. She told me that they were known as Alaska's timekeepers and the flowers gradually die off one by one going up the stem as the seasons progressed from spring to fall. These ones only had a couple of blooms left, indicating that summer was almost over. It is truly impressive how accurate these flowers are at indicating seasons...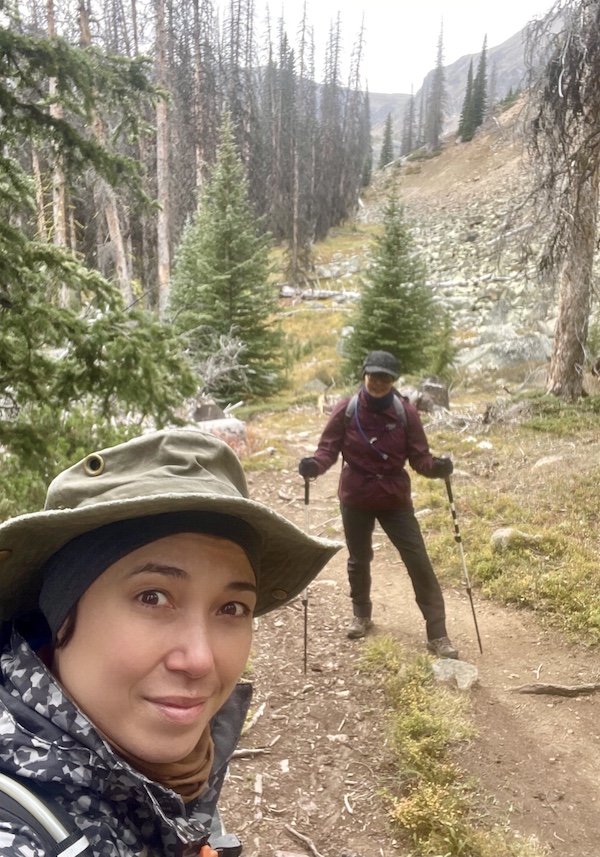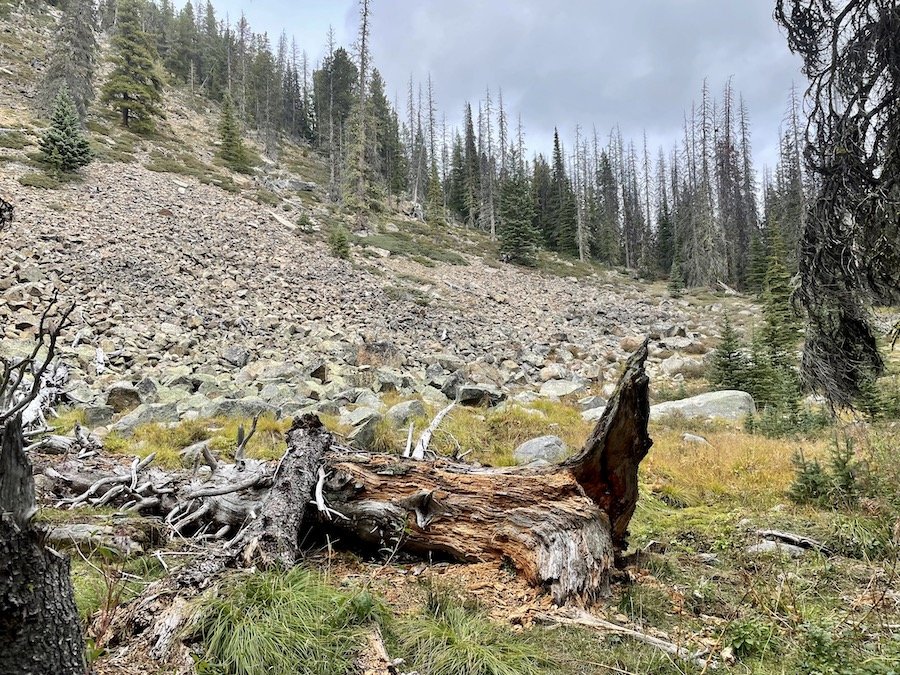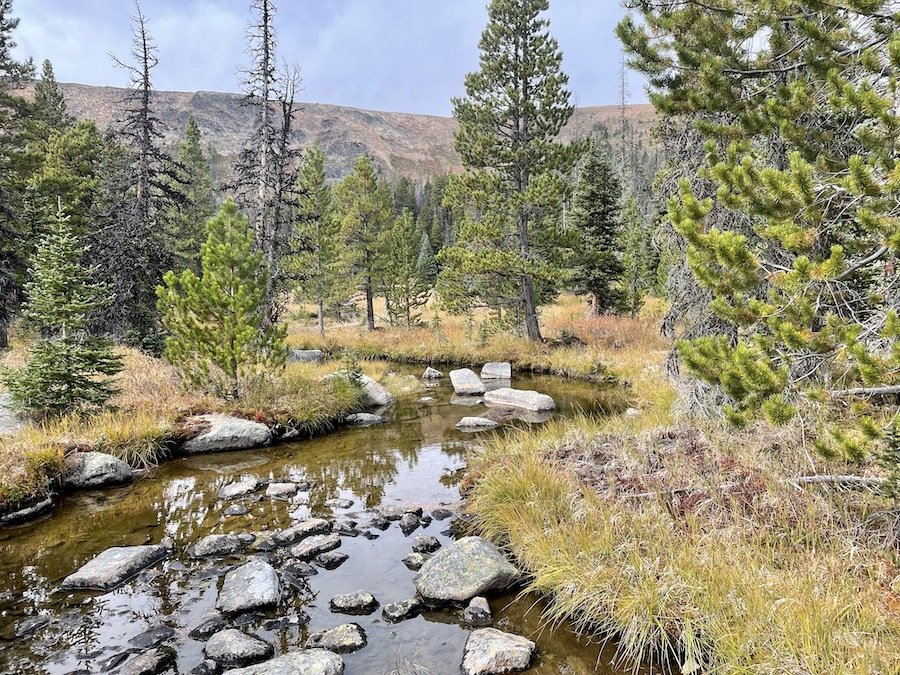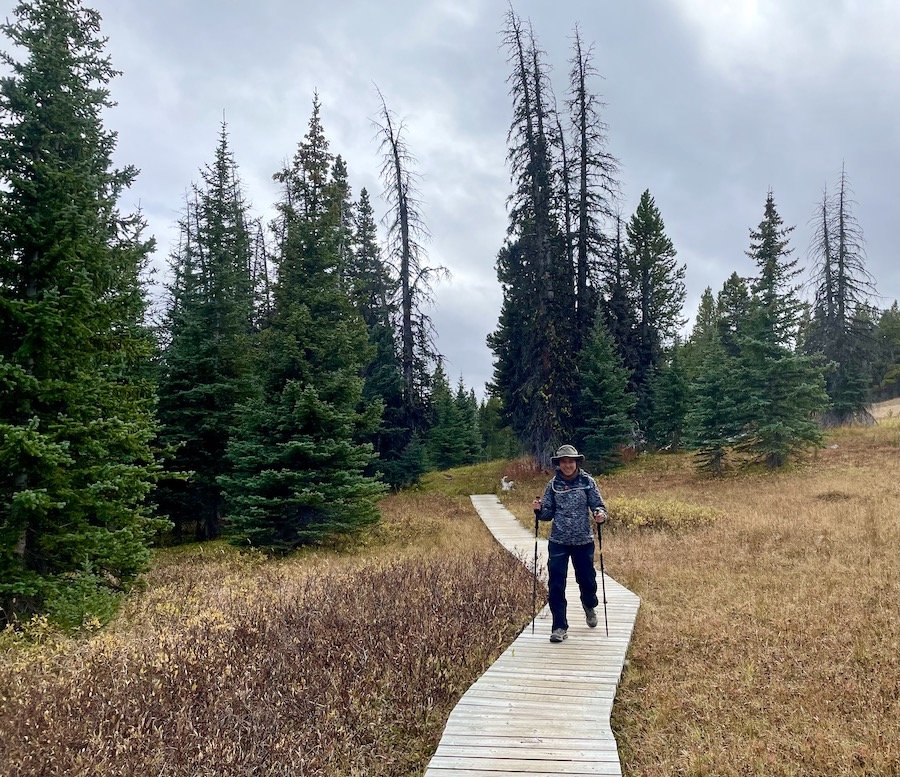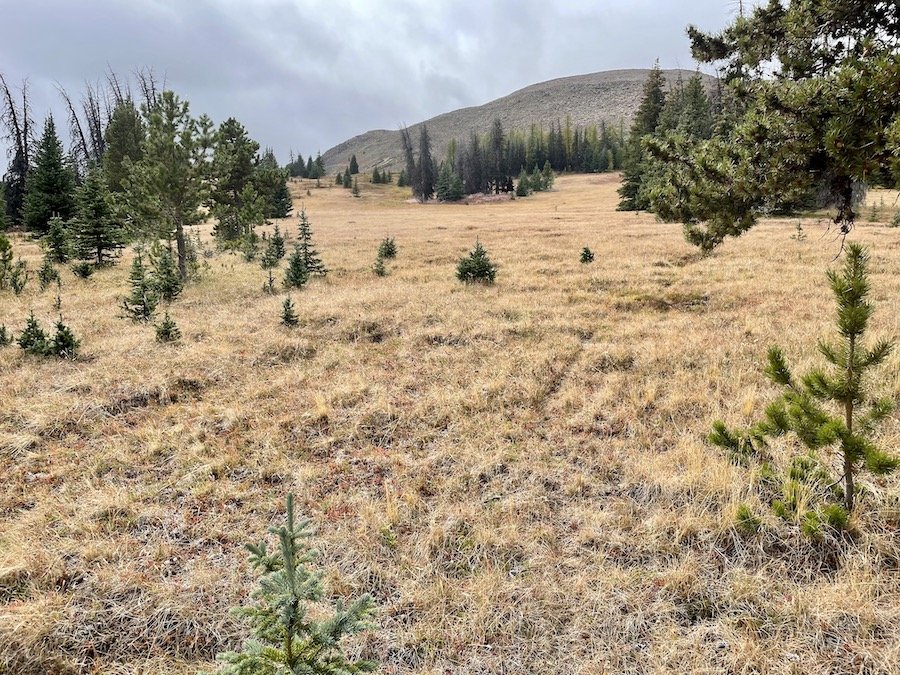 Once we got around to the other side of the mountain, at a much higher altitude above the tree line, the view opened right up. We could see for miles over the neighbouring mountains. It wasn't a full panorama but it was pretty close. That's when the wind started to pick up. It got faster and whippier, with sharp gusts that were so powerful it almost felt like it would knock us off our feet. This was a little unnerving, especially while hiking across unstable boulder fields and shaking the smaller pine trees along the trail as we hiked past.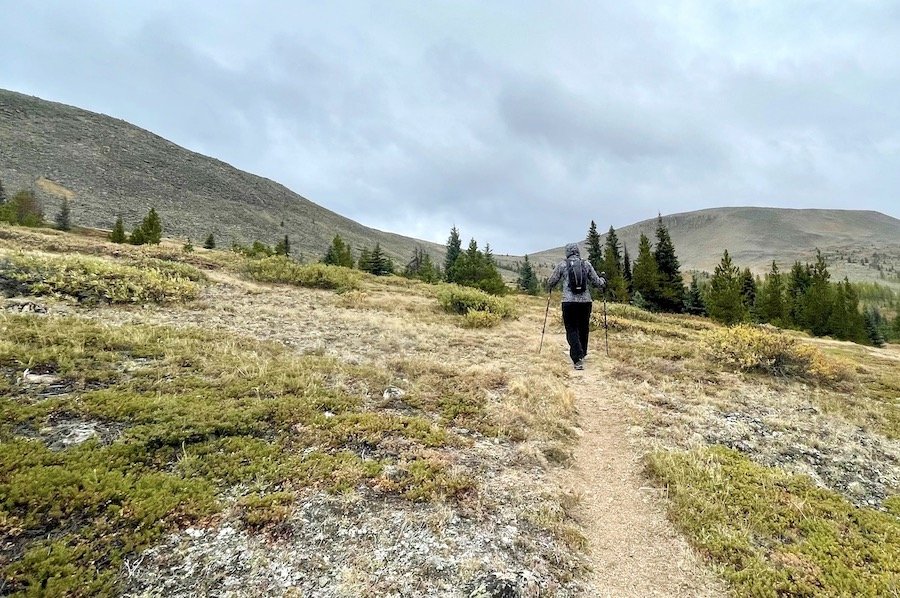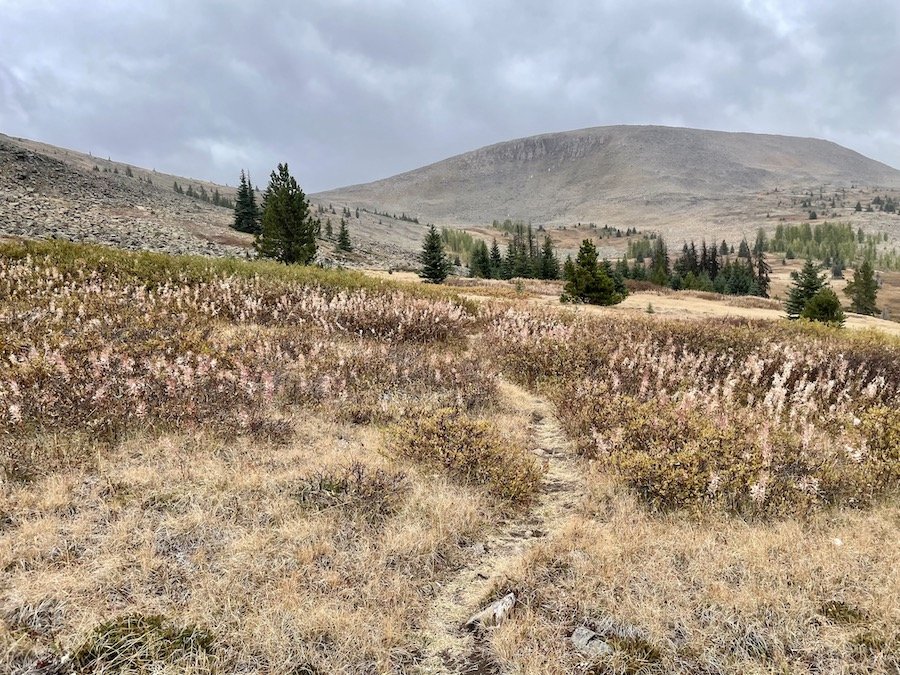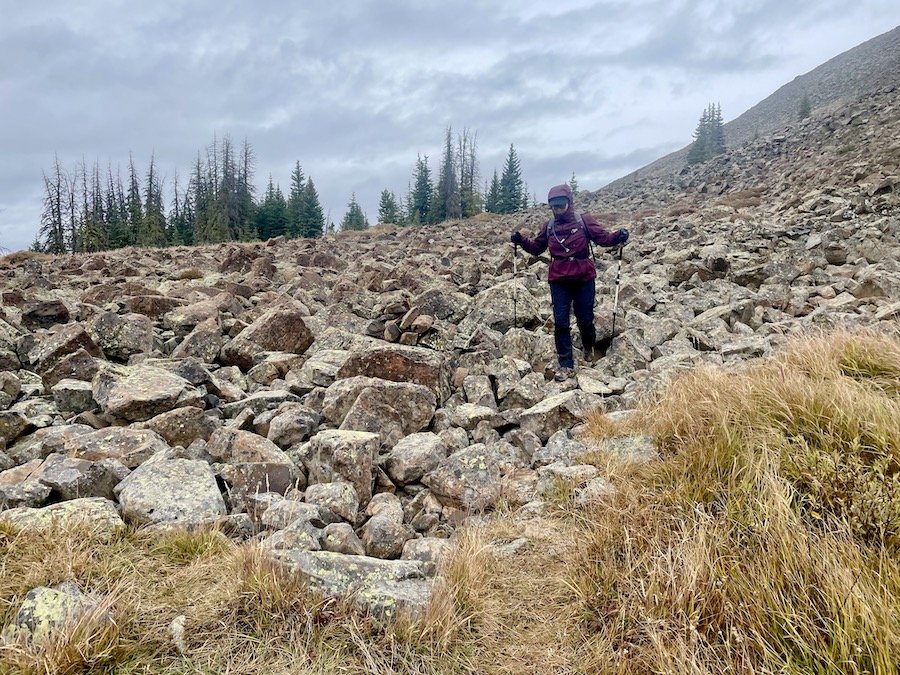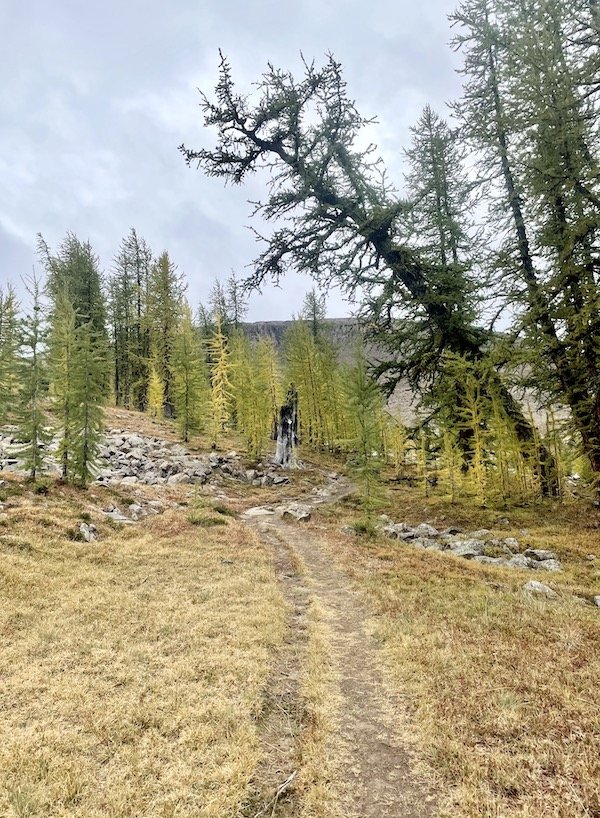 Then the rains came. It was a chilly rain with flecks of snow. That combined with the wind made us want to hurry down the mountain before it got any worse. After making it around the mountain, we came to the signpost for the Centenial Trail leading back over the other side. We passed a tiny mountain top lake, then came to a high ridge where we could see Scout Lake far below. Soon after, we got to the tree line which featured a lot of pretty yellow pine trees.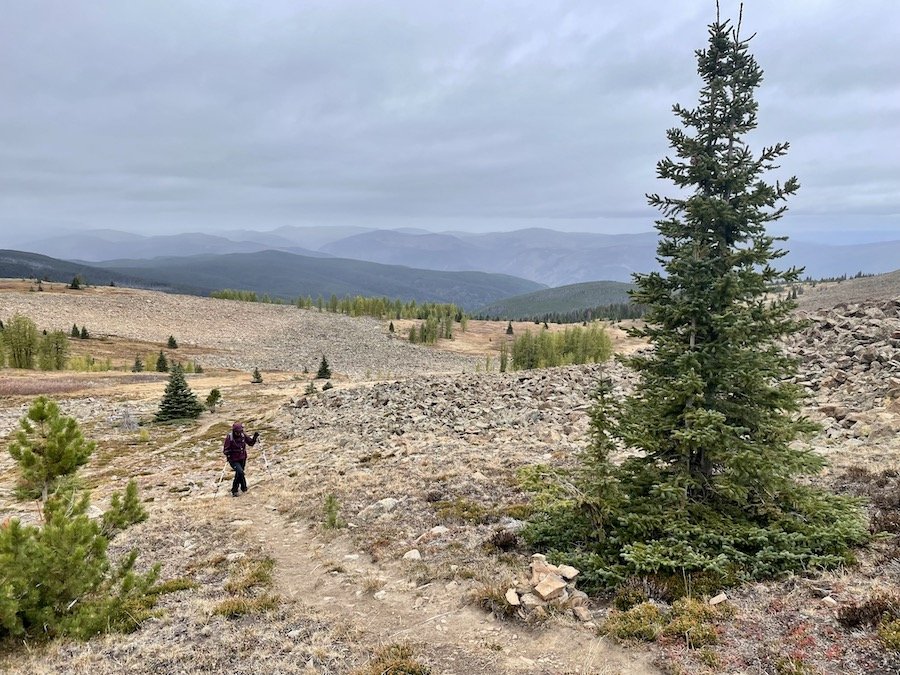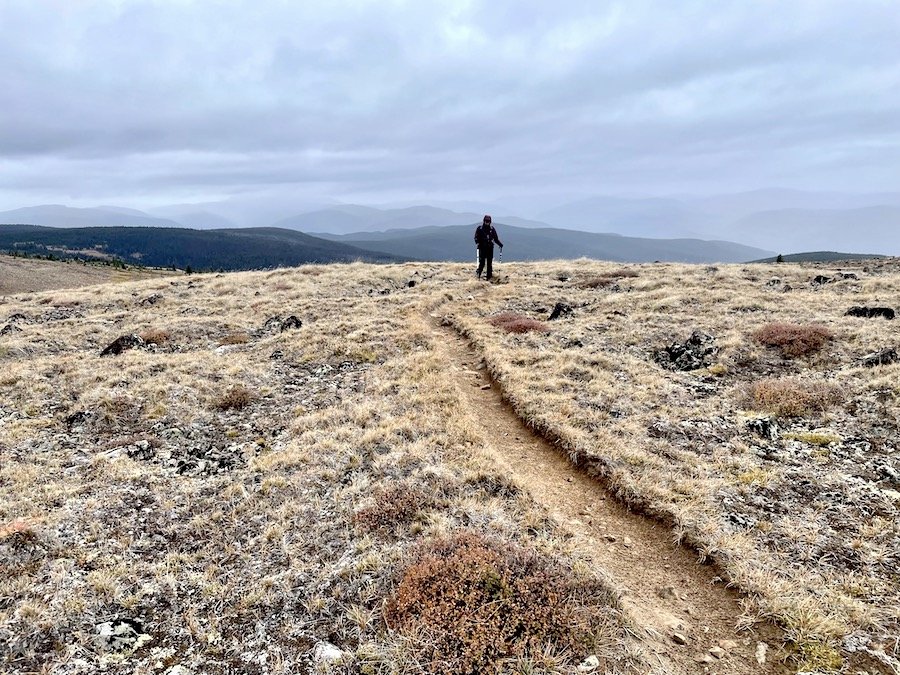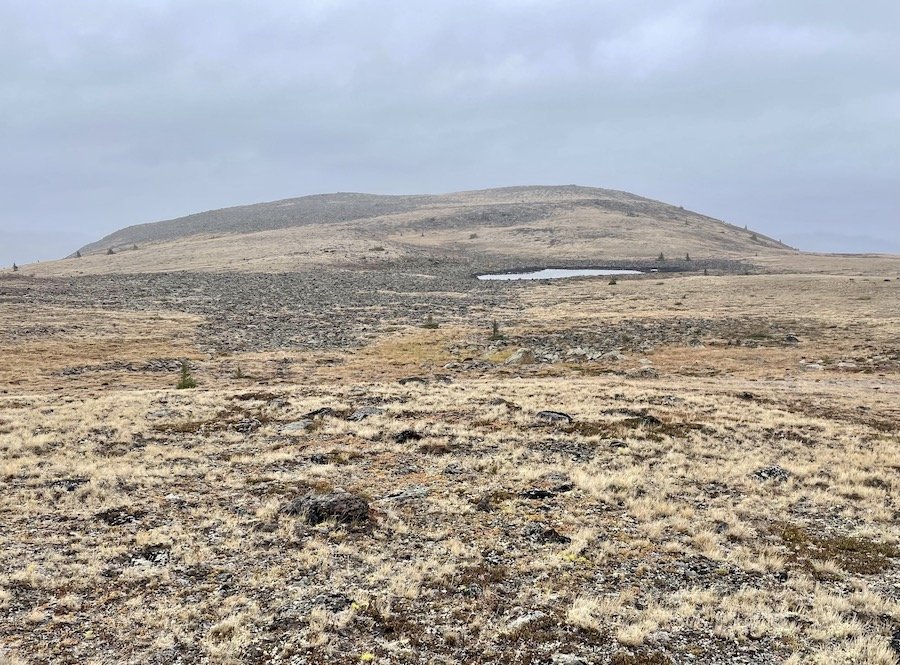 All of this would have normally inspired me to take a ton of photos, but at that point, I wanted nothing more than to get back to camp, so I decided I'd come back later to get those shots and hope for better weather. As soon as we got back, I made our dinner under our tarp shelter, then bundled into warm clothes and bunker down in our tent protected against the elements. Sleep came quickly, being lulled to sleep by the haunting sound of the wind and rain outside our tent, even with our 8pm bed time.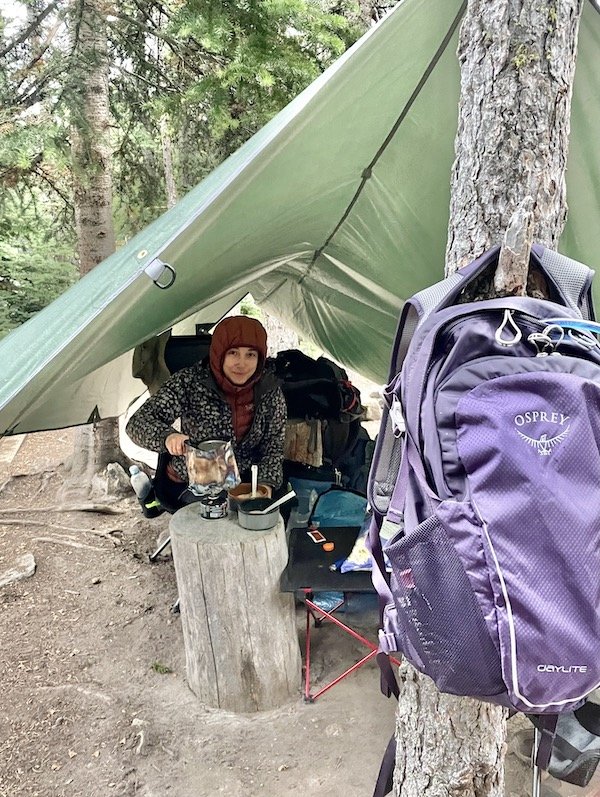 In my next blog post, I'll continue the story of the challenges we faced at Cathedral Provincial Park, including tackling the Cathedral Rim trail.