Chris and I had been itching to go on our first overnight kayak camping adventure since we both got kayaks. On a last-minute whim, we decided to give it a go. Since we knew we weren't going to be able to start until later in the day, we decided to try heading out to Widgeon Creek at Pinecone Burke Provincial Park, being an short paddling distance with a hike to Widgeon falls from the campground if we felt inclined. It was a perfect designation for this purpose.
Widgeon Falls Trail Stats
Difficulty: Easy
Type: Out-and-back
Time: 3.5-5 hours
Distance: 15km (9km paddle, 6km hike, round trip)
Elevation Gain: 85m
Season: year-round

What a Canadian thing to do; paddling out to a trail head by canoe, kayak or paddle board, then hike out to check out some beautiful falls before settling in for a night of camping in the bush. There are few barriers to entry to this easy adventure for outdoor newbs or anyone who just wants a quick getaway in nature. It's a great way to get the family out in nature and we saw a number of families doing trip. There were also groups of young adults, carting large amounts of alcohol, so take note that there may be some there doing outdoor partying, particularly on weekends. You might want to aim for weekday trips if you'd rather avoid the hubbub.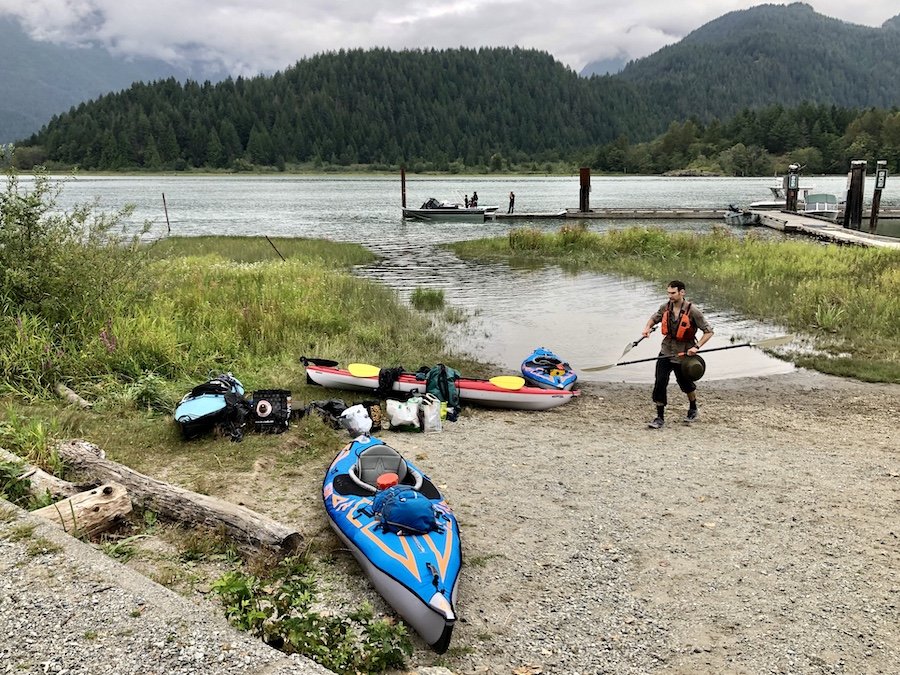 Overnight camping is essentially free, though there is a $10 charge for parking overnight (though you can probably get away without having to pay this if you park on the street). If you don't already have your own paddle craft, you can rent a 2-person canoe overnight for $100 (as of summer 2019), or a 4-person canoe for $150. Day rates are $80 or 100 if you do this as a day trip instead. (*Note: They only take cash, so don't forget your moolah!)
Fun Fact: Pitt Lake is one of the world's relatively few tidal lakes, and among the largest. On average, there is a 3-foot tide range; thus Pitt Lake is separated from sea level and tidal waters during most hours of each day during the 15-foot tide cycle of the Pitt River and Strait of Georgia estuary just downstream.
The Paddling Portion of the Widgeon Creek Adventure
The hardest part of the paddle is crossing the river to the start of the creek, particularly if you start later in the day in the hot summer after the thermal winds have kicked up from Pitt Lake. It's only a short crossing though, so you can just push hard and make your way across. In a kayak or canoe, it's not a big deal, but it would be a little harder on a paddle board, especially if you're new to it, so if you're using on, take note.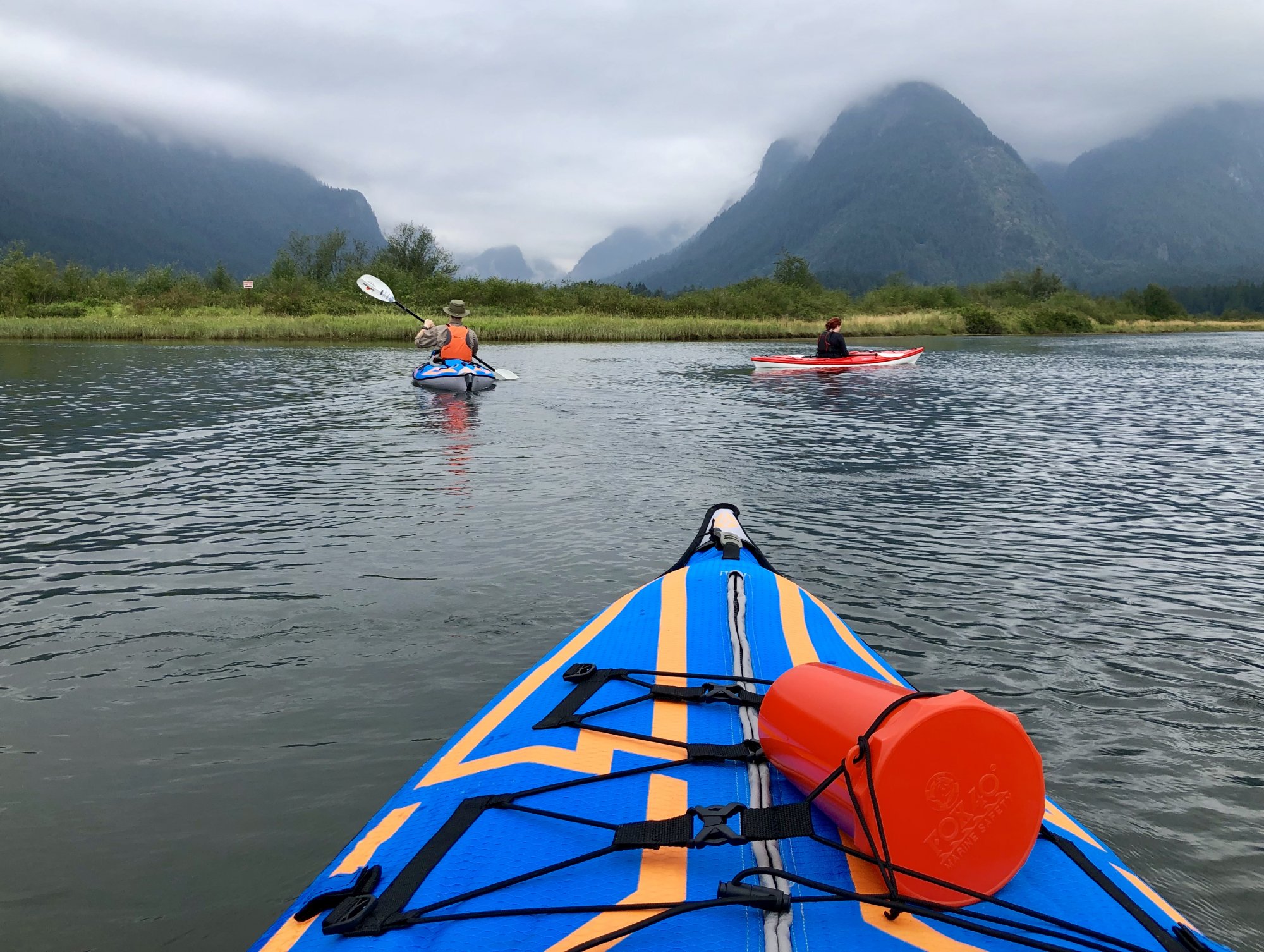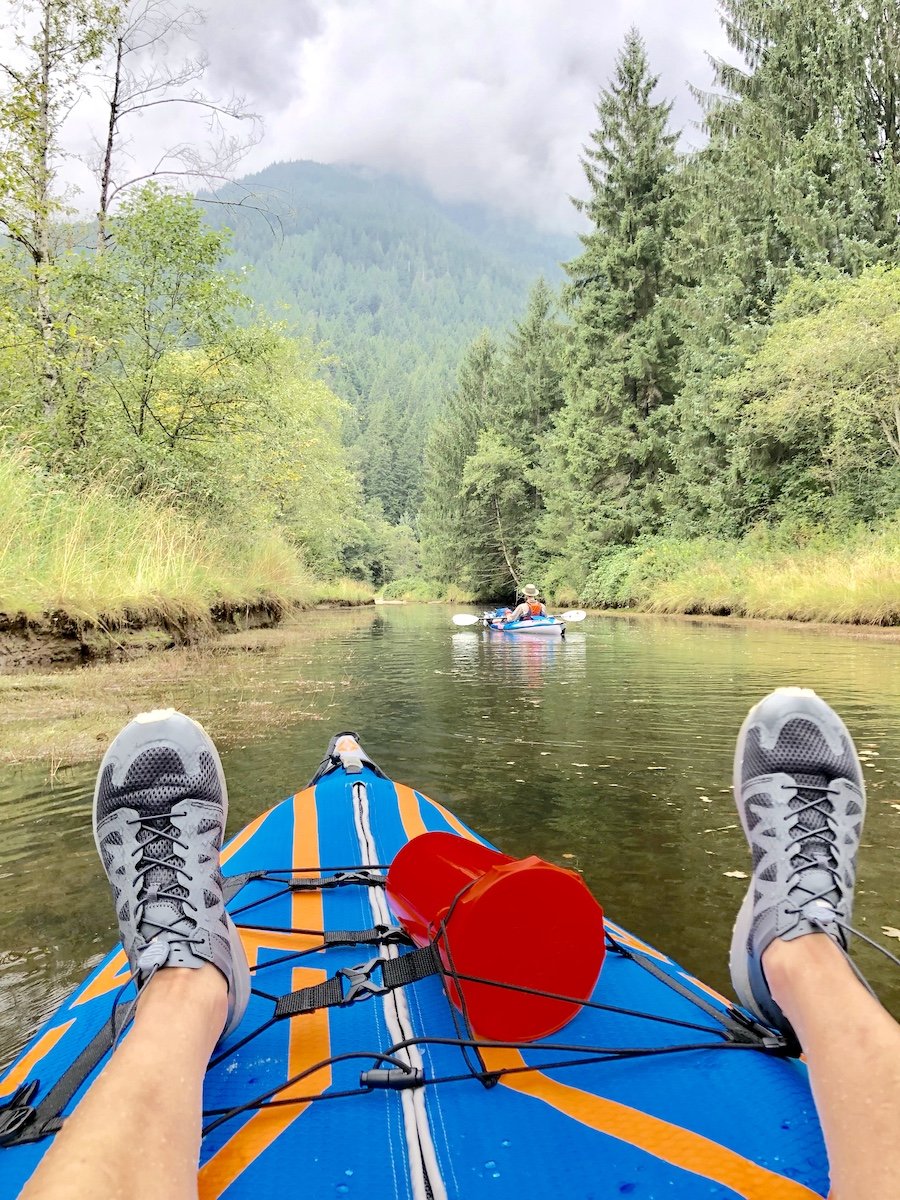 Once you get to the creek, you make a leisurely paddle up creek through the marshlands of the area. If you're lucky, you'll see some cool wildlife, including various waterfowl, deer, and the occasional bear if you're lucky. If you're travelling during low tide, you may have to jump out of your canoe or kayak and tow it to get past shallow sections. Being in a kayak, we only had to get out once ourselves.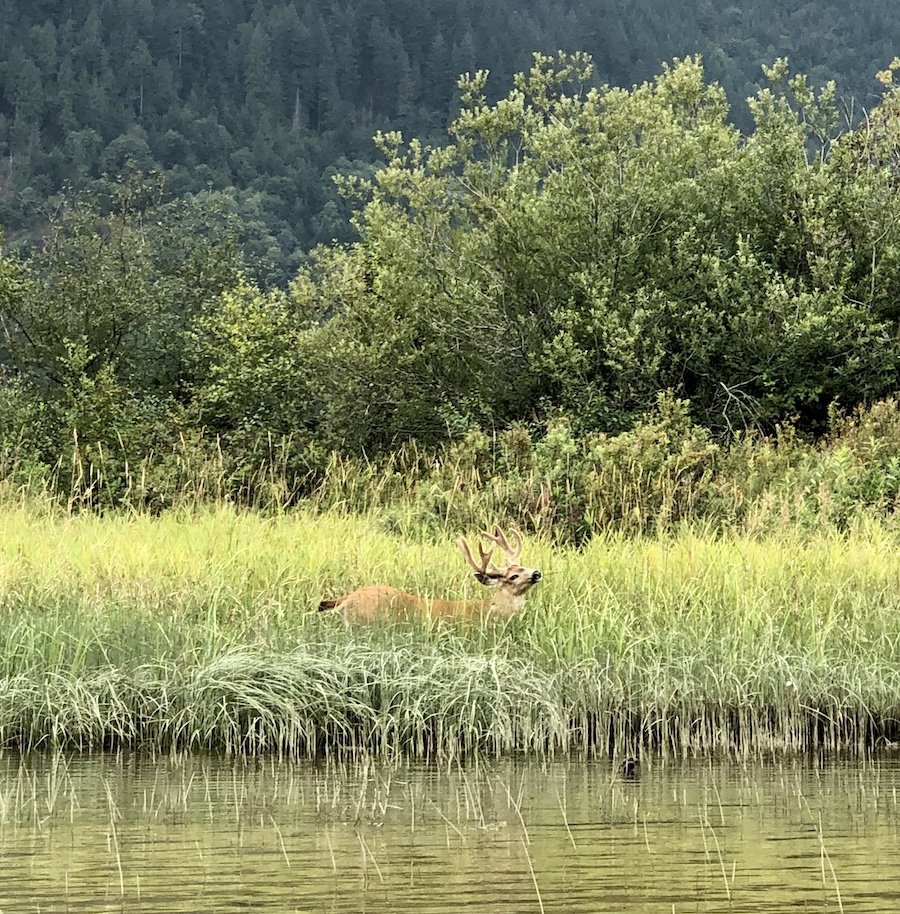 Widgeon Creek Campground: Food Caches but No Fires
Considering that it's a free rustic campground, Widgeon Creek has more to offer a backcountry camper than you might expect. It has tent pads, bear cache lockers, even outhouses. The down side is that, like it is with many backcountry camp areas, fires are not allowed.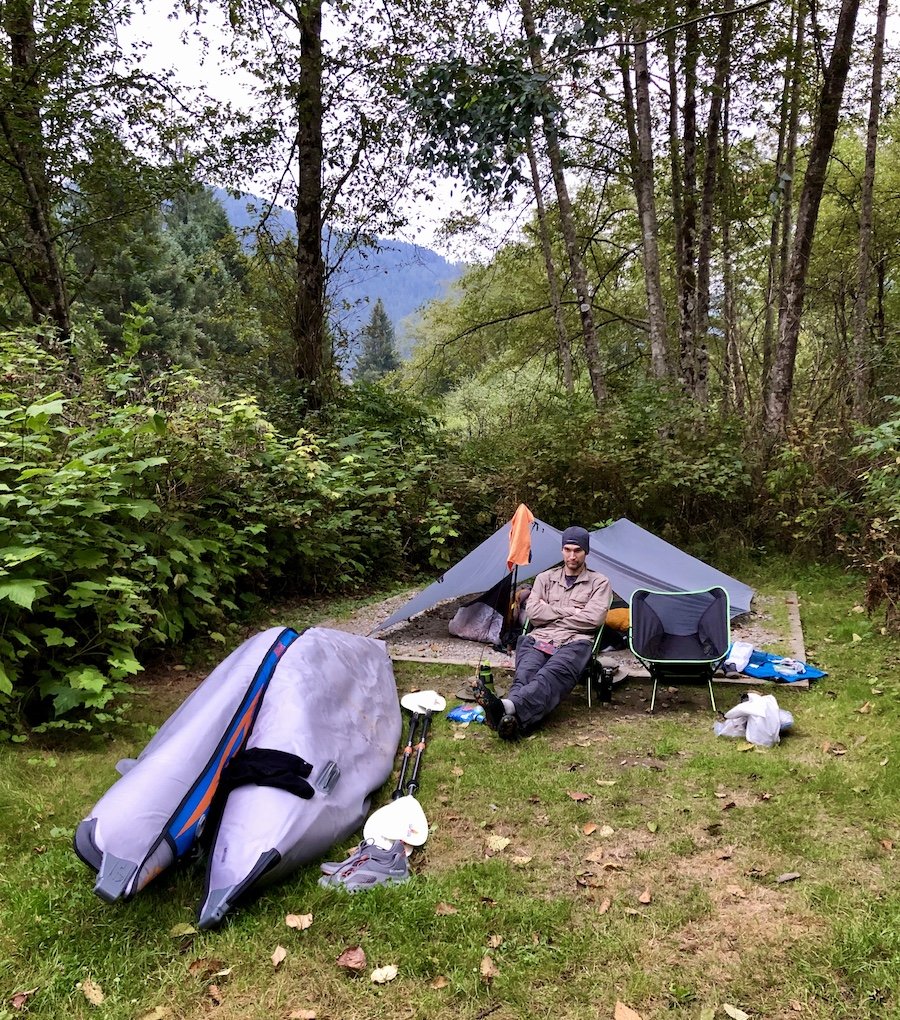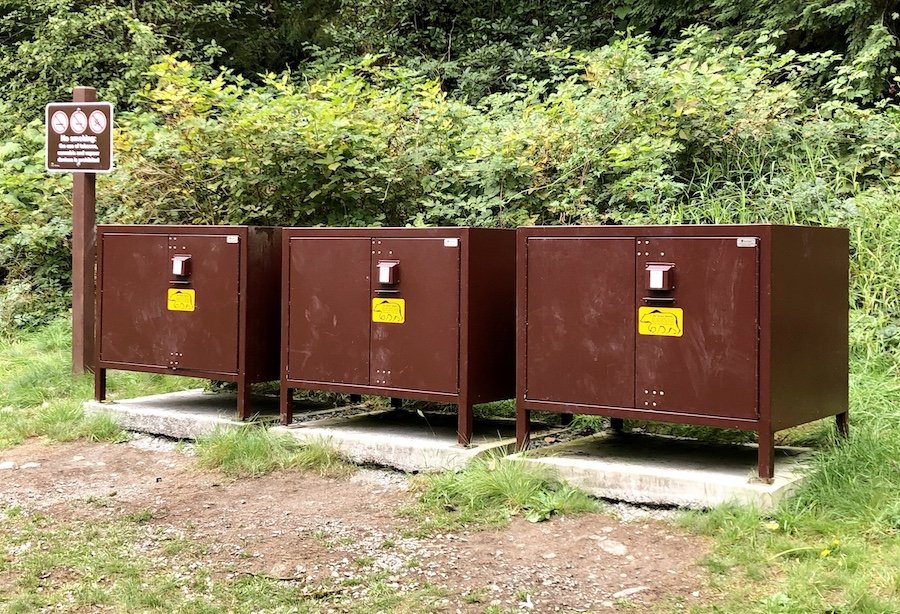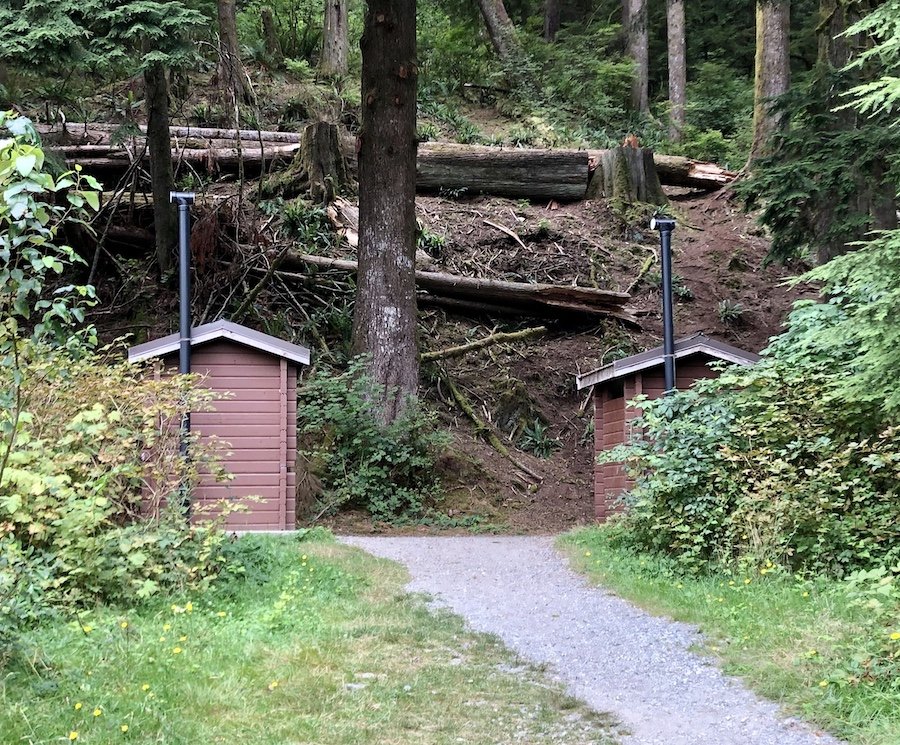 If you're on a canoe or kayak, you can afford to take a few more luxuries, so indulge yourself and bring some small camp chairs, a table, even a Coleman stove and cooler bag, if you want to cook more elaborate meals. One thing you might especially want to consider bringing, if you have one, is a lightweight screen shelter. Being a marsh, there are more mosquitoes there, even in late August, when you don't usually expect to see them in BC. Definitely bring some bug spray and perhaps a headnet, especially if it's earlier in the season. We opted for a tarp and bivy shelter system with bug nets on the bivys, but I think we probably would go for a full tent for more shelter away from the bugs next time since it's not vital to do the ultralight experience on this particular trip.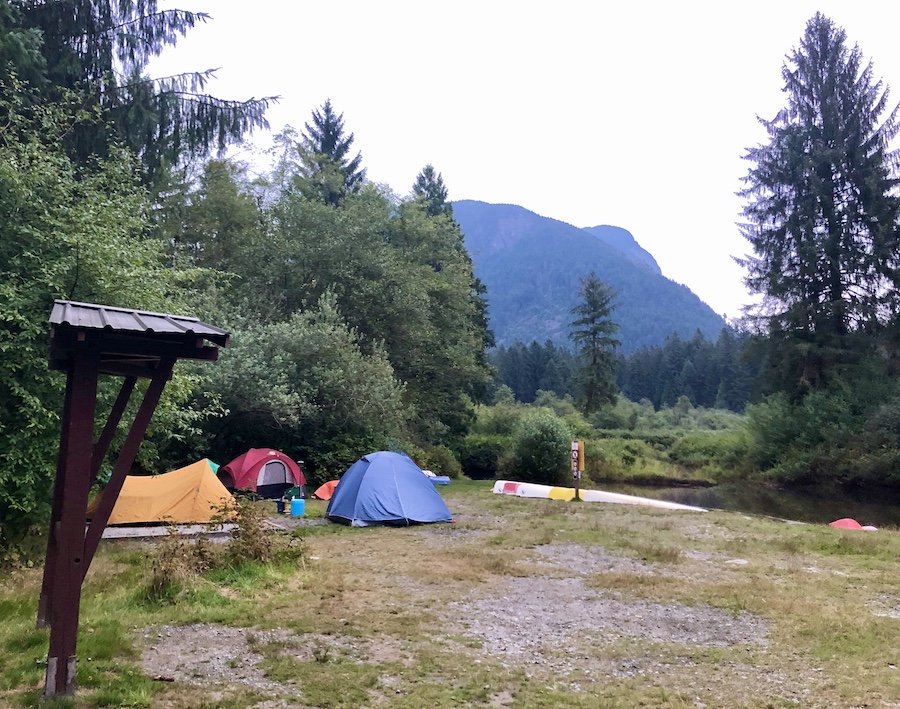 Some people will set up camp on the banks of the creek rather than at the campground itself, but be warned: it may not be clear where the tide level is, so you might wake up to find your kayak or canoe gone with the tide or, even worse, your tent sitting in waters of the creek. So if you decide to do this, be very conservative with your estimates. We encountered a couple who got stranded doing this and helped them by relaying with other paddlers to return their kayaks and paddles to them.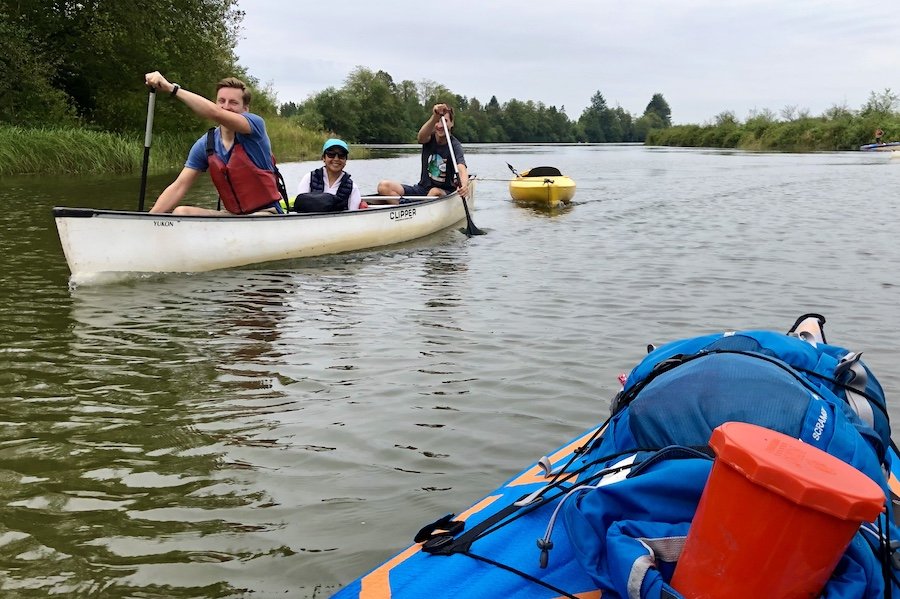 The Widgeon Falls Hiking Trail: An Easy Walk in the Woods
After setting up camp, be sure to take a quick hike out to Widgeon falls. Being only 6km out and back from the campground, most people can easily manage it in 2-2.5 hours. I did it in 1:45, but who's counting? Half the hike to the falls is along a relatively featureless old dirt logging road. At the 1.5km mark, you'll cross a creek that's usually dry after which you'll come to a junction with markers pointing to Widgeon Falls or Widgeon Lake. (FYI: If you're thinking about doing the Widgeon Lake trail, you'll need a lot more time as it's 16.7km out and back from the trail head, and rated as difficult. I haven't checked it out yet... another time.)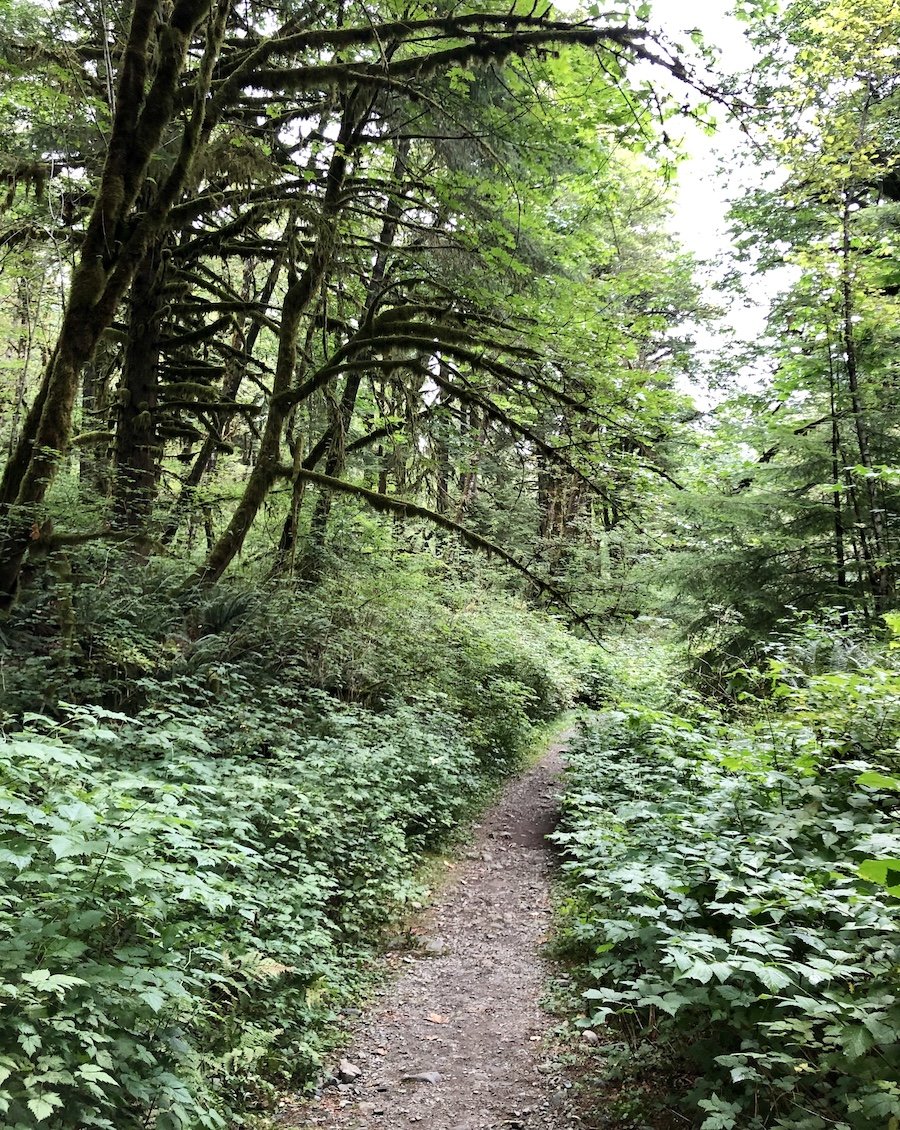 Take the Widgeon Falls Junction. You can technically almost the whole way to the falls on the logging road, but the official falls train is more in the woods and much more scenic. With views along the river, and more interesting hiking terrain (though still not overly difficult). At around the 2.7km mark, there is a junction for the old Widgeon Falls trail before it got re-routed back in 2015. You can still give it a shot if you're so inclined, but it's not being maintained, so you would be doing this at your own risk. The bridges are slippery and falling apart, and much of it is overgrown. There is more hazardous terrain, including slippery rocks and roots.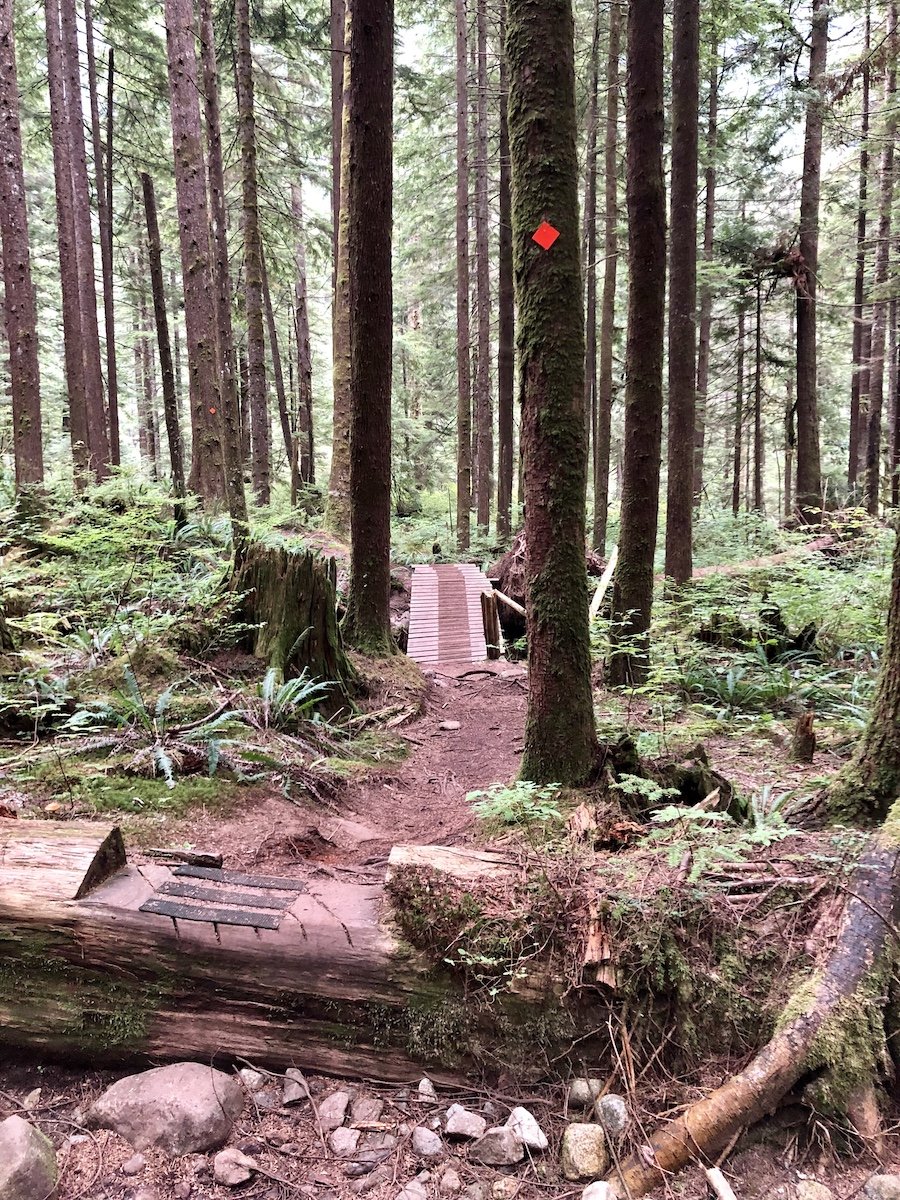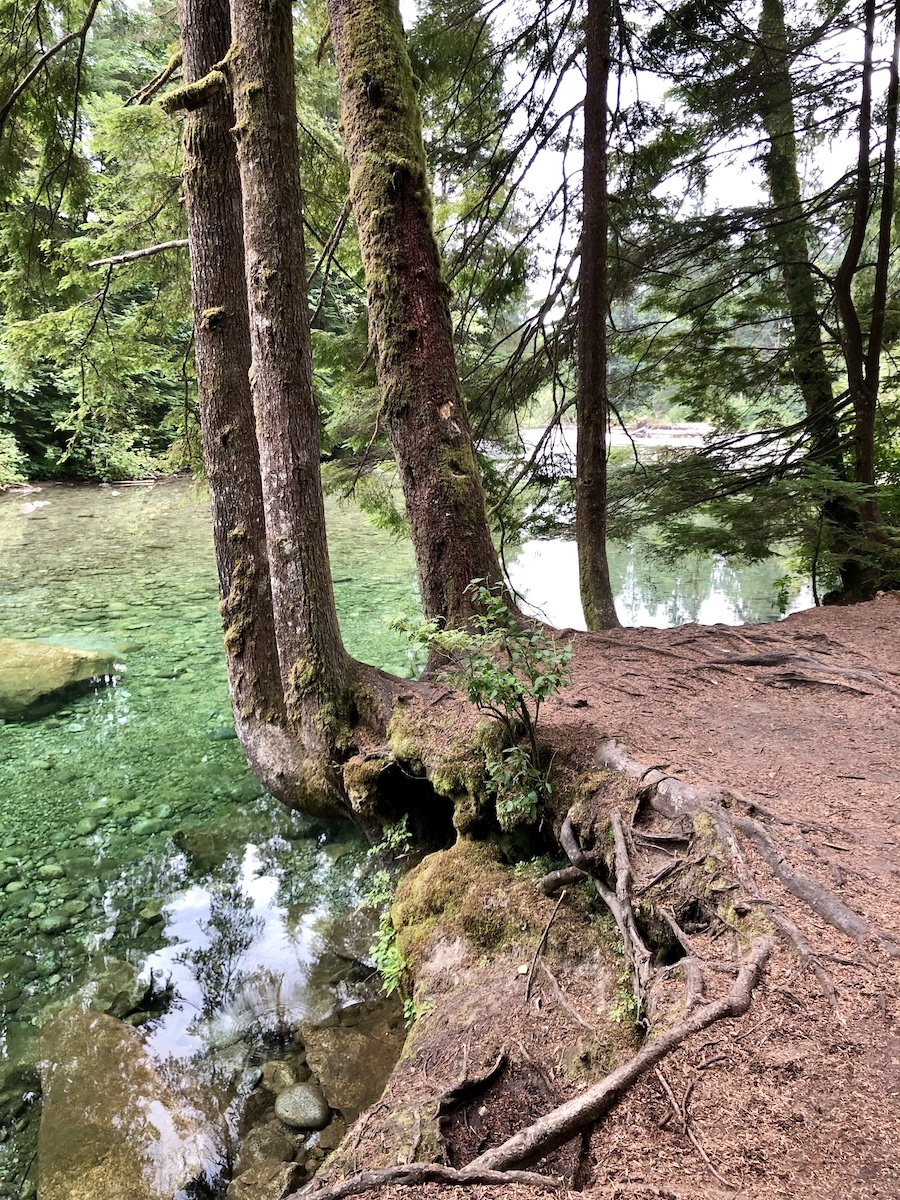 If you want to stick to the safer, official route, stay left at the sign. It is the newer, well-maintained trail with lots of orange markers. It's only about 15-20 more minutes to reach the waterfall from here. Approaching the final junction is an uphill climb. Not crazy challenging, but there's a few minutes of climbing after which there is a junction with sign reading: "Widgeon Creek Falls 50m". Go right.
The final section of trail drops down some wooden stairs, descending to the falls. You come out of the woods in an open rocky area where the falls are. It's a great place to have a snack, or rinse off your sweat before heading back to camp.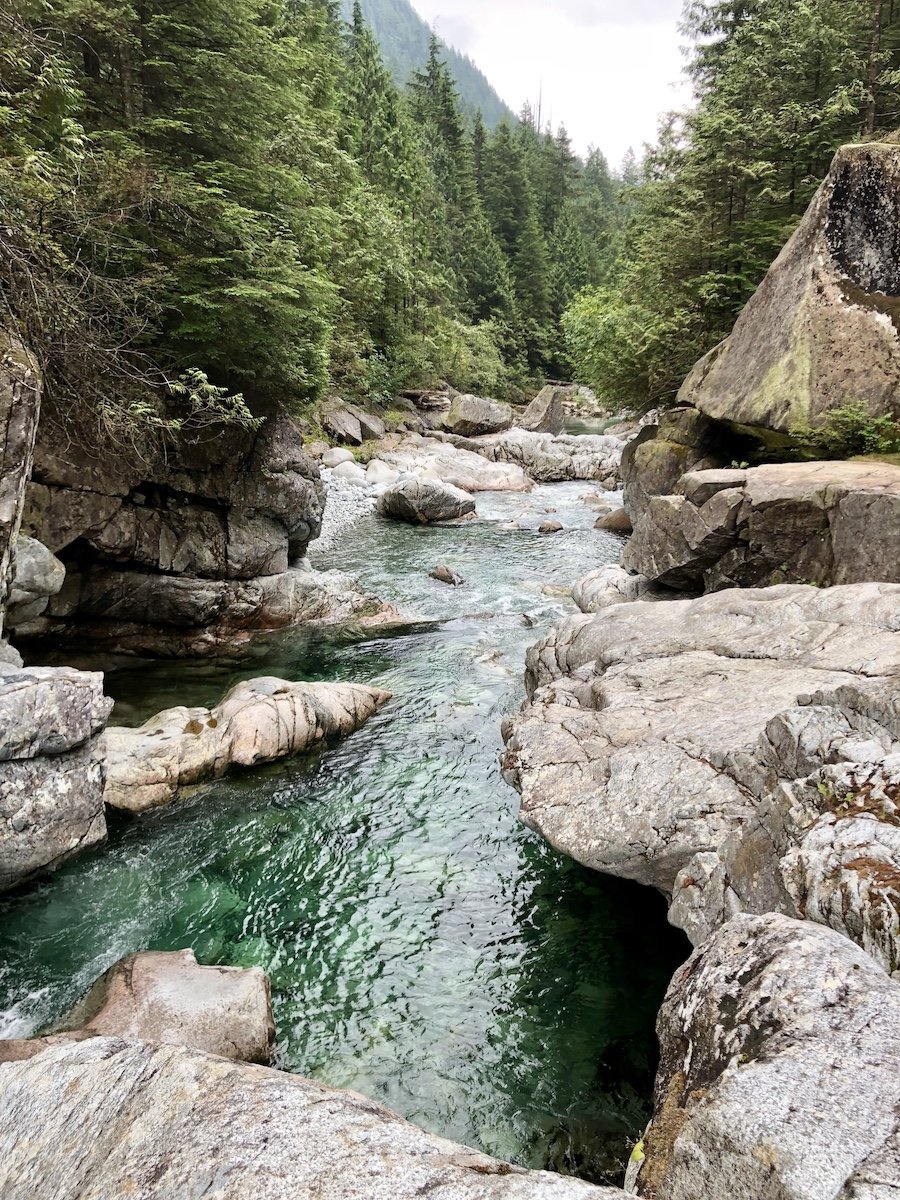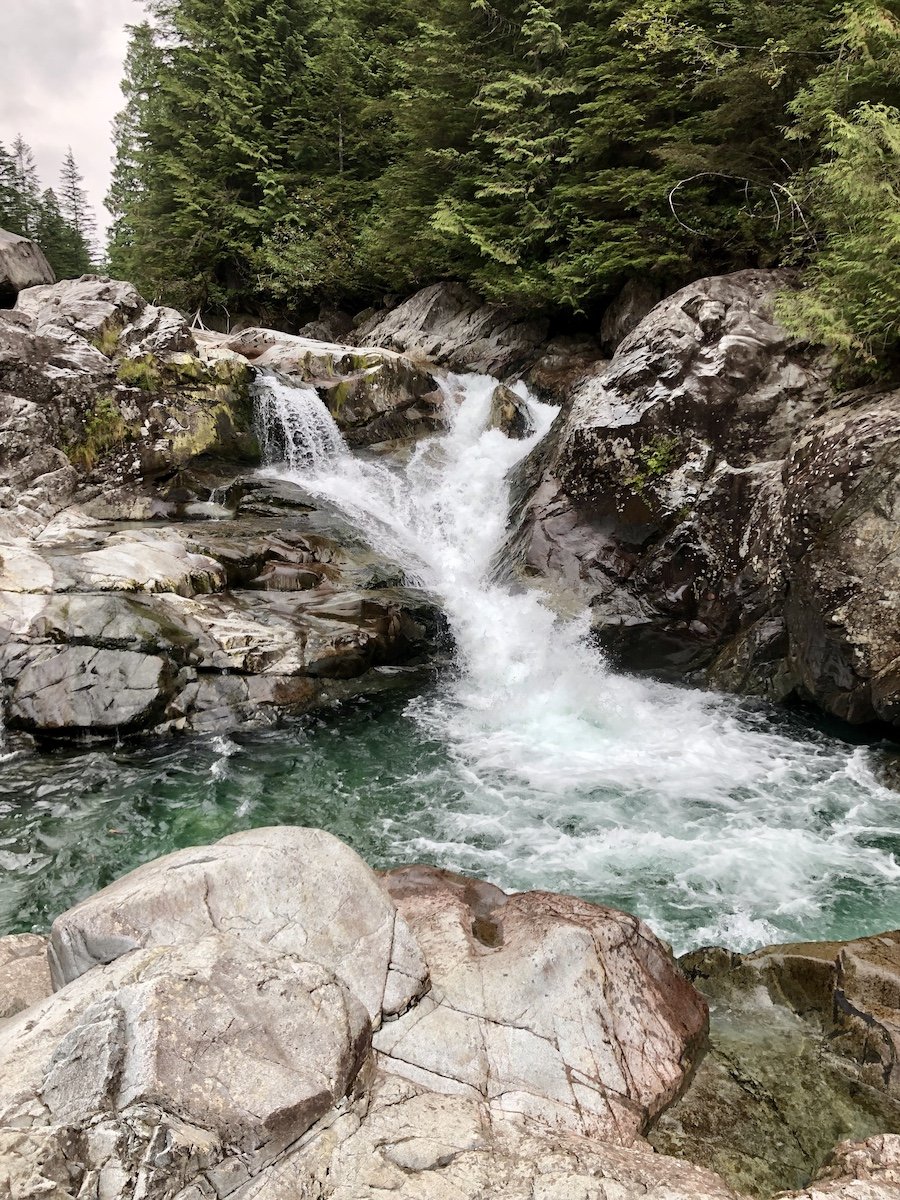 If you want to book it back to the campground faster, take the logging road rather than the trail. You can pretty much run back on it if you're so inclined. Then spend the night, enjoying nature, camp cooking and all the fun that goes with the camping experience.
Have you paddled/hiked out to Widgeon Creek Campground and Widgeon Falls? If so, how was your experience? Please share your thoughts in the comments.