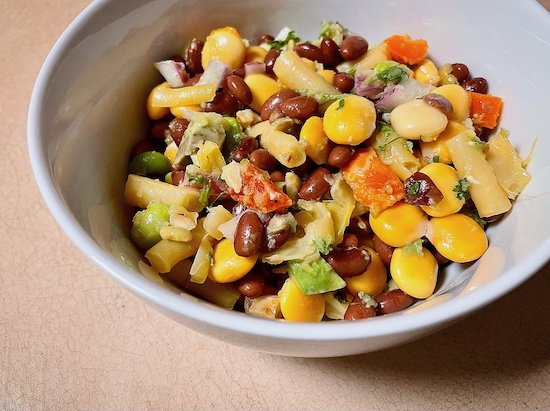 Who would've that it would be possible to make a keto-friendly 4-bean salad? I didn't think there was enough different kinds of low-carb beans to do it. I have since rethought this assumption, having put together this 4-bean salad, using black soy beans, lupin beans, yellow wax beans and edamame. I also added in a few crunchy veggies, as well as toasted hazelnuts for contrasting texture, along with some avocado for added healthy fats. Great for picnics, BBQs, parties, or any time you want vegan keto salad that's chock full of protein that can be eaten as a side or as a meal on its own.
Keto 4-Bean Salad Recipe
Ingredients:
One 15 oz can black soy beans, drained and rinsed
1¾ cups lupini beans , drained and rinsed
One 15 oz can cut yellow wax beans, drained
½ cup shelled edamame, thawed
½ cup fennel, diced
⅓ cup red or orange bell pepper, diced
⅓ cup red onion, diced
½ cup fresh parsley, chopped
3 tablespoons raw cider vinegar
3 tablespoons lemon juice, freshly squeezed
2 teaspoons lemon zest
2½ tablespoons Lakanto granulated monk fruit sweetener
¼ teaspoon fine sea salt
6 tablespoons extra virgin olive oil
¼ teaspoon freshly ground black pepper(or to taste), or to taste
1 large avocado, diced
1 tablespoon lime juice
⅓ cup hazelnuts, toasted and chopped
1 teaspoon flaky sea salt (like Maldon or Fleur de sel, or to taste
Liquid stevia drops, to taste (*if desired)
Directions:
Add the black soy beans, lupin beans, edamame, yellow wax beans, red onion, fennel, bell pepper, and parsley in a large bowl.

In a small bowl, whisk together the raw cider vinegar, lemon juice, lemon zest, sweetener, olive oil, salt and pepper.

Pour the dressing over the beans and toss to coat. Cover the bowl and refrigerate the salad for at least 2 hours or up to three days. Toss the diced avocado in lime juice then add it and the chopped hazelnuts to the salad an hour before plan to serve it. When ready to eat, give it all another toss, taste, adjust with more, salt, lemon juice or liquid stevia to your taste.
Did you make this keto 4-bean salad recipe? If so, please let me know how it turned out in the comments. Or if you share pics of your creations on Instagram, please tag me so I can see them. Enjoy! :)