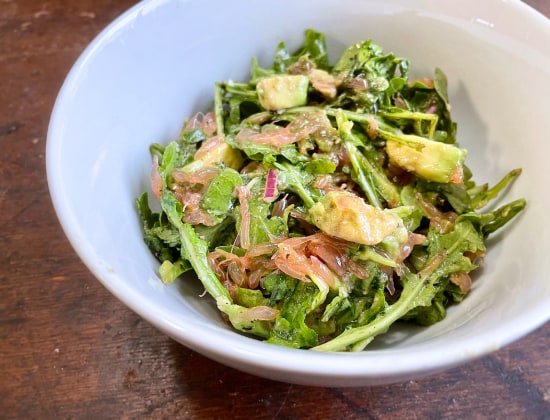 This keto-friendly avocado grapefruit arugula salad is a light, refreshing side salad that goes well with any light protein like baked fish or chicken. The tartness of the grapefruit is complemented by the creaminess of the avocado, and they both balance out well with the peppery flavour of the arugula.
Vegan Keto Avocado Grapefruit Arugula Salad Recipe
Salad Ingredients:
2 small grapefruits, segmented with membranes removed (around 360g after segmentation)
2 medium avocados, chopped
8 oz baby arugula or mixed greens
Flaky sea salt (like Maldon or Fleur de sel and freshly ground freshly ground black pepper (to taste)
Grapefruit Shallot Vinaigrette Dressing:
Whisk together all of the vinaigrette ingredients in a small bowl. Set aside.

Assemble the salad. Season flaky sea salt and black pepper to taste. Pour in the vinaigrette and toss before serving.
Did you make this vegan keto avocado grapefruit arugula salad recipe? If so, please let me know how it turned out in the comments. Or if you share pics of your creations on Instagram, please tag me so I can see them. Enjoy! :)