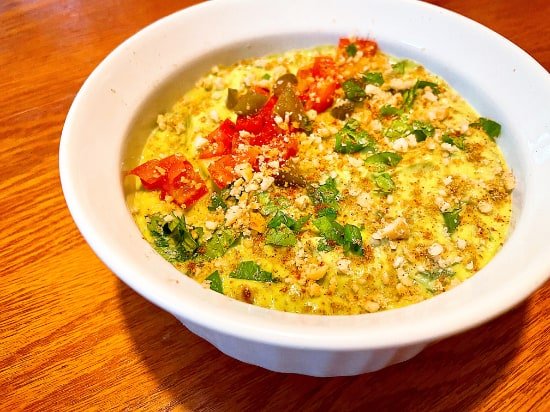 A friend of mine invited me over for a keto Indian dinner, and I wanted to contribute by making some sort of appy. I came up with the idea of making a low-carb avocado raita for us to dip veggies in before the meal. Raita usually has an intriguing mix of spiciness, the edge of which is taken off by the yogurt as well as some choice refreshing herbs. I decided to mix yogurt in with the avocados, and used a combination of cilantro and mint for the herbs. I used some of my own pickled jalapeños along with cayenne, chili powder and garam masala to turn up the heat. Based on the ingredients, you could look at this as an Indian-style guacamole, but the flavour profile is so different, it really is more like a raita than a guacamole, so that's what I prefer to call it, but to each their own.
Keto Avocado Raita Recipe
Ingredients:
2 medium avocados, pits removed and chopped
¾ cup homemade keto coconut yogurt (*Or keto homemade high-fat yogurt if not vegan.)
¼ cup tomatoes, diced, reserving 1 tablespoon for garnish
1 tablespoon lemon juice, freshly squeezed
1 tablespoon pickled jalapeño, finely chopped
2 tablespoons white onion, finely chopped
1 clove garlic, pressed
½ teaspoon ground cumin
¼ teaspoon mild chili powder
Large pinch of cayenne pepper (or to taste)
½ teaspoon garam masala
⅛ teaspoon ground coriander
⅛ teaspoon ground ginger
1 teaspoon fine sea salt (or to taste)
2 tablespoons fresh mint, chopped (reserving a little garnish)
2 tablespoons fresh cilantro, chopped (reserving a little for garnish)
1 tablespoon roasted peanuts, crushed or finely chopped (reserving a sprinkle for garnish)
Directions:
Add avocado to a medium mixing bowl. Using an immersion blender to process the avocado until smooth.

Add yogurt and whisk until smooth. Stir in the onions, crushed peanuts, salt, spices and herbs.

Sprinkle the top with a little chili powder then garnish with reserved tomato, herbs, and peanuts. Store in the fridge until ready to serve. Serve cold with cut veggies, keto crackers, keto tortilla chips or pork rinds.
Did you make this vegan keto avocado raita (Indian guacamole) recipe? If so, please let me know how it turned out in the comments. Or if you share pics of your creations on Instagram, please tag me so I can see them. Enjoy! :)