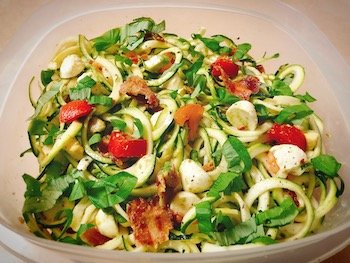 Looking for an easy-prep salad recipe to bring to a BBQ or potluck? Try this low-carb, keto-friendly bacon bocconcini zucchini noodle salad. It's basically a caprese salad mixed into zucchini noodles with bonus fats from bacon and avocado. A hit with nearly any crowd so long as cheese and red meat has a place on their plate!
Bacon Bocconcini Zucchini Noodle Salad Recipe
Ingredients:
Directions:
In a small bowl, whisk together the olive oil, balsamic vinegar, cider vinegar, garlic powder, sea salt, and black pepper, until emulsified.

In a large bowl, combine the spiralized zucchini, chopped bacon, halved grape tomatoes, and fresh basil. Toss with the dressing. Serve immediately.
Did you give this keto bacon bocconcini zucchini noodle recipe a try? If so, let me know how it went. I would love to hear your thoughts in the comments. Or if you share pics on Instagram, tag me so I can see your creation. :)