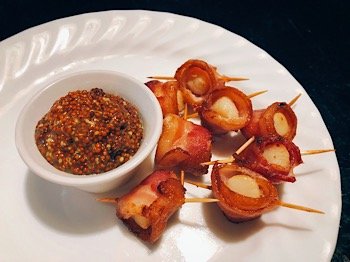 This is a favourite appy dish amongst my family that is loved for its ratio of enjoyability in relation to its ease and simplicity. If you keep a package of scallops and a package of sliced bacon in your freezer, you can whip them out and make this dish for any impromptu gathering, given you have enough time for them to thaw.
Keto Bacon-Wrapped Scallops Recipe
Ingredients:
Directions:
Preheat oven to 425F. Wrap each scallop with a half a piece of bacon sliced horizontally. Feel free to cut the bacon lengthwise if using smaller scallops if preferred.

Bake on a cooking tray lined with silicon for 12 minutes. Remove from oven then flip and put them back In for a further 12 minutes or until crispy. (*If you have a roasting rack, you don't need to flip them.)

Serve them hot on their own or with grainy mustard or a sugar-free BBQ sauce if desired.
Not much to this recipe, I know. Really, it's the idea of the recipe that's gold in my mind. Don't over complicate it with seasoning either. The bacon more than takes care of that, and if you need a little something more, that's what the dipping sauces are for, but in my humble opinion, they're completely unnecessary as this dish is delicious enough on its own.
If you make this recipe, please let me know in the comments, bonus points if you come up with any other interesting sauces to go with it. If you post any pics on Instagram, throw me a tag so I can see your creation. Party on, my friends! :)