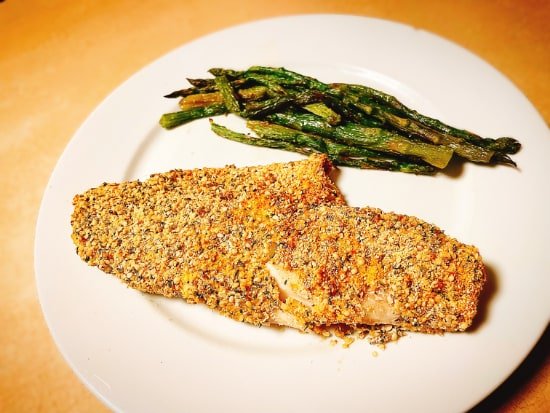 I try to steer away from deep fried anything, but once in a while I miss fish and chips style fillets. With a big bag of hemp hearts, kicking around I decided to try making a crust using it as a base, along with coconut flour and a few spices. This worked out well, and the hemp hearts and coconut flour added the healthy fats that were needed to round out the lower fat content of the white haddock fillets I used.
Keto Baked Haddock (or Cod) with Hemp Heart Coconut Crust Recipe
Ingredients:
Directions:
1.Preheat oven to 375F. Lightly beat the egg in a bowl that's big enough for you to dip the fillets.
In a separate dish (also big enough for you to dip the fillets), whisk together all the remaining dry ingredients. Whisk the ingredients until everything is combined.

Dip one fillet at a time into the egg wash, then into the flour mixture. Cover the completely with the mixture, flipping and tossing it several times to coat. Place fillets on a baking sheet lined with a silpat mat or parchment paper. If you have an oven safe cooling rack, place the cooling rack over the mat/parchment paper. Spray or brush it will avocado oil and place the fish on top for a crispier finish! Repeat with the other fillet.
4.Bake in preheated oven for 18-22 minutes. Broil for 2-3 minutes, or until the top is browned (*The fish should flake easily with a fork.) Remove from oven and serve immediately.
Did you make this keto baked haddock or cod hemp heart coconut crust recipe? If so, please let me know how it turned out in the comments. Or if you share pics of your creations on Instagram, please tag me so I can see them. Enjoy! :)