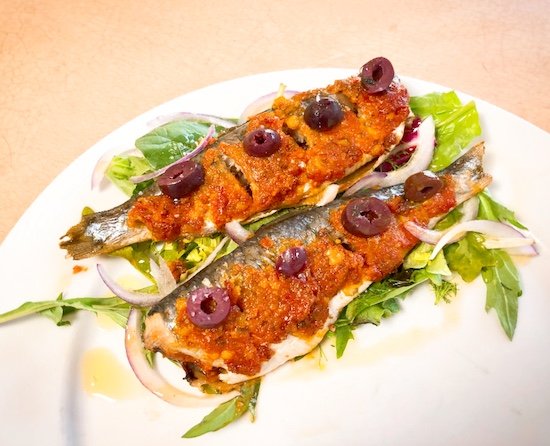 Cooking whole herring that's not from a can, isn't that hard once you've learned how to cut, gut and debone it. This is something that once would have intimidated me, but YouTube is a wonderful tool and now I can do it unassisted. I find that red pesto has a strong taste that suits the flavour of herring, and adding kalmata olives helps establish a Medditeranean feel to this simple baked fish. One herring isn't enough for one meal, but the idea is to multiply the amounts for each herring until you have an amount that is right for the meal and number of people.
Keto Baked Herring with Red Pesto Recipe
(*Be sure to multiply this for the amount of herring you're doing for your meal.)
Ingredients:
Directions:
Preheat your oven to 375F. Line a baking tray with a silicon mat or with aluminum lined with sprayed with cooking spray.

Slit the herring on its underside from the anal fin to the head. Remove the innards and herring roe (*setting the roe aside in the fridge if using for another recipe), then wash under running cold water. Lay it on a chopping board and make three deep slits on each side. Spread half the red pesto sauce on one side of the herring then lay it (sauce side down) on the baking tray. Spread the remaining sauce on the second side of the herring Put the tray in the oven for 20-25 minutes.

Arrange lettuce on a plate then top with red onion. Mix together and season with salt and pepper to taste. Drizzle with olive oil.

After removing herring from oven, lay it on the salad and top with sliced olives and fresh basil. Serve immediately.
Did you make this keto baked herring with red pesto recipe? If so, please let me know how it goes in the comments. Or if you share pics of your creations on Instagram, please tag me so I can see them. Enjoy! :)