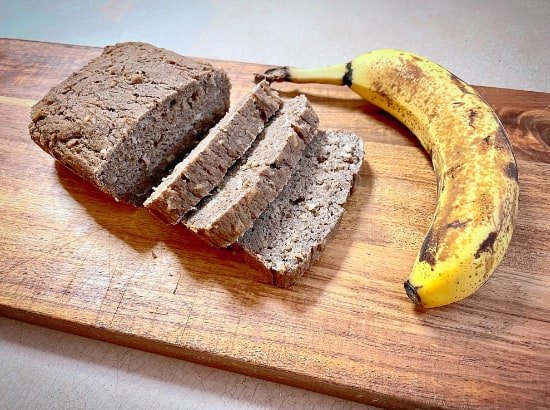 I wanted to make an unique gluten-free banana bread for a carb-up, using alternative, healthier flours. I decided to use sorghum flour, an excellent source of fiber, antioxidants, and protein, as well as green banana flour (it is banana bread after all), which is high in resistant starch and prebiotic fibre making it beneficial for the digestive system. The result was a wholesome, flavourful banana bread that satiates without a ton of sugar.
Carb-Up Banana Bread with Fermented Oats Recipe
Ingredients:
Directions:
Pour ⅔ cup water over the oats yogurt or vinegar and allow to ferment 8-24 hours.

Combine psyllium husk with coconut milk beverage and allow to absorb for 5 minutes.

Add mashed banana to a medium-sized mixing bowl. Whisk in soaked psyllium husk, vanilla and butter extract. Stir in fermented oats.

Sift in remaining ingredients, stir together with a spatula until just incorporated.

Preheat oven to 350F, allowing batter to rest as it heats up. Pour batter into 2 parchment lined 8" x 4" baking pan (or a silicon loaf pan). Bake in preheated oven for 40-45 minutes.

Remove the loaf from the pan and brush with each loaf with 1 teaspoon raw honey. Allow cool to room temperature on a wire cooling rack. Store in an air-tight container in fridge up to one week or in the freezer up to one month.
Did you make this carb-up gluten-free banana bread with fermented oats recipe? Please let me know how it turned out in the comments. Or if you share pics of your creations on Instagram, please tag me so I can see them. Enjoy! :)