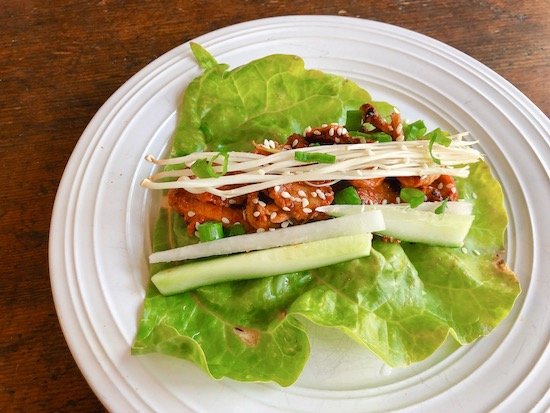 The Vancouver area has a lot of decent Korean restaurants, including Bon Ga (which I reviewed on this blog)). While some Korean foods low-carb, dishes like Daeji Bulgogi, a spicy-sweet Korean BBQ pork, are loaded with sugar. That's why I decided to recreate it with this recipe, using keto-friendly sweeteners.
Keto BBQ Korean Pork Loin (Daeji Bulgogi) Recipe
Ingredients:
Directions:
Put the pork in the freezer until it firms up, about 1 hour. While the pork is in the freezer, combine the soy sauce, garlic, erithrytol, monk fruit maple syrup, apple-flavoured stevia, chili flakes pre-moistened with tamari soy sauce and liquid stevia, mirin, rice vinegar sesame oil, ginger, red pepper flakes, black pepper, and green onions in a small bowl. Stir well.

Remove the pork from the freezer and slice into pieces ⅛ inch thick. Place the pork, green onions or garlic scapes, and sliced onion in a large Ziploc bag, pour in the marinade and seal. Toss to evenly distribute the marinade, then open and reseal the bag, taking out as much air as possible. Put in the fridge and allow to marinate for at least one hour to overnight. Drain excess marinade before cooking.

Heat a BBQ to medium-high heat using lightly oiled grill mats. Alternatively, you can pan fry using a lightly oiled cast iron skillet. Stir-fry sesame oil is your best option, but avocado oil will work too. Grill or pan fry the pork and onions until they start to brown then turn. Try not to crowd the skillet as it lowers the temperature. You want to cook the pork quickly, just to the point of having a nice sear.

Serve immediately wrapped in lettuce with kimchi, sliced cucumber, daikon and/or string mushrooms. Garnish with sesame seeds and sliced green onions.
Did you try this keto Korean BBQ pork recipe out? If so, me know how it went in the comments, or tag me in any photos you share on Instagram so I can see your creation. Enjoy! :)